Bill's Partyline October 2011
PEOPLE
Miguel and Martha bid adios after seven years in Japan.
Mexican ambassador, Miquel Ruiz Cabanas, his wife Martha and their two children returned to Mexico for a short break before moving to Rome, where Miquel is now his country's ambassador to Italy. Prior to their departure they hosted a people-packed party at their Nagata-cho residence. The popular, always busy couple did so much to promote relations between Mexico and Japan. In addition to Martha's many duties as a diplomat's wife and mother, she used her training as a medical doctor to help others and was very involved in cancer research at a leading Japanese hospital. As well as getting to know her and Miguel I met her mother several times. Like Martha and Miguel, she is class all the way. Martha's sister, who was Mexico's minister of foreign affairs at one time is also a very special lady. It's never easy saying sayonara to friends like the Ruiz Cabanas family and they'll really be missed. We wish them all the best in Rome. at the same time we'd like to welcome the new Mexican ambassador Claude Heller and his wife Adela. Prior to his posting here he was with the U.N. in New York.
PARTIES
Polish Charity Concert at Suntory Hall.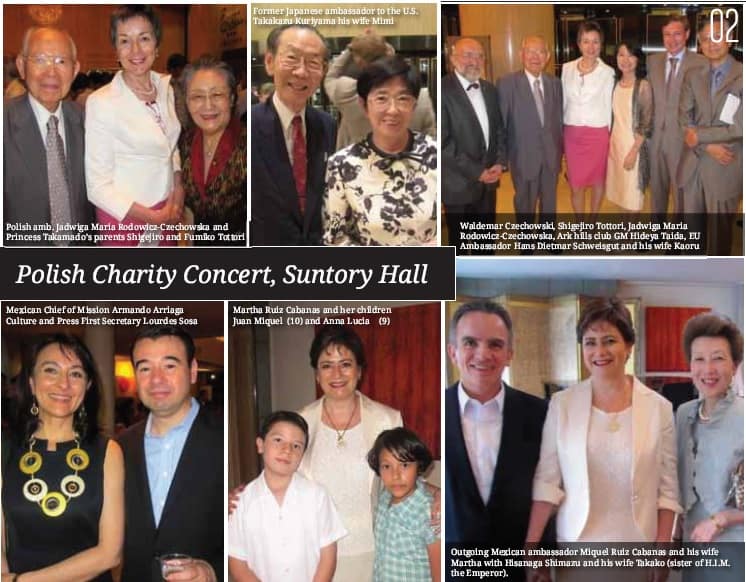 Polish ambassador Jadwiga Maria Rodowicz-Czechowska and her spouse hosted a special charity concert "Let's get together at Suntory Hall. The occasion was to celebrate Polish presidency of the council of the EU and to strengthen solidarity between the EU and Japan. Featured artists were Makoto Ozone on the piano and vocalist Anna Maria Jopek. By all accounts the full house really enjoyed the Polish folksongs and original compositions. Copies of the CD "In solidarity with Japan" sold well and proceeds went to victims of the Tohoku disaster.
Arrour's Moroccan national day at the Okura.
The occasion was to celebrate the 12th anniversary of Moroccan King Mohammed VI's ascension to the throne. The Okura's ascot mom was brilliantly decorated with thousands of flowers and a huge ice carving of a Moroccan mosque. Long tables groaned under silver trays of artistically arranged and delicious Japanese, Chinese, Western and Moroccan, foods it was a laid back evening with a room packed with interesting people, perfect for the special occasion.
PLACES
Glittering evening at Midtown introduces the new Audi A6. It was glamour galore at the Audi introduction of their new ultra chic A6 model. Guests at the prestigious gathering included business leaders; familiar faces from the fashion, arts and entertainment worlds and racing driven; all avid fans of Audi. The car company's chief marketing man Donato Romaniello knows his product and he and his staff always come up with original and dynamic presentations. This event at Tokyo Midtown, with its tasteful set, centered around a huge white box and a tastefully illuminated stage that featured a group of futuristic looking dancers was original and well done. The sides of the box lowered to the stage floor and guests got their first look at hew beautiful new Audi A6. Most went on stage later to get a closer look at the high tech, executive class saloon. The A6 wasn't the only beauty there, as fashion designer Hanae Mori's two model granddaughters Muni and Hikari entered looking like they stepped right off the pages of Vogue! It truly was a grand presentation in every way.
Baskin-Robbins "31" Ice Cream, will hold its Happy Halloween Campaign from Saturday, October 1st through 31st, at all stores throughout Japan. This popular event, is in its seventh year in Japan and offers a major autumn treat for all Baskin Robbins fans, with lots of special Halloween in-store displays for the whole month. B-R will offer Halloween limited-edition products, such as five new flavors, sundaes, variety packs for takeout, as well as a lottery for original premium goods! Since opening their first shop 37 years ago Baskin Robbins have grown to be the global ice cream leader and today B-R has over 1000stores in Japan.
*First published at the Tokyo Weekender
*Images Copyright: Tsukasa Shiga