Bill's Partyline October 2014
PEOPLE
U.S. CULTURAL ATTACHE RICHARD MEPS SAYONARA AT THE CANADIAN EMBASSY
As it was with Christian and Helene Masset, it's never easy saying goodbye to good friends. I certainly felt that way with US Cultural Attaché Richard Mei. He did so much to help me while he was here, and I know that he helped a lot of other people whenever he could. Prior to his return to the US, his dear friend Laurie Peters, who's a counselor of public affairs at the Canadian Embassy, hosted a sayonara party in his honor. It was an interesting gathering with VIP guests mostly from the arts and show business worlds.
BILL'S PARTY CRASHERS
The party scene has really picked up and from the looks of things, our great city will really be busy the rest of the year. As always there are some changes at parties, and the most obvious this season is the absence of the most widely known party crashers. These include a heavy-set woman probably in her 50s who really had her act together; she apparently had a calendar of National Days and always seemed to find out where and when the receptions were. Many are at the Imperial and she would go to the Embassy staff's reception desk and tell the ladies working there that she just needed to use the restroom which was near the party venue's entrance. Once she got into the restroom, she'd watch the invited guests at the entrance until she had the opportunity to get in line and go in. She always carried a big purse and a plastic bag and ended up asking the sandwich chefs to make her four or five "takeouts." A couple of Ambassadors' wives caught her doing this and from the looks of things made her stop and I haven't seen her recently.
Then there was the tall Japanese guy—probably in his 40s—who not only crashed party after party, he usually brought as many as five uninvited people along with him. Once he got his group in, he worked hard trying to get his friends' photos with Ambassadors or other VIPs. He would even take them up on the stage after the dignitaries made their congratulatory speeches. He always came late so he could grab a sayonara souvenir bag as soon as the Embassy staff set them up for guests, and I've even heard that he would actually charge the people he brought to the parties for the privilege of crashing the party along with him. I heard that a couple of diplomats, who prefer to remain anonymous, called hotel security. Also, an important guest from the Foreign Ministry really laid into him and had him thrown out after complaints about his behavior. I realize how fortunate I am working for the Weekender and being invited to so many special events. A big thank you for that.
PARTIES
THE MASSETS' NATIONAL DAY AND SAYONARA RECEPTION


The rain held off for the reception hosted by popular diplomatic couple, French Ambassador Christian Masset and his wife Helene, and it was a beautiful evening in every way. The occasion was La Fête Nationale, and the party was also celebrating the 90th Anniversary of the Franco-Japanese Cultural Partnership. At the same time, Christian and Helene were bidding adieu to the many friends they made here. The popular couple was only here for about two years, but they will surely be missed by all of us who had the privilege of getting to know them. The Massets' spacious home and their beautiful garden were packed with the French community, many Japanese friends, and other guests from all over the world. The program included speeches by the Ambassador, President de la Maison Franco-Japonaise Koichiro Matsuura, and a toast by former Prime
PERUVIAN GOVERNMENT FOOD AND NATIONAL DAY GALA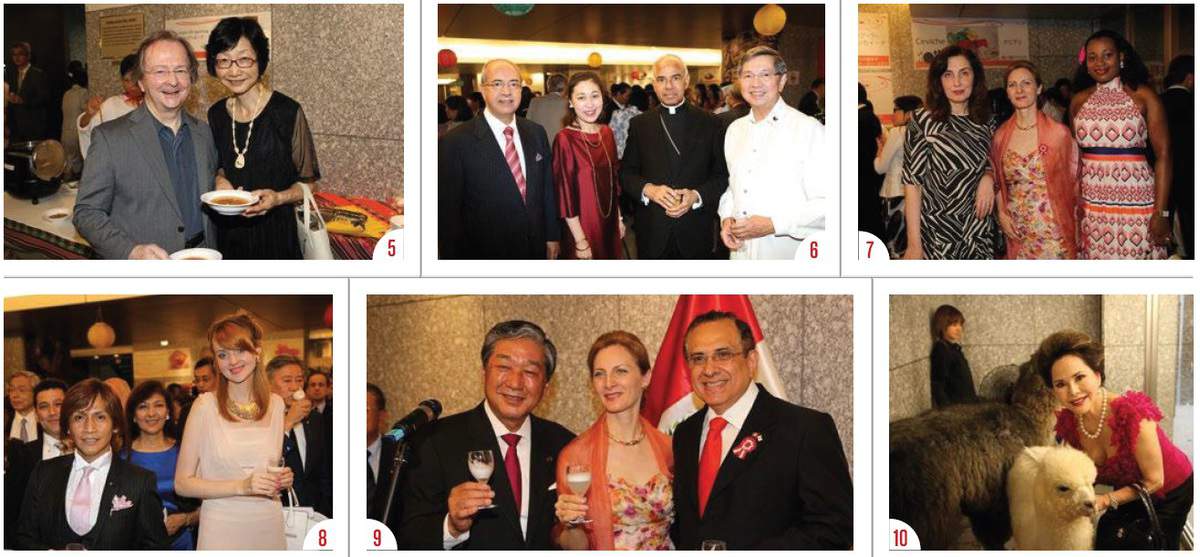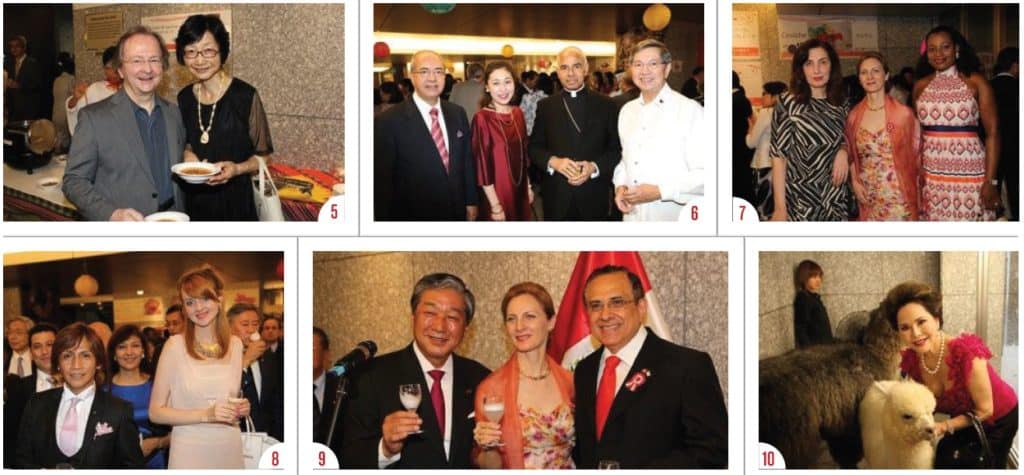 Peruvian Ambassador and Sefiora Elard Escala celebrated the 193rd anniversary of their country with a "Disco of Honor and Peruvian Food Festival" at their beautiful home in Shibuya. This was the first time I had the opportunity to visit the embassy/residence since it was rebuilt. The contemporary design is really great, and quite spacious. After the Ambassador's welcome speech and the singing of Japan and Peru's national anthems, the many guests kept busy enjoying the Peruvian art on display, chatting and trying all the delicious Peruvian foods that had been prepared by the embassy staff and the chefs of Peruvian restaurants here in Japan. Peruvian food has really become popular over the last few years and judging from the specialties available that evening, it's easy to see why. Guests that evening included Japanese government officials, Ambassadors and their wives, and familiar faces from the arts, fashion and entertainment worlds. There were two very special guests from Peru as well. I forgot their names, but haven't forgotten how friendly and gentle they were. You can tell by the photo they took with Dewi Sukarno. The mother and child from the alpaca farm not only posed for photos with people, they cuddled up to many of the guests there. The Escalas' evening in their home, like the Escalas themselves, was very special in every way.
JUNKO KOSHINO'S SUMMER PARTY
Whenever I get invited to anything by super busy fashion designer Junko Koshino and her husband photographer Hiroyuki Suzuki, I'm sure it's going to be very special. It was that and more at her summer party, which was held at her beautiful building on Koto Dori. It was pretty much a Japanese fashion crowd: the women in beautiful kimonos and the kids in some great happi coats. There were all very stylish. I especially liked the area where a couple a dozen Kewpie dolls had been set up, and kids who could throw a ring over the dolls won a prize. Beautiful people, colorful Japanese fashion, fun and Junko's original ideas all added up to a great evening. That lady really knows what she's doing. The food, I might add, was very Japanese healthy and served on Junko's beautiful lacquerware. There were also two chefs outside making vegetables, and pizzas that they were baking in a very primitive-looking oven. It was all excellent.
PLACES
WINE NIGHT AT TOKYO MIDTOWN'S OAKWOOD
The weekly wine night at Oakwood Premiere in Tokyo Midtown mall is always an enjoyable relaxing event—lots of interesting people, good food (and wines) in a friendly fun relaxing atmosphere. Konishiki and his lovely wife Chie are often there, and at a recent party, I enjoyed meeting Chopard Watch Japan's Mg. Dir./CEO Stephan Ritzmann as well as Swiss Tourism's Dominic Junghaenel. I also learned Oakwood's top man here Martin Fluck is President of the Swiss Chamber of Commerce. He's a busy man.
LEX – UPCOMING PARTY FOR THE Fl DRIVERS
The world-famous Fl drivers will be here for the race on October 5. For the 5th year in a row, Ceremony President Tsukasa Shiga will host an after-party for them and their friends. This year's part will be at the Red Carpet, in the basement of Roppongi's Roi Building. It will be a good chance to meet some interesting people. For info, call me at 090-3200-6767.
*First published at the Tokyo Weekender
*Images Copyright: Tsukasa Shiga