Hersey's Partyline October 2016
PEOPLE
HAPPY BIRTHDAY, NORMAN 
Still putting on the ritz, but this time high in the sky, while noted art dealer Norman Tolman's daughter, Allison, was visiting here from the  Big Apple. Tolman's super staff hosted a special birthday party in his honor at the luxurious Royal Suite on the 37th floor of the beautiful  Conrad Hotel. The spacious suite was wall-to-wall with an extremely interesting bunch of Norman's friends. After the G0-some guests sang  "Happy Birthday" and cut the cake, the Tolman Gallery staff presented  Norman with a big digital picture mosaic that Shin, one of the members of his staff, had made for him. It's a real work of art. l might add that both Norman and his daughter looked super cool in black and silver  Issey Miyake creations. Happy birthday, my friend — and many more to come. 
PARTIES     
AWESOME BASTILLE DAY RECEPTION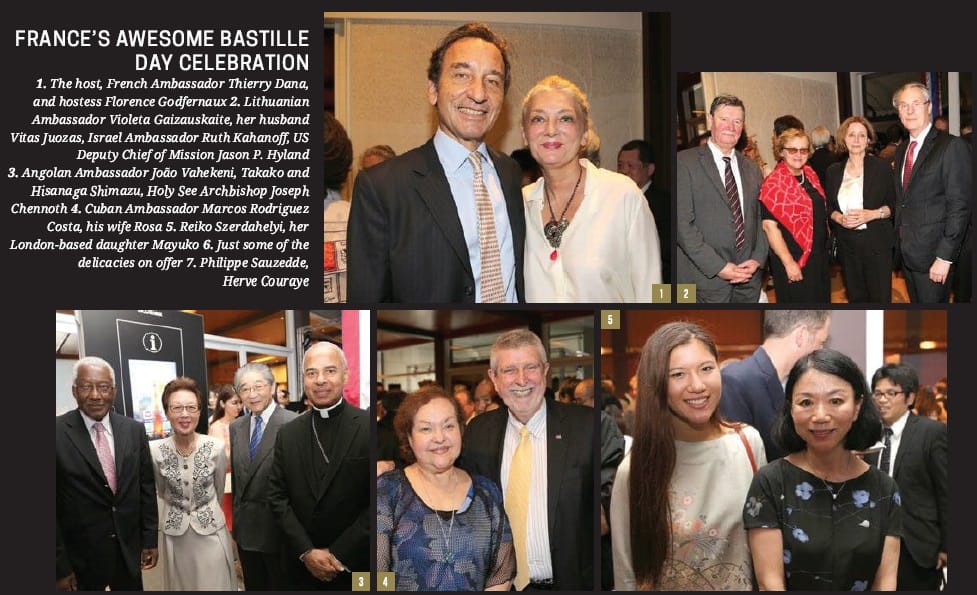 It was raining most of the day, but the evening was mostly clear for the beautiful Bastille Day celebration that French Ambassador Thierry Dana and his partner Florence Godfernaux had at the Embassy. The hosting couple is very popular, and the large embassy residence and white tent—covered garden was packed with their many friends from all walks of life.  French and Japanese relations are really strong, and there were so many familiar faces from the worlds of fashion, art, politics, and business there. I was happy to have the opportunity to say sayonara to one of my favorite ladies, Reiko Szerdahelyi, and meet her beautiful daughter Mayuko who lives in London. Reiko is an accomplished pianist, and she and her husband Istvan are busy settling in for his new posting as the Hungarian Ambassador of Singapore. They will really be missed here.  
JUNKO'S SUMMER YUKATA PARTY 
The dynamic, never—slows—down fashion designer, Junko Koshino has been even busier than usual. l was sorry I couldn't get to see one of my favorite groups – Drum Tau – at Bunkamura. Their shows are always the best» they're colorful, full of energy and amazing drumming, and show off plenty of great costumes by Junko. Friends who were there had nothing but raves for what they called a great evening in every way. l felt the same way about her yukata party at her big chic boutique on Kotodori Street. Most of the classy crowd were wearing Junko's original kimonos or yukatas.
PLACES
THE MERICS' ART EXHIBITION

Mrs. Meric's many cultural events. These included the opening of the exhibition of 16th-century genius Matrakci Nasuh, a conference, and a  concert of Turkish classical music. Several years ago, I spent eight days in exotic Istanbul as an ambassador's guest. I loved the city, loved the people, and really appreciate having friends like Ambassador and Bulent Meric and his wife Kumiko. 
ENTERTAINMENT ART EXHIBITION 2016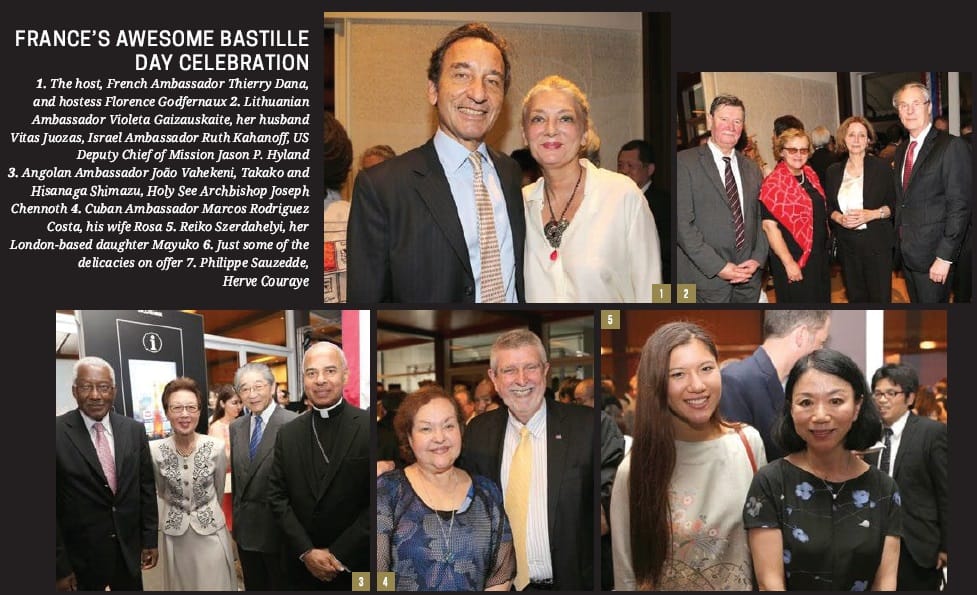 I had another great day on the water when I joined a large group of artists that included high-ranking government people, business leaders, top photographers, fashion designers, models, and showbiz celebrities. These included several actors, actresses, and musicians I hadn't seen for a long time.  The opening ceremony took place in an auditorium at the Hinode Marina. There were several speeches and an introduction of some of the many VIPs there. As the exhibition was one of the many events to celebrate 150 years of friendly relations between Italy and Japan, one of the principal speakers was Matteo Ceccarini, a very talented Italian artist friend of mine. His painting of 104-year-old doctor Shigeaki Hinohara looks like it could walk right off the canvas.  After the ceremony, we all boarded the huge white cruiser "Symphony," mixed with the crowd, and checked out the fantastic exhibition artistically displayed throughout the ship. Proceeds for the charity project went to victims of several natural disasters. Kudos to the over 100 people,  including Prime Minister Shinzo Abe, his mother Yoko, former prime ministers Taro Aso and Yasuo Fukuda.
*First published at the Tokyo Weekender
*Images Copyright: Tsukasa Shiga