Bill's Partyline October 4th, 2008
PEOPLE
Superstar Christian Bale was back in town again for Warner Brothers and kept very busy promoting the record-breaking new Batman film, The Dark Knight. Those joining Christian in the promo included producers Emma Thomas and Chuck Rover, director Chris Nolan, actor Aaron Eckhart and actress Maggie Gyllenhall.
In addition to the big press conference at the Grand Hyatt, back-to-back interviews, and TV appearances, the visiting celebrities walked the red carpet, signed autographs, and made short welcome speeches at the Tokyo International Forum premiere. I talked with many of the guests after they saw the film and there wasn't one that didn't feel this was the best Batman film ever.
I had lunch with Christian Bale when he was a child actor here promoting the film Emprie of the Sun, and remember him telling me that was his last film. Well, as most of you know, he went on to do a lot of films including Swing Kids, American Psycho, Batman Begins, and 3:10 to Yuma among many. Christian is considered by most of the best Batman ever and has several other really good films coming up.
He is, by the way, very uptight about his private life and let one journalist in Tokyo who asked him about a family feud know that at the press conference. I took Christian to a sumo even when he was here promoting Batman Begins, He's a nice guy, but quite reserved and quiet.
PARTIES
It was a grand night for singing and the singing and instrumentals, as always at Grace Saito's Gracekai Charity, were truly grand as well. As I've said before, Grace, one of our city's most active philanthropists, just never slows down. Her latest charity concert was held at Sogetsu Kaikan and it was a full house of music-loving VIPs that evening. The program featured a group of critically acclaimed artists that included Soprano Emi Sawahata, tenor Kei Fukui, violinist Jung Chan-woo, and pianists Etsuko Tanilke and Fubuki Yajima. The concert was held in coop-eration with the Rotary Foundation Polio Plus Partner Committee and the Tokyo Nilcikai Opera Foundation. The proceeds from the beautiful evening were used to benefit the Polio Education Fund. After the concert, Grace took her much-deserved annual summer holiday in Italy with her daughter.
Azerbaijani Independence Day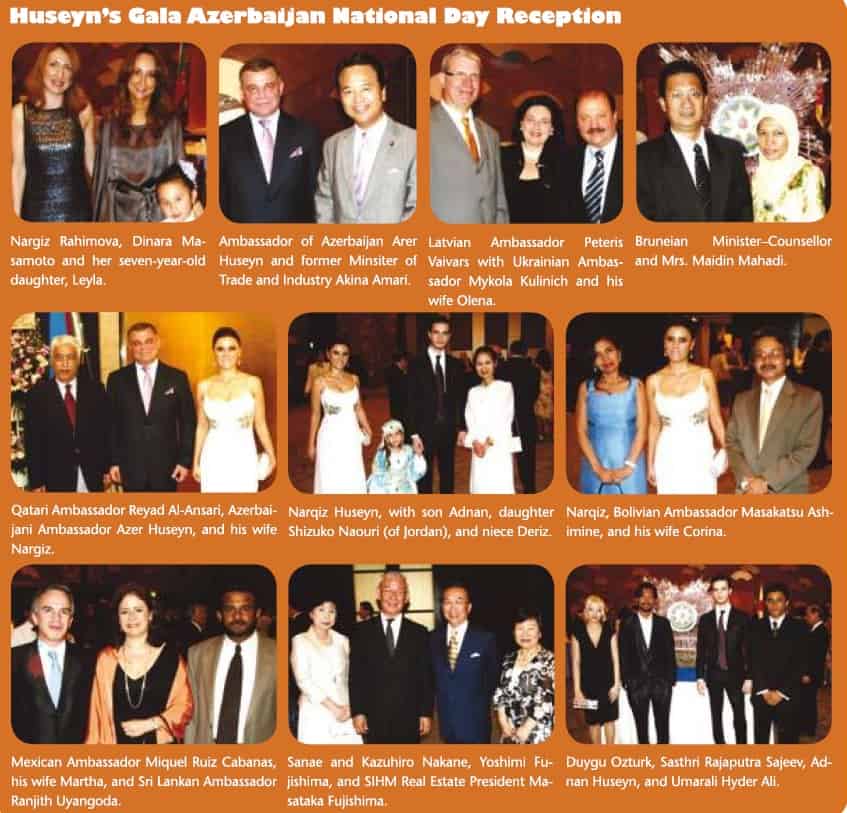 It was a first-class international evening all the way at Azerbaijani Ambassador Azer Huseyn and his wife Nargiz's reception to celebrate their country's Independence Day at the New Otani Hotel. Nargiz, as you can see by the photos, looked like she stepped right out of the pages of Vogue. The Huseyn's two children, Adnan, who studies at Temple University, and his six-year-old sister Deniz (looking cool in national costume) were both there helping their parents make sure the guests were enjoying the evening. Believe me, they were.
Portuguese Independence Day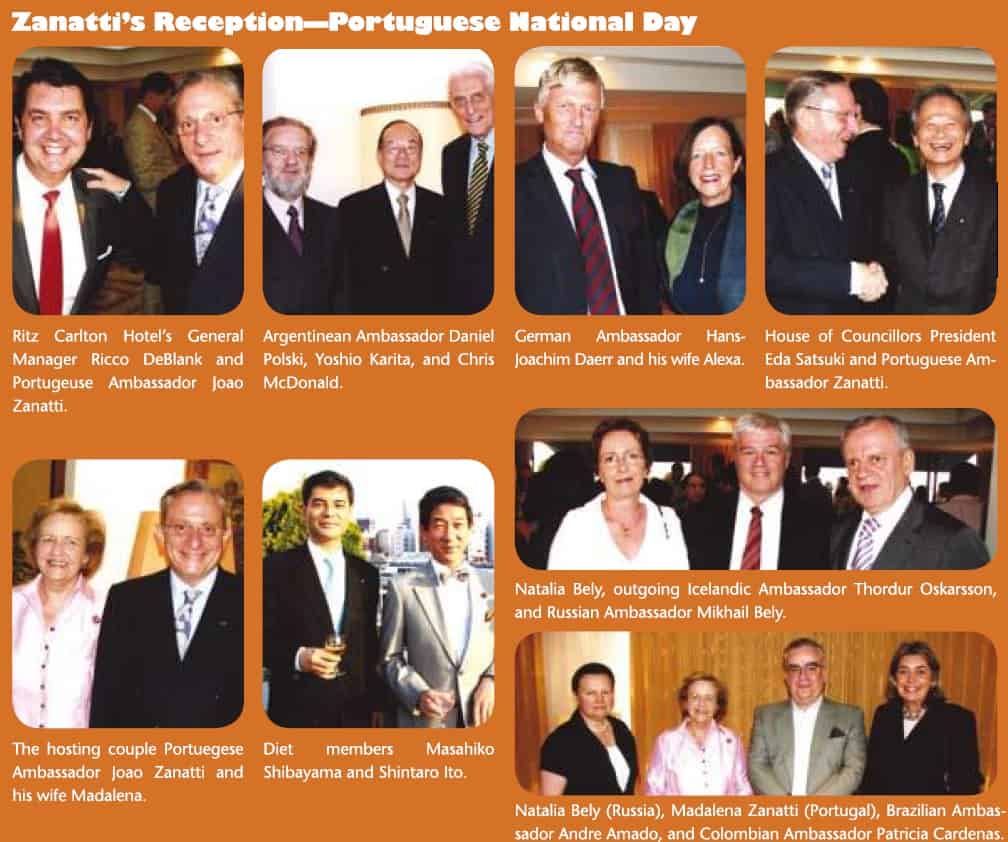 I'm sure everyone (me too) also really enjoyed Portuguese Ambassador Joao Zanatti and his wife Madalena's midday reception in their light, bright, and elegant Roppongi apartment. The occasion was their country's National Day. The hosting couple's spacious home was wall-to-wall with interesting people. I really enjoyed meeting with several very young Diet members I hadn't met before. Many of the guests moved out to the balcony for the magnificent view of the prestigious Ritz-Carlton Hotel and the beautiful garden between the residence and hotel. It was a nice party and a great way to break up the day.

PLACES
Thanks to friends at the London offices of FHM Magazine (they did a column on the LEX). I recently received a copy of the book Bit of Blur by my favorite Blur member (bass) Alex James. Whenever the UK band did a concert tour in Japan they hung out every night, all night, at the LEX. In fact, one of the captions on a photo in the book says, "Tokyo with Lexington Queen hangovers." Alex, who was invited to Colombia by the president, now appears on debates on BBC and writes for several publications. He's also become a big anti-drug campaigner and spends considerable time talking to young people about how drugs can "quickly or slowly" destroy their lives. It's great to see this truly good guy fighting for such a worthy cause. My thanks to Alex for the mention in his book.
If all goes as planned I should be back from a real adventure week in Sri Lanka. The last time I was there was about 17 years ago and I still have some great memories of the country and its people. Sri Lanka's diversity is awesome. That trip included shopping in Colombo, cultural shows, two days at a beach resort, a night in the tea country, a day safari to check out the wildlife, time on an elephant, a climb up the Rock Fortress of Sigirya, and the Esala Perahera (sacred tooth of the Buddha) procession at Kandy. Here in Tokyo, you should check out the Sri Lanka Cultural Heritage Exhibition, which started September 17 and runs through November 30 at the Tokyo National Museum. It's the first time ever a Sri Lankan exhibition of this magnitude has been held in Japan.
*First published at the Tokyo Weekender
*Images Copyright: Tsukasa Shiga