Bill's Partyline October 4th, 2009
PEOPLE
In keeping with our special issue on Germany, I'd like to talk a bit about the beautiful country, the great people, and their special diplomats, ambassador Hans Joachim Daerr and his wife Alexa. The popular couple, who've been here a little over three years, will be leaving soon, and needless to say they will be really missed by all who have had the good fortune of getting to know them. My sincerest thanks to these two amazing people for many things, but most of all for their friendship.
Welcome Back Atul and Kazuo
It was also nice to see two more friends, Atul Parekh and jewelry designer Kazuo Ogawa, who put so much time and effort into helping many worthwhile charities like the Japan Red Cross and Birdlife International, had both recovered from some health problems and were welcomed back by a full house of friends at a party at the art-filled Golden Door boutique near Chinzano Garden. Special guests included Indian ambassador Singh and his lovely wife Mrinalini who took time out of their busy schedule to drop by and see their friends. In addition to the interesting people and Indian buffet, noted Soprano Noriko Ueda thrilled the guests with her moving performance of music from Madame Butterfly. She was assisted by Kazuo's wife Kimiko, who looked elegant in a kimono and was actually moved to tears by the music. Kazuo and Atul produced many wonderful charity galas with HIH Princess Takamado for Birdlife International, of which the princess is honorary president. They are currently working on Dewi Sukarno's 12th annual charity Imperial Banquet gala dinner, which I'm sure will be as enjoyable and entertaining as last year's highly acclaimed event.
PARTIES
Egyptian National Day Party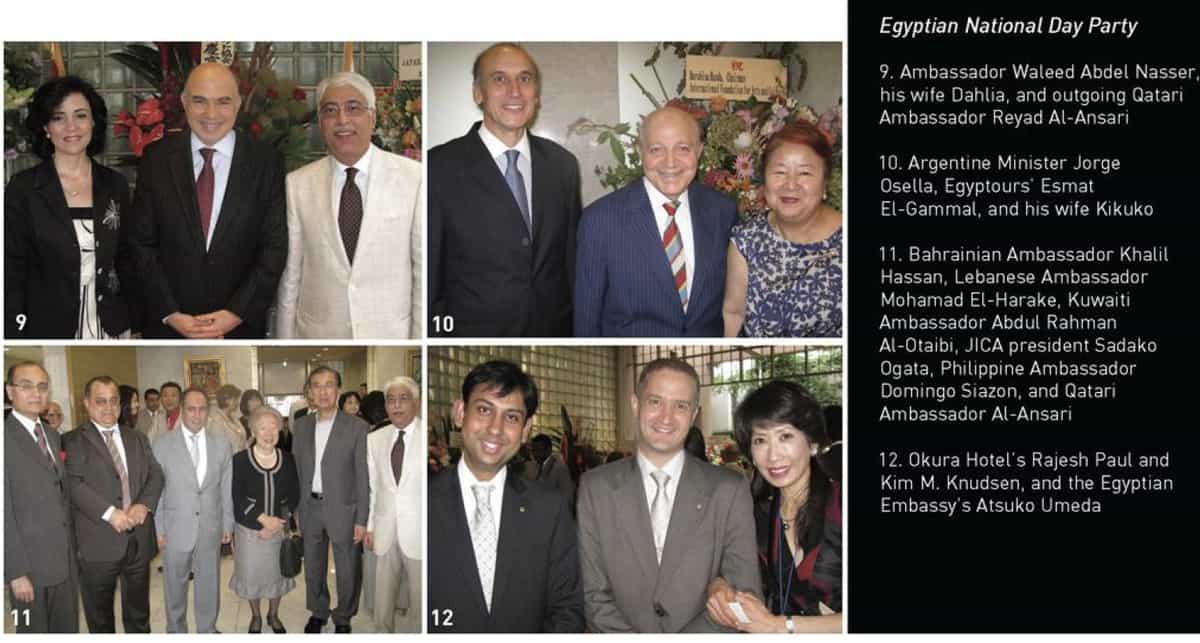 The huge crowd that attended the midday Egyptian national day celebration at the Aobadai embassy was proof positive of the popularity of Egyptian Ambassador Waleed Abdelnasser and his super chic wife Dahlia. The pharaonic statues, colorful wall hangings, background music, and bountiful buffet of the very best Egyptian food added up to a colorful, exotic, and thoroughly enjoyable happening. Unfortunately I was working on a photo shoot that day so couldn't stay long, which I was sorry about, as there were so many interesting people I would have liked to talk to. I did talk to art dealer Norman Tolman, who's just back from a trip to many special places, including Egypt. It was his idea, and a brilliant one, to take his daughter Allison as a birthday present. Talking about daughters Allison and Hillary, they were both wearing gold sandals they had bought in Cairo's famous Khan Khalili Bazaar, and I still tease them about their flashy shoes. Luckily, like their dad, they both have a great sense of humor.
Senegal and Peru National Day Celebrations
I'm sorry about this, but I somehow misplaced photos, so am running coverage on these events later than I would have liked to. First there was Senegalese Ambassador Gabriel Sar and his wife Christine's well-attended and enjoyable midday reception at their residence to celebrate their country's national day. To add to the celebrating, there was a people-packed Fiesta Del Peru a few days earlier at the huge Studio Coast club out in Shin Kiba.
PLACES
Ritz Carlton Reception
Over at the Ritz Carlton Hotel Tokyo the outgoing general manager Ricco Deblank hosted a glittering reception in the hotel's ballroom to thank his many friends, bid sayonara, and welcome his successor Francois J. Cnockaert. After three years and eight months at the hotel, Ricco has moved to Hong Kong, where he's a CEO of one of the divisions of the Sun Hung Kai company, whose vast holvdings include the Ritz Carlton and Four Seasons Hotels. I wish Ricco and his family all the best in Hong Kong, and Francois the same at his new job here in Tokyo.
Junko Koshino Fashion Show
l have known fashion designer Junko Koshino for many years, and the multi-talented lady never ceases to amaze me with her creativity, energy, and international outlook. Believe me, she really is quite amazing, and her fashion shows, which she's done all over the world, are always very original and special. Her recent show 'Mode and Construction, Junko Koshino at Moment' at the Grand Hyatt hotel, was all that and more. This time Junko worked very closely with her husband, Hiroyuki Suzuki, who's an excellent photographer, and used his color and black and white photos of architecture and construction in Japan, Dubai, Paris, Shanghai, and other cities as the background to show her sensational new collection. It worked out beautifully. The show itself featured sopranos Noriko Ikeda and Ryoko Sunagawa, several selections by business tycoon Yasuyuki Nambu's daughter Yasuko, who studied flute in Germany, and a colorful performance by showman Tommy, who's the world yo-yo champion.
*First published at the Tokyo Weekender
*Images Copyright: Tsukasa Shiga