Bill's Partyline October 5th, 2007
PEOPLE
With his movie star looks and super personality Ben Affleck could have just about any girl he wanted. He chose his daredevil co-star, Jennifer Garner. That dynamic lady was here recently to promote the film The Kingdom for U.I.P. For her press conference, the 180cm tall beauty wore a black mini, a white blouse and a great smile. In regards to working on the film, she said the director Peter Berg wanted it to be real, and unlike the last film Elektra there was a lot of preparation as well as Improvising. One of the highlights of shooting was the chemistry of the cast. "We all had a natural kinship with each other," she said, adding, "being the only woman [in a major role] in the film was nice. Jamie Foxx is a real gentleman and the guys always made sure I had a seat when I wasn't working, plenty of water etc."
Watanabe Productions exhibition Pocket Full of Dreams at Tokyo Department store was amazing. It showed their many achievements in showbiz here in Japan. Years ago when Watanabe Productions was the biggest name in Showbiz promotion here, I was good friends with the top man, the late and great Shin Watanabe as well as his wife Misa (Freddie Mercury's favorite) and daughter Miki. They run the company now. Once again, years ago, when my brother Chris, (God bless his soul) who was a singer (a good one) here, I got to hang out with him at the Watanabe's many live houses, and meet and mix with all of the top talent the agency represented. The last time I saw Shin he had gotten out of his hospital bed and attended a huge party in his honor where he received a decoration from the Emperor. Shin passed away a few days later. I remember taking Michael Jackson's father Joe to the party. I'll save that story for later.
Seems everyone wants to visit Tokyo, and thanks to my work, and of course many friends, I get to meet so many interesting visitors. The last few months have included Francessa Versace, the totally cool niece of Fashion Designer Gianni Versace, model/actress Devon Aoki and her music expert DJ brother Steve, Director Michael Bay was here with actor Josh Duhamel to promote Thansjonners. Halwig and the Angry Inch Director, John Cameron Mitchell was here to promote his almost pornographic film Shortbus. Local transvestite Vivienne Soto (the one with a two and a half foot hairdo, make sure you don't sit behind him in the movie theater!) produced a fun dub party for Hedwig and the Angry Inch Director John Cameron Mitchell.
Producer Ben Efrain was here to meet with potential partners in his new film project and Warner Brothers brought in the truly glamorous Catherine Zeta Jones to promote No Reservations.
Back to ballet, it was great getting together with French-Vietnamese ballet star Charles Jude. I first got to know Charles when he was a principle dancer with the Pads Opera ballet, he now lives in Bordeaux where he's director of the Ballet de Kopera de Bordeaux. Charles was in Japan as guest dancer with a Japanese Ballet company.
PARTIES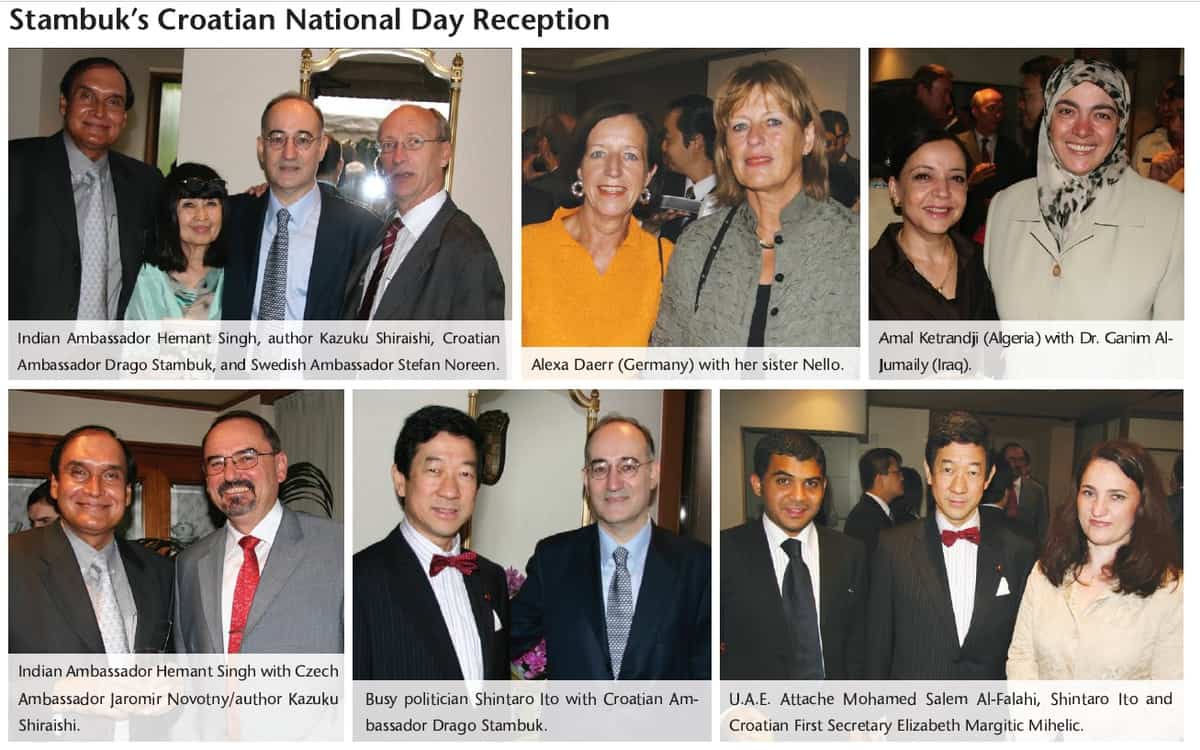 Happily I was able to drop by the home of Croatian Ambassador Drago Stambuk for his midday reception to celebrate his country's national day. It was a nice break with interesting people, good food and even a short performance by a Croatian opera singer. Hope to sit down with Drago one of these days and talk about India—a country I plan on seeing more of. He served as ambassador there for several years, and is enchanted by and an expert on that exotic country.
As always happy to report it was a full house at Grace's Gracekai charity concert in the ballroom at the prestigious Park Hyatt. The concert was titled An afternoon of musk Soprano, tenor and Marimba. All the participating artists were first class. I and many other really got a lift from the exciting Marimba player Hideki Ikegami. It was a wonderful afternoon for a very worthwhile cause—keep up the good work.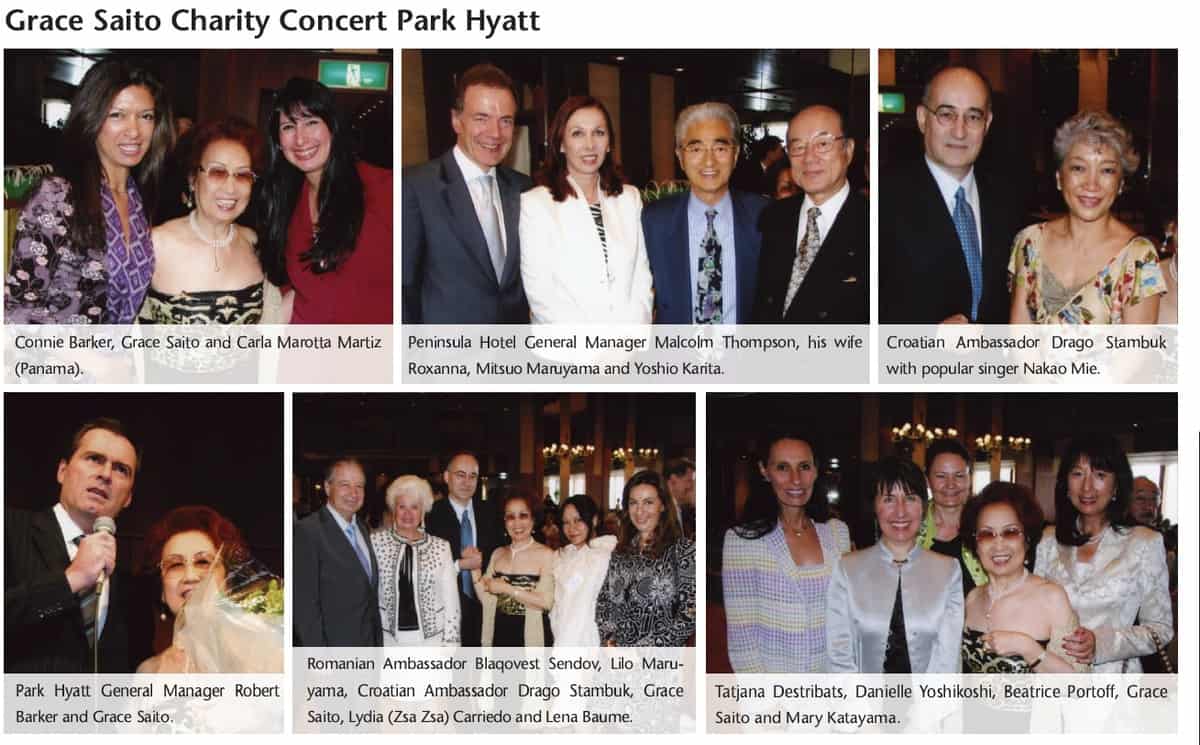 Dropped by the Grand Hotel recently for Amway's launching of their new artistry creme I./X. Over 50 scientists worked several years to develop the beauty product. Actress Sandra Bullock is the image girl for the product. She was here earlier this year to promote her film Lake House for Warner Brothers, and she looked awesome. The Amway people are even busier than ever preparing for their "One by One Run for Children". The Tokyo 10K Halloween run takes place on Oct. 21 For more info call 03-3714-1733.
PLACES
The Grand Hyatt's Executive Chef, Josef Budde, has been busy with special promos for Warner Brothers' No Reservations. First there was the elephant dinner for a top women's magazine shooting. Then there was the gourmet No Reservations dinner which was added to the hotel's French Kitchen menu.
By now Hilton Tokyo has opened their completely and beautifully remodeled lobby (reception and mar-ble lounge) I'll talk a lot more on this later. For now I strongly recommend you drop by for a healthy Hilton breakfast, the brunch buffet, the famous dessert buffet, the chocolate and cheese buffet or your choice from the luxurios a la carte menu. Hilton Tokyo's Marble Lounge is the first Tokyo hotel to offer a 24-hour, seven days a week dining experience. The smoke-free spectacular new space with its art, light, sound and scent is a tru-ly inviting and tasteful space to relax and enjoy. This column I am running photos I took of the many ballet dancers from all over the wodd who performed for the Dance 4 AIDS Orphan Africa Charity gala. These were taken in the lobby of Hilton Tokyo where they stayed. They all had nothing but praise for the hotel and its "always friendly and helpful staff".
*First published at the Tokyo Weekender
*Images Copyright: Tsukasa Shiga