Bill's Partyline September 18th, 2009
PEOPLE
Last month in Roppongi the family of one of Japan's best-known actors, the late Toshiro Mifune, opened a fashionable new Japanesestyle restaurant in memory of Toshiro. I got to know the man well over the years, and thanks to his actor grandson, Riki, who's a student at St. Mary's, I received an invitation to the opening. Following tradition, customers take off their shoes at the entrance and are taken to one of the tables, where they sit on the floor. There's one elevated private room that sits about eight people, and the decor reflects Toshiro's main characters samurai. The menu offers a choice of meat and vegetables, is healthy, and reasonably priced. The crowd there was interesting. I enjoyed talking with William Saito, who is a good friend of Bill Gates and also works with California governor Arnold Schwarzenegger. One of the girls with him told me, "Everything he touches turns to money." That must be nice. For information on the restaurant check www.mifune-project.com.
PARTIES
The Africa Day celebration at the Roppongi Hills Club was very special as well. The many participating countries all prepared a wide variety of their national dishes. The food was fantastic—the only problem was deciding what to try. There was just no way anyone could even sample all of the many dishes in the lavish buffet. The evening was a kaleidoscope of color, with many of the women (and a considerable number of men as well) wearing their national costumes. Check out the photos and you'll see what I mean. It was nice seeing Judith Atanga, and we talked about when we went club hopping in Roppongi several years ago with Robert De Niro. Judith was working at the Cameroon embassy then. Now she has a Cameroon restaurant, O'Village, in Higashi Ikebukuro. It was also nice to see former prime minister Yoshiro Mori. He's pretty much travelled all over Africa, and keeps busy furthering Japan's good relations with African countries. It was an interesting, meaningful, and laid back celebration. Congratulations to all concerned.
Mexican Naval Party
I've always had a love of the sea and boats of all kinds. I even came to Japan for the first time on a Japanese freighter that took almost two weeks from Long Beach, California to Yokohama, and I made several trips back and forth from Japan to Hawaii on the President line. After that, needless to say, I was looking forward to (and really enjoyed) the evening that Mexican Ambassador and Señora Ruiz Cabana, the officers, cadets, and crew hosted aboard the visiting Mexican naval cadets' training ship, the majestic Cuauhtemoc, which was docked at Harumi pier for several days. Guests at the reception included Japanese government officials, diplomats, Japanese naval officers, members of the Mexican community in Japan, and even a guest Korean naval cadet. It was a beautiful evening, with a marvelous view of the Rainbow Bridge. The superb buffet of Mexican favorites featured a big cake in the shape of the ship, complete with sails, miniature metal sailors, and lights on the masts. It really was a work of art. I've visited the ship on its last four visits to Japan, and it's always a great and memorable experience. This time, as always, I had the privilege of getting to know many of the officers, cadets, and crew who partied at the New Lex. It was all very Mexico, and all very special.
Opening of the New Indian Embassy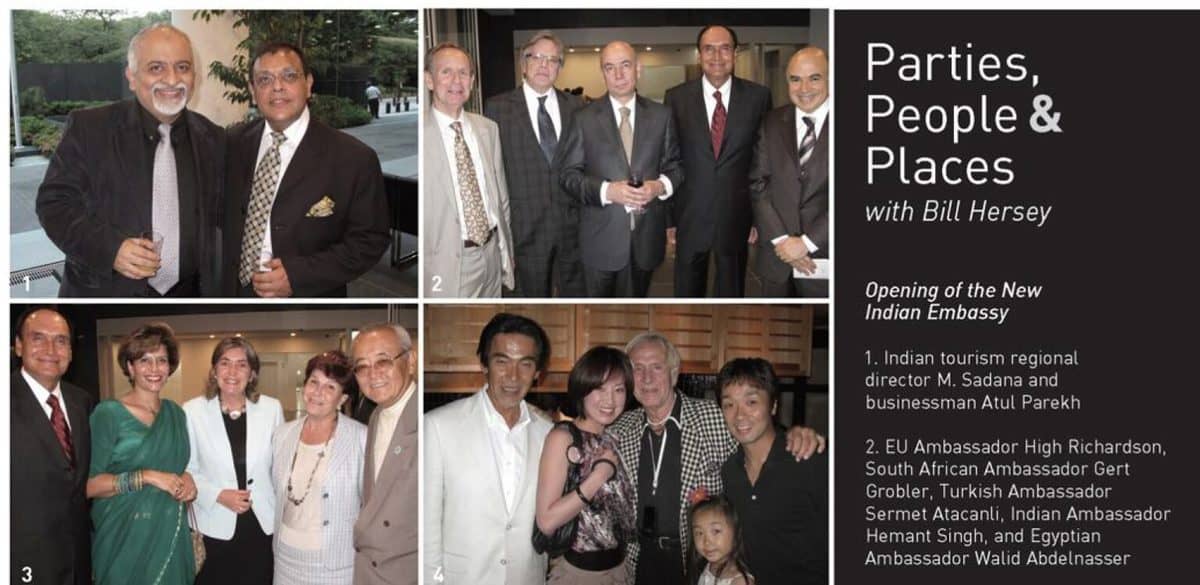 My sincerest congratulations to the high profile, always active, and always helpful Indian community in Japan on the opening of their beautiful new embassy near Yasukuni shrine. To celebrate the occasion, Indian Ambassador Hemant Singh and his wife Mrinalini hosted several special events, including a soft opening, a formal opening, and a national day reception. Mrinalini, as many of you know, is a very accomplished artist, and her paintings of flowers are beautiful. Her knowledge and love of art played a very important part in making the spacious, ultra-modern new embassy complex the cool, relaxing place that it is. Even if you don't have business there, you should drop by and check out the beautiful contemporary and traditional Indian art in the lobby and other public areas. Earlier this year, thanks to Tom Yoda of Gaga Communications, I set up a private screening of the Oscar-winning film Slumdog Millionaire for Hemant, Mrinalini, and some of the embassy staff. It was really nice of Tom to loan a copy of the film to be shown in the new embassy's auditorium for the soft opening.
PLACES
With all the construction going on everywhere it's often difficult to even think about a recession. I visited friends at the Mexican embassy this morning, and it seems like every other building in the area behind the old Capitol Tokyu Hotel (soon to be a new, modern skyscraper) and in the area of the Diet building is being torn down, rebuilt, or at least completely redone. We see this every day, everywhere, with new apartment complexes, office buildings, boutiques, and restaurants opening or scheduled to open all over this amazing city. There's been a lot of construction at the Mexican embassy as well. They're really putting their newly opened auditorium/ event space to good use. Mexico has so much to show.
We all know that Japan is a literal treasure chest of culture and tradition. What makes it all even more special are the many opportunities that the government, schools, businesses, and even individuals offer to visitors to help them learn more about the many things that make up Japanese life. For those into Japanese sake, here's an upcoming event that's well worth checking out. National Azabu supermarket in Hiroo has joined with the Sake Association of Nara, the ancient capital of Japan, in a 'Learn and Taste Japanese Sake' seminar. The lecture and experience will take place on September 26 and 27 and October 3 and 4, times are 1–2:30pm and 4–5:30pm, and the lectures are in English. Space is limited to 15 people per seminar. For registration and more information drop by the supermarket. The event, which is free, is supported by Nara prefecture.
*First published at the Tokyo Weekender
*Images Copyright: Tsukasa Shiga