Bill's Partyline September 2011
PEOPLE
Merci to Societe Generale Private Banking's president/CEO Christophe Billard and his executive staff, as well as Koichi and Daniele Yoshikoshi for the invitation to the bank and Unifrance's opening film and private party on the occasion of the Festival du Film Francais au Japon. Air France, for the big event, flew a group of young French film celebs and noted director Luc Besson here. Other special guests included French ambassador Philippe Faure, his wife Christine, designer Junko Koshino, Japanese government officials, and business leaders. The Faures, who have been very busy since 3/11, held their national day celebration on July 14th in Inkoriyama prefecture in Fukushima. In addition to the French minister of culture and communications Frederic Mitterrand, as a special guest, they invited many government officials and local business leaders from the areas that suffered so much damage in the earthquake and tsunami. Our congratulations to our French friends on all this.
PARTIES
Sri Lankan festival promo party
Sri Lankan ambassador Admiral Sawantha Karannagoda, his staff and Sri Lankan airlines hosted a marvelous evening press conference and buffet dinner at their embassy in Takanawa. The occasion was to promote the 2011 Sri Lanka festival which will be held at Yoyogi park Saturday the 10th and Sunday, September 11 from 10 a.m. to 7 p.m. The program started out with a slide lecture by Norihide Kawai, a journalist who recently visited Sri Lanka, it was fascinating and certainly brought back some great memories of my time there a few years ago. For me, it is the amazing diversity in culture, religion, wildlife (love the elephants), good food, great shopping, magnificent scenery plus the hospitality and friendliness of the people that make this truly beautiful island country special.
Colombian celebration in Hibiya park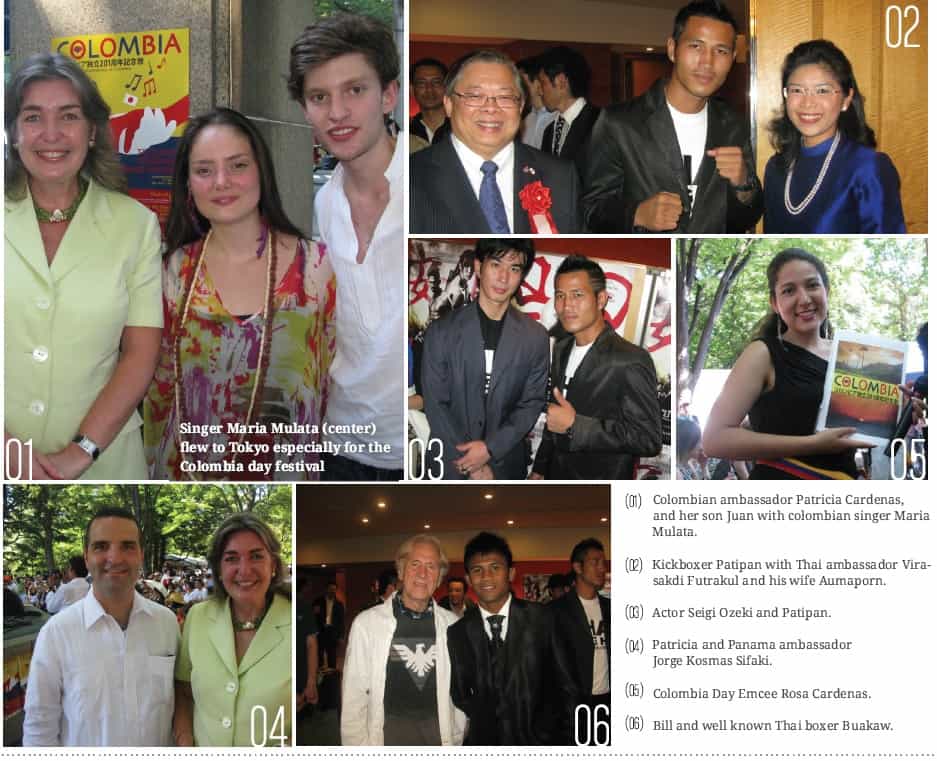 Hibiya park was full of the sound of music (Latin music that is) and lots of enthusiastic Colombians and their Japanese friends who got into the celebrating mood for the festival on the occasion of Colombia's 201st Independence day, I tell you, the people there, young and old really can dance, and know how to have fun. Thanks to ambassador Patricia Cardenas and her son Juan, I had a center seat in front of the parks main stage where there was a great music and dance show. I also had the privilege of meeting many of the stars from Bogota after their performances. My favorite was Maria Mulata, a cool young lady who recently won one of the top prizes at a big music festival in Chile. Maria closed her show singing the Japanese song "Ue Muite Aruku" accompanied by a dynamic Japanese taiko (drum) group.
PLACES
Ray-Ban Party at Liquid Room
Ray-Ban sunglasses party was wall-to-wall people: A real butt-bumping crowd! Thanks to two brothers who work with the world-renown sunglasses company, Fabio and Aldo Lacavera, who invited me, La manager Tatra Masuda and about fifteen young party-loving, Lex customers to the colorful fun Ray-Ban happening. The group included actors, singers, fashion designers, and sports personalities and models! The entertainment included music by Issa, formerly of the band Da Pump and singer Soulja. The highlight of the evening was a wonderful performance by renowned magic man Cyril Takayama. (He's really good, check out his videos at: www. cyribnagic.com). I ran into lots of friends of all ages and various walks of life there and everyone really enjoyed the primo classe evening with great sounds, a look at Ray-Ban's latest collection, and food catered by Elio.
Sad news on the entertainment scene, when Oriental Land announced they were closing the Cirque du Soleil show Zed at the beautiful theater next to Tokyo Disneyland. We had a sayonara party for the cast at the New Lex and will really miss these nice talented people from all over the world.
*First published at the Tokyo Weekender
*Images Copyright: Tsukasa Shiga