Bill's Partyline September 2014
PEOPLE
DR. EUGENE AKSENOFF, 1924-2014 I also wanted to say a sad farewell to a medical man who has done so much good for the foreign community of Tokyo: Dr. Eugene Aksenoff, who passed away this month at the age of 90. He opened the International Clinic in 1953, and he was known not only for being an excellent doctor, but also a real philanthropist. His great skill as a doctor made him the "go to" person for people to visit, and he got plenty of attention for – treating celebrities, including Madonna, Brad Pitt, and Michael Jackson. But what made him so special was that he was always willing to help out people who didn't have a lot of money, or might have had visa trouble. That's just the kind of person he was—one of a kind—and he will be missed.
PARTIES
AMBASSADOR KENNEDY'S SUPER AMERICAN INDEPENDENCE DAY PARTY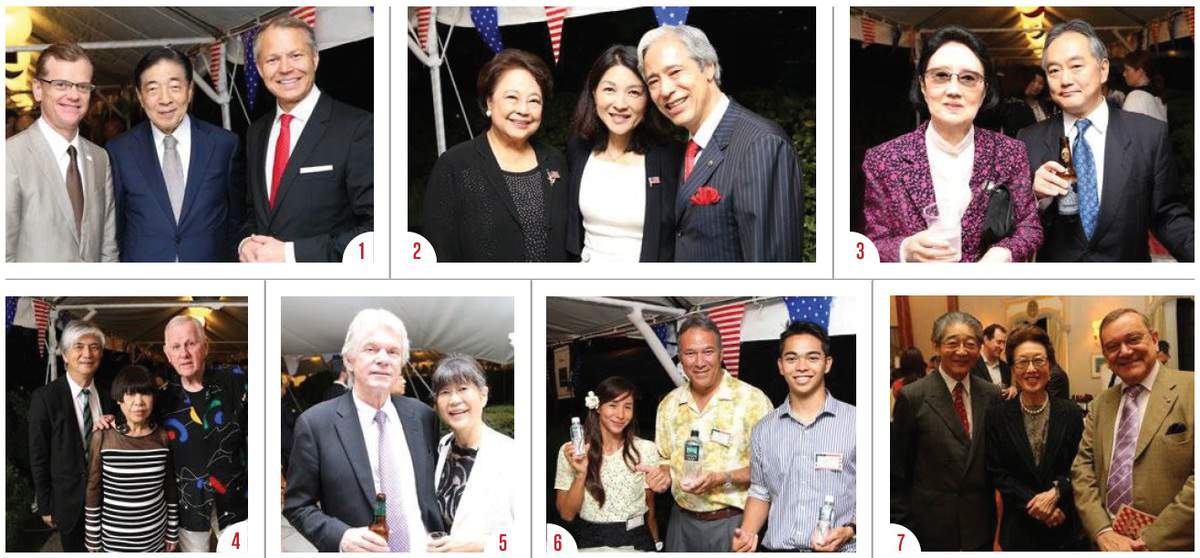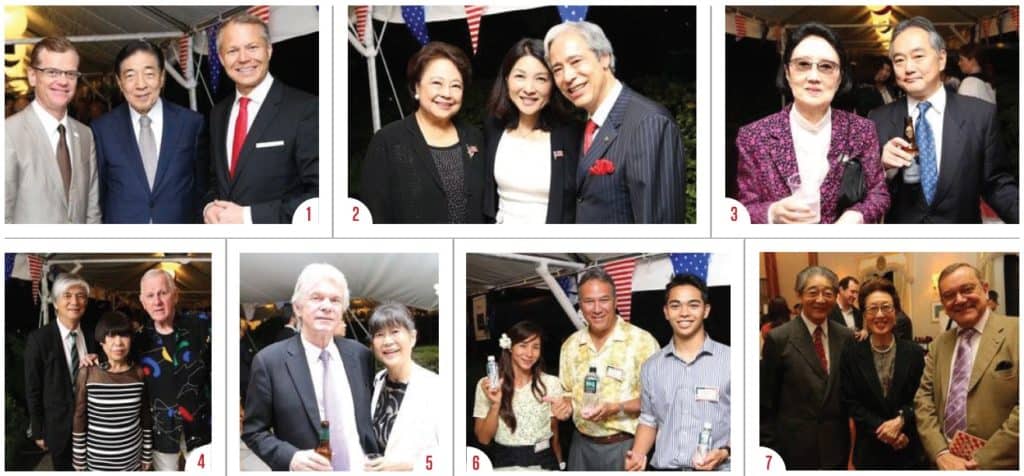 It was US Ambassador Caroline Kennedy's first time to host the July 4th celebration here in Japan. The occasion was the 238th Anniversary of American Independence and the celebration of the new Ambassador. Her staff and a long list of American and many other friends who donated for the truly red, white and blue evening made it a truly memorable event in every way. There was a huge variety of American food favorites—hamburgers, hotdogs, lobster, and ribs. Frito Lays also had something to satisfy everybody . . . you name it and they had it. There was an amazing variety of great drinks that included America's top whiskeys, American and Japanese been, fine wines, Menshune water from Hawaii, and of course Coca-Cola. The desserts included natural watermelon, Ben & Jerry's ice cream, homemade brownies and chocolate chip cookies, and Hawaiian papaya. The automobile industry was well represented by Ford, Fiat Chrysler, General Motors, and Tesla. Harley Davidson had a display as well. I really wish I had space to list all the patriotic generous donors. There were a couple of hundred people who donated American products, their time, and their American know-how in making me and every American there proud.
ABEER'S PHOTOS OF OMAN
If you have the privilege of knowing Abeer A. Aisha, wife of the Ambassador of the Sultanate of Oman, you know what a wonderful, outgoing, generous lady she is. She's always busy, and always involved in worthwhile projects. You also know when she decides to do something she really gets into it and makes it all very special. Her recent photo exhibition "From Japan to Oman: The Beauty of the Moment" proved how true this all is. Abeer became a keen photographer while living here in Japan, where she studied photography at Temple University in Tokyo. She earned several prizes in photo competitions, which is no surprise, judging from the truly original and artistic work that was on display at the Embassy from 6/4 to 6/16.
JORDAN'S 68TH INDEPENDENCE DAY CELEBRATION—OKURA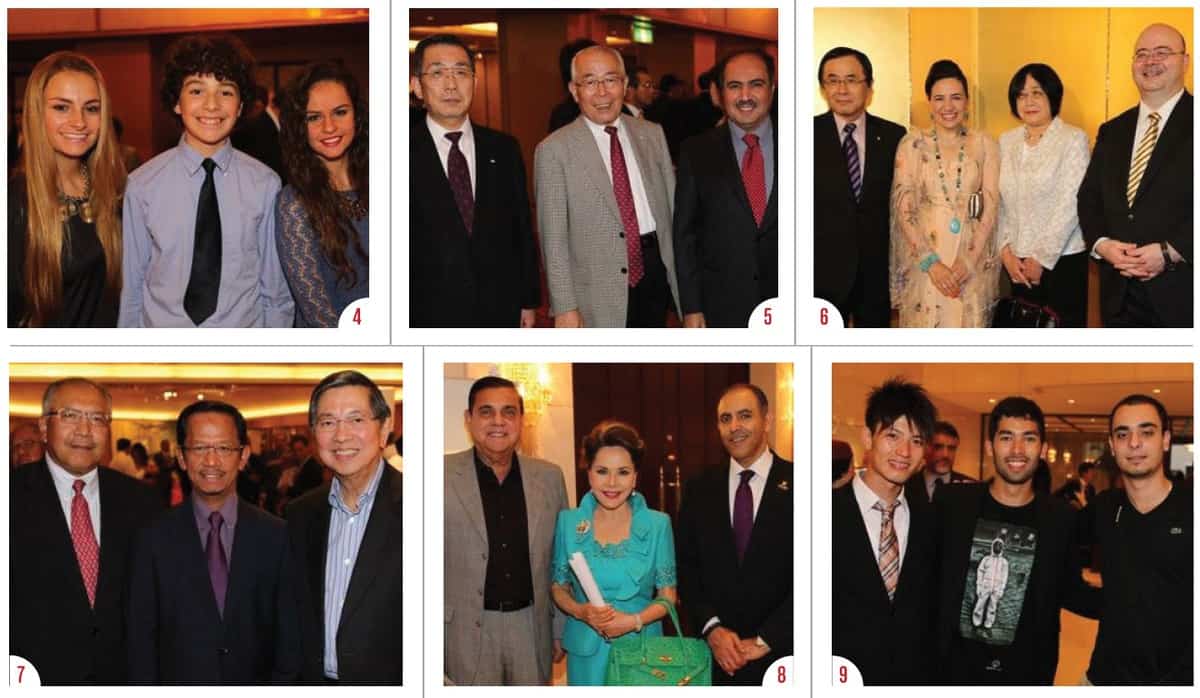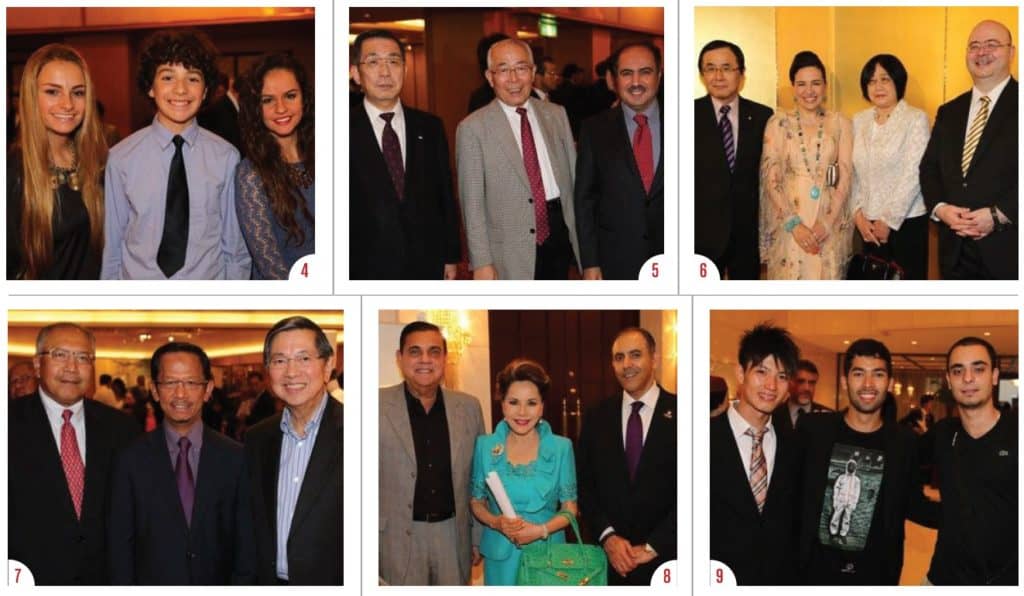 It was a busy night at the Okura Hotel when hundreds of the friends of Jordanian Ambassador Demiye Haddad and his wife Silica joined them for their country's 68th Independence Day. It was also the 15th Anniversary of H.M. King Abdullah H lbn Al Hussein's Accession to the throne as well as 60 years of diplomatic relations between Jordan and Japan with Ramadan and many National Day celebrations. Our Arab friends have really been busy.
PLACES
GRAND OPENING-HYATT ANDAZ HOTEL


The much-anticipated opening of the Hyatt Andaz Hotel in Roppongi Hills' magnificent new complex Toranomon Tower was—as we knew it would be—very speciaL The hotel has an open-air rooftop bar/terrace, restaurants, studios, a chapel, the luxurious Andaz Lounge and hotel reception on the 51st and 52nd floors of the 52-story Toranomon Towers. The 164 guest rooms are on floors 47-50, and the spa and fitness center is on the 37th floor. There's a café on the ground floor and a spacious all-day dining restaurant on the 51st floor, Andaz Taverna, where they serve sophisticated contemporary dishes. There's also a bakery and pastry shop on the first floor. The opening party was wall-to-wall VIPs, with so many Japanese and foreign friends. It was really great to see so many of the executive staff from Hyatt Hotels I've met over the years. Those people really know what they're doing. I really enjoyed meeting Akio Ohga, the adopted son of the late and great Sony Pres. Norio Ohga and his wife Midori. Thanks to Ohga and Nichan Blessner I attended the big opening events at the Sony Centre in Berlin several years ago. The highlight of the many happenings there was a concert where talented conductor Norio conducted the Berlin Philharmonic. It was also nice seeing WDI chairman Yoji Shimizu. He's a real pioneer in Roppongi nightlife. He started the original Playboy Club in Japan, worked with top chef/ restaurateur Wolfgang Puck on the famous Spago restaurant, and is still involved in the restaurant/bar biz with his Hard Rock Café, Tony Roma's, and a few other places that are still going strong.
Our congratulations to Hyatt on the Andaz. At the same time we welcome the Dynamic GM Arnaud de Saint-Exupery. He never slowed down at the opening, and from the looks of things, will continue to be super busy with the fantastic new hoteL Toranomon Tower is the 2nd tallest high-rise in Tokyo. The panoramic views of the city from the upper floors are awesome. The hotel name Andaz is from the Hindi word "personal style." Check it out, and you'll discover why.
When there wasn't a party, I joined friends in checking out some of the many new restaurants, cafes and spots around town. One of my favorites is El Coqui: "The first Puerto Rican restaurant in the history of Japan with home-style cooking." The stylish two floors, plus 20 VIP seats in the basement, are located in the Park View Nishi Azabu Building, Nishi Azabu 1-15-10 Minato-ku, Tel. 03-64349726. e-mail• info@ekoquitokyo.com. Liz, who's Puerto Rican, does a great job, as does their Cuban chef with Cuban food and their Japanese chef with the Italian food. No matter what you choose you'll enjoy it, and the Latin music in the background, along with Liz and her staff really create a good mood.
While you're in Hiroo, check Café Segafredo. Had an espresso recently with a good friend Brian Mori, who is the Representative Director and President of Segafredo. In addition to 35 shops in Japan, he has the famous Espresso Segafredo franchising contract for all of Asia. Brian just opened a new shop in Shinjuku. When he's not traveling he keeps very busy working with his staff on adding all kinds of Italian food specialties at very reasonable prices to his shops' growing menus. Brian and his staff have some well-located nice venues where you can set up small parties (food, drink, party ambiance.) For more info, call me at 090-3200-6767. Guess that's enough on food for now; let's move on to old Edo's always busy party scene.
*First published at the Tokyo Weekender
*Images Copyright: Tsukasa Shiga