Bill's Partyline September 2015
PEOPLE
If you follow the column you know for me, people are what it's all about, and I'd like to open this column with a rundown on a few I enjoyed being with this summer, Let's start out with Arnold Schwarzenegger who was here for Paramount to promote the latest "Terminator" film. Thanks to Bill Ireton I got to know Arnold over the years when he was here promoting one of his many films. Arnold still looks good and seems to be doing O.K.
Other superstars in town included Tom Cruise, who flew in from Korea and had two days here to promote the latest "Mission Impossible" for Paramount. The premiere was Sunday, August 2, in Shinjuku. It was really hot that day, and I just didn't feel like getting caught up in what I knew would be a huge crowd of Tom's fans.
In other movie news, my long-time friend and one-time business partner Tsukasa Shiga, the president of Ceremony Corp., has produced his first big film. The two-hour film is titled "Boku Wa Bousan" ("I Am a Monk"), and it stars popular actor Ito Atsushi. The cinematography is beautiful and the film, which has English subtitles, really shows Buddhism as few of us know it. If you're interested in one of the invitational screenings let me know.
PARTIES
Italian National Day with the Giorgias
Mother Nature was kind and it was a beautiful evening in every way for Italian Ambassador Domenico Giorgio and his wife Rita's glittering reception. The occasion was Italy's National Day, and was held at the spacious, chic residence with its huge, beautiful garden. Guests included top Japanese government officials, diplomats, business leaders, and familiar faces from the entertainment, fashion, and art worlds. It was nice seeing and chatting with long-time Italian friends like Koko Volpicelli and Japanese film director and Mrs. Masato Harada, whose latest film, "The Emperor in August," opened a few days later.
As I mentioned, the weather was beautiful and many of the guests moved from the residence to the garden where small white tents were serving food, and comfortable furniture to relax in was everywhere. It was a lovely, laid-back affair that went well into the evening.
Jordan Reception—Okura Hotel
I've known Jordanian Ambassador Demiye Haddad for a long time. Our friendship goes back to when he was first posted here as Ambassador so many years ago. Thanks to the late great minister of foreign affairs, Zentaro Kosaka, I had the privilege of meeting Jordan's highly respected King Abdullah II Ibn Al Hussein while he was still a prince. I had a marvelous 10-day visit to Jordan and enjoyed every minute of it. Actor Harrison Ford had told me about the ancient city of Petra where he worked on the film "Indiana Jones," so I made sure to visit there. Egyptian actor Omar Sharif had told me about Wadi Rum where he spent six months on location for "Lawrence of Arabia," so I got off the beaten path and spent two nights in the desert there. That, my friends, was a real adventure. Here in Tokyo on June 15, Demiye and his lovely wife hosted a reception at the Okura Hotel's Ascot Hall to celebrate the 16th anniversary of Jordanian King Abdullah II's accession to the throne and the 69th Independence Day of the Hashemite Kingdom of Jordan. It was a light bright evening with lots of good friends. Our congratulations to all concerned.
Philippines 117th Independence Celebration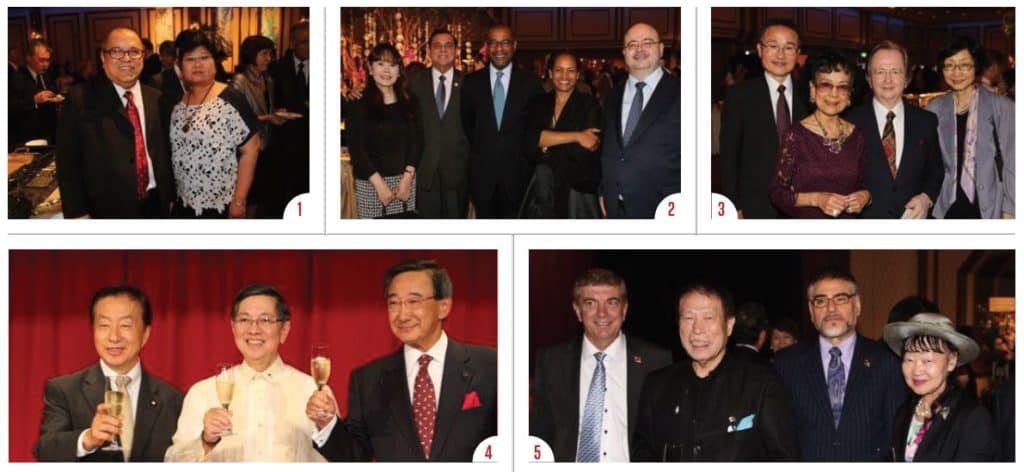 The Philippines Ambassador and Mrs. Manuel Lopez hosted a beautiful reception in the Imperial Hotel's Fuji Room. The occasion was in commemoration of the 117th anniversary of the declaration of Philippine Independence. It was wall-to-wall people in the light and bright Fuji room that evening. Guests included a great variety of interesting VIPs from all walks of life. The Filipina ladies were all super chic in their elegant national dress—the terno, and the Filipino men in their Barong Tagalog shirts.
The program opened with a warm and informative welcome speech by Ambassador Lopez. This was followed by congratulatory speeches by two high-ranking Japanese dignitaries. After this, guests moved to the beautiful buffet of delicious Philippine favorites. The Imperial's food and beverage department had done an excellent job working with the embassy staff.
PLACES
Artists' Party at Oakwood Midtown
Thanks to international art guru Norman Tolman, I was invited to Oakwood for an exhibition of paintings by Mayumi Oda, who is known as the "Matisse of Japan." Mayumi, who was born to a Buddhist family in Japan, has done extensive work with female goddess imagery. I was really impressed with her paintings, which are very strong and very colorful. In addition to her work as an accomplished artist she's a global activist participating in anti-nuclear campaigns worldwide. The busy, talented lady's other projects include Ginger Hill Farm and Retreat Center on the big island of Hawaii. As always at Oakwood, it was an evening of interesting people, good food, and a totally relaxed mood.
My thanks to Soka Gakkai's Min-On Concert Association for so many invitations to so many international cultural shows. The most recent was a performance of the dance drama "Crested Isis" by 70 members of the Shanghai Dance Theater at NHK Hall. The costumes, the sets, and the dancers—and their grace and skill—were awesome.
*First published at the Tokyo Weekender
*Images Copyright: Tsukasa Shiga