Hersey's Partyline September 2016
PEOPLE
Showbiz luminaries Harvey Fierstein, Jerry Mitchell, and Cyndi Lauper, along with the international cast of the award-winning musical "Kinky Boots" will be here to perform the popular show from October 5 to 30 at Theatre Orb. I got to know Cyndi – a nice, talented-  ed and fun lady — several years ago when, along with local superstar Steven Haynes, we were able to find ten international and Japanese transvestites to back her up when she sang her big hit "Girls Just Want to Have Fun" on a Japanese TV stations big New Year show. That, my friends, was a real experience.  "Rent," another award-winning Broadway show, will celebrate its 20th-anniversary tour in ]apan from  December 15 through 31 at the International Forum. Ticket prices for most of the shows are about the same prices you'd pay on Broadway or at  London's West End. 
Still on Tokyo, our sincerest congratulations to one of the best cities in the world's new governor, Yuriko Koike. Thanks to writing this column for so many years, I've gotten to know this exceptional lady quite well.  She's super-intelligent, very international, chic, and honest. Her background includes attending a university in Egypt where she learned fluent Arabic, traveling all over the world, and amassing a great deal of knowledge and leadership experience, including a brief stint as ]apan's first female Minister of Defense. In talking to her at parties, I've always found her very knowledgeable, and very easy to talk to. I certainly feel her many supporters made a wise decision and wish her a long, happy and successful term as our new mayor.  
PARTIES     
THE GIORGIS' AWESOME CELEBRATION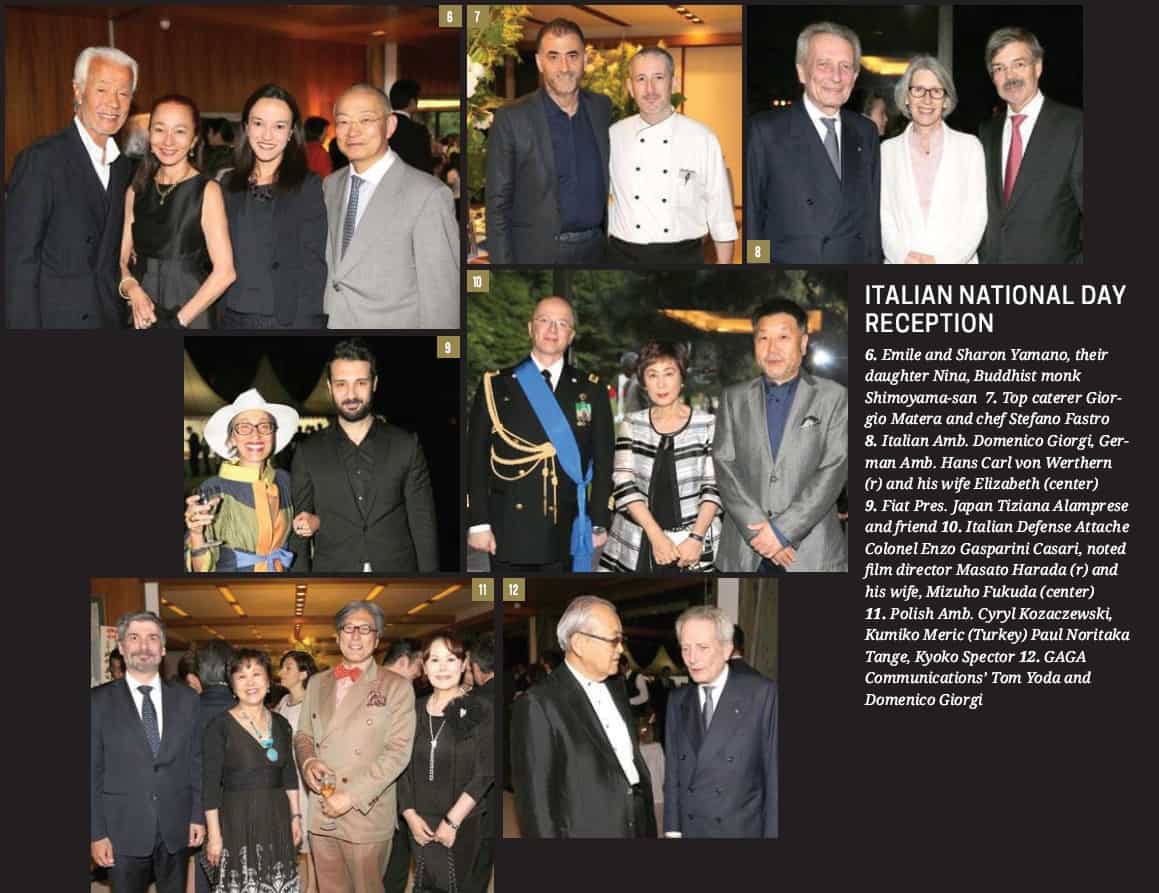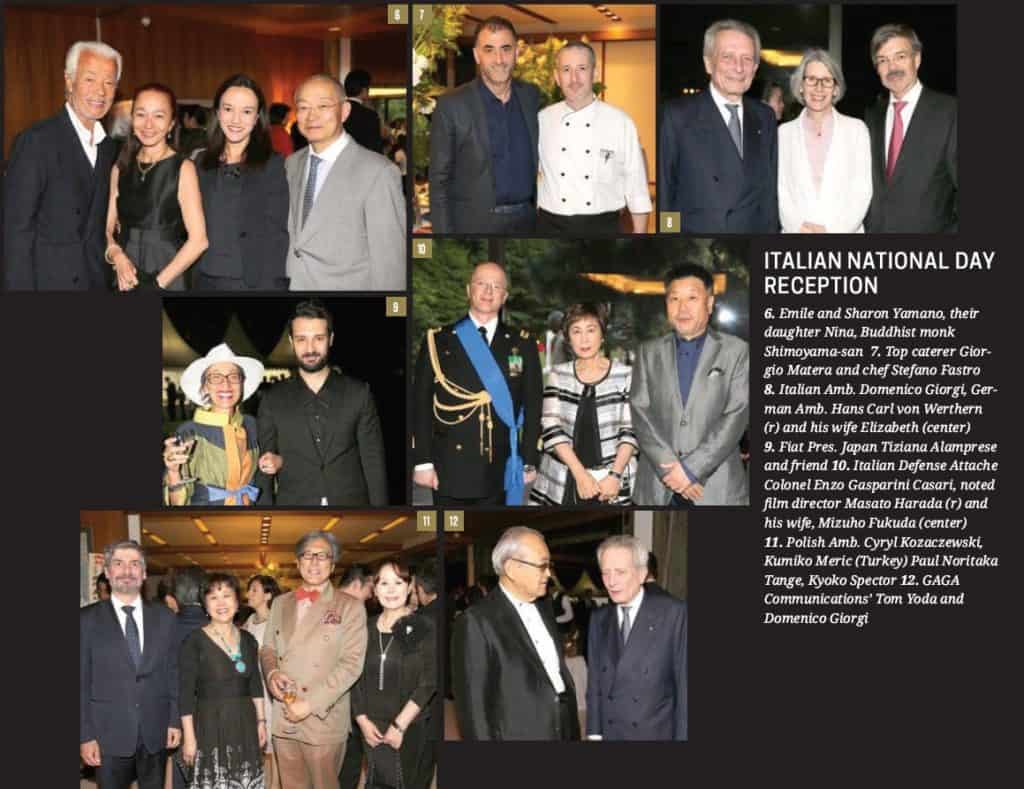 Our Italian friends, Ambassador Domenico Giorgi and his wife Rita,  have one of the most beautiful residences and gardens in Tokyo. As always, they made the Italian National Day reception – which they host at their home — an awesome evening in every way, and it was really nice seeing so many good friends again. I especially enjoyed chatting with architect Paul Noritaka Tange (the son of the late great architect Kenzo  Tange), as well as with one of ]apan's top film directors Masato Harada and his wife Mizuho Fukuda. It was nice seeing Giorgio Matera, one of  Italy's top caterers who's based in ]apan, and who did the catering for the celebration. The buffets on offer in both the dining room and the white tents in the garden were excellent, and the ambiance of the special evening couldn't have been better. The evening's music, performed by a quartet from the  Sendai Junior Orchestra was perfect for the occasion. 
THE LOPEZES' NATIONAL DAY AT IMPERIAL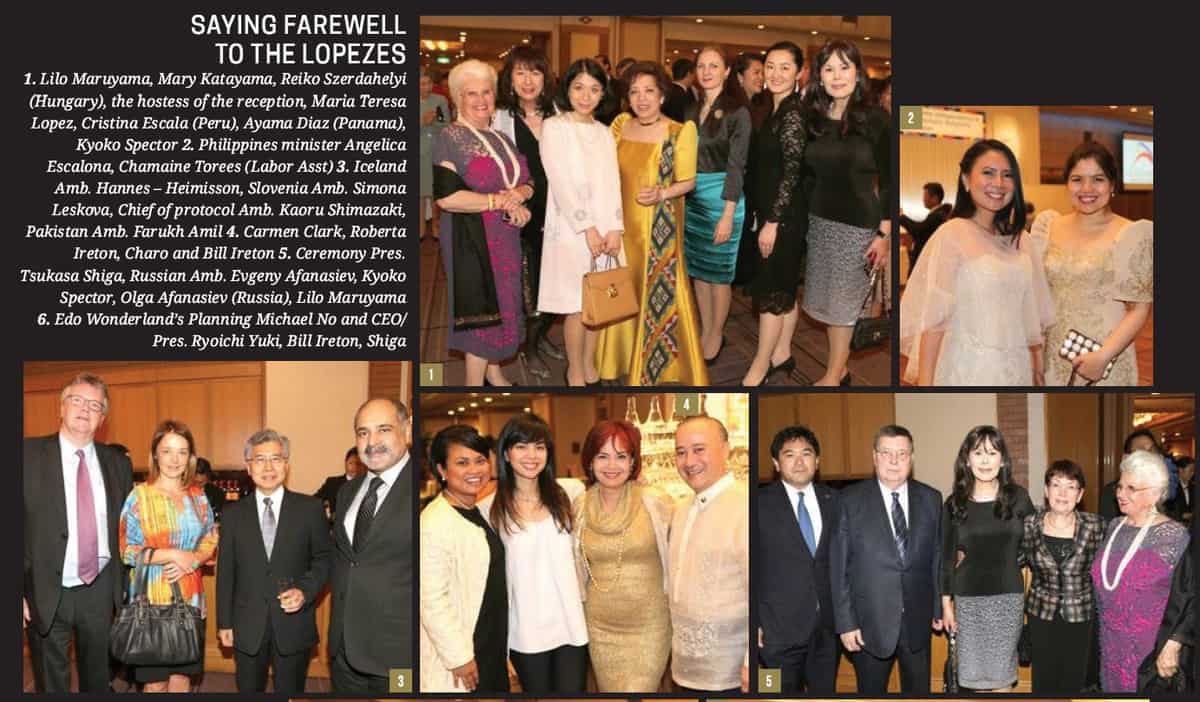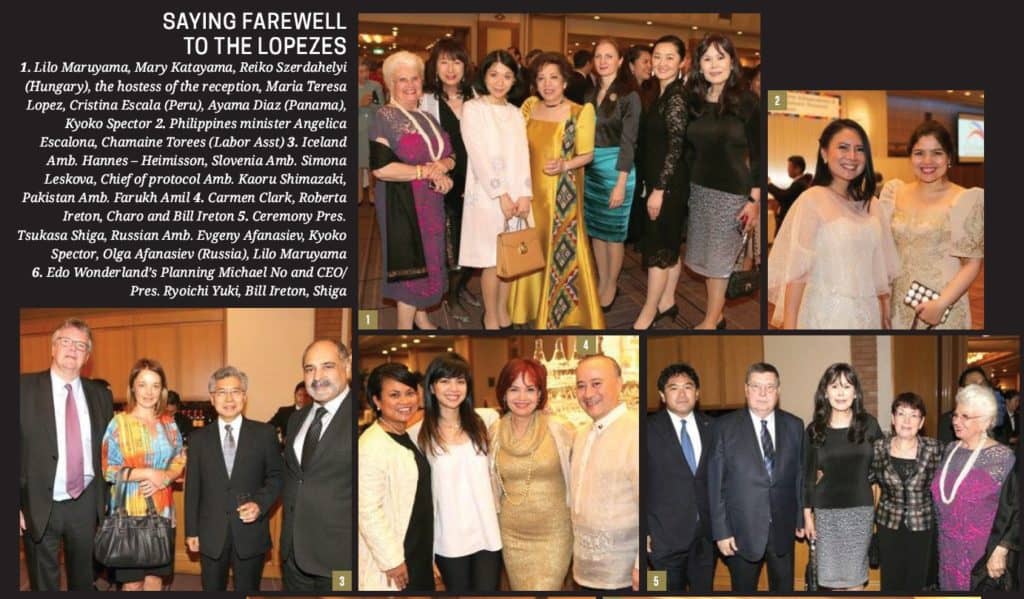 Manuel Lopez, the former Ambassador of the Philippines to Japan, finished the two years that he promised his friend President Aquino he would serve here. He's one of his country's top businessmen — he owns real estate, a TV station, a big publishing company, and more. Manuel and his dynamic wife Maria Teresa did so many things to further Japan-Philippines relations in the all-too-short time they were here. They made so many friends from all walks of life for both their wonderful country and themselves, so they really had a full schedule of special events before they left ]apan. These included a Min-On concert performance by the Filipino Bayanihan National Folk Dance Company and after-party where HIH Princess Takamado was a special guest, a  big colorful Filipino festival at Hibiya Park and the 118th Independence Day of the Philippines, and the celebration of the 60th anniversary of diplomatic relations with ]apan at the Imperial Hotel, as well as many sayonara breakfasts, lunches, and dinners hosted by Japanese friends and other diplomats. The national day party at the Imperial was first class all the way.  It was wall-to-wall people there to say sayonara, thank the Lopezes for their friendship, and wish them all the best back home.
PLACES
SAVONARA ARNAUD, WELCOME ROSS — ANDAZ  TOKYO HOTEL 
It was an awesome evening in every way at the Hyatt Group's was a sayonara for the hotel's GM. Arnaud de Saint-Exupety, who had been at the Andaz since its opening two years ago and was promoted to area VP for the Hyatt Group in the UK and Ireland. Hotel top execs — like diplomats — seem to move around a lot. The beautiful evening event was also to welcome back long-time friend Ross Cooper whom I first got to know when he was the executive assistant food and beverage manager at one of everyone's favorite hotels, the Grand Hyatt in Tokyo. After that he was transferred to the Grand Hyatt in Shenzhen, China, was there until 2014, and then took over as GM at the Hyatt in  Busan, Korea, before returning to Tokyo. 

*First published at the Tokyo Weekender
*Images Copyright: Tsukasa Shiga