Bill's Partyline September 5th, 2008
PEOPLE
I first got to know Mark in the late seventies when he came here as Luke Skywalker to promote the first of the Starwars trilogy. When I learned Mark and actress Carrie Fisher really wanted to see Akira Kurosawa's epic film Kagemusha, I contacted the great director and he set up a private screening at Toho. There were just five of us, including Akira, there that day. It's a long film and I had to spend much of my time trying to keep Mark from nodding off. I teased him about that for years. I visited Mark, his wife Marilou (a dental hygienist and their three kids when they were living in a barn sized apartment across from Central Park in New York City. Mark had a fascination for King Kong and I was happy to see a painting of Kong I had a Filipino friend paint for him hanging in the living room.
PARTIES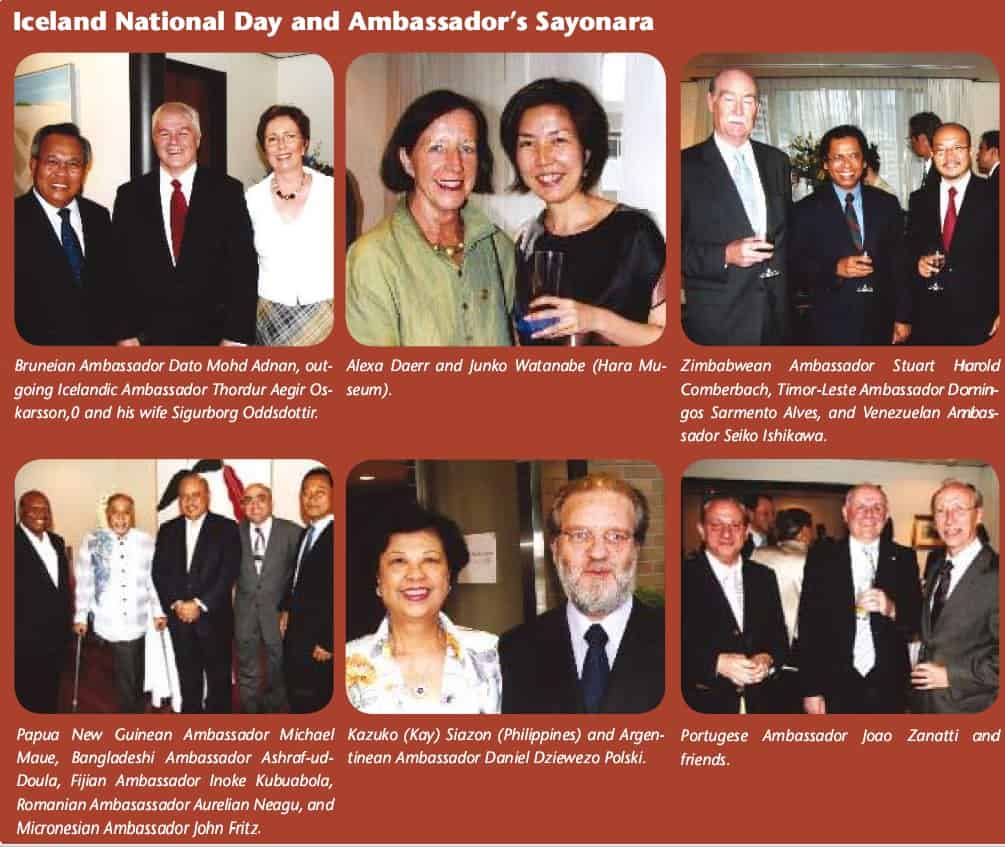 I was happy to have the opportunity to join Icelandic Ambassador Thordur Aegir Askarsson and his wife Sigurborg Oddsdottir at their Takanawa home to celebrate the Icelandic National Day. At the same time, like their many friends there, it was sad knowing they would be leaving soon. After a four-year busy and successful tour of duty here, they and their children have returned home by now. It was a nice party with the warm ambiance one always found with this hosting couple. The buffet of Icelandic food was not only artistically set up, it was delicious. I enjoyed the art still hanging in the residence. A large painting of a black sand beach in Iceland was especially impressive. Clint Eastwood used a beach like this for much of his location work there in his film Flags of Our Fathers. The beach was similar to the ones in Okinawa.

As you probably know, Colombian Ambassador Patricia Cardenas and the Colombian community have been super busy with an endless schedule of interesting, often spectacular events to celebrate Colombia's 100th year of diplomatic relations with Japan. One of the first happenings was an art exhibit by Colombian artist Juan Bernal titled Eternal Bamboo at the Park Hyatt Hotel. I have a big bamboo plant Ron and Marie Anderson gave me before they moved to New York and it's my favorite. I also really like Juan's bamboo paintings. His style anf blending of colors is really impressive. I learned a few things about bamboo that evening. First, there's a lot of it growing on cof-fee plantations in Colombia. Second—if the big one (earthquake) happens (let's hope it doesn't), head for the nearest bamboo forest The roots "go deep and spread out and in their own way sort of stabilize the earth." I don't feel that info will be of much help to most of us, but I'm passing it on anyway.
PLACES
Ongoings A big and sincere merci to Amine Ben Saad who brought the French national tennis team to the New Lex to celebrate their victory over the Japanese national team. Ml of the French girls here for the tournament rank high in the world's top players list and there were many familiar faces partying at the dub and into the morning. It was a lot of good people who really excel in what they do: relaxing and having fun. Those girls, their coaches, and their friends really know how to party. It was surprising how busy our city stayed this summer.
Outgoing Park Hyatt Hotel's popular and professional General Manager Rober Barker, his gorgeous and fun wife Conny, and their two beautiful daugh-ters left Tokyo recently and are now settling in Dubai. Robert has left the Hyatt for a top executive position in the Armani Hotels group. More on the Bakers and their super-sayonara party later. Needless to say, the Barkers will be missed by their many, and I do mean many, friends here in Tokyo.
Walmart vice-president Pablo Belocopitow, his wife Gabriela, who taught at Seisen, and their three children Florence (17), Federico (17), and Gonzalo (13) have relocated to Buenos Aires. The popular family will be much missed here as well, but I know they'll be happy in beautiful Buenos Aires after three years in Japan. My dear friend German Minister, Deputy Head of Mission Bernard Fischer recently left for his new assignment in Croatia. I'm sure he'll be as popular in that beautiful country as his were here.
Congratulations to Kaguwa President Kazuhisa Takahashi and his lowly bride Hiroe, who were married at Odaiba on July 13. After the ceremony and a dinner, the wedding party moved to the Lex, where they celebrated into the next day. Best wishes to the newlyweds for a long, happy life together.
*First published at the Tokyo Weekender
*Images Copyright: Tsukasa Shiga