Bill's Partyline September 7th, 2007
PEOPLE
Happy to say success has not spoiled Daniel Radcliffe, the young star of the Harry Potter series. He was here recently with producer David Heyman to promote the latest film in the series, Harry Potter and the Order of the Phoenix for Warner Bros. I got to know Daniel and his co-stars, as well as his parents, during their many promo visits here. I think I can safely say he's made millions of dollars and millions of fans from his talent, and dedication to his work. At the press conference, he and Heyman had nothing but praise for each other. The producer told the media "Daniel's remained decent and unaffected. He's a real friend." Daniel said: "On the set I'm surrounded by honest and supportive people like David—and parents—and that's primarily what's kept me grounded."
TOHO-Towa held a Sunday premiere of their film Rush Hour 3 at Roppongi Hills Arena. Two more down-to-earth, unspoiled international superstars, Jackie Chan, who flew in for one day of promotions, and Hiroyuki Sanada, who co-starred in the film, with their energy and dynamic personalities made the event fun and exciting. On-stage dialogue included Jackie praising the French government's support when they were shooting on location in Paris, adding it was very expensive turning the lights of the Eiffel Tower on and off. Hiroyuki (Last Samurai) said it was a real learning experience working with Jackie and Jackie gave out with his famous smile, saying: "I knew Hiroyuki was good but not that good. Scenes that sometimes have 20 to 30 takes, had two or three with him. He's a real pro." Sorry, the Chinese government won't let the film be shown there. That, of course, means the DVD pirates will make big bucks from the popular stars and fun film.
PARTIES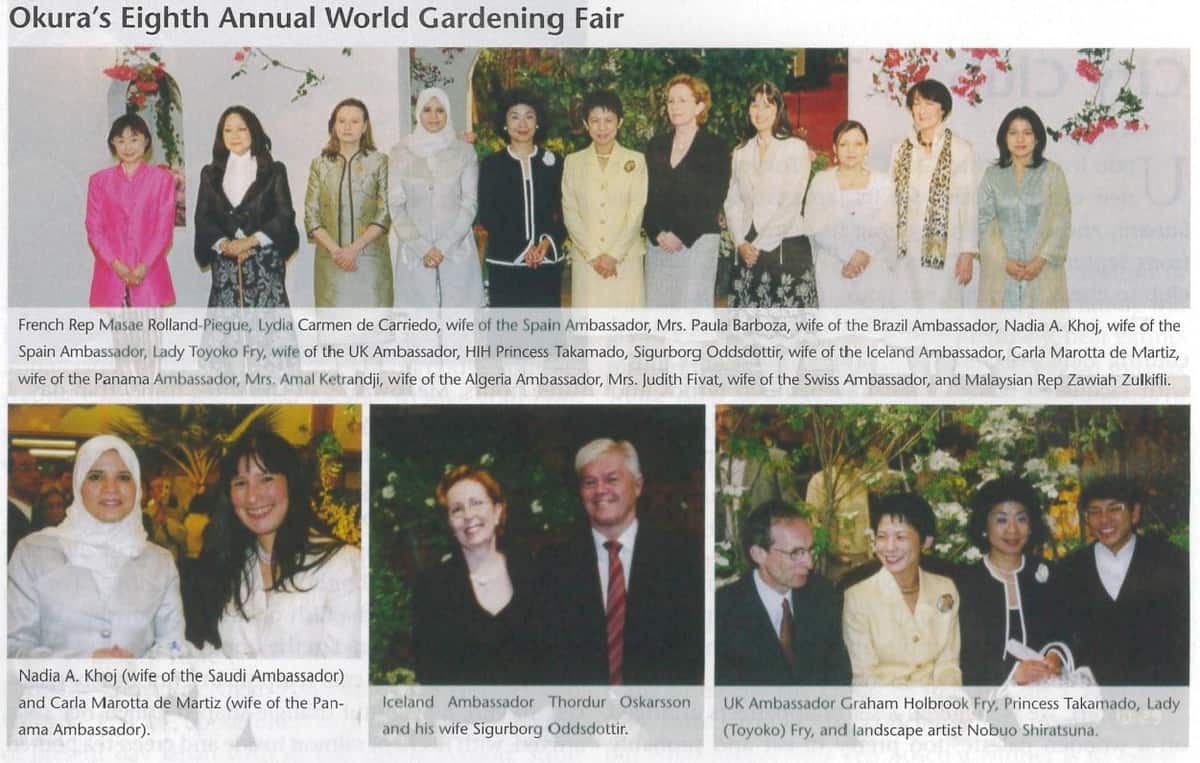 Ikebana International Tokyo founding chapter's International Fair 2006-2007 was a huge success in every way. HIH Princess Takamado joined the fair chairperson Boontipa Simaskul, wife of the Thai Ambassador and I.I.'s then President—now Fair Coordinator, Miriam Arai for the opening ceremony. The always popular, colorful charity event took place in the Ho-o-no-ma and Magnolia Halls at the Tokyo Prince Hotel. The theme was "Friendship Through Flowers". In addition to the magnificent Ikebana exhibition by Iemotos (headmasters) there was an International Bazaar and bake sale by Ambassador's wives, handicraft sales, raffle prizes, and a variety of shops. Entertainment was provided by a top group of Thai musicians and dancers flown in by Thai Airways. It was, as I knew it would be, a very special day in every way. Proceeds went to UNICEF and the Cardiac Children's Foundation of Thailand.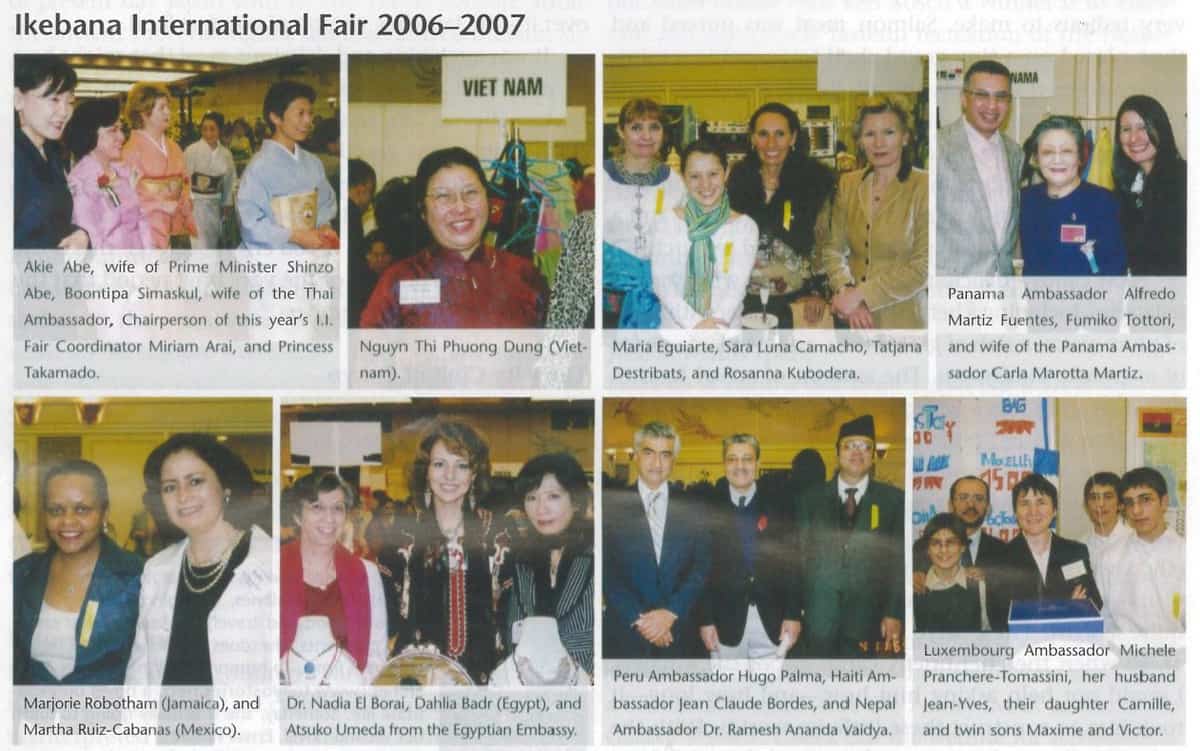 Kudos to the international participants and the people they worked with at the Okura's eighth Annual World Garden Fair. It was truly spectacular. The variety, size, and beauty of the ten gardens of the world setup in the hotel's Heian Room really had to be seen to be believed and appreciated. The big event takes a lot of meetings between the participating Ambassadors wives and the Japanese, and when you see it you know all the time and effort they put into the project really paid off. The Okura event really is very special and very original and I strongly recommend you make an effort to get to at least one of the exhibitions while you're in Japan. Feel I can safely say you'll really enjoy it all. Once again HIH Princess Takamado who contributes her time to and graces so many worthwhile events with her presence cut the ribbon to open the exhibition. She really is an exceptional lady.
The colorful and festive mood of the ninth Annual Arab Charity Bazaar at the Egyptian Embassy as always made it one of the most exciting events of its kind this year, with all the great food, the shopping opportunities, the traditional bazaar haggling over prices, and the warmth and hospitality of the people there, I had a few flashbacks to the same type of atmosphere in Cairo's fantastic Khan Khalili Bazaar. There was, as you can see by the photos, a chic and colorful collection of fine Arab fashion. Most of the Arab countries diplomat's children were there helping, and those smart internationally-minded kids are not only interesting, they're fun to be around. I really enjoyed talking to Oman Ambassador and Mrs. Al-Zarafi's beautiful daughter Muntaha. She graduated from the University of Queensland in Australia and was looking forward to her marriage, which took place in Muscat, Omar on June 30. Her husband, Ahmed Al-Balushi is in banking and she's working in the Ministry for Higher Education. Our congratulations to the newly-weds, now living in Oman, and to the many who put so much time and effort into making the bazaar the tremendous success it was.
PLACES
The New Lex—Edo where the 28-year-old Lexington Queen was, is really packing them in, and I'm really enjoying making new friends, as well as meeting a lot of nice and interesting people for the first time. During the Summer Sonic music festival, the bar-restaurant was full of friends from many bands including Gwen Stefani, Sum 41, Pet Shop Boys, Goo Goo Dolls, Black Eyed Peas, Fall Out Boys, Motorhead etc.
Not much into fast food, but like to share my discoveries with others and feel the Subway shops make the freshest, tastiest, and healthiest reasonable sandwiches in town. My favorite shop is the one next to Bagel Sr Bagel near Nogizaka on Roppongi's main drag (left side heading towards Aoyama Dori). Unlike the one next to Roppongi Roi Building they have an oven and will toast the sandwich for you, and there's a big variety to chose from. My favorites are shrimp-seafood, roast chicken and cream cheese, tuna, and Cajun chicken. Love the honey-oat bread, red wine vinegar dressing, and all the fresh veggies that make them the healthy food they are. Subway also has a new vinegar drink that's red, cool, and refreshing. Many of my German friends have a tablespoon of apple cider vinegar with a glass of water every morning and swear it is really good for your health.
*First published at the Tokyo Weekender
*Images Copyright: Tsukasa Shiga