[EVENT] Colorful World – Colorful Gala Concert
Colorful gala concert by piano, flute, soprano, tenor and ballet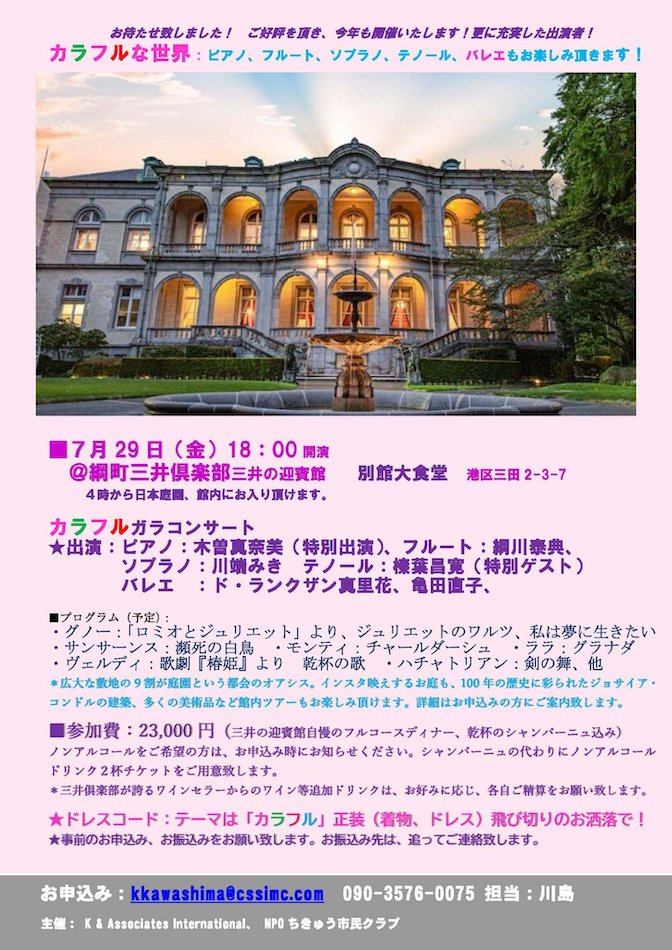 Date: July 29th (Friday) 18:00 start
Location: Tsunamachi Mitsui Club Mitsui Guest House Annex Grand Dining Room
2-3-7 Mita, Minato-ku, Tokyo
You can enter the Japanese garden from 4 o'clock
Tsunamachi Mitsui Club is an urban oasis where 90% of the vast site is a garden. Many works of art are exhibited in the guesthouse designed by Josiah Conder, a hired foreigner who taught at the University of Tokyo in the Meiji era.
Cast: Piano: Manami Kiso (special appearance)
Flute: Yasunori Tsunakawa
Tenor: Masahiro Shinba (special guest)
Soprano: Miki Kawabata
Ballet: Naoko Kameda
Program (planned):
Gounod: From "Romeo and Juliet", Juliet's waltz, I want to live in a dream
Saint-Saens: Dying Swan ・ Monti: Csárdás ・ Lara: Granada
Verdi: A toast song from the opera "Tsubakihime" ・ Khachaturian: Saber Dance, etc.
Participation fee: 23,000 yen (including full-course dinner and toast champagne)
If you want non-alcoholic drinks, we will prepare a ticket for 2 non-alcoholic drinks instead of champagne.
Dress code: The theme is "colorful" -formal wear (kimono, dress), etc.
Application: kkawashima@cssimc.com
090-3576-0075 Person in charge: Kawashima san
Please be sure to apply by email.
Organizer: K & Associates International, NPO Chikyu Citizens Club