Enjoy Panama Movies at Panama Film Weekend
Let's Enjoy Panama movies on the weekends! Panama Film Weekend
Latin American Movies in Japan
Date: July 22nd (Fri) ~July 24th(Sun)
Venue: Libra Hall
(1F Minato Park Shibaura 1-16-1 Shibaura, Minato-ku, Tokyo. 5 min. from Tamachi Station, JR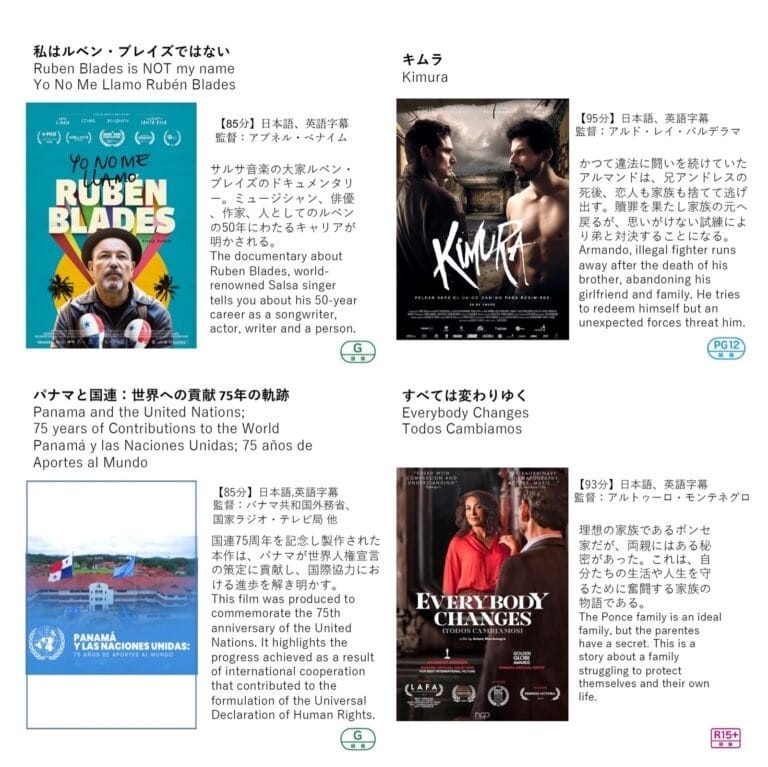 【Schedule】
July 22, Friday
18:30 – 20:30 (Opening) Ruben Blades is NOT My Name (2018)
July 23, Saturday
11:00     Panama and United Nations (2020)
13:00     Ruben Blades is NOT My Name (2018)
16:15     Kimura (2017)
18:20     Everybody Changes (2019)
July 24, Sunday
11:00     Ruben Blades is NOT My Name (2018)
13:00     Kimura (2017)
16:15     Everybody Changes (2019)
– Preregistration is recommended: → https://onl.tw/veJdbWZ
【Films】
Ruben Blades is NOT My Name (2018)
The documentary about Ruben Blades, world-renowned Salsa singer tells you about his 50-yer career as songwriter, actor, writer, and person.
Kimura (2017)
Armand, an Illegal fighter, runs away after the death of his brother, abandoning his girlfriend and family. He tries to redeem himself but unexpected forces threaten him.
Everybody Changes (2019)
The Ponce family is an ideal family, but the parents have a secret. This is a story about a family struggling to protect themselves and their own life.
Panama and United Nations (2020)
This film was produced to commemorate the 75th anniversary of the United Nations. It highlights the progress achieved as a result of international cooperation that contributed to the formulation of the Universal Declaration of Human Rights.
【Links】