Fin Juhl and The Danish Chairs
Recommended Exhibition During Summer Time (4)
Finn Juhl and the Danish Chairs
Currently being held
A fusion of high artistry and healing, enjoying the finest chairs
The connection between the Tokyo Metropolitan Art Museum and Finn Juhl, a master of Scandinavian furniture design, is very deep.
The Tokyo Metropolitan Art Museum, which continues to hold epoch-making special exhibitions, is undoubtedly one of the best art museums in Japan. What is surprisingly little known, however, is that the hall is furnished with exquisite furniture by Finn Juhl and other Danish designers. Guests of the museum feel a special healing from the chair which they casually sat down because of tiredness. The Tokyo Metropolitan Art Museum has such a special space, the Keitaro Sato Memorial Art Lounge.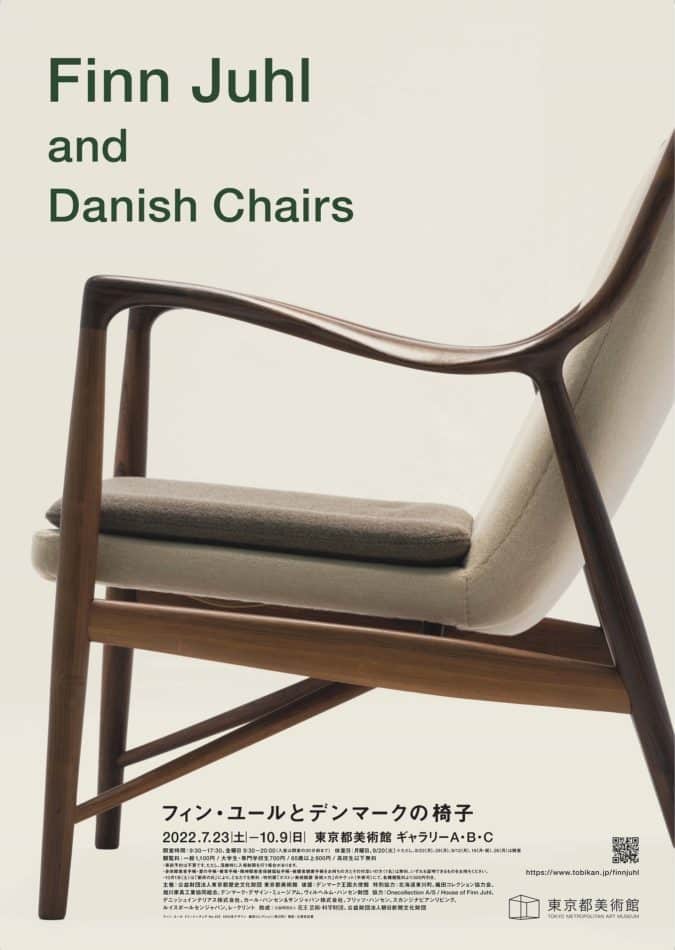 The current exhibition "Finn Juhl and the Danish Chairs" introduces the modern history of Scandinavian furniture. Its history dates back to the 18th century, and the fact that furniture and people's living spaces have developed along with the Danish Enlightenment philosophy of educating all people deepens our understanding. Finn Juhl , the genius designer may have been born with the background of this movement to improve the quality of life through education.
The chairs designed by Finn Juhl are very beautiful. His masterpiece "Easy Chair No. 45", which was also used in the flier for this exhibition, has a particularly elegant and beautiful curve. Its elbows are designed to flexibly and gently conform to people's arms, and it can even be said that they understand ergonomics. Sitting in this chair is not only about enjoying the beauty of the chair, but also about being embraced and wrapped in the chair and feeling the ultimate comfort.
What is noteworthy about this exhibition is that there is an exhibition space where the exhibition guests can actually sit in a chair with such a beautiful design and feel the feeling with their own body. Visitors are led into this space after seeing a revolutionary exhibition of Nordic furniture led by Finn Juhl and his colleagues. This is the perfect space to soothe tired body and enjoy the practical art of Scandinavian furniture. This is an epoch-making and privileged exhibition that can only be realized at the Tokyo Metropolitan Art Museum.
Now, people are experiencing the pandemic of Covid-19 infection and are entering a new lifestyle of working from home. Now that the home has become a place to live and work, what people want is not only labor efficiency but also comfort and peace of mind.
Please come and visit this exhibition created by the curation of the Tokyo Metropolitan Art Museum. It will be a wonderful time not only to look at beautiful furniture, but also to reconsider the quality of life and life.
Exhibition details:
Date: Saturday, July 23, 2022 to Sunday, October 9, 2022
Venue: Tokyo Metropolitan Art Museum Gallery A, B, C
Closed: Mondays, Tuesday, September 20th
*Open on August 22nd (Mon), 29th (Mon), September 12th (Mon), 19th (Mon/Holiday), and 26th (Mon)
Opening hours: 9:30-17:30 (Last entry 30 minutes before closing)
Open at night Fridays 9:30-20:00 (Last entry 30 minutes before closing)
Exhibition official website: https://www.tobikan.jp/finnjuhl