Five years with charming Japanese paintings
An interview with Mrs. Maria Amparo Barberis, the wife of the Ambassador of Ecuador to Japan, shares with us her Japanese paintings.
When I came to Japan with my husband five years ago, I wanted to do something special. When I felt the need to draw and paint, the Colombian ambassador at that time introduced me to a Sumi-e class, and I decided to pursue Japanese painting.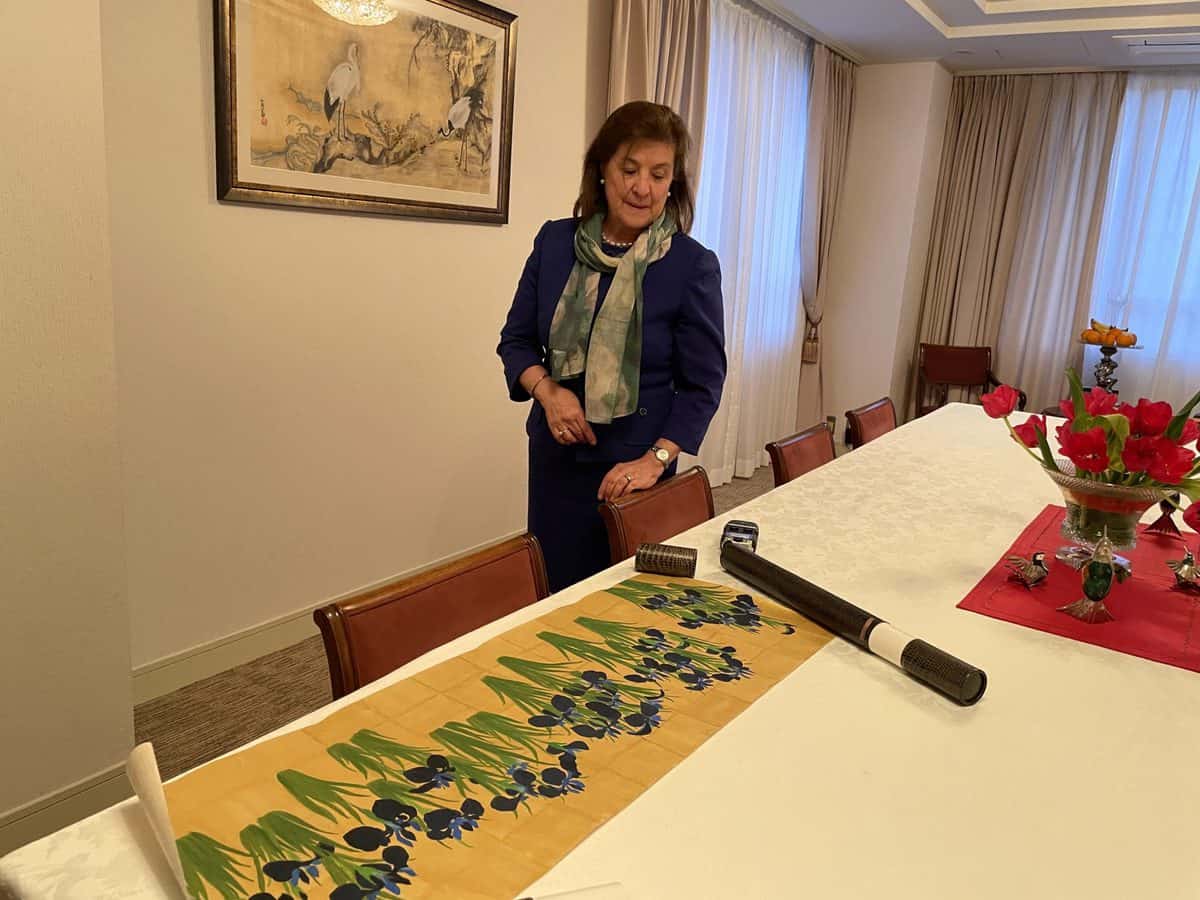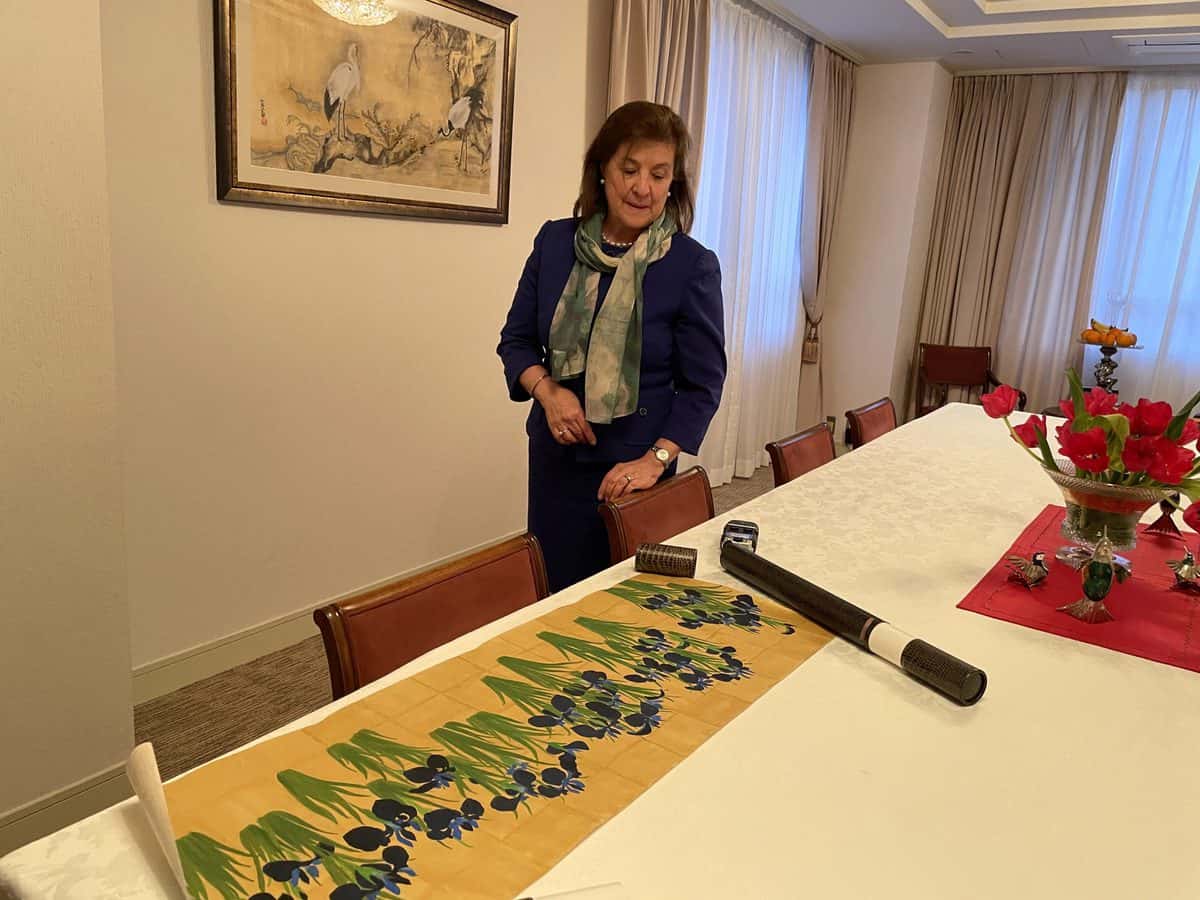 At first, I started by drawing bamboo, bamboo grass, and flowers with a brush and ink while looking at model pictures drawn by a Japanese painting teacher. Gradually, I improved and was able to finish colorful works using mineral pigments: Iwa-enogu.
This is my work. I also drew a lot of Kacho Fugetsu- Flowers, Birds and Nature. At the end of my stay, I drew the right side of the Irises screen of Korin Ogata, a masterpiece of Japanese painting exhibited at the Nezu Museum of Art. Until then, I replicated some works by Uemura Shoen and works from the Eiheiji-temple ceiling paintings.
I also formed a group of paintings with women from Latin America as an activity, gathering once every two weeks to create works of art. We were finally able to hold a group exhibition here as well.
Ecuador and Japan have had a deep relationship for over 100 years. The old town of Quito, the capital of Ecuador, is one of the first World Heritage Sites in the world. The entire well-preserved, old city has been designated as a World Heritage Site. The cityscape is beautiful, and you can feel the deep history.
Quito, the capital of Ecuador, is home to the museum of Oswald Guayasamin, a very famous painter, also known as the Picasso of Ecuador. The museum named "Capilla del Hombre" means "chapel of the people".
Mixed-race Guayasamin, who had an indigenous father, depicts Ecuador's diverse cultures, other ethnic groups, people's sorrows, sufferings and pains, and finally, artworks about hope. If you ever travel to Ecuador, please be sure to check out Guayasamine's work.
I will return to my country, taking many artworks and memories with me back home.
Maria Amparo Balberis
Spouse of Ambassador, Ecuador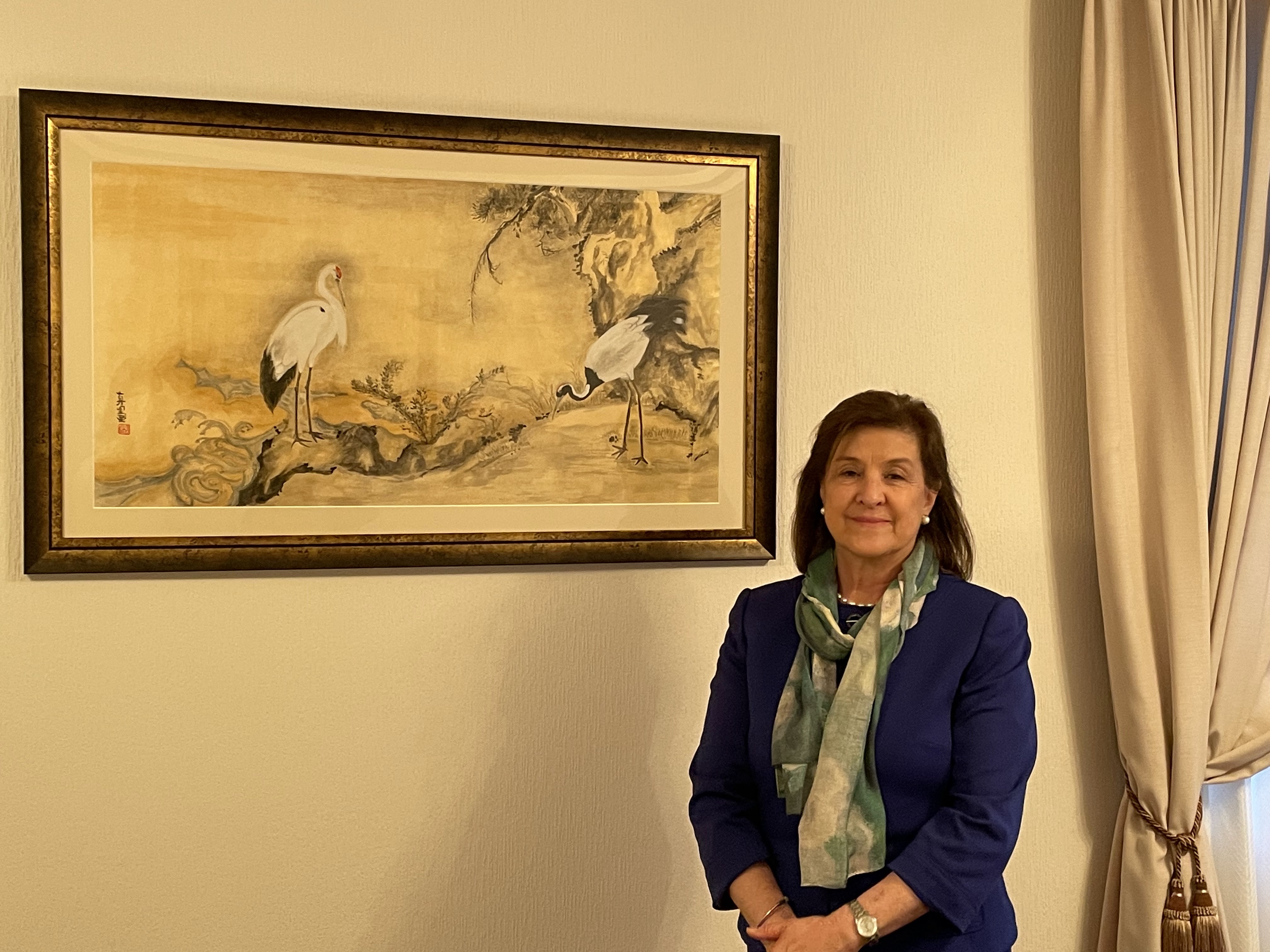 Watch Also:
The beauty of Ecuador and the history of Dr. Noguchi
Read more: