Halston, NY Fashion and Tokyo
I didn't plan it that way, but was in NYC for Market Week and was lucky to be able to get into some very exclusive showings.
The first was in Halston's palatial high-in-the-sky all glass-and-mirror office-showroom-studio-workshop. The colorful and chic collection gave me a chance to preview some of the fashions Halston will be showing in Tokyo in early September. Others there included fashion Empress Diana Vreeland, the legendery Martha Graham, pop artist-plus. Andy Warhol, actress Pat Ast, fashion artist Victor Hugo and most of New York's top fashion editors.
The next day joined an interesting crowd at Oscar de La Renta's showroom for a showing of his spring-summer resort-holiday collection. Nancy Kissinger was in the front row and looked super chic in a white suit trimmed in black. Other fashionable women at the showing included Grace Mirabella of Vogue, and June Weir, who many of you know from her Tokyo visits a few years ago when she was still with Fairchild. There were several people from Mitsukoshi, Oscar's Tokyo outlet and they were busy photographing everything that moved and a few things that didn't. Oscar will be coming to Japan in late September to show his collection for Mitsukoshi.
Lunched with Jack Daniel Zarem, manager of Andre Oliver's beautiful East 57th Street store, and had coffee with Pinky of the Pinky and Diane designing team, whose "Private Label" fashions are doing very well. In Japan, you can see them at Isetan.
I also talked with Suga, super busy right now. He was preparing for an appearance on the Donahue Show and his newly published book, Beautiful Hair, is selling well. Issey Miyake was in and out of the city "acting like Bogart" in a new TV CM for Suntory they were filming there.
HALSTON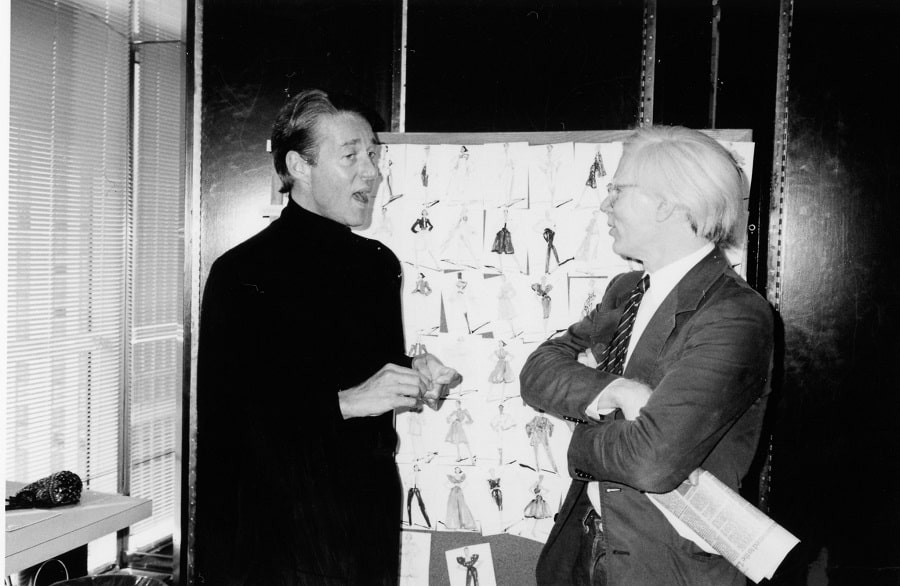 Quoting a section out of Andy Warhol's Exposures: "Halston is the first All-American fashion designer. He never copies Paris. He just gives the American woman what she wants: simple clothes easy to care for—but rich-looking. He uses all American colors like red, white, blue, green, yellow, orange and purple. He also uses a lot of black."
Halston, born in Iowa and raised in Indiana, operates his empire out of the Olympic Towers right in the heart of Manhattan. His clients (and friends) include Liza Minelli, Bianca Jagger, Elizabeth Taylor, Martha Graham, Baby Jane Holzer, D. D. Ryan, Lily Auchincloss, Diana Vreeland, Lee Radziwill and Jackie Onassis.
Halston, with an entourage of almost 30 people, will make his first visit to Japan in early September. He arrives Sept. 8 and will show his collection at the Imperial Hotel on the 9th. That same evening he'll host a huge charity party for the Japan Red Cross at the new Samba Club Regency in the Hyatt Regency Hotel. On the 10th he'll be giving interviews for the media and the next day heads for Kyoto to absorb as much of Japan as he can in a few days.
Then there're five days of traveling and shows in China before going to Paris for a series of parties to introduce his scent there.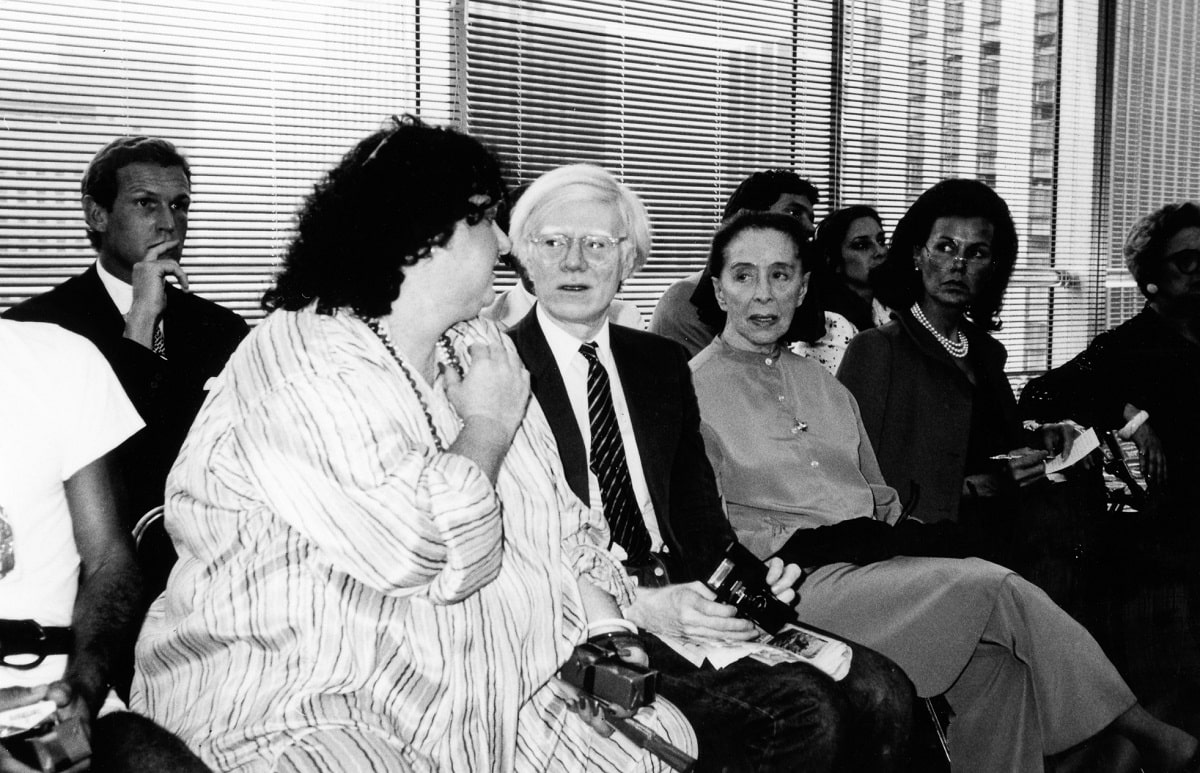 His entourage includes 12 of New York's top mannequins (nine girls and three boys), nine staff members and several personal friends: Bianca Jagger, fashion artist Victor Hugo and renown photographer Hiro Wakabayashi. Liza Minelli had hoped to be with Halston, but her work schedule prevented it. She will join the group in China, and plans on being in Japan herself in October. More on that later.
The sponsors of Halston's trip are Kosugi Sangyo who will market his sportswear here and Max Factor who will start distributing his cologne in Japan early next year.
His shows are by invitation only. Some of the world's most beautiful people will be at the charity party at the Samba Regency Club on the evening of the 9th. Special events for the party include an auction of interesting items donated by international celebrities.
Halston in Tokyo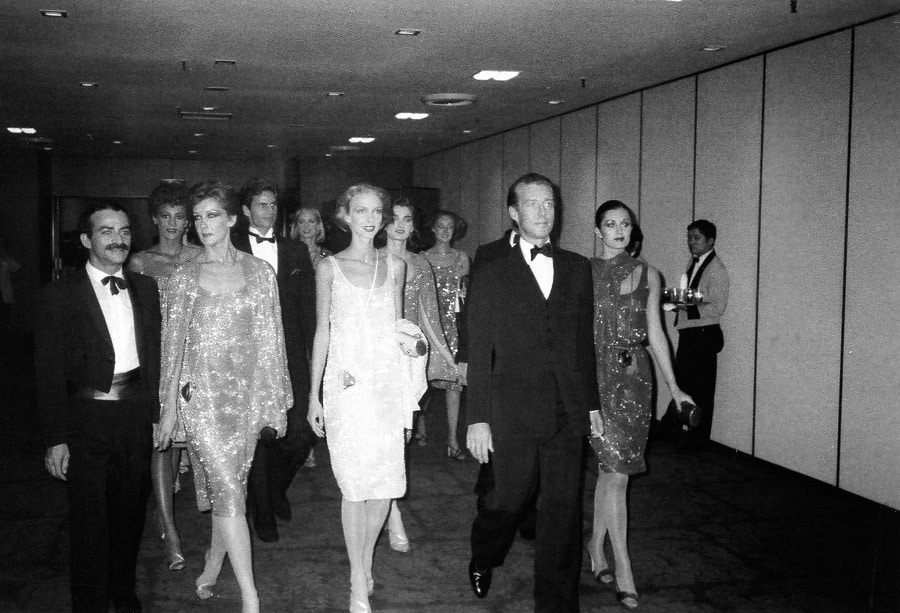 First, there were Halston's sensational and successful shows at the Imperial. Comments from some of Tokyo's most fashionable women such as Zoubida Tadlaoui: "The clothes were all fabulous. It was one of the best shows I've seen" . . . and Inger Groot: "The colors were marvelous and everything was so wearable." These reflected the feelings of the well-over 1,000 people who saw the collection that day.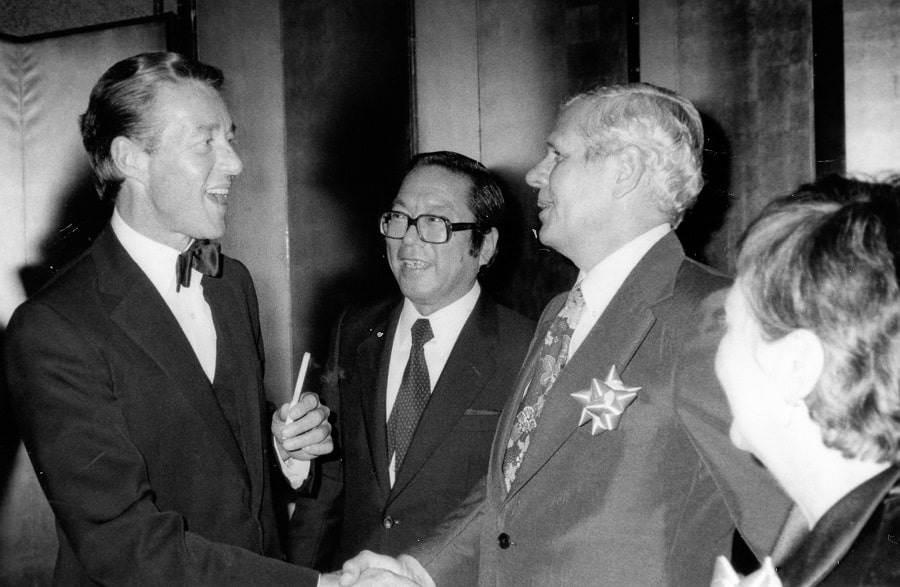 After the early evening show, there was a huge reception. U.S. Minister Counsellor William Sherman congratulated Halston. The famed designer thanked Bill, Kosugi Sangyo, Max Factor and the Japanese people for the warm welcome for him and his group and the gratifying response to his collection. I heard the speeches, talked with a few people and left as I had to get over to The Samba Club in Roppongi where they were busy preparing for The Red Cross Charity party with Halston and his "beautiful people" as special guests later that evening.
First, my sincerest thanks for many friends' support that evening. Second, my sincerest apologies for the seating problems, and not being able to check with you all to see if everything was o.k. There were just too many people. It was great for the Red Cross, but not so convenient for some who arrived late.
People-wise, it was one of the most impressive crowds I've seen for a long time. The women were gorgeous in their glittery evening fashions, and many of the men wore formal evening wear. They blended beautifully with the black, gold and mirrored interior of the Samba. The Club's waiters were all dressed in Halston's favorite ensemble . . . black trousers and a black turtleneck.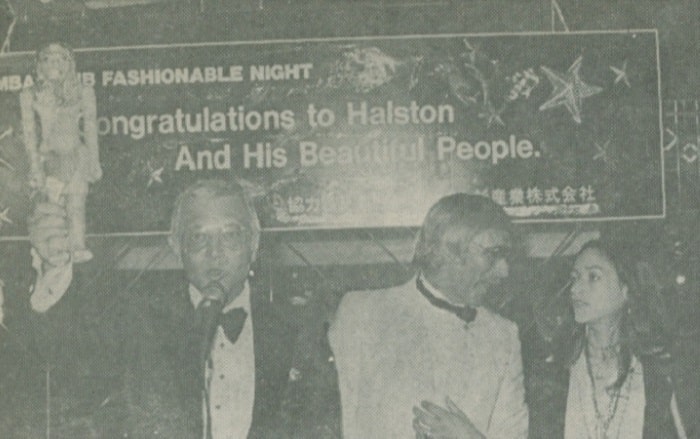 America's foremost designer and his entourage arrived about 10. There were nearly 30 people and Halston had dressed them all for the occasion. The women wore evening dresses covered with bugle beads, the men fashionable formal wear. It was quite an entrance.
The mannequins arrived with Daniel Doucet about 8 and, from the looks of their Chinese fashion, must have stopped over in Hong Kong for a few days on the way over. Speaking of China, J. Dusty Kidd of Fairchild Publications was at the party and said he was looking forward to his trip to Peking and Shanghai to cover Halston's visit there. Haven't had the chance to talk with him since he got back about the people's reaction to some of those see-through fashions, but from all reports, it wasn't in very good taste.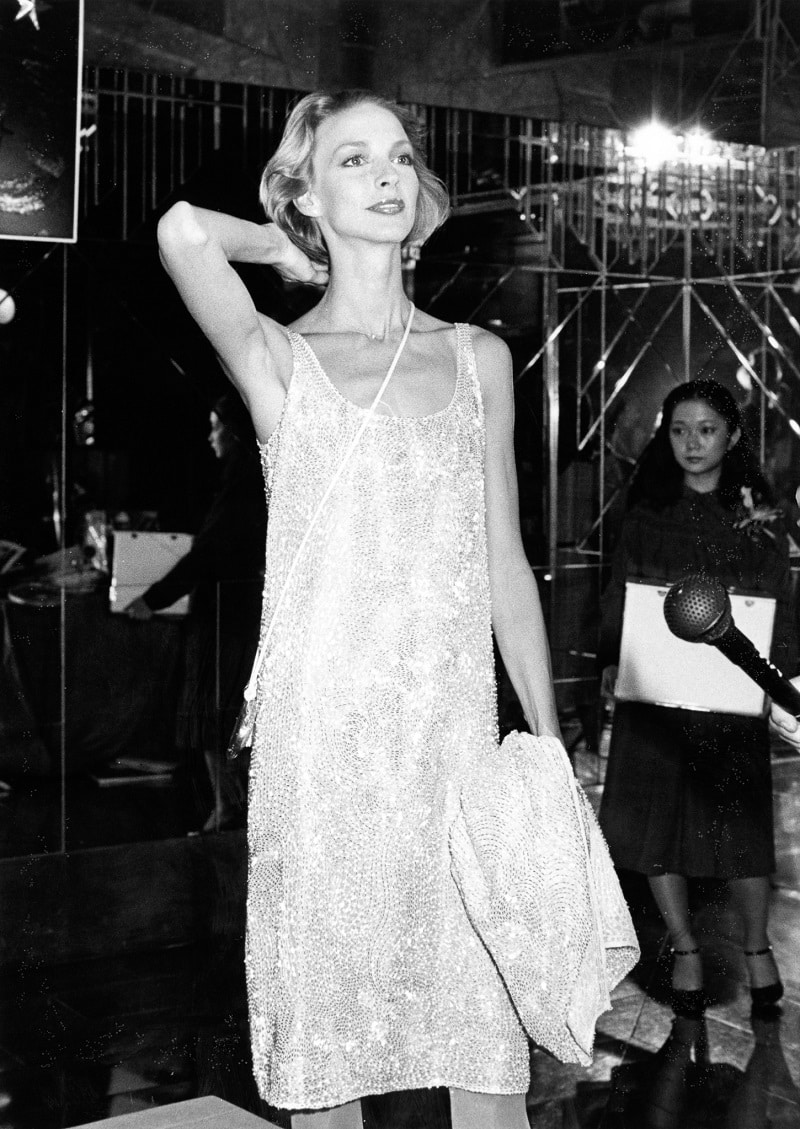 Other guests at Nicole's included Daini Okada, manager of The Bee; Yoshi and Kimi Taniguchi, Gerard Coste, Steve King and several department store VIPs. I couldn't stay for dinner, but once I saw some of the special dishes chef Valet of Le Notre had prepared, I had to sample just about everything. God, that was good.
Misa Watanabe and some of her staff had invited me for a "tsukarisama" (the Halston Charity party at the Samba) dinner so I met them at Tokyo's newest Italian restaurant, La Tavola. The already-popular eatery was opened just a few weeks ago by Alpha Cubic shacho Ryozo Shibata. The food's good, the interior very nicely done and the prices reasonable. Between Misa and me, it seemed as if we knew about all the 50 or so other customers there. They included Dino and Koko Volpicelli (he's with the Italian Embassy), Yoji Nishikawa, Kohkichi Yasui of Suntory Limited and artist Toshimitsu Imai and his wife Yoko.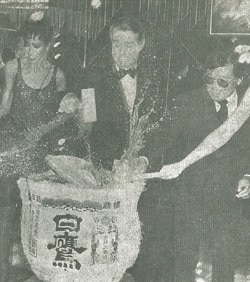 Imai-san painted some glass murals in La Tavola and they're exceptional. After dinner we all moved to another large room where we were served coffee. The room's luxurious furnishings include a piano, several microphones and even spotlights . . . all available for anyone who feels like putting on an impromptu show.
Halston was introduced, he made a short speech and received flowers from Misa Watanabe and a staff member of the Samba. This was followed by the designer, Vogue cameraman Hiro Wakabayashi, and husband-wife model team Pat Cleveland and Martin Snaric breaking the traditional saké barrel.
Auction time, and Halston requested that a dress he donated be auctioned off first. He and the group had been going almost six days straight without a break, two of the girls weren't feeling well and he felt they would probably have to leave rather early. I've been to auctions here before and know it takes a little time to get people in the bidding mood, but did understand the situation so went along with him. The dress was really a beautiful creation in silver bugle beads, but people just weren't ready to bid on something that special yet.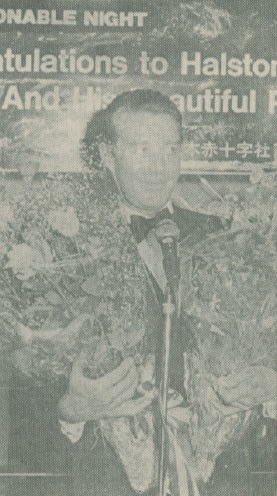 Bryan Bryce got the dress for "whichever girl it fits," looking at three of his staff members there, for $1,200. I feel it would have gone for $4,000 or $5,000 later, but a beautiful girl got a beautiful dress and the Red Cross got $1,200, so we can't really complain.
Once we got going, the bidding really started to build up and things went very well. Items auctioned included a tennis racket Dino Martin used in the film "Players," an auto-graphed photo and New York necktie from NYC Mayor Ed Koch, a Japanese doll and ten "Julie" T-shirts from Watanabe Productions, an autographed book and photo from Harry Reems, a Mexican hat from Jose Feliciano and a beautiful china cigarette box and ashtrays donated by popular singer Michio Azusa.
Even though they were leaving for the States the next day, Akira Fuse and his wife Olivia Hussey dropped by and Olivia helped Jerry Ito and I auction off an Egyptian wood-carving she had bought when she was on location for "Death on the Nile."
After the auction, Shozo Tanimoto, President of Daisho Co. — their discos include The Samba — presented the proceeds to Prince Konoe, there representing the Japan Red Cross. (He left a few days later for Cambodia to assist in a refugee-aid program there.)
The rest of the evening well into the next a.m., the beautiful people mixed, danced and enjoyed. As Holli so well put it, "I'm only scratching the surface," but here are some of the people who shared that special evening:
From the fashion world, there was Junko Koshino and her husband Hiroyuki Suzuki, Yamamoto Kansai, Yuki and Margot from Yuya's Boutique and Sanae and Dick Cropp. Ichiro Kimijima couldn't make it, but sent his girl-Friday, Koyano-san with a generous donation.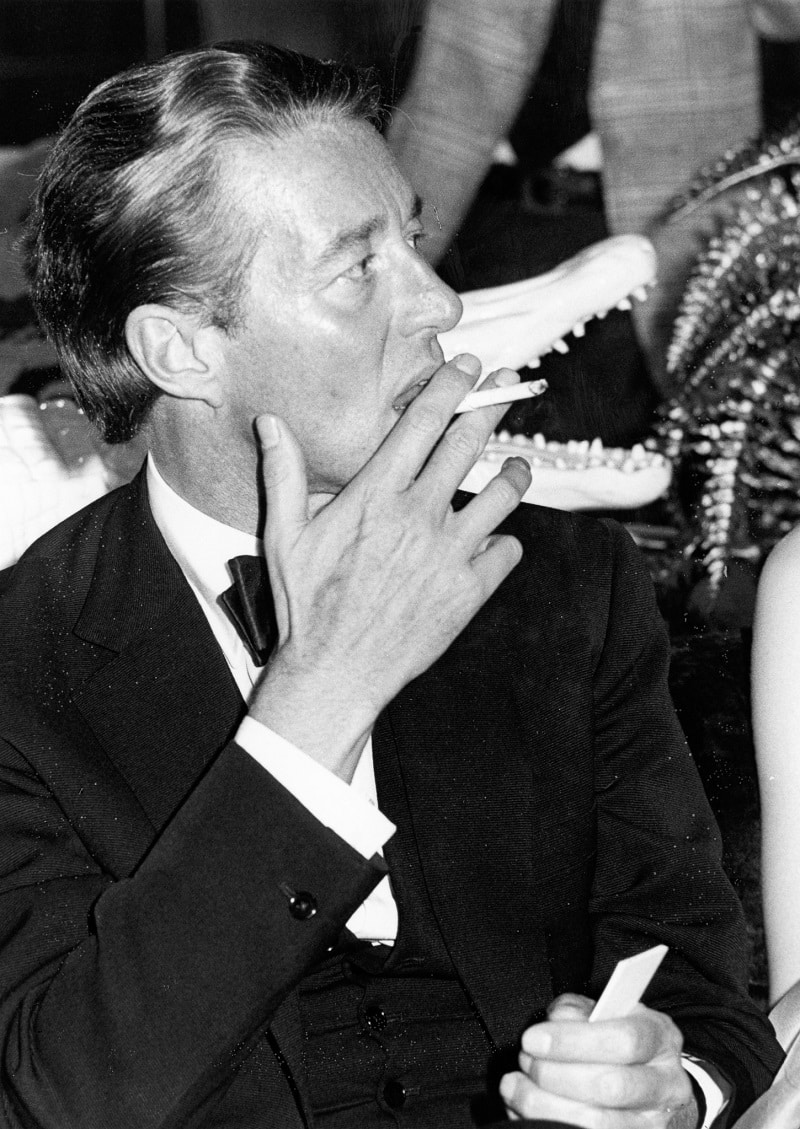 Business VIPs included Estee Lauder's Fred and Regine Langhammer, Max Factor's Sol and June Mester, Revlon's Paul and Jessica Hughes, Dr Pepper's Hal and Shoko Stockstill, Reiko Lyster of Orlane and Bryan Bryce of Hyatt International.
Georges and Koko Toby came with their own group of beautiful people, including Kumiko Hattori, Noboru and Michiko Hattori, Naoka Hatano and Takenosuke and Chizuko Sakakura.
Several diplomats also took time out of their busy schedules, including Moroccan Ambassador and Mme. Abdeslam Tadlaoui, just back from their summer holidays; Argentine Ambassador and Mme. Gabriel Oliva (very generous in bidding at the auction); Italian Ambassador and Mrs. Boris Biancheri; French Cultural Attaché Gerard Coste, and the Jorge Osorios from the Colombian Embassy.
The showbiz world was well represented by film and TV stars Jo Shisido, Akira and Olivia, Masumi Okada, Hiroshi Tachi and Sakai Masaaki. Misa Watanabe was there and Taki Kato also made the scene. There was also a large contingent of both Japanese and foreign models and 10 members of The American Dance Machine did their thing to really enliven the dance floor.
Then there were all those people who write about the beautiful people: Holli Ferretti of the Mainichi Daily News, Jane Rees of the Asahi Evening News, Akira Mori and Steve King of WWD Japan, J. Dusty Kidd of Fairchild Publications, Francoise Morechand of Vu, and a couple dozen Japanese journalists, cameramen and TV people.
It was a super evening in every way and Prince Konoe and Tanimoto-san asked me to extend their thanks for all your support and cooperation.