Hersey's Partyline August 1978
Well, my friends, August has just about had it and it's only a matter of a few weeks before we're into what I consider one of the most pleasant seasons here in Japan. The new fall fashions are already featured in magazines and store displays and tickets are on advance sale for many of the cultural and entertainment events scheduled for Tokyo right through the New Year. It's going to be a busy four months. The last few weeks have been hectic too with the Obon festivities, the Bolshoi, a marvelous group of dancers from Indonesia, National Day celebrations, sayonara and birthday parties, a housewarming, art exhibits, poolside barbecues and a much too short break at Karuizawa. Even with the heat, the beat in Tokyo goes on. Space is limited in summer so I'd better get on with the happenings or I'm going to get way behind AGAIN.
13th National Day of the Republic of Singapore

Wednesday, August 9, was the 13th National Day of the Republic of Singapore, and in commemoration of the event Ambassador Wee Mon-Cheng hosted a huge reception in Singapore's grand new embassy in Roppongi. The marble entrance hall was full of floral tributes from friends and business associates, and this provided a perfect background for the "Garden City's" ambassador to Japan, his daughter Annie and his counsellor, Geoffrey Yu, to greet more than 600 guests that evening.
This was my first visit to the new embassy and, like everyone else, I was very impressed with the tasteful blending of marble and wood throughout the first floor. The reception had been carefully arranged with long tables of Chinese food in one room and western in another. The courtyard, with its fountain, was in between and booths serving Japanese food had been set up there. My congratulations to the Marunouchi Hotel on the catering . . . it was supervised by Kiyoshi Kobayashi, son of the hotel's president, and was excellent.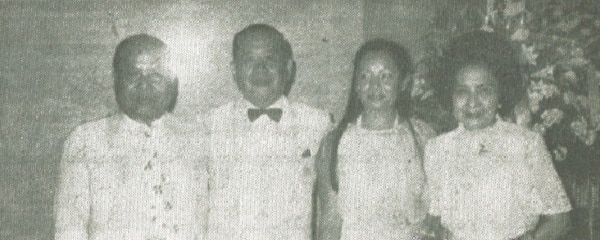 I'd also like to congratulate Singapore Airlines on its participation. Several of their hostesses in their smart uniforms were just inside the entrance in front of a huge ice carving of a lion (the symbol of Singapore) and they really added grace and charm to the affair. I've always been surprised that more national airlines don't contribute to their National Day celebrations.
It seemed that about everyone who was in town was there. The Japanese Government was well represented by Hisanari Yamada, director-general of the Environment Agency, and Keisuke Arita, vice-minister of Foreign Affairs. Reijiro Hattori was there, and of course he's super busy getting ready for the Seiko Tennis Tournament this fall. He said he does get up to Karuizawa weekends. His wife, Etsuko, is spending her summer there. Portuguese Ambassador Madeira De Andrade is also a bachelor during the week and joins his wife and children at their summer beach house on weekends.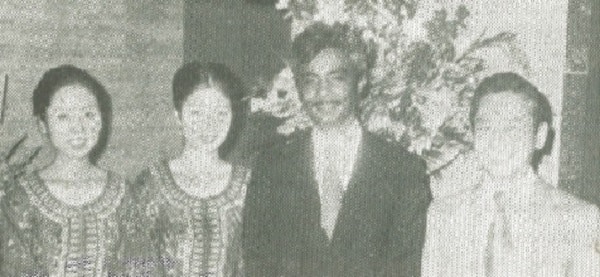 Betty Bigombe and I were talking about the Bigombes' new home. (I had a lot of good times there when the landlady, Anne Yanagisawa Johns, used to throw her fabulous house parties). Noriko Ohno came over and excitedly explained she was off to the German Democratic Republic in a few days. Ambassador Horst Brie and his wife, Fanny (she studied ikebana under Mrs. Ohno), helped arrange for Mrs. Ohno's visit to their country, where she'll do ikebana exhibitions and decorate the stage for the opera "Madame Butterfly."
German Ambassador Gunter Diehl's back from home leave and told us he did something he'd always wanted to do . . . got out at Anchorage, took a small plane and flew into the wilds of Alaska for six days of salmon fishing. Czechoslovakian Ambassador Karel Houska told us he had just come back from home leave and that he and his wife, Stanislava, had a wonderful summer . . . they both have a nice tan. Thuzar, the daughter of Burmese Ambassador and Mrs. U Thaung Lwin, told me that they'll be leaving Japan this fall. Her father has been assigned a new diplomatic post in Vietnam. A nice family who'll be missed by all who know them.
33rd anniversary of the Independence Day of the Republic of Indonesia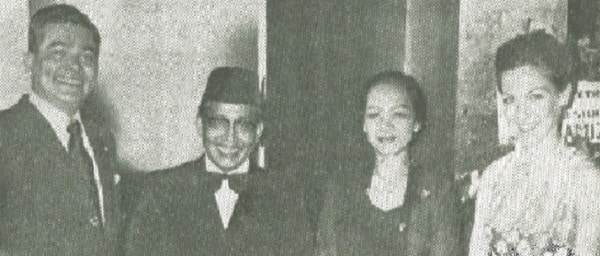 On Aug. 17 more than 1,000 people got a sampling of that colorful diversified country right here in Tokyo. The occasion was celebration of the 33rd anniversary of the Independence Day of the Republic of Indonesia. Prayuni Witono, wife of the Indonesian ambassador, is known for her ability to plan, organize and put her heart into anything she does. To make the celebration something special, she had mobilized what seemed to be the entire Indonesian community and worked with them to prepare a banquet, a program and an atmosphere that was Indonesian all the way.
Guests were greeted in the entrance hall of the Shirogane guesthouse by Ambassador and Mme. A. J. Witono. The hall itself was a kaleidoscope of color with a line of students dressed in brilliant national costumes and a row of floral tributes from friends and business associates.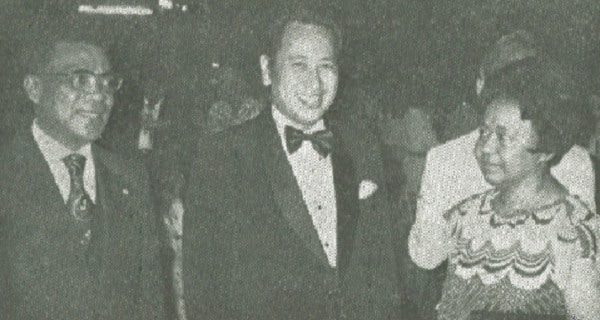 The buffet was spectacular, with huge trays of Indonesian food artistically arranged on tables that ran the length of the main room. Outside in the garden there was a group of ladies and high school students cooking special satay.
At one end of the garden a stage had been set up, and 10 dancers who had been flown in from Indonesia put on an exhibition of dances from different parts of the country. Seven of them were from one family, and their father was the teacher and group leader. Both Garuda Airlines and Sempati Air Transport lent their full support to making this evening a success.
Guests included Guinean Ambassador Mamady Lamine Conde, who came with a very beautiful lady—his sister, Fanta, who's visiting from Germany, where she attends university. His wife, Ramatoulaye (who's also very beautiful), is expecting in early autumn so hasn't been going out much. Japanese VIPs included Hisanari Yamada, director general of the Environmental Agency and Iwao Abe of the Tokyo Metropolitan Police.
The Japan Times was well represented by Yoshio Higashiuchi, Mas Ogawa and Harry Honda. Other press people included Hans Pringsheim and Craig Spence. Our Indonesian friends all were busy that evening, and one of the busiest was Harso Utomo, the Witono's smallest son. He was all dressed up in a white suit and red bow tie and was everywhere. It was a colorful, exciting evening and a very appropriate way to celebrate Indonesia's National Day. At the same time, across town the Tokyo Hilton had set up a special display with a huge replica of its new hotel in Jakarta plus Indonesian posters and dance masks.
Dinner Party hosted by Ugandan Ambassador Bigombe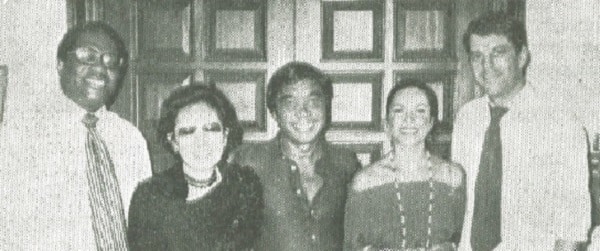 On the 16th Ugandan Ambassador Sampsoni Bigombe and his wife, Betty, held an intimate dinner party in their opulent new residence for fashion designer Jun Ashida and his wife, Tomoko. Fred and Regine Langhammer were there, looking fit and rested after holidays in Los Angeles, New York and at their lakeside vacation house in Canada. Mannequins Paula and Mickie were there . . . both girls are knockouts. Talked with Paul Jeffers, who told me the Ashida organization is very busy preparing its collection for the October showing in Paris. "Sam," as the ambassador's many friends know him best, gave us a personal tour of the house. We even saw their boy, Rubango's, room. He's just 3, had been playing all day and slept right through our parading through his room. Good food, excellent wine and nice people made it one of those perfect evenings for which the Bigombes are noted.
Celebrating Afghan National Day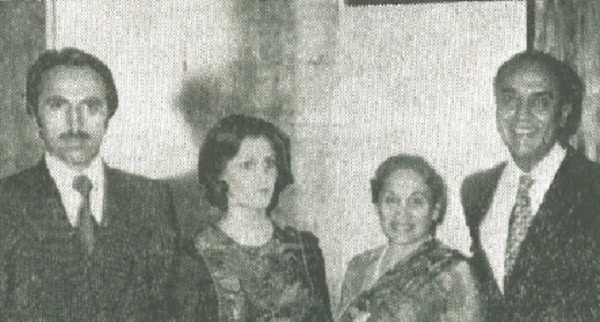 I attended a farewell party at the Yugoslavian Embassy on Monday, the 21st, for Yugoslavian Counsellor Stanojlo Glisic and his wife. Vera. The Glisics, who have been here almost four years, made many friends in both the foreign and Japanese community . . . they'll be missed. I was surprised to see Yoshio Kobari at the party. He's executive managing director for the Nasu Royal Center and is a regular around the Tokyo Hilton. There'll be another sayonara at the Yugoslavian Embassy later this month, since Ambassador and Mme. Miroslav Kreacic will also be leaving us. We'll sure miss them.
Like many others, I rushed from this reception over to the Shirogane Guest House, where Afghanistan Ambassador Abdul Hamid Muhtat and his wife, Agilla, were hosts at a reception celebrating their National Day. The ambassador and his family have just been in Tokyo a few weeks, so the celebration also gave them a chance to meet many of the guests for the first time. More than 600 attended—a mixture of diplomats, Japanese government officials, and businessmen. There was also an interesting group of Afghanistani students who are studying and training here in Japan.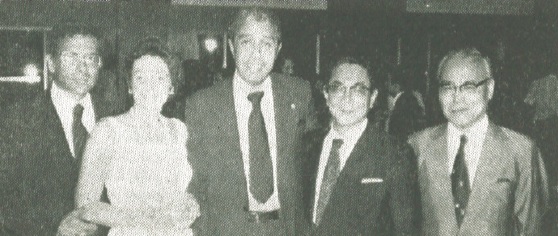 It was the first time I had an opportunity to see Lady Joan Wilford since I had returned from Tahiti, and she told me she was off to Canada the next day to visit her sister and some friends. Olegario Ruiz introduced us to his wife, Blanca, who just arrived recently. He reported that Mexican Ambassador Xavier Olea was still in Mexico and should be back here in mid-September. The ambassador and his staff are very busy preparing for their president's visit here in October. Goro and Perla Nakasone were there; they'll be leaving for Madrid this fall when Goro will take on his new assignment for the Foreign Ministry. My thanks to Goro for the introduction to Takashi Oyamada, managing director of the Japan Foundation . . . a very interesting man.
In talking with Ambassador Muhtat, I learned that he has lived in the Soviet Union and speaks Russian fluently. He and his wife both enjoy Japan but, like many people, are having problems deciding about schooling for their two sons, Farid, 6, and Jarvid, 5. Toward the end of the evening, as seems to be the custom, the Afghanistani students all gathered around the ambassador for a chat. It was a nice crowd that evening, the weather was a little cooler and everyone seemed to be enjoying it all.
Malaysian National Day Celebration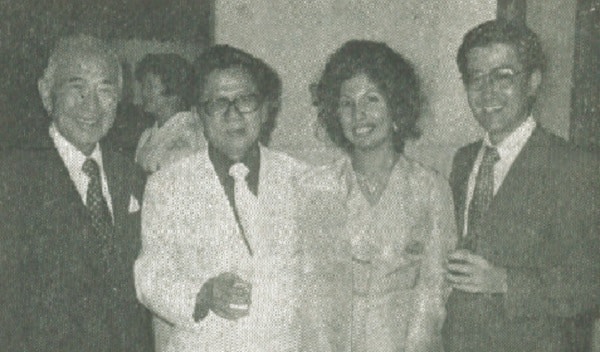 Getting to the Malaysian ambassador's residence out in Bunkyo-ku, especially in the 5-to-6 p.m. traffic, isn't easy, but I was really glad that I did make it to the Malaysian National Day celebration on Aug. 31. The ambassador's light, bright residence is very Californian: big rooms, high ceilings and a lovely lawn and garden. I got there before the crowd, so had a chance to see how artistically the tables of western, Chinese, Malaysian and Japanese food had been arranged. Ladies from the embassy and Malaysian community were rushing about in colorful national costumes, making sure everything was perfect. They didn't have to worry . . . it was. A huge ice carving of the national symbol of Malaysia dominated the garden, and there were flowers everywhere. To complete the mood, Malaysian music was softly playing over the speaker system.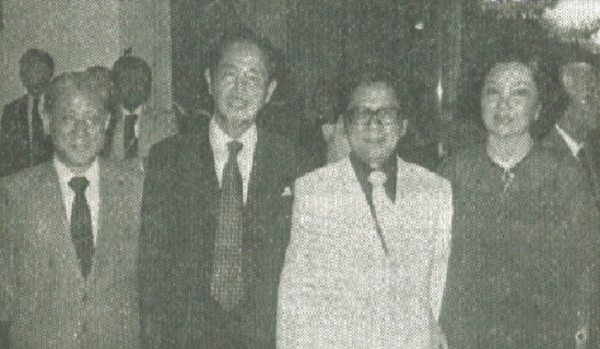 U.S. Ambassador Mike Mansfield was one of the first to arrive, and I was happy to hear that his lady, Maureen, is feeling much better. Reijiro and Etsuko Hattori joined us, and we talked about Etsuko's summer in Karuizawa and some of Reijiro's (Seiko's) new projects. Honduran Ambassador Cesar Mossi told us he'll be glad when his wife and daughters are back from their holiday with her parents in Venezuela. It seems he's been a summer bachelor long enough. Pakistani Ambassador Jamsheed K. A. Marker, who's always thoughtful, came over and introduced us to the new Pakistani counsellor, Ashraf Qazi, and his wife, Abidah.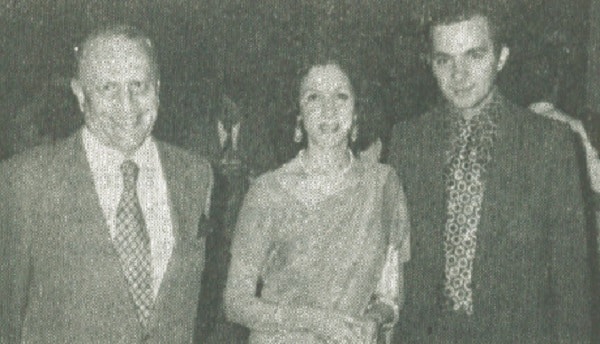 I was talking with Dr. and Mrs. Theodor King when Sandi Mori came over. I hardly recognized her. Kudos, Sandi . . . she's knocked off some weight and really looks great. Larry and Marie Horton were there and said after five years here they and their three kids—Susan, Sandra and Steve—will be moving to Ontario. Larry is president of Ingersoll-Rand Japan. It was nice seeing Takeshi and Marianne Maekawa again. She's from Germany and goes back once a year to take an examination to keep her medical license valid. The Malaysian ambassador had invited all the Malaysian students who are attending university or training schools here, and they really added vitality to the celebration.
Special Dinner Reception for Ozeki Takanohana
From the Malaysian Embassy I drove as fast as the rain would allow over to the Aobadai residence of Egyptian Ambassador Mohsen Khalek and his wife, Noha. I was too late for the dinner, which was in honor of sumo wrestler ozeki Takanohana, his wife, Noriko, and his two little boys, Koji and Masaru. I shouldn't say little: The five-year-old weighs 40 kilos and the six-year-old 45 kilos. I did get there in time for Noha's fantastic desserts and table talk about sumo. The ambassador, at Takanohana's request, had only invited about a dozen guests. It seems the man who has millions of fans is a little shy and prefers small gatherings.
I felt privileged to share that evening with the guest of honor and his family, Georges and Koko Toby, Kuni Yokoi, Fred and Regine Langhammer and a few other of the Khaleks' friends. Takanohana was patient and gracious in answering everyone's questions about sumo. It was obvious how much he and his boys love each other. They kept getting up from their seats, coming over to him and massaging his back or leaning on his shoulders. After we moved into the living room, he obligingly posed for photos with everyone and then rough-housed a bit with Koji and Masaru. He and his family have become very close friends of the Khaleks and he told us how sorry he is to see them go (aren't we all?).
In and Around Tokyo
• Michaela von Habsburg, who hopefully will be back in Tokyo by the time this is out. Talked with Michaela over the phone. . . . "I've really enjoyed traveling and being with my family, but realize now Tokyo has something special. I'm anxious to get back." She sent me a wonderful postcard from New Guinea. It shows four mudmen doing a dance. She captioned it like a Party Line pic. No, I won't tell you whose names she used in the cutlines.
• Miki Curtis, the Japanese/British pop artist who was big here 10 years ago and whose rock band, "The Samurai," made several very successful tours through Europe. Miki and his family have settled down in sunny California and have opened Tokyo Hotline Production in Studio City. We wish him our best in his new venture.
• Singer Nancy Wilson who, I'm happy to report, wrote she's completely recovered from her recent car accident. Nancy has no plans to come back to Japan for a while but sends her best to her many friends and fans here.
Congratulations, Masako Ohya on her recent appointment as honorary consul-general of Turkey in Osaka. Mrs. Ohya is also honorary consul of Madagascar and will be decorated by that country soon. Then, of course, she's off to Egypt to be decorated at the Arts Festival in Cairo in early October. A busy, busy lady.
IN TOWN
• U.S. fashion designer John Weitz on his ninth annual trip here for his Japanese partners, Teijin and Daimaru. John and his wife, former actress Susan Kohner, spent their summer holiday on a yacht (see it in "The Tycoon") in the Mediterranean. During his two-week promo trip here he'll present the president of Daimaru with a Tokugawa Era atlas which an American dealer was able to find for him.
• Donald Lyall of Freidelle, Australia's top manufacturer of children's wear. If things go as planned, you should see the fashionable Freidelle line on the market here next year.
• Fashion designer Pierre Balmain here for just a few days after traveling to Thailand for Queen Sirikit's birthday. Spotted Pierre at the Hilton with his friend, Paul Hughes, president of Revlon for the Far East and Canada. It seems Revlon will be launching one of Balmain's new scents next April. He's a busy man and has just come out with an exciting new line of furniture.