Hersey's Partyline December 2017
PEOPLE
THE MERICS RETURN TO TURKEY 
After three and a half years in Japan, Turkish Ambassador Ahmet  Bulent Meric and his Japanese wife Kumiko have returned to Turkey for a new assignment. Proof of their popularity was a butt-bumping crowd when they hosted a sayonara at their Kenzo Tange-designed embassy and garden near Harajuku. It was several hours of short and sweet speeches, pleasant music, a superb Turkish buffet, and the Merics' wonderful hospitality. Bulent and Kumiko were really good friends and me, as well as everyone who has had the privilege of getting to know them, will miss them dearly.  So long my friends, and thank you so much for many kindnesses. Take care, and all the best back home. Hopefully, I'll see them one of these days in Turkey, a country I  have been to several times and always enjoy visiting. 
ANTONIO INOKI  WRESTLING EVENT 
On the sports scene, pro wrestler, politician, and long—time friend Antonio Inoki hosted a special evening I couldn't go but it looked intriguing. The publicity brochure featured a picture of him wearing his traditional bright red scarf. My Japanese friends read the unusual party name and translated it as Inoki's "before his funeral party." I haven't had time to look into what this actually meant,  but I'm happy to hear he's fine. The program featured well-known international wrestlers from all over the world and I heard it was very exciting. Seat prices were ¥5,000 to ¥50,000, and I'm sure all the pro wrestling fans who attended thoroughly enjoyed it. 
PARTIES
THE VON  WERTHERNS'  GERMAN UNITY  DAY GARDEN PARTY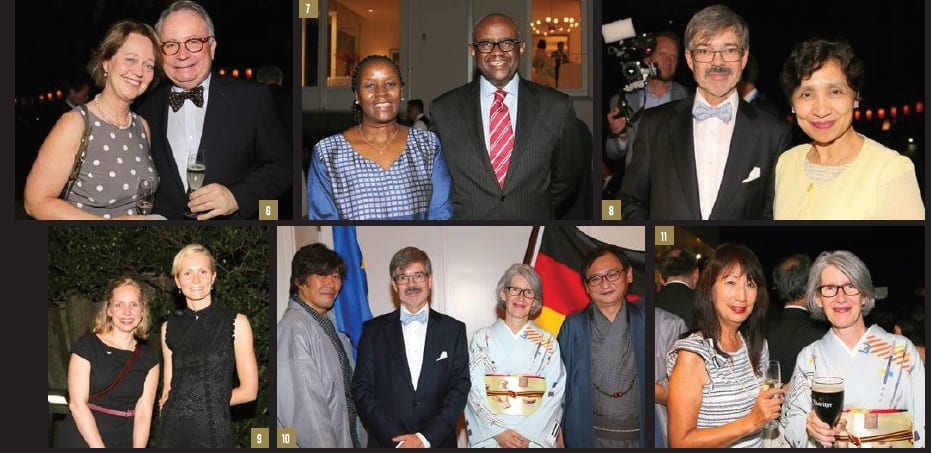 Germany's popular diplomats Ambassador Hans Carl Freiherr von Werthern and his wife Elisabeth are always busy, and things were no different for them this fall. They celebrated their day of German unity on the 3rd, and they had Oktoberfest celebrations at restaurants,  bars, and National Azabu. The weather was perfect on the evening of the 3rd, and the embassy residence and spacious garden were packed with many friends and business leaders from both the Japanese and German communities. Special guests included Wolfgang Tiefensee, the State Minister of Economy, Science, and the Digital Society. The food (German, of course) and the ambiance were very special. Elisabeth, our hostess for the evening, is British, and always looks chic in the original fashion. I want to thank the Embassy of the Federal Republic of Germany and the Embassy of the Republic of Austria for their support as well as the support of many others who helped make it all happen. 
POGOSYAN'S ARMENIAN 26TH  INDEPENDENCE DAY AT OKURA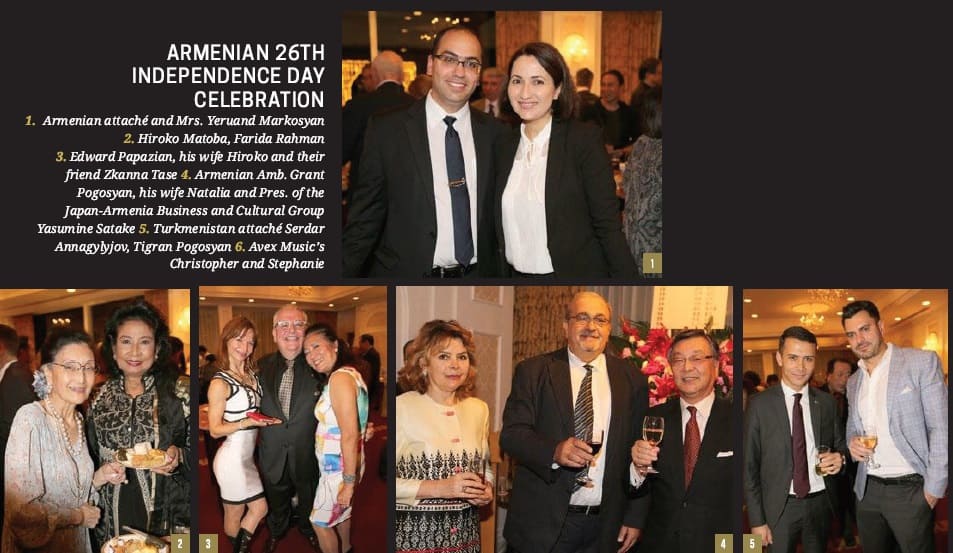 Armenian Ambassador Grant Pogosyan, his Wife Natalia, their son Ti-  gran, and the embassy staff hosted a party at the Okura Hotel on the occasion of the 26th anniversary of Armenia's independence. Guests included several friends I haven't seen for some time, but there were also plenty of new faces.  The ambassador's speech was very informative and he talked about the many projects that Armenia and ]apan have undertaken during their 26—year relationship. He was especially enthusiastic about attending the Aurora Prize 2017. This year the million-dollar prize went to Dr. Tom Catena, a Catholic missionary who is the sole doctor in the Nuba Mountains in Sudan.
AMBASSADOR AND SENHORA CORREA DO LAGOS' GALA 
Back in September, Brazilian Ambassador Andre Aranha Corréa do  Lago and his dynamic wife Beatrice hosted an elegant evening at their beautiful embassy in Kita Aoyama. The occasion was to celebrate the 195th anniversary of their country's independence.  Deputy Prime Minister Taro Aso was a special guest, and after the ambassador's welcome speech, he made a short and very informative speech on Brazil and ]apan's long, strong, and mutually beneficial relationship, and the many human ties and exchanges between the two countries.  Brazil has the largest Nikkei (Japanese emigrants and their descendants who have created communities throughout the world)  community in the world (around 1.9 million people), and in 2018 will celebrate the 110th anniversary of Japanese immigration in Brazil. In addition, this year, they'll celebrate the 50th anniversary of the first visit of the Imperial Majesties to Brazil. The photo exhibition honoring the visit, which had been inaugurated at the embassy that day, was immensely interesting and informative.
PLACES       
FASHION HAPPENINGS 
Thanks to Steve Haynes, I had the opportunity to be a judge for the  Mrs. International Global 2017 competition in Shinjuku. A group of nine Japanese women took part ~ the youngest contestant was in her mid-30s and the oldest in her mid-50s. They all looked fabulous. The show's main sponsor was a cosmetics company from Osaka called 727. Former beauty queen Diana, along with Steve and friends, organized the event. I also had a front-row seat to some of the shows at Amazon  Fashion Week, held at the many boutiques on Omotesando Street. I  bumped into the very cool Miss Supranational Emily Shirrtizu, whom I first met when I was a judge at the Miss Supranational Japan Show. 
Take your family and friends to check out Ark Hills' lighting and the Grand Hyatt's lobby. Midtown Mall is really very special as well, and  Tokyo Tower is so cool this time of the year. I've had a 50-year relationship with the Hilton hotel here, and over the years I've worked with their dynamic PR and food and beverage departments on fashion shows, cultural events, movie promotions, and orphans' holiday parties. They sort of spoiled me. And they like to spoil their guests too. If you take your kids to their big — and I do mean big — Cinderella promotion in the lobby, you'll see what I mean. The décor, the food, and the ambiance are really fantastic.      
*First published at the Tokyo Weekender
*Images Copyright: Tsukasa Shiga