Hersey's Partyline February 2018
PEOPLE
A SAD FAREWELL
I lost another wonderful friend, Nejat Shanino, a young refugee from Eritrea who had settled here in Tokyo. Her story is too long and winding to go into here, but she was busy and happy in Japan working as an actress, model, translator, and teacher. She spent time in a refugee camp in Sudan before getting asylum in Egypt. She later resettled in Australia before coming to Japan. Her looks and personality earned her many friends and a good life in this country. She was happy here and kept busy helping others. Sadly, however, a few months ago she was walking near her home in Hiroo when a woman on a bicycle accidentally hit her from behind. Sorry to say that none of the people who saw it happen were of any help. She went to the hospital for different tests and was released a short time later. From what I heard she seemed okay at the time, but friends who checked up on her discovered that she had passed away in her apartment. Many people she knew got together for a very moving memorial service in Yoyogi Park. We'll miss you my friend – God bless your soul.
PARTIES
DEWI'S SUPER CHARITY DINNER GALA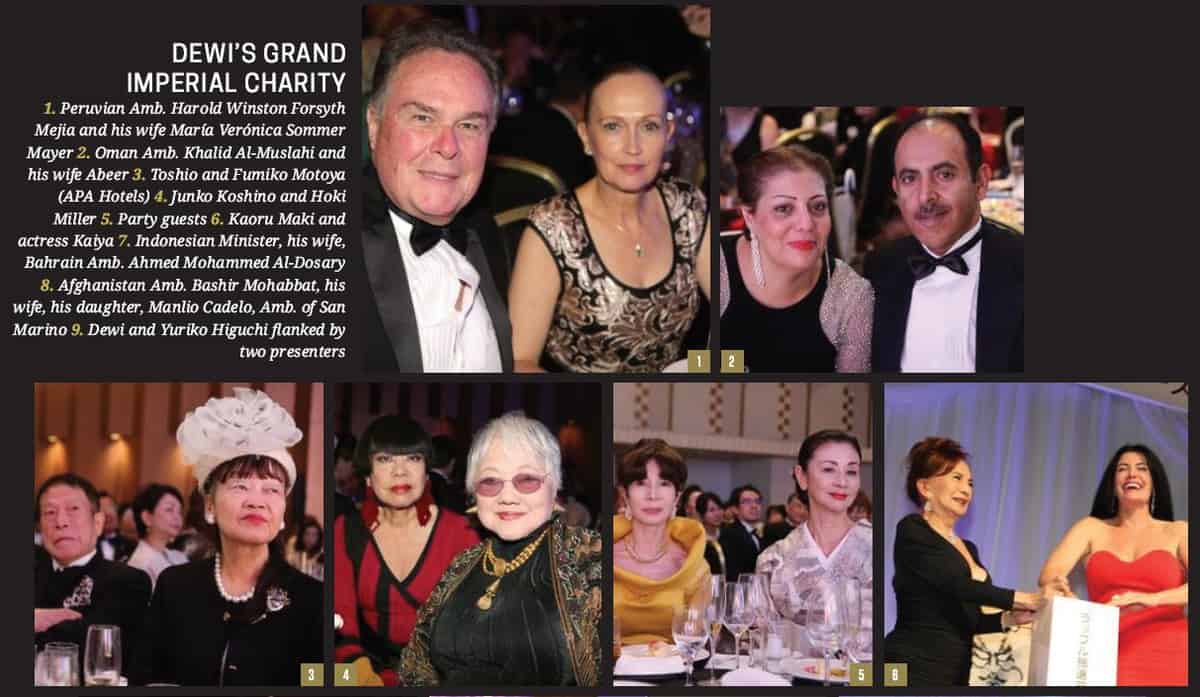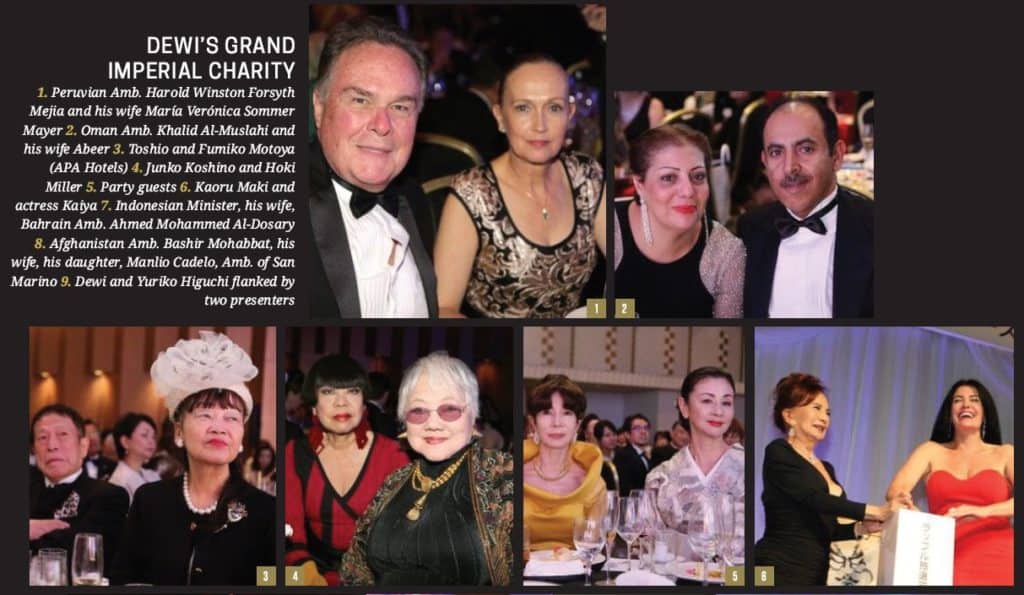 I'm well aware of how fast time flies, but I still found it difficult to believe that Dewi's Imperial Charity Banquet is celebrating its 20th anniversary. The magical evening was held at Gajoen Hotel in Meguro late last year. Dewi really gets around, and it was an amazing gathering with over 500 VIP guests that included government officials, ambassadors, and film, music, and fashion celebrities. It was, as expected, a glittering evening of fashion, color, music, a many-course gourmet dinner, interesting people, and top entertainment. It was all organized to benefit the Japanese Red Cross Society and AAR Japan (the Association for Aid and Relief Japan). Primary supporters of the evening included Coca-Cola East, Garuda Indonesia, Lladro Japan Co., Lt. Le Tablier, and MS1880. I want to thank Dewi for my seat at one of the best tables. Others at that table included designer Junko Koshino and Hold Miller – the entertainer and former wife of novelist Henry Miller.
WEEKENDER/TOKYO HILTON CHARITY HOLIDAY PARTY
I somehow pulled it all together and thanks to many of you, got my 19th Christmas party for orphans and less fortunate kids set up at the Tokyo Hilton on December 5. A big thanks to Momoko Gonohe, director of public relations at the Hilton, and her super staff. This is the 19th year they've helped me bring together 50 to 60 kids, and it really worked out well. Momoko helps me connect with six children's homes, and teachers from each school bring the kids, aged six to 12, to the Hilton for an afternoon featuring a fabulous buffet of all kinds of goodies.
OMAN NATIONAL DAY AT THE PALACE HOTEL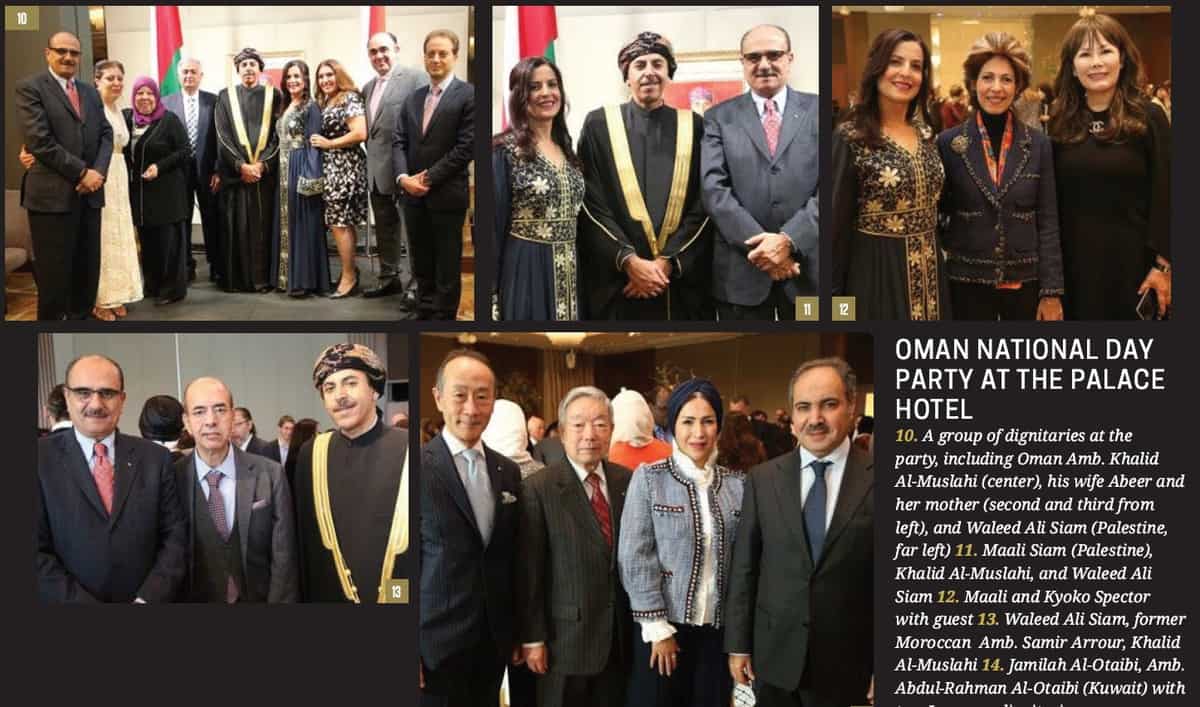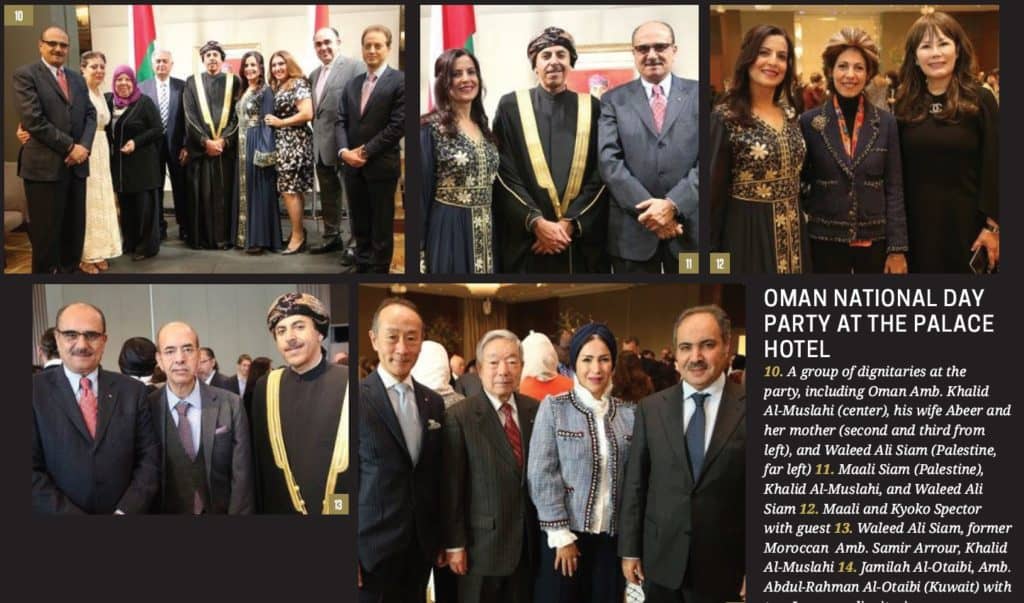 In late November, dear Omani friends Ambassador Khalid Al-Muslahi and his dynamic wife Abeer hosted a lavish midday reception in the Palace Hotel's elegant room Yamabuki. The special occasion was to celebrate Oman's 47th National Day. Khalid, Abeer, and their children are a very active and popular family, and as always it was wall-to-wall friends at the gala event. The buffet featured Japanese, Arabic, and Western favorites.
Abeer is always full of energy and really outgoing. Her many accomplishments here include taking special photography classes, doing photo books, and setting up a fantastic jewelry exhibition that highlighted Oman's exotic designs. She and her husband have been in Japan a long time and have done a lot to promote their beautiful country.
PLACES
MIN-ON'S KATIA CARDENAL CONCERT
A big and very sincere thank you to Soka Gakkai's Min-On Concert Association for another wonderful international music event. This time it was a concert by Nicaragua's Grammy Award-winning singer Katia Cardenal and her super band. To be truthful, I had forgotten how great Latin music is until I went to Katia's concert at Nakano Sun Plaza. The lady has a voice like Sarah Brightman, and the program was a lively dynamic line-up of Latin music, beauty, and sensitivity. After the commemorative show, guests were invited to a dinner party where we had the opportunity to meet, get to mingle with the performers and enjoy the great international cultural exchange. Min-On really is a winner at arranging so many great shows like this.
KAWASHIMA'S NEW PEEKABOO HAIR SALON IN GINZA
Just got a great holiday gift from a longtime friend, the top hairstylist Fumio Kawashima. Fumio studied under Vidal Sassoon, the world-famous London hairstylist. Her book, Tokyo Hair, was recently published by Warp Publications. The beautiful book was put together under Fumio's direction she was a very busy and successful chain of hair salons in Tokyo. The compact book is a treasure chest of beauty tips for both men and women. It features photos of Tokyo celebrities and trendsetters. Fumio, who's done hair shows all over the world, also works with one of Japan's top designers, Junko Koshino, and she did the dynamic costumes for the highly acclaimed Drum Tao performance group.
*First published at the Tokyo Weekender
*Images Copyright: Tsukasa Shiga