Hersey's Partyline May 1977
The Marcos on state visit to Japan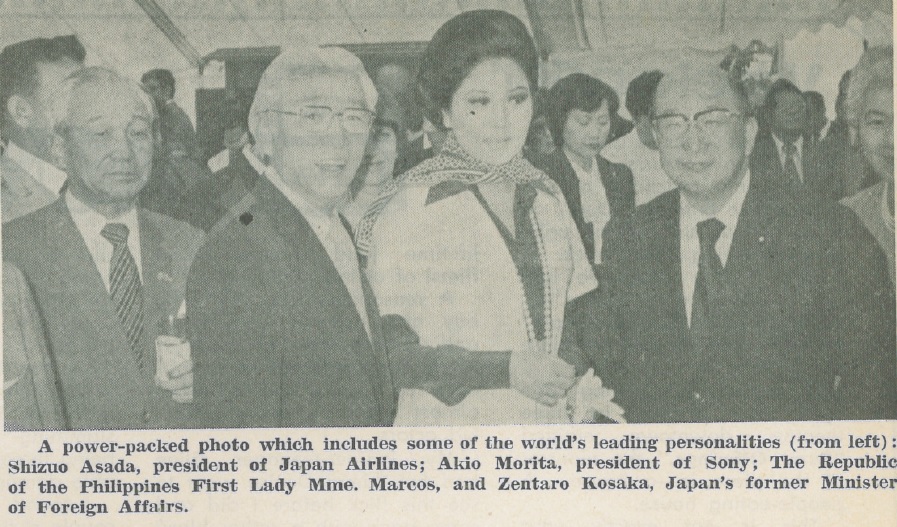 The charisma these two people give off has to be seen to be believed. They split up and each moved around the garden on their own—greeting and joking with old friends, shaking hands and meeting people and taking time out to be photographed with many of the guests there that day.
I fully understood my Filipino friends' pride when I saw how much this dynamic couple impressed everyone they met. After they left many people lingered on just to talk about how "beautiful she is and how personable they both are." On the humorous side, almost everyone in the crowd—including the ambassador's ladies—left with at least one Filipino mango.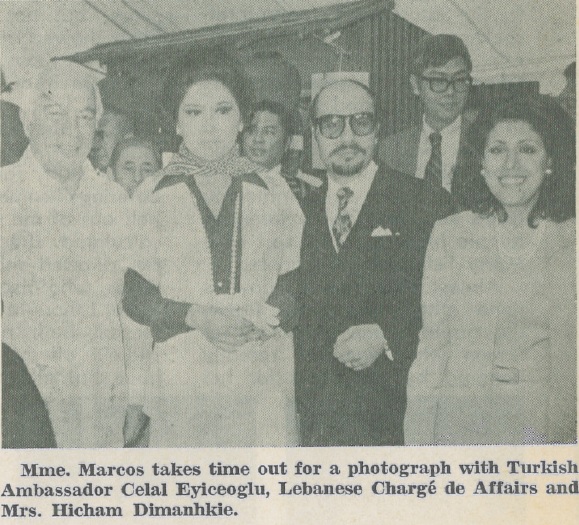 My only complaint was my little camera case would only hold one while their handbags held two or three. Jokingly told Katie Hagedorn I'd see her on TV in Manila as one of the TV cameras was on her when she dropped a mango in her purse. It was all in fun as the Embassy staff had invited everyone to all the fantastic fruit they wanted.
From there rushed out to Harumi Pier where President and Mrs. Marcos were visiting the Philippine exhibit at the 12th International Trade Fair. The streets were lined and the exhibition hall packed with people all waiting to get a look at the visiting dignitaries. After the Marcos toured the exhibit and left, there was a reception in the exhibit area.
Mexican Pavilion at Trade Fair
I stayed on at the Trade Fair as the Mexican Pavilion was having their reception at 5 p.m. Went over with Dolly Baker we were greeted by our dear friends Mexican Commercial Counsellor Felipe Avila Munn, his wife Carolina and Carlos. A. Bado, the Minister-Counselor. It was a lively two hours of mariachi music, nice people and really excellent Mexican food.
I was told the food came from El Sefior. Things must have changed since Tony Bur-get "ran out." Others who were a part of the pleasantries included Jim and Juanita Reed and Ramon and Rita Rodriquez. Dolly and I jumped in my Skyline and headed for the New Otani where we had coffee with two of Manila's top media people: Augusto P. Sta Ana, the managing editor of the Evening Express, and Teodoro F. Valencia, one of the Philippine's best known columnists.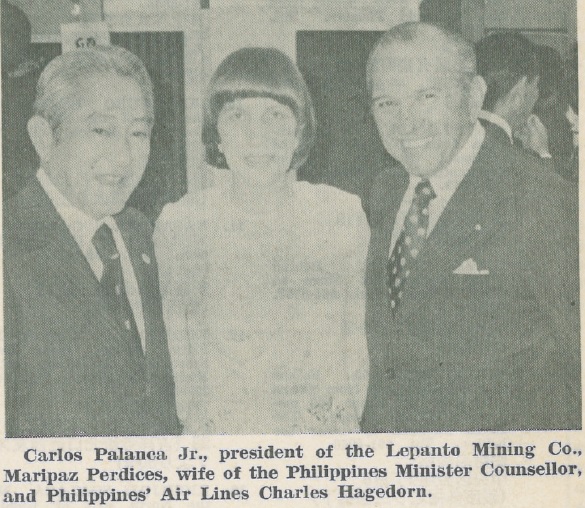 Ed Gibson who used to be Managing Director of Levi's here in Japan, but is now working internationally out of Levi's main office in San Francisco.
Jean Pecqueraux, president of Parfums Rochas Paris, here to hold press conferences and meet the people in Japan who distribute his prestige products.
Kuwait Ambassador Talat Al-Ghoussein off to Djakarta to join his country's Prime Minister, making an official visit to Indonesia.
Aki Mod off to New York to help his mother Hanae Mori at her haute couture collection showing on May 2 at the Waldorf Astoria. Aki also, plans to get the latest N.Y. news for his popular paper STUDIO VOICE.