Hersey's Partyline October 1978
SAYONARA, SAYONARA, SAYONARA, stole that from Yodogawa-san, who introduces movies on TV weekly, but it sure applies to what's been happening the last few months. There's always a turnover here, but I can't ever remember so many friends leaving in such a short time.
Finnish Farewell Reception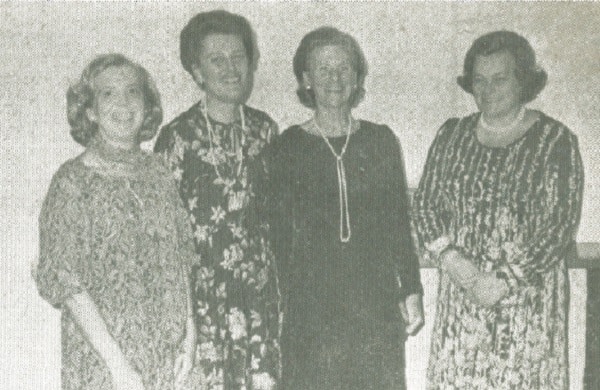 I wasn't really all that happy about the occasion over at the Finnish Embassy . . . it was a sayonara for many people's good friends, Finnish Ambassador Osmo Lares and his wife, Kaija. After six years in Japan they'll be returning to Helsinki, where the ambassador will continue his career with the government. In addition to getting to know the Lares here in Japan, I often ran into them in one of our mutually favorite places: Manila.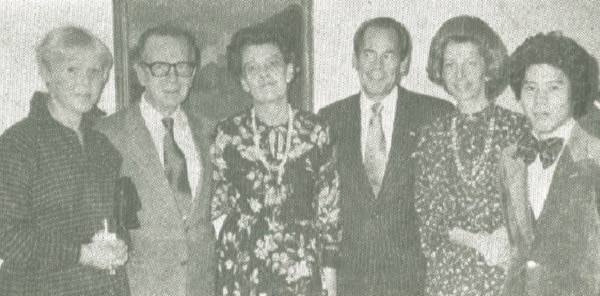 Their residence was packed that evening with a mix of diplomats, Japanese officials, businessmen and friends. Many guests were dressed in black and white, since they were headed for the Black and White Ball over at the Hilton, and that was our next stop, too.
Farewell Reception for Ambassador Mohsen Khalek
The going-away parties had started for Egyptian Ambassador Mohsen Khalek and his wife, Noha, before I left and now they're in Cairo, where the ambassador will assume a new post. Yugoslavian Ambassador Miroslav Kreacic and his wife, Vanda, have left and they're posted in Belgrade now. Thierry and Diane de Beauce left Japan and are now in Morocco. The new French cultural attaché is Gerard Coste, whom many of you know from his tour of duty here several years ago. Coste had been posted in Morocco. Burmese Ambassador U Thaung Lwin and his charming family left Tokyo after three years; he's now ambassador to Vietnam.
Mongolian Ambassador Sonomdorjiin Dambadarjaa has left us for better things . . . he's been appointed vice-minister of foreign affairs for his country. We hardly got to know Venezuelan Ambassador Tito Aponte and his family — they're headed home by now. Then, we'll all really miss Pakistani Ambassador Jamsheed K. A. Marker and his wife, Diana. They're in Geneva now and we wish them our best.
On the business side, Pan Am's Rush and Shirleigh Clark have left for where the grass is really greener — and year round. Rush has been posted in Honolulu. There were endless sayonaras for this popular couple and also to introduce Rush's successor, Tony Bernacchia, who has taken over here as Pan American's regional managing director — Far East. Others leaving soon include veteran Tokyoites Max and Clara Desfor. Max is retiring from AP. They'll be moving Stateside, where he'll be working for U.S. News & World Report. The Press Club and the annual Okura Press Party won't seem the same without them.
Farewell Reception for Ecuadorian Counselor Alvarez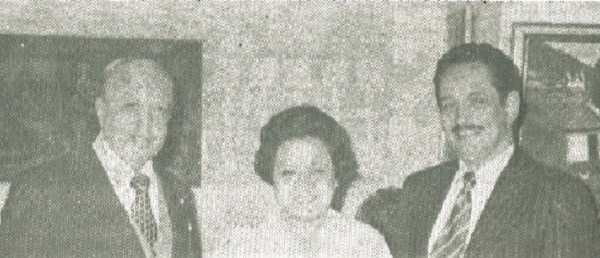 I went to the Ecuadorian Ambassador Alberto Barriga's residence for a sayonara for Ecuadorian Counselor and Mme. Adolfo Alvarez. After six years in Japan they'll be returning to Ecuador, where he'll take on a post with the Ministry of Foreign Affairs. This was the first time I had been able to make one of the parties at the ambassador's and he showed me around his apartment, which boasts some dynamic Latin American paintings and a super Japanese stereo system.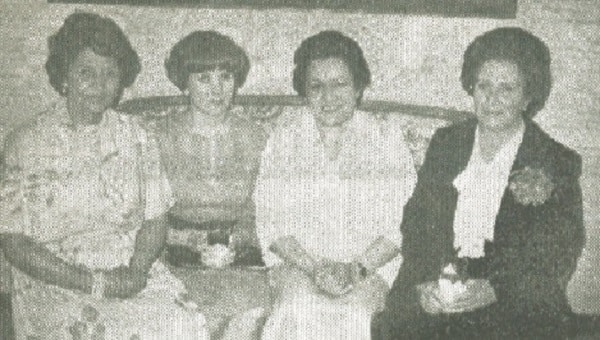 Most of the Latin American ambassadors and their wives were there and they always make a lively crowd. New faces included Dr. Jaime Botey, new ambassador of Costa Rica, and Gerard Fritz Villain, the recently arrived Haitian chargé d'affaires. Guatemalan Ambassador Carlos Enrique Molina Munoz and his wife, Olga, are really looking forward to December. They'll be going on a two-month home leave and will soon become grandparents for the first time. The Ecuadorian ambassador is also planning to travel: He'll be going to New Zealand to present his credentials. People are on the move. The Alvarezes have left by now. It was nice knowing them here and we wish them the best in their new post back home.
As we were about to leave, William Tapia of the Nicaraguan Embassy said, "Come on, let's go over to Roppongi for a while." It was still early, so Joan Itoh, Michaela von Habsburg and I piled into Willy's car and ended up at the new "Persian restaurant" Topkapi, which is right above Castel's in the Roppongi Square Building.
We got settled (thanks to Daini Okada) in the best seats in the house. Two bottles of champagne and two belly dancers (from Turkey and great) later, who comes in but Anne Dinken and Chiye Hachisuka. That meant two more bottles of champagne and staying through another show. It was late, but we all were having too good a time to leave, so we practically closed the place.
JAWS Annual Black and White Ball
The Japan Animal Welfare Society (JAWS) annual Black and White Ball, under a group of hardworking, influential and dedicated people, has become one of the social events of the year here. The Hilton Pink Pearl Ballroom provided the perfect background for the super-elegant evening. The tables were beautifully set and at each place were gifts donated by Nina Ricci.
An excellent buffet was served in the White Pearl Ball-room—and it always amazes me how smoothly Tanaka-san and his food and beverage staff can feed and satisfy more than 700 people.
As has been the custom, Prince and Princess Hitachi were the guests of honor. She looked lovely in a white lace dress. Special people at the head table included Princess Michaela von Habsburg; Mr. and Mrs. Takakichi Aso; Chiye Hachisuka; Loy Weston, whose company, Heublein, is one of the biggest supporters of the ball; British Ambassador Sir Michael and Lady Wilford (her Chinese coat was very special); Moroccan Ambassador and Mme. Abdeslam Tadlaoui (her hairstyle was fabulous); Alitalia's Guido and Lore Gandino (she worked for JAWS much of the evening); and Rolex's John Read (another strong supporter of JAWS).
Corky and Mary Alexander had gathered a group of interesting friends at their table, including Steve Parker and Miki Hasegawa (her new hair-style looks great too), Jane Rees, Hal and Shoko Stockstill, Tom and Romy Chapman (she was so-o-o chic) and Seichan and Sandy Mori.
Tokyo's ladies were a credit to their husbands or dates and themselves that evening. They all looked mighty fine. I can't, of course, mention them all, but a few who stand out in my mind are Lynn Wigton in a one-sleeved black Sanae Cropp dress trimmed in silver; Holli Ferretti, all in white; Kiyomi Berger in a black and silver Nina Ricci creation; Jane Rees in a black and white kanji print evening pants suit; tall, slim Barb Penrose in a black feathered gown; and Maha Debs in all white.
Showtime, and the varied entertainment featured Jerry Ito, Dolly Baker, Joan Shepherd backed up by a Japanese trio called Sugar Sugar and The Shaw Brothers (who have been making waves at TAC).
During the show Mieko "Ami" Ishimuro walked by my table, saw my ticket laying there and said, "Fill that out." I said it's too late, but she insisted and said she'd get it in the box. As you've undoubtedly heard (I'll never hear the end of it), I won the grand prize and have two round-trip tickets to Hong Kong on Cathay Pacific Airways. Thanks, Ami . . . you sure brought me luck.
The American Embassy Women's Club Fashion Show
Sunday evening, the 29th, I joined a very interesting crowd at Sogetsu Hall, where the American Embassy Women's Club was sponsoring a fashion show by Gensai of Kyoto. Special guest that evening was Eleanor Lambert, internationally known fashion publicist, who flew in from New York for the show. Eleanor had been instrumental in arranging Gensai's show at the Japan House in NYC last November.
We were greeted at the door by Pauline Herpy, and then Mary Jane Richards, president of the Women's Club, took time out of her busy schedule to make sure we had good seats. We enjoyed talking with U.S. Minister Counselor William Sherman and his wife, Mary Jane (mostly about New York theater), on our right and to Polaroid prez Dick Otomo and his wife, Yoshimura Mari (mostly about Polaroid's new movie camera), on our left.
The fabrics and colors were dynamic, and Gensai had used them beautifully in a collection of Japanese kimono and western evening wear. The mannequins all were good, but Tukie, the black girl who had been flown in especially for the collection, stole the show both on stage and at the reception later.
Among those who shared the fun were Pat Salmon, just back from China, Jean Pearce, Chiye Hachisuka, Mary Alexander and Mona Rankin (her husband, Canadian Ambassador Bruce Rankin, was down with a cold). In talking with Eleanor after the show, we learned she'd go to Kyoto the next day for the same show and then fly back to New York. A busy lady who's made her mark on the fashion world.
Midday Reception at Turkish Embassy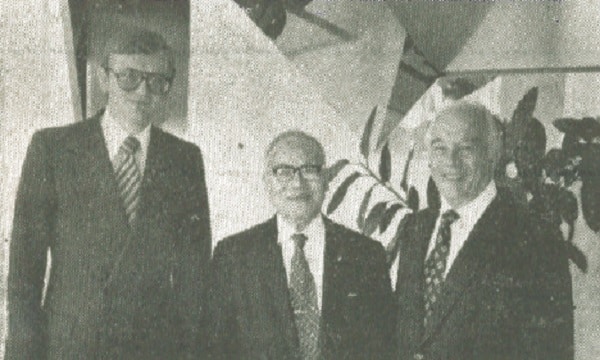 Monday, the 30th, and the sun was shining for the midday reception Turkish Ambassador and Mrs. Celal Eyiceoglu held in their beautiful embassy (one year old) to celebrate their National Day, which fell on Sunday, the 29th. Even though the gathering was mostly men, it was colorful with many of the embassies' military men in full uniform. By noon the huge crowd was spilling out into the embassy garden and taking advantage of the mild weather Tokyo's having now.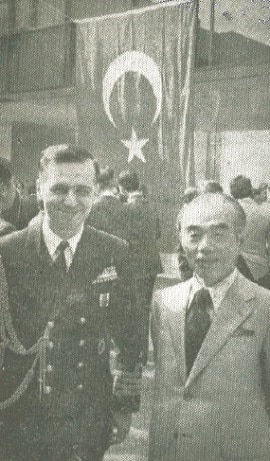 It was good to see Sudanese Ambassador El-Baghir Abdel Mutaal back on the scene again, and happy to report he's looking and feeling fine. United Arab Emirates Ambassador Ahmed Salim Al-Mokarrab told us he planned on being busier than usual the next few weeks with a 15-man delegation coming in from the U.A.E. Shigeru Yamamoto, who's with Teijin, is also the managing director of the Japan-Turkey Society.
He works very closely with Masako Ohya, whom I saw in New York City, and tells me she'll be back to Japan in late November. After being decorated in Cairo for her work in cultural exchanges between Egypt and Japan, she went on to Budapest to see friends. Colonel Richard A. Milburn, chief of the Mutual Defense Assistance Office at the American Embassy, looked militarily sharp in full uniform . . I had seen him at the Gensai show the night before in his "civvies."
Once the crowd was in, I went back to the entrance hall to talk with Ambassador Eyiceoglu. His wife, "Neli," waved from the residence balcony, and since I hadn't seen her since I got back, went up and talked with her awhile. Nice people, our congratulations to them and Turkey on the 55th anniversary of the Proclamation of the Turkish Republic.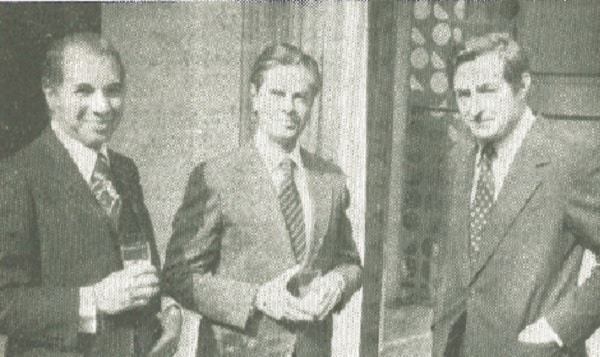 Promoting Tourism in Japan at TAC
That evening I joined a large group in the travel and tourism biz in the Tokyo American Club, where Kris Punjabi, managing director of Hirako (Japan) Inc., was holding a reception to introduce David Imanishi, managing director of Hirako Travel Inc. Indian Ambassador Avtar Singh was there and I enjoyed talking with him. It's nice to see how interested and involved he and his staff are in developing business and cultural relations between India and Japan. George Purdy, president of Gerald Metals Far East Co. Ltd. and a good friend of the Punjabi family, was there and told us some of his experiences on his recent trip across the U.S.
Other guests included the heads of the various government tourist offices, airline executives, bankers and the press. Imanishi-san explained that Hirako Travel will offer complete personalized travel service to both the Japanese and foreign community here. He's a veteran of the travel business with a long record of service with Japan Travel Bureau. Hirako Travel is in the Hirako Building at 31-8 Taito 4-chome, Taito-ku. Its telephone is 835-2841.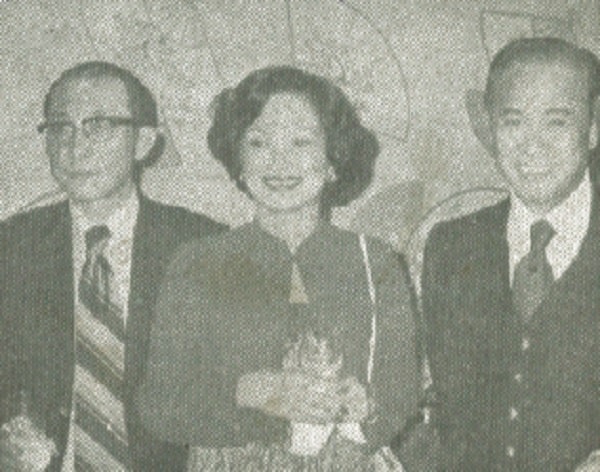 Algerian 24th anniversary of Independence Celebration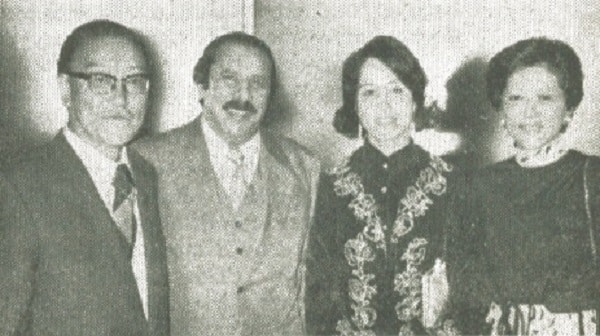 The next evening, the 31st, Algerian Ambassador and Mme. Brahim Ghafa hosted a huge reception in the Hotel New Otani to celebrate the 24th anniversary of the revolution of their country. For the occasion Mme. Ghafa wore an intricately embroidered, wine-colored velvet jacket and long skirt. Among the more than 500 guests were diplomats, Japanese government officials, and friends of Algeria.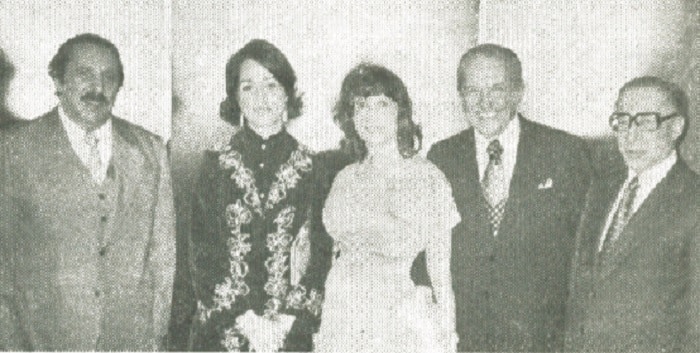 Familiar faces in the crowd included Mitsuo and Lilo Maruyama, Dr. and Che Chan Plessner, Amy Sung, Jane Scolinos, Charles and Terry Van Der Sloot, Hiroko Matoba, and Charles and Katie Hagedorn. I was happy to have the chance to see the Hideo Kagamis (Gaimusho) and thank him for the latest diplomatic list he had his office send.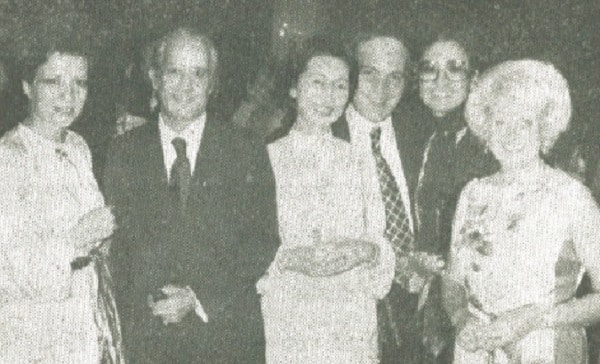 Mona Katakura, who wrote the book "A Bedouin Village," is just back from Syria and "some trips into the desert." Paul and Saville Prager were there, and the jewelry she was wearing was really something special. It was a casual, relaxed evening and everyone was enjoying themselves so much, most of us stayed well past the time the reception was scheduled to end.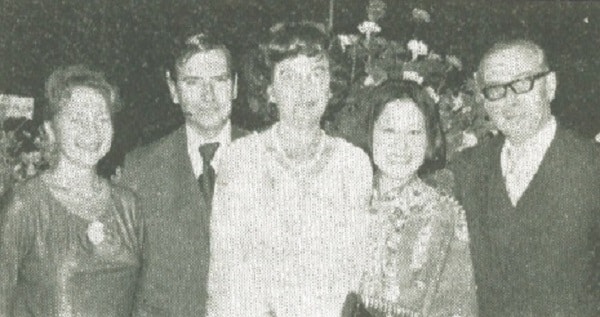 In and Around Tokyo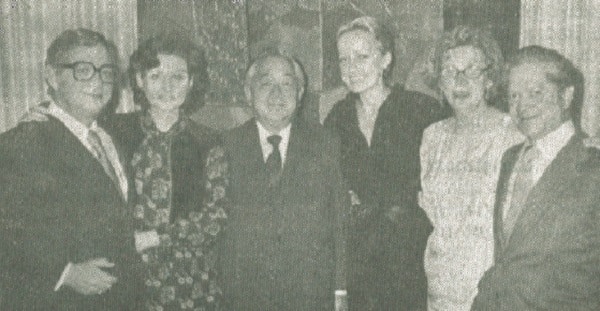 ON THE MOVE
•U.S. Ambassador Mike Mansfield and his wife, Maureen, to the States on home leave. He's probably back by now, but Mrs. Mansfield planned on staying a little longer. From the looks of news reports it was a working holiday for the ambassador.
• Saudi Arabian Ambassador Zein A. Dabbagh, back recently from a trip to Saudi Arabia (Prime Minister Fukuda's visit) and then a few weeks around Europe. The ambassador visited Goro and Perla Nakasone, who recently moved to Madrid, where Goro was posted by the Gaimusho.
• Qatari Ambassador Hamad Mansour Al-Hajiri and his family, back to Qatar on home