Bill's Partyline January 1981
I was going to knock out some witty answer to "Sangubashi Slim's" fan letter, but thought why waste my time —especially since he was too chicken to even use his own name and address. Aside from that I'm just too busy attending some really great parties, meeting some of the most interesting and dynamic people in the world from all walks of life, traveling just about everywhere almost any time I'd like to, spending time with some super friends I'm fortunate enough to have and writing about it all not only in the Weekender, but the Hong Kong Tattler and a half a dozen Japanese publications as well.
Not so long ago I told somebody January and February were slow months in Japan. I was wrong! The fast, often hectic, pace of life never really does slow down much here.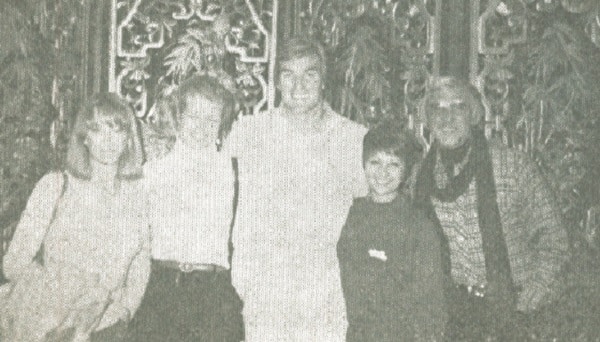 I spent much of the last week with three of the finest people I've ever met, and I've met some pretty fine people in my time: Sam Jones, who plays Flash, Melody Anderson who plays Dale Arden (in Dino De Laurentiis' film "Flash Gordon") and Sam's friend actress-singer-dancer Lynn Eriks. More on their experiences in Tokyo next column. Meanwhile please note that 20th Century Fox will release this fun film here Feb. 21.
On Tuesday the 13th, joined actor-director Tony Bill for a sushi lunch at the Tokyo Hilton. He told me he had sushi about five times a week in Venice, Calif., where his offices are. That Japanese specialty has really caught on in California and New York. Tony (who produced "The Sting" and "Shampoo") was in town with 16-year-old star Matt Dillon and Hollywood casting director Vic Ramos to promote his latest film "My Bodyguard." He first gained fame when he was about 20 and directed the film "Come Blow Your Horn" which starred Frank Sinatra. In addition to his talents in the world of cinema, he's quite a business man. Friends laughed when he bought a building in Venice Beach several years ago, but would like to be able to rent space there now. He also collects vintage cars and has sold several to Japanese collectors. I tried to sell him my old Skyline but it wasn't quite what he had in mind.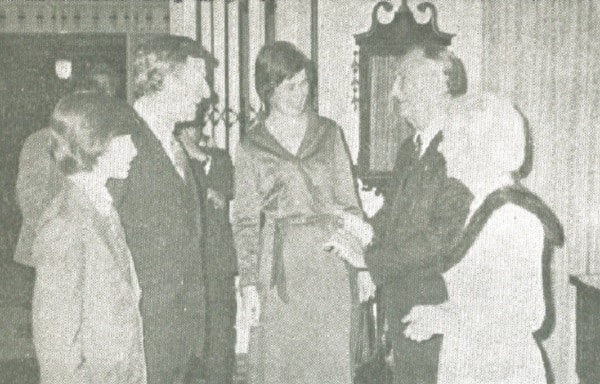 At 6 p.m., it was over to U.S. Ambassador and Mrs. Mike Mansfield's residence where they were giving a reception in honor of a visiting group of American lawmakers. It was wall-to-wall people and, in addition to seeing many friends for the first time this year, I met some new people as well. They included Delaware Senator and Mrs. William Roth, their son Bud, and Tom and Margaret Hague. The Hagues were visiting here from Chicago. He used to be Borg-Warner's Representative Director here and they visit Japan often. Bill Panttaja, Tom's successor, was there with his wife Mona. They're both looking good.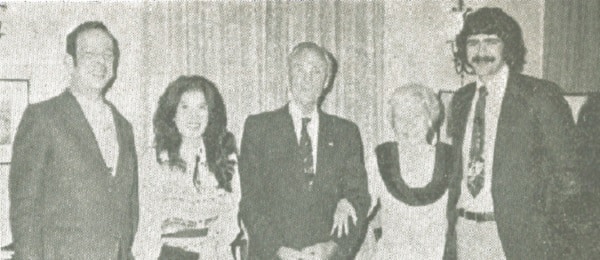 The ladies were all very fashionable that evening, but some who really stood out included hostess Maureen Mansfield in a long, gold dress trimmed in fur, Chiye Hachisuka in a burgundy wool suit and Mary Alexander in a blue silk one-piece dress designed by Sanae Cropp. Everybody mixed, enjoyed and told the Mans-fields how glad they are that the popular envoys would be staying on.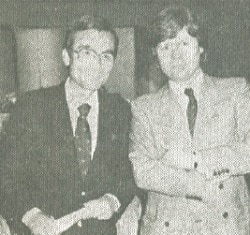 On Friday the 16th, 1981. les must de Cartier made a dynamic presentation of their new quartz watch line at a press conference-buffet dinner at the Okura Hotel. Alain Perrin, the company's president, was in from Paris to join their man-in-Japan Bernard Cendron for the promotion.
On Saturday the 17th, the 3F International Club held a dinner-dance at the Tokyo American Club. I couldn't stay for the dinner or the dance, but did go by to congratulate Mr. and Mrs. Junichi Tamura (president of 3F International). I also did some table-hopping to say hello to some of the special guests that evening. They included Soviet Ambassador and Mrs. Dmitrii Polyanskii, Afghanistan Ambassador Abdul Hamid Muhtat, Norwegian Ambassador and Mrs. Bjorn Blakstad, Costa Rican Ambassador and Mrs. Jaime Botey, Mr. and Mrs. Rimone J. Tom (he's the Consul from Nauru) and Raymond Perodin of the Haitian Embassy. From all reports it turned out to be a very enjoyable evening. I wish I could have stayed.
On Tuesday the 21st and Wednesday the 22nd, Jun Ashida showed his 1981 Spring and Summer collection to SRO audiences that included many of Tokyo's best-dressed and most influential people. Also on the 21st, Cuban Ambassador Jose A. Guerra held a reception at the Cuban Chancery to celebrate the XXII Anniversary of the Victory of the Revolution. The 21st was busy. In addition to what I've already mentioned, Max Factor made an afternoon presentation of their '81 Spring Look Promotion, Hiroshi Tachi had a one man concert at Nakano Sun Plaza, there was an after-the-concert party at The Lexington for the popular young actor-singer, the Tokyo American Club packed 'em in (mostly Americans) for a star-spangled inaugural party, the American-born Japanese jazz group Hiroshima did two concerts at The Bee, and I had the opportunity to show film greats Robert De Niro and Harvey Keitel around Roppongi a bit.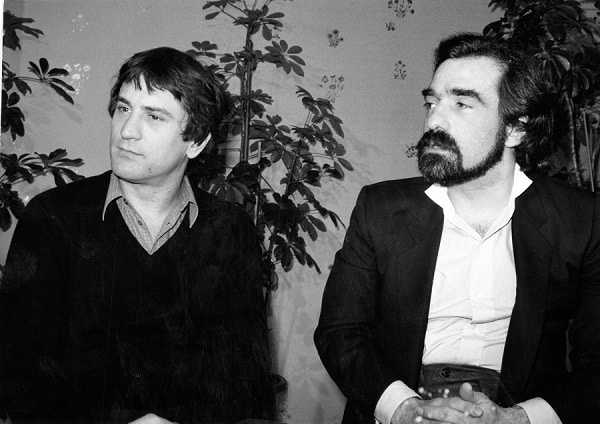 On Thursday the 22nd I had the privilege of joining a group of Japan's top film critics at a press conference-luncheon where we all got to talk with De Niro, film director Martin Scorsese and producer Irwin Winkler about United Artists' widely acclaimed and soon-to-be-released in Japan film "Raging Bull." That evening it was back to Yomiuri Hall where Dick St. Nicklaus performed as one of the name artists in Kyodo's "American Music Festival," and there was a sayonara for Malaysian Ambassador Taik Choon Lim at his Bunkyo-ku residence.
In & Around Tokyo
• People who were so eager to tell me that Dewi Sukarno was washed up socially in Paris probably really suffered when the Dec/Jan issue of Paris Vogue came out. There were no less then five pictures of that lovely lady in that prestigious publication.
In Town
•Jean Louis Rubin, executive vice president, International Division, 20th Century Fox, here for the promotion on their film "Flash Gordon."
• Jack O'Neill, president of O'Neill Inc. (a pioneer in making wetsuits for surfing and diving) here to meet with his Japan distributors and to purchase raw materials for the manufacture of their wetsuits and apparel.