Let's Reconnect! Japan through Diplomats' Eyes 2021
Japan through Diplomats' Eyes 2021 celebrated this year's winners at the opening ceremony at the Roppongi Hills Cafe gallery.

Under the patronage of Her Imperial Highness Princess Takamado, the selected photographers were honored in front of distinguished guests and media. This year's first price went to Vladimira Hirsch at the Embassy of the Czech Republic (Deputy Head of Mission) for her photo "With hope and enthusiasm."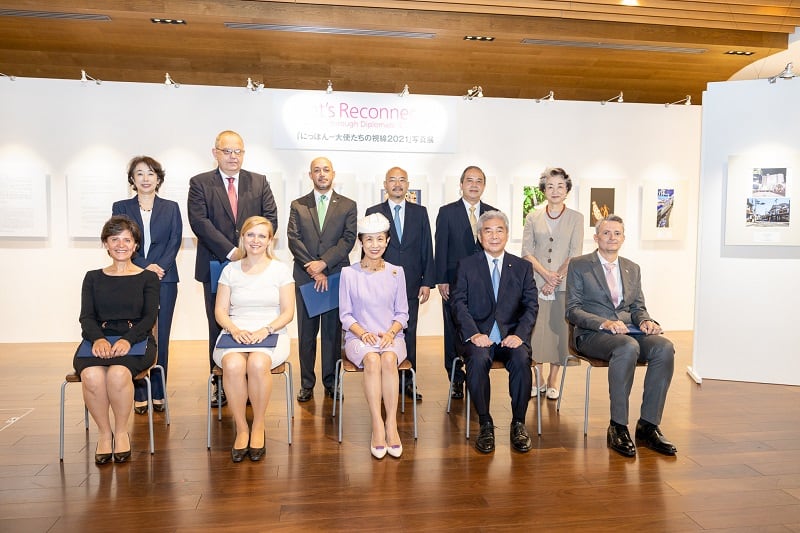 This year's theme was "Let's Reconnect!" a worthy initiative that reconnects not only the diplomatic communistic community but also the idea of reconnecting with friends in Japan and life itself.
The atmosphere was visibly one of enthusiasm, joy, and energy as the grand prize winners were introduced one by one.
"This year, we have chosen the theme "Let's Reconnect", providing an opportunity to look at the present and think of about the visions of the future together with all the diplomatic corps," explained Hirofumi Nakasone, Member of the House of Councilors and Head of Jury.
Furthermore, "When we chose the theme "Let's Reconnect!" for the 2021 edition of "Japan through Diplomats' Eyes", we were hopeful that we could "reconnect" again in the course of 2021 in the way we all like it best, from "people-to-people", according to Pierre Ferring, Ambassador of Luxembourg to Japan and Chairperson of the Executive Committee.
The exhibition will be on display at:
Roppongi Hills, Hills Cafe/ Space 6th- 10th October 2021
followed by several locations there after:
Kobe: Hyogo International Association
Nagoya: Central Park, Central Gallery
Yokohama:Mianatomirai Gallery March 2022
For more information visit: www.diplomatseyes.com