Jewelry exhibition at Oman Embassy
Sultanate of Oman held a jewelry exhibition commemorating the 50th anniversary of the establishment of diplomatic relations with Japan
This year marks the 50th anniversary of the establishment of diplomatic relations between Japan and the Sultanate of Oman (Oman) in 1972. Oman is a pro-Japanese country in the Middle East, and there have been countless contacts and visits by successive ambassadors to local governments.
His Excellency Dr. Mohamed Said Khalifa Al Busaidi, Ambassador Extraordinary and Plenipotentiary of the Sultanate of Oman, also visited various locations in Japan and deepened friendships. In particular, there is a deep friendship with Yamanashi Prefecture.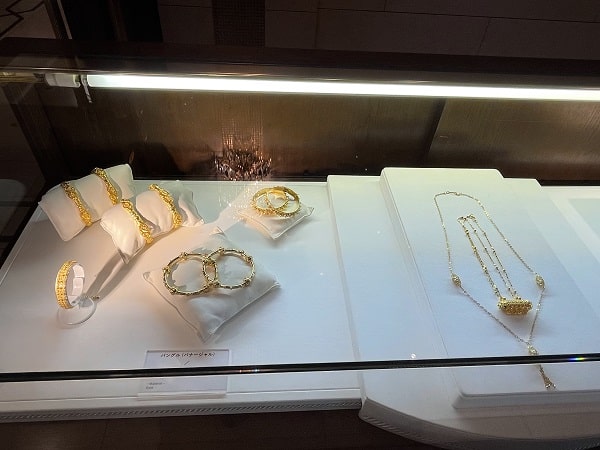 This time, through collaboration between Oman and Yamanashi Prefecture, which is also known as the production area of Japanese jewelry, the Embassy of Oman presented a number of beautiful accessories that convey the flavor of Arab culture, ceramic works made by artists in Yamanashi Prefecture, and jewelry from Yamanashi Prefecture in the "Oman-Yamanshi Jewellery" exhibition.
Oman is the oldest independent Arab country with many years of tradition. That influence is also reflected in jewelry, which has various characteristics depending on the era and region, and a representative piece of such jewelry is housed in the National Museum in Muscat, the capital. In this jewelry exhibition, many accessories illustrating the history and aesthetics of Oman were on display.
Yamanashi Prefecture is one of the leading crystal production areas in Japan, and has expert technology for making jewelry. This exhibition showcased many splendid jewelry pieces made with Yamanashi's advanced technology. There were also works that reflect Arab culture. The gorgeous bracelets that decorate the fingertips and wrists are especially beautiful. The pink rose quartz is engraved with roses and studded with diamonds. It was worn by Her Excellency Ms. Tabu Irina, Ambassador of Kenya to Japan, who was visiting the exhibition.
At the same time, in another room, I was able to watch a video introducing tourism in Oman, and the scenery in this video is wonderful. Oman is blessed with nature. Tourists are happy to know that the lodging facilities are well-equipped and the security is very good.
Taking the opportunity of the 50th anniversary of the establishment of diplomatic relations, I learned more about Oman.
Read more: