Lady Gaga in Japan this September 2022: A Thrilling Experience
Lady Gaga is a big name in the music industry. She is also an actress and a songwriter. On April 14th, 2022, Lady Gaga announced on her Twitter page that she had added Japan to the list of places she would be visiting for the Chromatica Ball Summer Stadium Tour. This means that Lady Gaga will finally return to Japan. The Chromatica ball is her headlining summer tour. This is a tour of her sixth studio album, Chromatica, and her third remix album, Dawn of Chromatica. Here are all the details.
Lady Gaga on tour in Japan
Lady Gaga will be in Japan for her next music tour, making it the first time she will be performing in Japan in eight years. She will perform on September 3rd and September 4th at the Belluna Dome (Seibu Dome), a baseball stadium in Tokorozawa, Saitama, Japan. This is exciting as she will thrill the crowd with her Chromatica album, performing some of her hit songs to entertain the crowd.
Lady Gaga is known for her musical prowess, and this is no news. Recently, she sang the theme song, "Hold My Hand," for Tom Cruise's 2022 movie, "Top Gun: Maverick," and the soundtrack was released on May 27th, 2022. She is not just a music icon, she's a screen goddess.
She starred in the 2021 movie House of Gucci, where she played the lead character of Patrizia Reggiani. This movie generated a total of $156.8 million at the box office. House of Gucci generated $14.2m in three days and $21.8m in five days, a height the box office has not achieved by a drama movie after the success of "Little Women" in 2019.
Lady Gaga Enjoying Japan
Lady Gaga in Japan is not her first time as she so dearly loves Japan. In 2009, Lady Gaga visited Japan. In June 2009, she was seen trying out different Harajuku outfits, which Mezamashi TV recorded and subsequently used in the interview session they had with her. She wore a romper skirt by Angelic Pretty, a Japanese designer.
On June 9th, 2009, she performed her song "just dance" at the Music Japan, and a few days later, on June 12th, she also performed the same song on TV Asahi, Japan's music station. Earlier, on June 8th of that same year, she did an "Ultra Premium Showcase" during her "Fame Ball Tour," where she performed at the Shibuya-AX, a concert hall in Japan.
Again on August 7th and 8th, she continued her music tour in Osaka and Chiba. While in Osaka, she visited Frenz Frenzy Rainbow Haven Bar . Afterward, she visited Three Tides Tattoo Studio, where she got Rainer Maria Rilke's quote on her arm. [IMAGE]
In 2010, There was another Lady Gaga in Japan appearance. She visited Japan for her "Monster Ball Tour," where she performed at the Kobe World Kinen Hall and Yokohama hall. She visited the Ambush design store, where she purchased a ring by Ambush. She breezed into Dog store, a fashion boutique in Harajuku, Tokyo. She also visited a Hermès store in Tokyo.
Lady Gaga certainly has a thing for Japan. She keeps gracing the country with her presence. She has been actively supporting Japan, and she made a charity trip to Japan in 2011 after the March 11th earthquake, tsunami, and nuclear. She was involved in active fundraising for the victims of the earthquake. She sipped from a cup with "Prayers for Japan" in Japanese written on it, which was later put up for auction. She sold a bracelet that said, "Pray for Japan." She donated more than 240,000 yen, including sales revenue and personal donations.
On March 11th, 2021, 10 years after the earthquake, she sent her tribute to Japan, saying, "(seeing Japanese) people's straightforward kindness and mutual love. I have come to have respect for people in Japan. I am always praying for Japan and a better world.
I am looking forward to the day when I can return to Japan. " She ended the message by saying "aishitemasu," which means "I love you" in Japanese, and blowing a kiss.
During one of her stays in Japan, she appeared on a Japanese TV Asahi program, "Tetsuko no heya." The host, Tetsuko Kuroyanagi, was surprised at her outfit: a heel of over 40cm and a hair rolled up to 50cm, totaling over 2 meters. She also surprised Tetsuko with her oval black dress that looked like Kuroyanagi's hairstyle.
In December 2011, she visited the clothing store "TOGA XTC" managed by the clothing stores "Dog" and "TOGA" in Harajuku. It was made known that she would be at the fashion store, so many fans waited for her in advance. After shopping, she signed for her fans, talked with, and perked the clerks.
In 2012, she appeared at Tokyo Sky Tree, the world's highest broadcasting tower, ahead of its opening on May 22nd. She was awarded a "commissioner's prize" award for her contribution to reviving tourism in Japan after the earthquake.
Again, she showed up in Saitama for her The Born This Way Ball, her third concert tour. During her visit, she stayed at Disneyland Hotel in Tokyo. She stormed the New York Bar, a bar in Japan, and rendered an impromptu performance.
She also enjoyed the city on Japan once again and had a night out at Roppongi and with her shoe designer Noritaka Tatehana who also doubles as her friend. Lady gaga stormed the exhibition "Noritaka Tatehana's Aesthetics of Curse" held in Minami Aoyama by Noritaka Tatehana. She wore his shoes and they tooka picture to remember that day.
Lady Gaga in Japan: Japanophilia
It's no news that Lady Gaga loves Japan. She has encouraged and promoted Japanese tourism and loves eating and shopping in Japan. Her constant visits to Japan and her unwavering support through the earthquake prove that Gaga is a Japanophilia, but that's not all. She has a "love Tokyo" tattoo on her left shoulder.
What's more? Her eye makeup for her 2011 MTV event was inspired by Japan's manga culture. She enjoys shopping at Shibuya and Harajuku. She enjoyed eating sushi, tempura, and grilled fish from "Sushi Zanmai" in Roppongi during her stay. She also went to "Shabuzen" twice before leaving.
Gaga visited Japan for her Art pop Ball concert, which was the last time she visited Japan until her expected visit in 2022. Eight years later, she wants to grace Japan with her presence. This time around, for her Chromatica Ball Summer Stadium Tour.
The price of the ticket is as follows:
VIP (With goods, dedicated entrance, product sales priority lane ) – ¥ 100,000
GOLD (With goods) – ¥50,000
S – ¥18,000
A(Standing designation ) – ¥10,000
For information about the purchase of tickets, check here.
So go ahead and book yourself a slot for the concert and enjoy the show!
Lady Gaga and Bill Heresy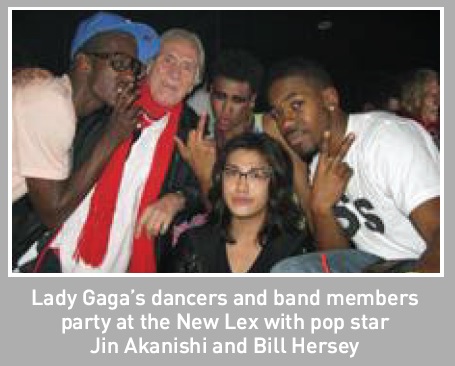 Bill: I did take a break and go down to Yokohama Arena for Lady Gaga's concert in Summer 2010. That was really a packed, colorful, fun spectacle. Lady Gaga is phenomenal. She's got a great voice, can really dance, plays several instruments, and has endless energy and a wonderful warm stage presence. On top of all that, her fashion is original, off the wall, and really works for her. It's easy to see how she's earned international recognition and fame in such a short time.
Her concert was one of the very best I've seen in a long time. It's too bad she couldn't get to the New Lex, but we did have her entire band and dancers drop by a few times and party into the early mornings. They were all great people.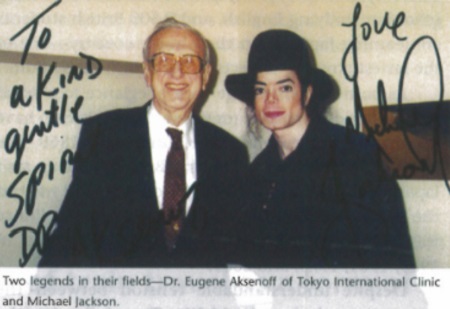 The legendary Dr. Eugene Aksenoff is called the celebrity doctor as he takes care of most of the superstars who need medical attention when they're in Tokyo. Patients at one time included Brad Pitt (just a cold), Michael Jackson and Lady Gaga, who's rumored to have gotten a quick shot in the butt! (But you didn't read it here!)