Long-awaited project by Kobe City Museum
Revived Kawasaki Museum of Art – An invitation to the beauty preserved and handed down by Shozo Kawasaki is currently being held at the Kobe City Museum
Today, Japan is one of the world's leading museum powerhouses. There are many museums, regardless of size, in each region, and there are also many private museums.
Japan's first private art museum, the Kawasaki Museum of Art, was built in 1890 by Shozo Kawasaki, a businessman who founded Kawasaki Shipyard (now Kawasaki Heavy Industries) and Kobe Shimbun Newspaper. The Kawasaki Museum of Art was in what is now Nunobiki, Kobe City, and had a collection centered on Japanese and Oriental art. The collection includes many excellent works that were later designated as National Treasures and Important Cultural Properties. Unfortunately, the financial crisis of 1927 caused the collection to dissipate, and the building of the Kawasaki Museum of Art was also destroyed by flooding and the destruction of World War II.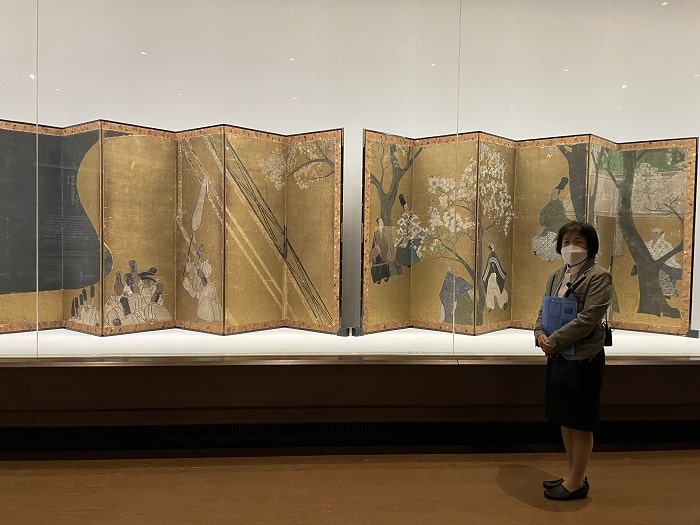 Until now, there have been no opportunities to meet all the works that have been dispersed due to this historical background. At this time, the Kobe City Museum, which can be said to be the center of culture in Kobe, has gathered about 80 excellent works and related works that were owned by Shozo Kawasaki at the time, and made this exhibition a reality. (It was said that holding this exhibition would be impossible, but it has become a reality.) Excellent works returned to their old homes, Kobe after about 100 years. Surprisingly, these excellent works are displayed as if the Kawasaki Museum of Art has been revived in Kobe.
The overwhelming appeal of this exhibition is probably the many works by Okyo Maruyama, including fusuma paintings and hanging scrolls.
The Kawasaki Museum of Art also owns a work reminiscent of the "Mizunomi no Tora -water drinking tiger" painting on the fusuma (sliding door) of Kotohira-gu Shrine's Omote Shoin. "Mouko Kokuso – Ferocious Tiger Valley Running" (private collection) is one of them. At that time, tigers did not exist in Japan, and there is an anecdote that Okyo drew a cat as a model. However, Okyo's brushes in the collection of the Kawasaki Museum of Art well capture the characteristics of tigers, such as their supple yet majestic bodies, chubby limbs, and small ears.
The several fusuma paintings are overwhelming. Large masterpieces such as "Kaihen Rosho zu Fusumae – Old Pine in Seaside" and "Setsuzan Fuke Fusume – Snow Landscape Fusuma" (both owned by the Tokyo National Museum) are lined up. The beauty and delicacy of the fairy with the child drawn there will take your breath away. There are masterpieces from the heyday of Okyo.
An important work of art, "Toho byoubu – Paulownia Phoenix Folding Screen" (Hayashibara Museum of Art collection), which is said to have been painted by Takanobu Kano, is also on display. In this folding screen painting, the figure of a flying phoenix is ​​expressed with the detail and richness of a Flemish painting.
At the end of the exhibition is the important cultural property Kanzan Jittoku, which is said to have been drawn by Yan Hui (Tokyo National Museum collection: exhibition period until November 13). This work, which was also owned by Yoshimasa Ashikaga and was also a Higashiyama treasure, was also in the hands of Nobunaga Oda. In the past, it was introduced to famous collectors such as Dono Masuda, but the price did not come to an agreement. Through such a process, it was handed over to Shozo Kawasaki, who is said to have cherished it next to life, burning and admiring the incense to himself every day.
The smiles of the two depicted in Kanzan Jittoku can sometimes look eerie. However, in this collection, it even feels as if he is telling the viewer, "How is this collection?"
This wonderful exhibition is held only at the Kobe City Museum. The session is until December 4th (Sunday). I would like you to visit Kobe for this exhibition.