[Tokyo Flashback] Robert De Niro and Martin Scorsese in Tokyo for Raging Bull
During Oscar-winning actor Robert De Niro's short stay in Tokyo (he was here to promote his latest film, "Raging Bull" for United Artists, now showing throughout Japan) I had the opportunity to spend some time with him on three occasions. The first was at the Lexington Queen Disco in Roppongi where I had invited him and his close friend, actor Harvey Kietel. (Harvey played the part of the pimp "Sport" in the De Niro-starring film "Taxi Driver.") Both actors were dressed in casual slacks, sportshirts and suede jackets.
Frankly, if I hadn't seen pictures of Bob (he prefers to be called that) the day before, I doubt if I would have recognized him. From all I've heard and read, he likes it that way.
That evening we rapped a little and, in talking about travel, learned we had many mutual friends in Bangkok. Bob spent considerable time in the Oriental Hotel, my home away from home in Bangkok, when he was on location in Thailand for "The Deer Hunter" and knew the hotel's manager and PR director. They stayed in the club a few hours, drank and watched. Later I took them on a brief tour of Roppongi.
Our second meeting came at luncheon press conference. United Artists had invited about 20 of Japan's top film critics. There were five at each table and during lunch Bob, his friend "Raging Bull" Director Martin Scorsese and the film's producer, Irwin Winkler moved around the room spending about 20 minutes at each table. This gave the journalists more of gave the journalists more of a chance to ask personal questions than at a large, open press conference . . . it worked beautifully. For the luncheon meeting, Bob wore a well tailored blue wool suit, and a blue checked open shirt.
The third time we got together was at the Lexington on the Saturday night before they returned to L.A. Bob and Harvey had just got back from a day and a half in Kyoto ("It was nice, but we weren't there long enough") and were in the same clothes they had worn to Roppongi a few days before. Bob had personally left a message on my answer-phone saying that he and Harvey would be happy to take me up on my invitation and be over that evening.
They spent about two hours at the Lex, "didn't want to meet anyone" and just relaxed and took in the scene. Rock guitarist Andrew Gold, a very personable and outgoing guy, was at the Club so he introduced himself; he and Harvey had a mutual friend, so they invited him to sit and have a drink.
Even though I spent a considerable amount of time with Robert De Niro and made a lot of notes later I still find — just as about everyone else — I really didn't get that much of an interview. He's been dubbed the "male Garbo" by reporters and, by coincidence, occupied the Swedish star's dressing room at MGM when he was working on "New York New York." Contrary to other things I had heard, I found Bob very friendly and very down to earth. I certainly go along with Marie Brenner's statement in her book "Going Hollywood" that De Niro is an "ultra-private, hardworking, driven, sweet-tempered, brilliant, gentle, compulsive soul."
Bob said he hadn't read the book yet, but he agreed with the statement I quoted: "His need for privacy is often misinterpreted as aloofness." He also agreed with Paul Schrader, who wrote the screenplay for "Taxi Driver" who says, "The only thing De Niro desires to be public about himself is his work."
Bob's acting career started when he was just 10 and played the cowardly lion in a school production of "The Wizard of Oz." At 16 he dropped out of school, studied acting and appeared "in any off-off Broadway or non-Equity production that would have hinm" During that time he was always reading, dressing in costumes and studying acting.
He met Shelly Winters through Sylvia Miles, and she became his "Jewish mother." He had a small part in her play, and she got him his first Hollywood role in her film "Bloody Mama." She was so impressed with his devotion to acting and his total immersion into a role, she continued to help him in his early days. From that point De Niro's career went up, and in 1975 he received a Best Supporting Actor Oscar for his part as young Vito Corleone in "Godfather II." Other actors realized his talent and Al Pacino reportedly tried to keep him out of the film for fear of being overshadowed.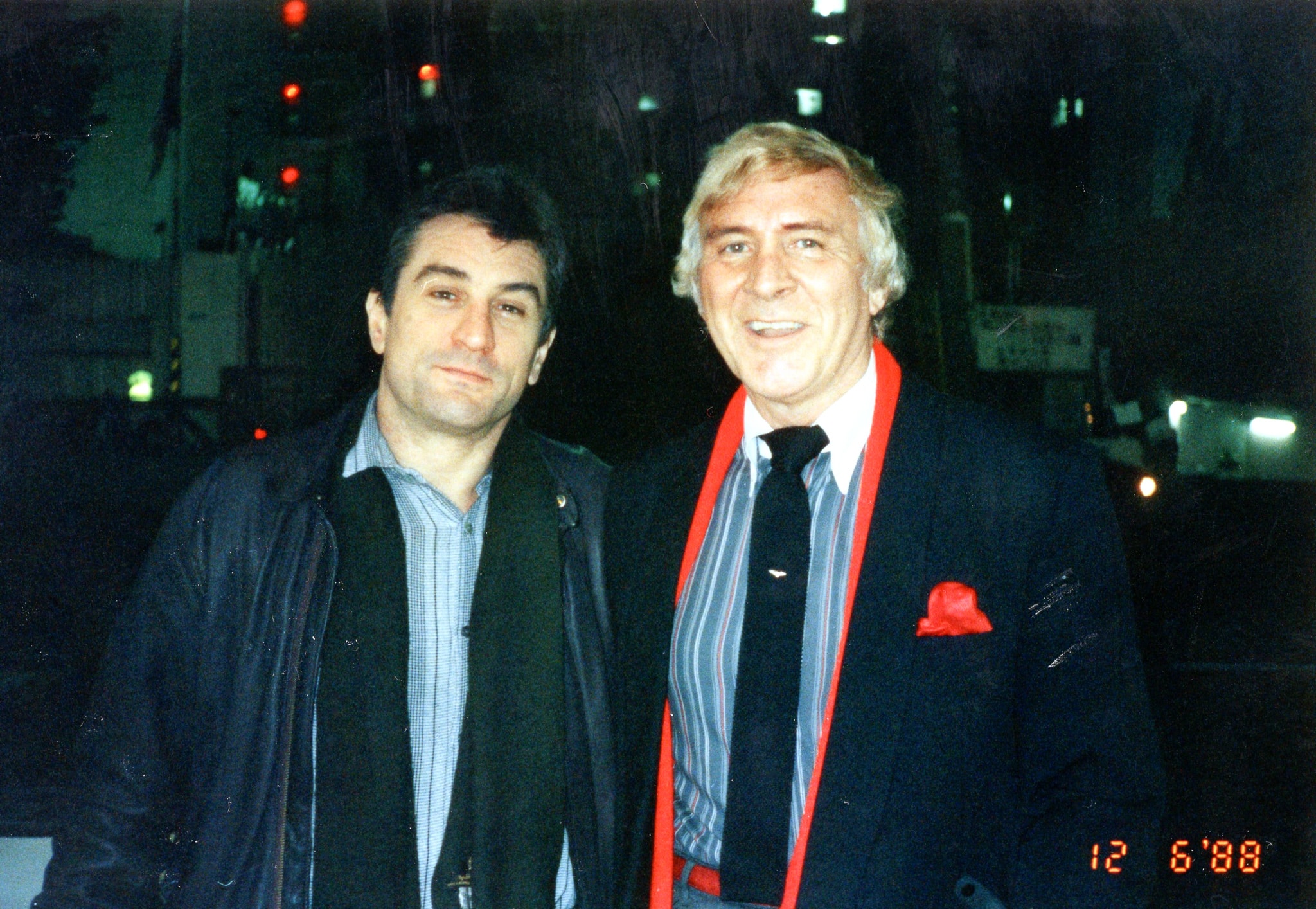 According to Brenner's book, Bob is half Italian, half Jewish. When he was asked about his Italian ancestry and his close association with other Italians in the film business at the press conference, Scorsese answered for him by saying "Bobbie's not pure Italian; he's Irish-French-Dutch-Italian." His wife is the beautiful mulatto actress (Altman's "Welcome to L.A.") Dihanne Abbot. They first met at a New York party and were married five years later. They have a daughter Rafael (named after the hotel in Rome where she was conceived).
I had heard that because of Bob's personality, he could only work with a limited number of directors and asked him about this. He said he must really get into a role and interpret it as he sees it. "This can cause problems" he stated and added, "consequently, when I go into a film, in addition to the money and the script, the director and I must understand and have mutual respect for each other."
(It is interesting to note that De Niro has done much of his finest work with Martin Scorcese for whom he performed in "Mean Streets" and "Taxi Driver" before "Raging Bull." In addition to Harvey Keitel's appearing in "Taxi Driver," he also worked with Scorcese in "Mean Streets" and "Alice Doesn't Live Here Anymore.")
In regards to "Raging Bull," Bob read the book which was sent by a friend of Jake LaMotta. "I wasn't really interested in boxing, but was very interested in the man and the way he took punishment, both physically and emotionally," Bob told us. It's also interesting to note that both Bob and ex-boxer Jake LaMotta are somewhat loners. Once the film was decided on, there were two years of deep immersion for De Niro. He trained with LaMotta for a year, and followed him around for a year with a tape recorder. Proof of his dedication to doing his best is LaMotta's statement that, "De Niro could rank in the first 20 in the middleweight division, worldwide."
In other films he learned Sicilian for "The Gang that Couldn't Shoot Straight," drove around in a cab and hung around animal cages at the zoo in preparation for "Taxi Driver" and learned to play a passable saxophone for "New York New York."
I asked him about the sudden weight increases and losses. He trained down to middleweight fighting dimensions for the early scenes of "Raging Bull" then balooned up to 220 pounds for the latter scenes of LaMotta in retirement. Then for his next role in Grosby's ("Straight Time") new film "True Confessions," he had to get back down to 160.
In response to my question, "Doesn't this affect your health?," he answered, "Not really". Boxers do it all the time. It wasn't new to me as I had to lose 30 pounds during the filming of "The Last Tycoon." To get his weight up, he ate three good substanial meals a day, and drank a lot of milk and beer. To get it down, he ate a lot of sashimi and did a lot of boxing training.
I had heard Bob was very close to his family and this came out in his answer to the question, "Why are you against giving personal interviews?" He said, "There are often misinterpretations of what I say, and sometimes actual misquotes. I may forget to mention a member of the family, or the reporter may omit a friend or family member's name and this can cause hard feelings. When I do give interviews, I really like to check them over for the facts before they're printed."
Getting to meet Bob De Niro, who many consider America's most talented actor, was a real nice experience and privilege. My thanks to United Artists office here for that. "Raging Bull" has gone on to win all kinds of awards including the Los Angeles Film Critics' Award for best film and best actor and New York Film Critics Award. It has been nominated for seven Oscars in the upcoming Academy Awards. Director Martin Scorsese was especially happy when New York Times' film critic Vincent Camby ("The most difficult to please") wrote " 'Raging Bull' is the landscape of a man's soul."
"That's really what the film was about," Scorsese commented, and went on to say, "LaMotta had his troubles, was really down but, as we say in America, was still hanging in there."
Note: My special thanks to TV personality Kay Anna for helping me get this all together. She's a very talented, very special young lady, and it's a real privilege working with her.