Zwartendijk – The Dutch Consulate and the Hidden Origin of 'Visas for Life' Exhibition
The Curaçao Visa : The Embassy of the Kingdom of the Netherland
It is well known in Japan and Lithuania that Chiune Sugihara, who served as Consul General of Japan in Lithuania, issued "Visas for Life" to Jewish refugees.
At that time, the visa issued by Chiune Sugihara was a visa "to transit through Japan," and a visa to the final destination was also required. It is surprisingly unknown that there was a Dutch diplomat who issued a visa to that final destination. To introduce the achievements of the diplomat, Jan Zwartendijk, (Honorary Consul in Kaunas), to Japan, the Embassy of the Netherlands in Japan continues its activities led by Minister Plenipotentiary Theo Peters.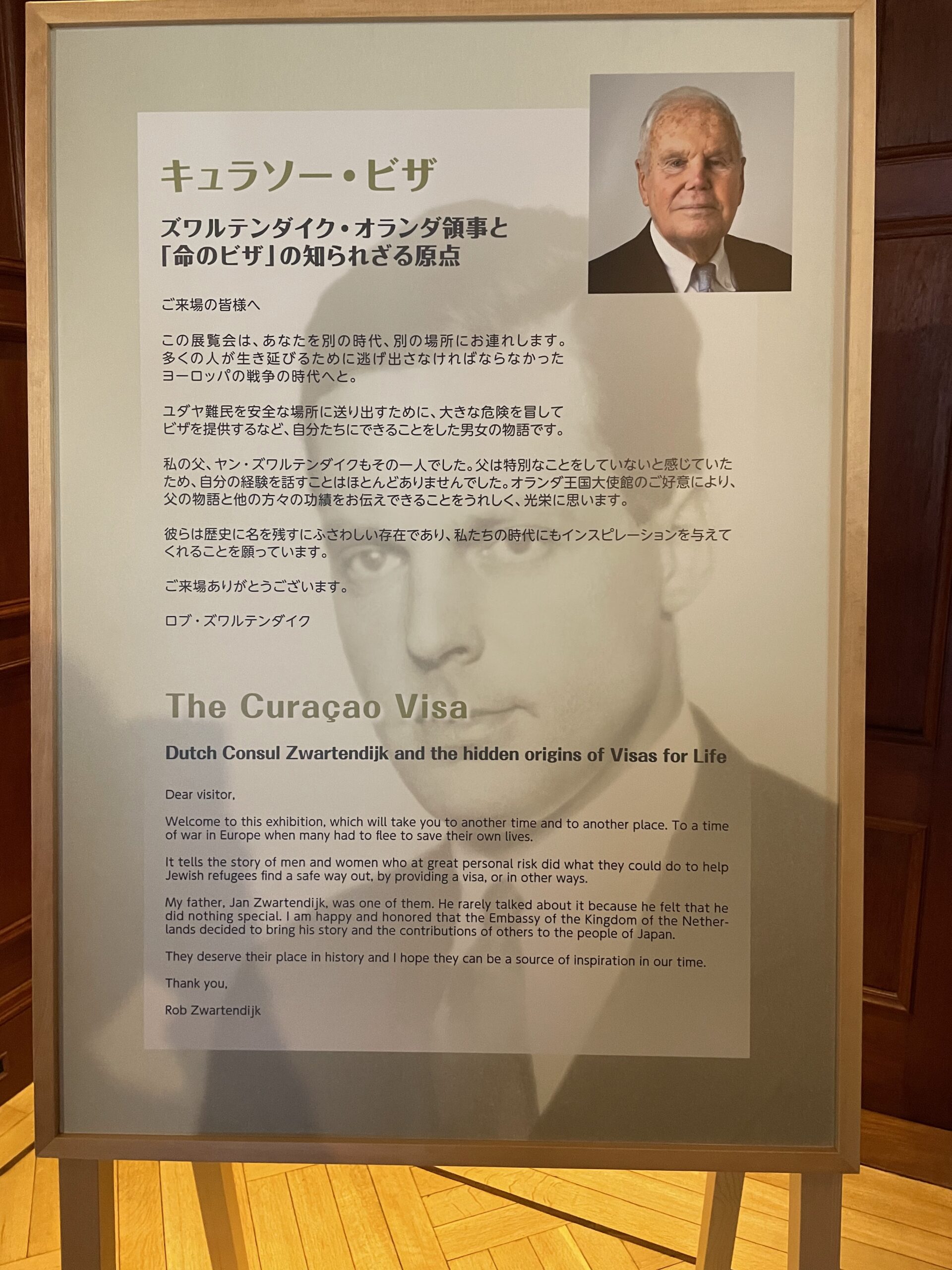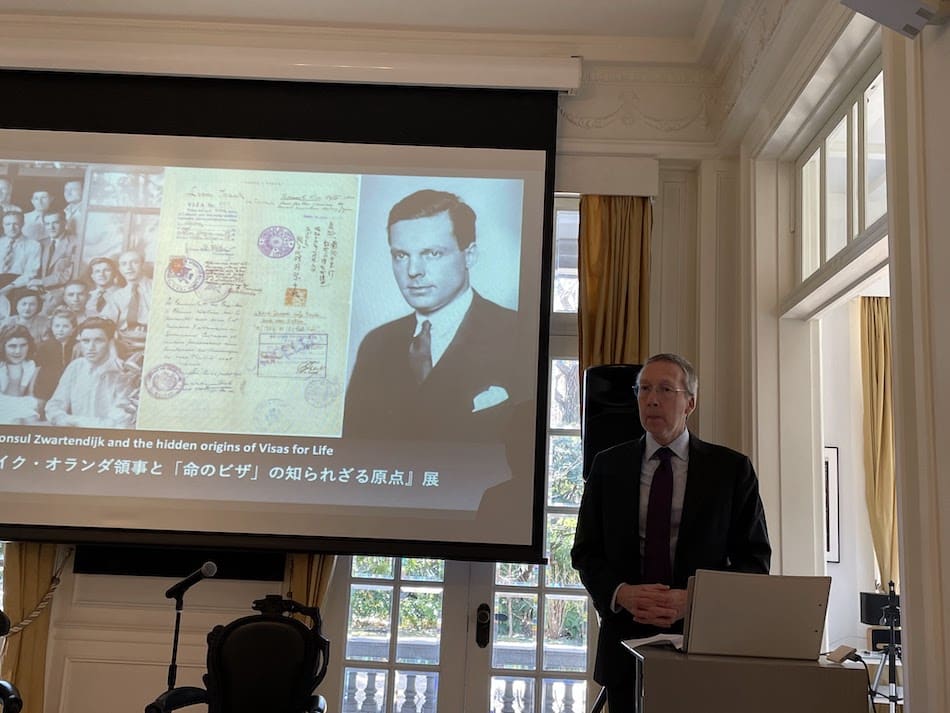 At that time, Jan Zwartendijk (1896-1976), the Dutch honorary consul in Lithuania, issued a sham destination visa to the Dutch island of Curaçao in the Carribean as a destination for Jews.
It was possible to enter the Dutch island of Curacao with the permission of the local governor-general. Therefore, he wrote on the passports, identification cards, etc., of the Jewish refugees, "The Dutch Consulate in Kaunas, Lithuania, does not require an entry visa to enter the Dutch territories of the United States, including Suriname and Curaçao …." And he issued a plausible visa with an official stamp.
Chiune Sugihara added a Japanese transit visa to the "Curaçao visa," which became the "Visa for Life" and saved the lives of many people. Chiune Sugihara's conditions for issuing transit visas to Japan required the possession of an entry visa for a host country farther away than Japan.
More than 2,000 such "visas for life" were issued and the Jewish refugees who obtained them were saved and could live the rest of their lives. One of the Jewish refugees, Marcel Weyland, a 12-year-old Polish Jew at that time, came to Japan for this exhibition.
Marcel Weyland still remembers those days vividly After that, the Weyland family landed in Tsuruga and stayed in Kobe for about seven months. For Marcel, who was still a child, Kobe became a memorable place. He recalls fondly that he will never forget the Daimaru department store cafeteria that he visited every day, and the yakisoba noodles he ate there.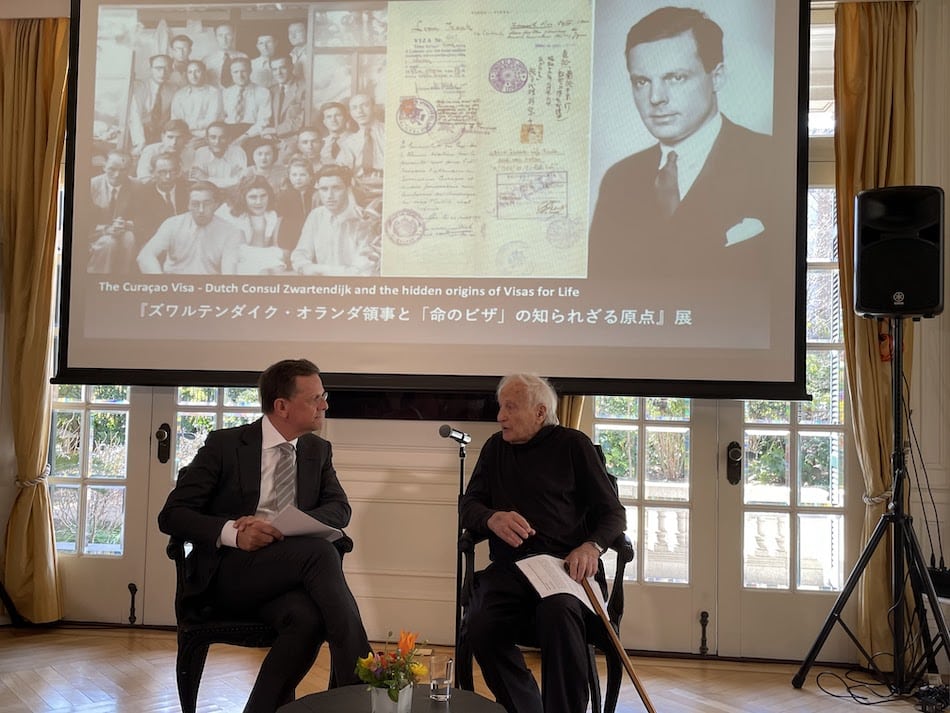 Marcel Weyland, who turns 96 this year, moved further from Kobe, and then emigrated to Australia, where he got married and had a family. Marcel, a boy who survived with a "Curaçao visa" and a "Visa for Life," was blessed with five children and built a large family with 21 grandchildren and three great-grandchildren. He once again expresses his gratitude to Chiune Sugihara, Zwartendijk, and other courageous people for the prosperity and happy life of his family.
---
In times of war, doing humanitarian acts often endangers oneself. In addition, there are many cases where the noble deeds that they resisted are not appreciated and are buried in history. In fact, Chiune Sugihara was advised to resign from the Ministry of Foreign Affairs after the war (later his honor was restored) and left the Ministry. It is said that Zwartendijk's actions were also condemned by the Dutch government, and many years went by without many people being aware of this fact. Zwartendijk himself never said anything.
But the Jewish refugees whose lives were saved by these self-risking humanitarian acts never forgot them. Ninety-five percent of refugees with visas issued by Zwartendijk survived. Later, in 1963, Zwartendijk's deed was published in the Los Angeles newspaper in an article entitled "Guardian Angel of Curaçao." In 1968, Chiune Sugihara receives a sudden phone call from the Israeli embassy in Japan and learned that the Jewish refugees whose lives were saved at the time had been looking for them for a long time.
These extraordinary acts of humane altruism offer inspiration around the world and are more important than ever to treasure and to contemplate.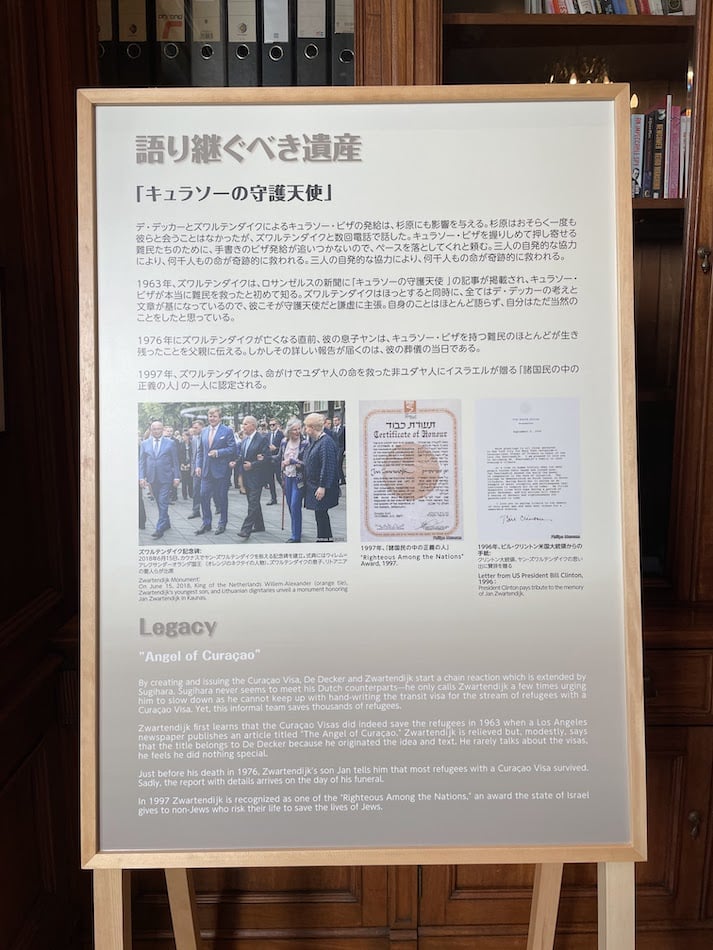 From March 16 to May 30, 2023, the exhibition will be located in Tsuruga City, Fukui Prefecture "Port of Humanity Tsuruga Museum."
After that, it will be moved to Gifu, where Chiune Sugihara was born, and will be held at the Chiune Sugihara Memorial Museum.