"Africa Charity Bazaar" Held at the Angola Embassy
A charity bazaar will be held on March 18 (Saturday) by Mrs. Maria de Fatima Xavier, an active charity worker, and the wives of African ambassadors.
At this bazaar, booths will be set up by African countries and charity organizations, and African products, local specialties, and foods will be sold. At the booths of each country, many products such as high-quality spices that are not easily available in Japan will be sold, and it is said that there are many bargains from the booths of each charity organization.
It is a full-fledged bazaar handled by the wives of each country's ambassadors, and it is also a good opportunity to see the interior of the Angolan Embassy, where many wood carvings and African paintings are exhibited.
The proceeds from this bazaar will be used to support victims of the earthquake in Turkey and people who have evacuated from Ukraine.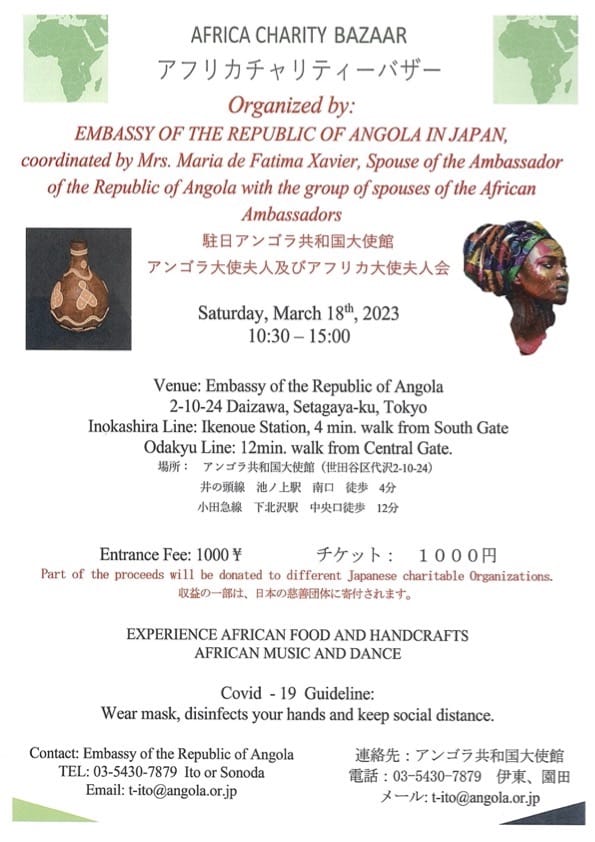 details below:
Africa Charity Bazaar
Organized by: Embassy of Angola in Japan, Wives of Angola Ambassadors and Wives of African Ambassadors
Date: March 18, 2023 from 10:30 am to 3:00 pm
Venue:
Embassy of Angola in Japan (2-10-24 Daizawa, Setagaya-ku)
Get off at Inokashira Line Ikenoue Station South Exit 4 minute walk
Get off at Shimokitazawa Station on the Odakyu Line, 12-minute walk from the Central Exit
Entrance fee: 1000 yen
For ticket purchase inquiries: Embassy of the Republic of Angola
Phone: 03-5430-7879 (Ito, Sonoda)