Charity concert held at the Angola Embassy
Michinari Usuda and his lovely friends – Donations to the Children of Angola and the St. Francis Children's Dormitory.
A charity concert and lunch were held thanks to the understanding and great efforts of His Excellency Mr. Rui Orlando Ferreira de Ceita da Silva Xavier, Ambassador of the Republic of Angola to Japan, and Mrs. Fatima Ferreira Lima Xavier.
Since arriving in Japan, Ambassador Xavier and his wife, Mrs. Fatima, have been very enthusiastic about charity work. In particular, Mrs. Fatima, who has a career as the head of marketing at a leading European company, stands out for her activities in the organization, which is made up of the wives of ambassadors from various countries.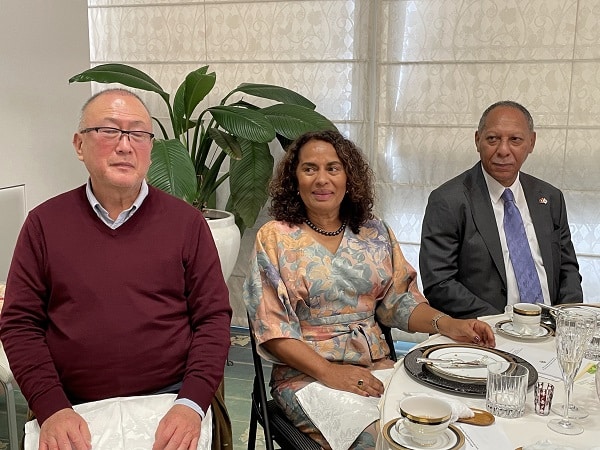 In this charity, doctors living in Saitama Prefecture, Dr. Youichi Kobayashi (Director, Medical Corporation Toda Kobayashi Clinic) and Dr. Masato Nakajima (Director, Medical Corporation Foundation KeimeikaiNakajima Hospital) called on to university hospital officials, doctor associations, and doctors. Many doctors and medical personnel agreed with the intention and participated in the event. In addition, Ceremony Co., Ltd. (President: Tsukasa Shiga, President, and Akira Kimura, Director) was a special sponsor, and many companies, hotels, and individuals became sponsors. Ambassadors and their spouses also participated from the embassies of each country, and donated specialties from theircountry. A raffle was then held, and many donations were collected from this attempt as well.
This charity had two purposes. One was support for tuition fees for students who have who have aged out of Japanese foster care. Children in foster homes are well cared for until the age of 18. After that, however, public support either disappears or becomes more difficult to obtain. Therefore, some students give up on going to a higher school due to financial circumstances. For students facing such a situation, it is an attempt to support the tuition fees of 30,000 yen per month as a scholarship that does not need to be repaid. Matelda Benedetti Starace, wife of the former Italian ambassador to Japan, was very enthusiastic about this activity. In September 2019, Mrs. Matelda moved to Moscow following the appointment of her husband, H. E. Mr. Giorgio Starace, as Italian ambassador to Russia. The Chiyoda Kiwanis Club, which has been providing similar support for more than a decade, has taken over that mission.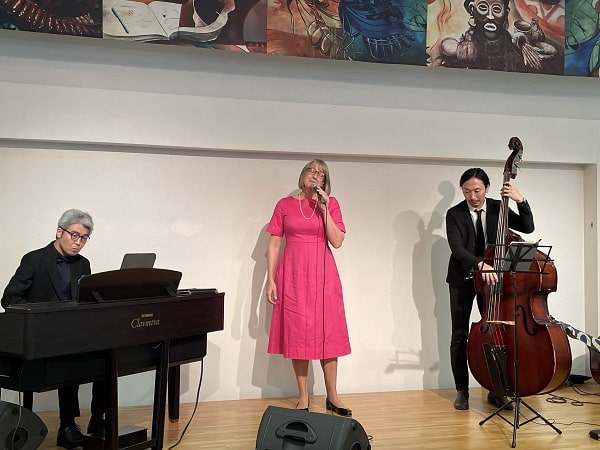 Another purpose is to support medical care in Africa. Inviting doctors from Angola to Japan and creating opportunities for training at medical universities such as Jikei Medical University and Tokyo Medical University, which are engaged in activities aimed at international exchange, as well as aiming to support the doctors' living expenses. However, due to the COVID-19 pandemic, universities suspended such exchange programs for the time being. Therefore, it was not possible to invite a doctor this time, but at the strong request of the Angolan ambassador and his wife, it was decided to support the Catholic parish of Nossa Senorada Her Conceicaón in Angola instead. About 450 children with disabilities live in this parish. The ambassador and his wife, who are going to Angola for a few days in January, will deliver donations to support the parish.
The charity production was performed by MichinariUsuda, a leading figure in the Japanese bossa nova world, on vocals and guitar, and supported by Masaaki Ikeda on the trombone (who has held sessions with many famous musicians) and Makoto Niioka on the bass. The program was centered on bossa nova classics, but Angola classics were also played. During the encore, they sang "Nessun Dorma" from the opera "Turandot," as well as"Volare," a well-known song from Domenico Modugno. The venue was very enthused.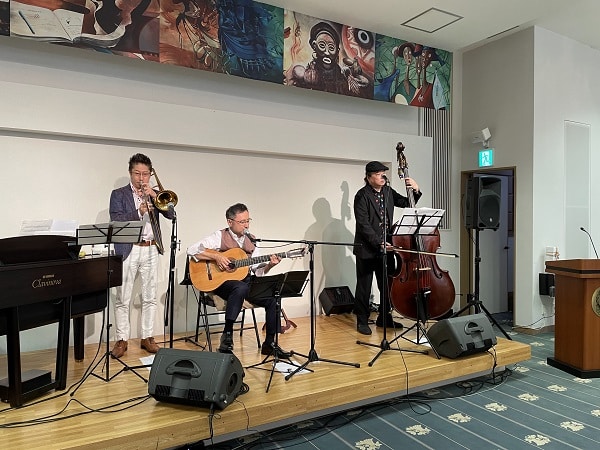 The charity concert had a very warm atmosphere from the beginning, thanks to the kindness of Mrs. Fatima and her staff. The venue was set up with Japanese obi on each table, table napkins in the style of Angola, and a skillful combination of Japanese and Angola that delighted the eyes of the participants. The food was Angolan cuisine prepared by the chef of the Angolan ambassador. All of the dishes were delicious and appealing to the Japanese palate, and everyone enjoyed their meal.
The attendees were grateful for the wonderfulhospitality of the ambassador and his wife, and we were able to achieve our goal of providing support. The participants promised to hold such an eventagain next year, and this charity ended with great success.
The donation presentation ceremony was held at the Angola ambassador's official residence on December 4. Dr. Youichi Kobayashi, Chairman of the Charity Concert Committee, and Dr. Masato Nakajima, Vice Chairman of the Charity Concert Committee, visited the venue and donated 400,000 yen each (total of 800,000 yen) to Mrs. Fatima and Mrs. Toshiko Sawai, ex. president, Chiyoda Kiwanis Club.
This donation will be delivered by Mrs. Fatima to the First Lady of Angola upon her return in January and will be used for the children of her Conceicaón parish of Nossa Her Senorada. The Kiwanis Club of Chiyoda will also use the funds for next year's tuition for students at the St. Francis Church, Children's Dormitory in Ota Ward.
Details of the charity concert are as follows:
(Titles omitted)
Special Sponsor: Ceremony Co., Ltd.
Sponsors: Chubu Shuppan Co., Ltd., Takuji Okubo (Director, British Chamber of Commerce)
Goods donations: Art Biotop Nasu, Ambeji, SDGs Promise Japan (SPJ), Asahi Brewery, Sumopro, CREATS Co., Ltd. Akira Nagai (Advisor to Diet Members' League for the Development of Sumo), SAKE OF PEACE, Japan Toy Culture Foundation, WACCA IKEBUKURO, Angola Embassy, Embassy of Indonesia, Embassy of Netherlands, Embassy of Jamaica, Embassy of Sweden, Embassy of Tunisia, Embassy of Peru, Embassy of Haiti
Donation:
Dr. Yukihiko Ogiwara, Dr. Masahiko Hayafune, Dr. Masahiko Yamaoka, Dr. Noriko Usui, Dr. Nobuaki Shiraishi, Dr. Masami Ishigaki, Dr. Yasushi Aso, Mrs. Yoshiko Matsuba, Dr. Hirokazu Sugiura, Dr. Mikio Uematsu, Dr. Junko Ueda, Dr. Kumiko Abe
Related Articles: