Ambassador Ayman Aly Kamel Farewell Reception
After four years of service, a farewell reception for His Excellency Ayman Aly Kamel, Ambassador Extraordinary and Plenipotentiary of Egypt to Japan, was held at the Egyptian Embassy in Daikanyama on October 11.
Ambassador Ayman Kamel expressed his deep gratitude to the people of Japan in his address. He also expressed his heartfelt gratitude to Mrs. Ghada for supporting the busy Ambassador.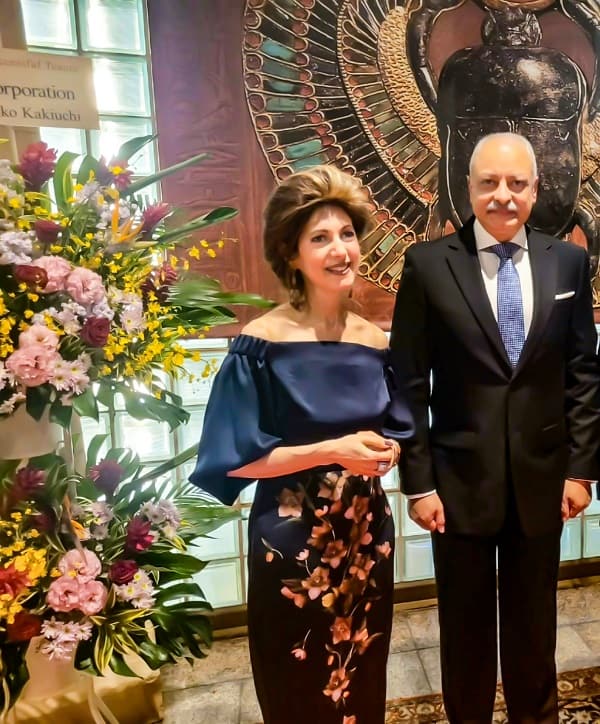 During the reception, the Republican Order of Merit (First Class) was awarded to Mr. Kagawa, the former Japanese Ambassador to Egypt, who played a major role in the diplomatic and friendly relations between Japan and Egypt. H.E. Dr. Aly Kamel and H.E. Mr. Takehiro Kagawa received ardent applause for the successful completion of their terms of office.
Even though the spread of the new coronavirus has slowed down, the reception was held with strict Covid-19 control measures in place. Also, the finger foods arranged with care by Mrs. Ghada were so wonderful that even masked faces broke out into smiles, and the farewell party was peaceful from start to finish.
Ambassador Aly Kamel and his wife will be leaving Japan in October to return to Egypt. We hope that our friendship and exchange with Japan will continue in the future.
For more information please visit: https://egyptembassy.jp/