Hersey's Partyline October 2017
PEOPLE
WARNER BROTHERS PRESS CONFERENCE FOR CHRISTOPHER NOLAN
The big Academy Hills room on the 49th floor of the Mori Tower was wall-to-wall with enthusiastic journalists, as the special guest that day was Christopher Nolan whose film Dunkirk has been a huge box office hit wherever it's been shown. The crowd's feeling about the film and Christopher was great, and I appreciated the way he handled all the questions.
As he explained a few times, "We interviewed men who had actually been there." He wanted to create suspense and the idea of survival, and he wanted the film to have the power to shock. In order to appeal to young people, he visited drama schools and looked to use acting students who hadn't been in films before. As a director, he feels like an architect or conductor (he really likes to work with sounds) who is bringing many different elements together. 
Warner Brothers had brought in Exile's star member lwata Takanori as a guest for the second half of the conference. It was a good choice as the actor-musician is a big fan of Nolan, and so knew what he was talking about. At the end of the interview, he was really happy when Nolan presented him with an autographed copy of the Dunkirk screenplay. Don't miss this film — and try to see it in an IMAX theater. 
PARTIES
FORSYTH'S PERUVIAN NATIONAL DAY AT WESTIN HOTEL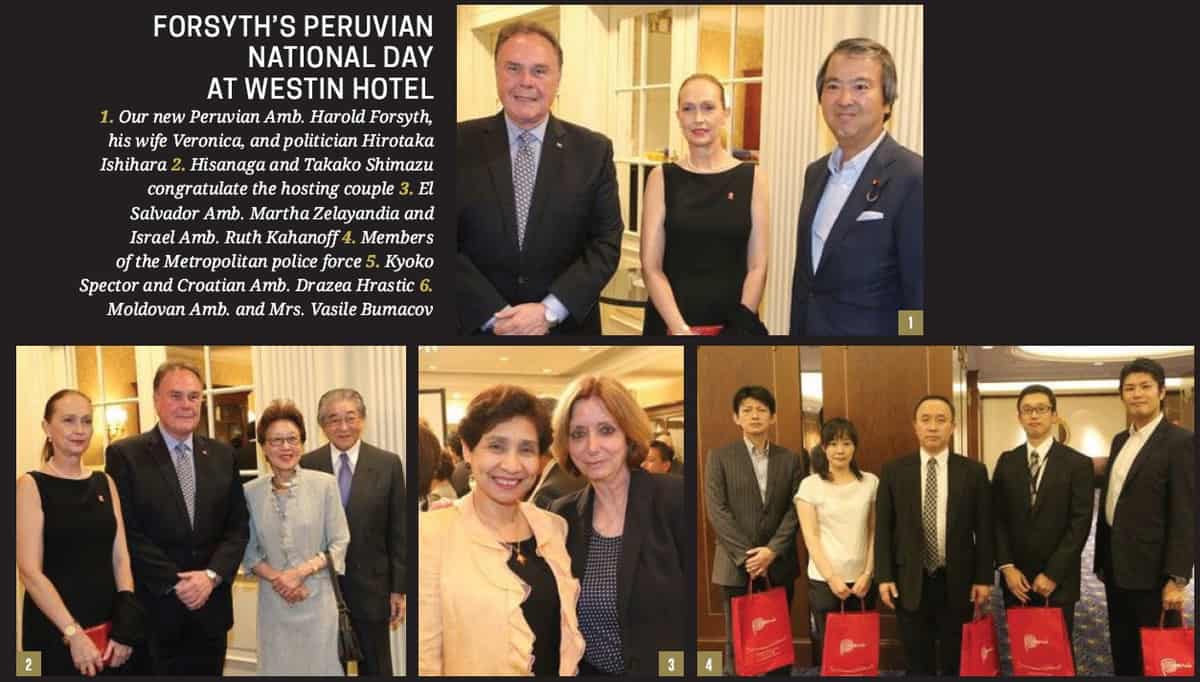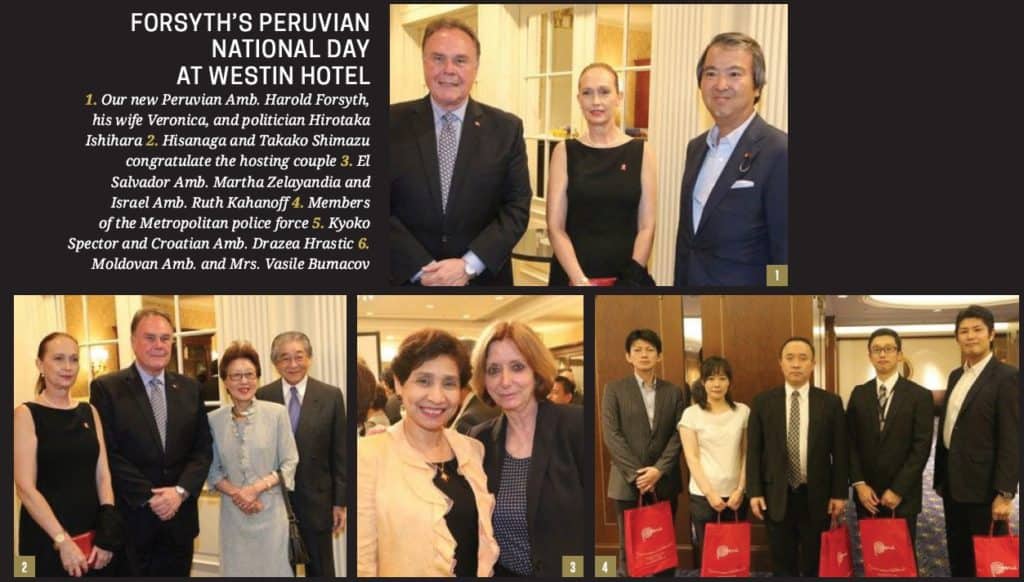 Peruvian Ambassador Harold W. Forsyth and his wife Veronica were only here a short time before they hosted the reception to celebrate the 196th anniversary of Peru's Independence Day. For the event,  they chose the elegant Kaede Room in the European-influenced Westin Hotel. It was packed with people and I was surprised at the number of VIPs whom I thought were out of Japan for the holidays but were there that evening.
>>Interview with Ambassador Seminario <<
Familiar faces in the crowd included top lawyer Toshihiro Matsumaru. The hosting couple, Ambassador and Sefiora Forsyth, are a very international, sophisticated, outgoing couple. I'm sure they'll like Japan, and Japan will like them. Our congratulations on their super celebration, and we wish them a long, happy, and successful posting here. 
JAMAICA 55TH ANNIVERSARY RECEPTION AT THE OKURA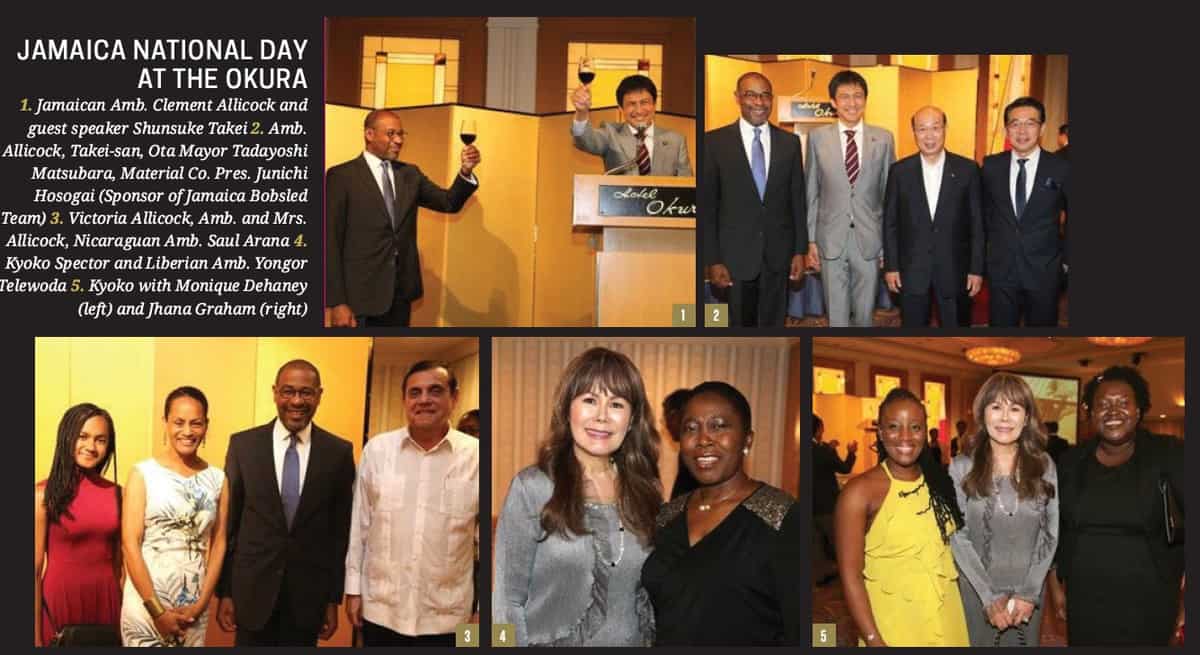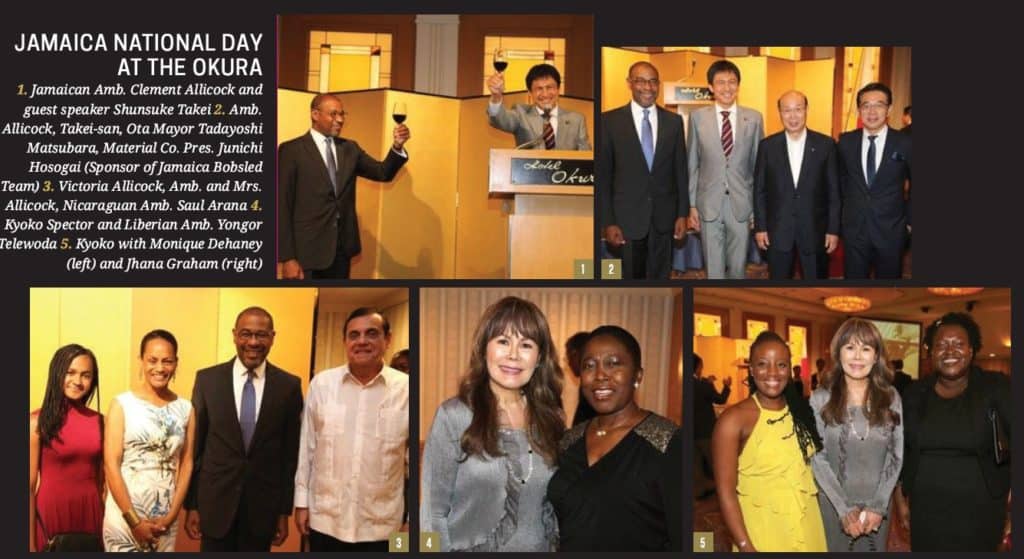 Jamaican Ambassador Clement Allicock, his wife Suzanne, and their family and staff hosted a reception at the Okura Hotel, The occasion was to celebrate Jamaica's Independence Day. Thanks to Bob Marley's music, the fastest man in the world Usain Bolt, the Jamaican bobsled team, the people of Jamaica, and their laid-back way of life, it's a very popular country in Japan, especially with the younger generation.
>>Interview with Ambassador Richards <<
As you can see from the photos, they're good-looking people and appreciate chic fashion. They're also very talented, and I was thrilled to see two professional singers who know how to belt out pop music. One of them, Jhana Graham, opened the program with her renditions of the Jamaican and Japanese anthems. Ambassador Allicock is a great speaker and he had plenty of interesting things to say about his country in his welcome speech. Our congratulations on all the Jamaican events to celebrate many things Jamaican.        
PLACES
NATIONAL AZABU CUSTOMER APPRECIATION BARBECUE
One of the many special things that National Azabu does to get involved in the community is their popular barbecues. These are complimentary for VIP customers and are held in the supermarket's parking lot several times a year. Mother Nature was kind on  Sunday, September 10, and it was a beautiful clay for the afternoon/  evening event and was crowded with a variety of guests.
Healthy  Tokyo had a booth and was giving out samples of energy bars, and Matcha Miracle Drink and Honest Bee staff kept busy explaining their grocery delivery services. Great food included Benito's paella, barbecued steak, super sandwiches, and a salad bar.
Kids had plenty to do with micro—scooters, catching noodles from a  long bamboo shoot (nagashi semen), and trying games of chance.  Entertainment included music by a New Orleans-style band, several vocalists, and a clown. Congratulations to the Uemura family, the owners of National Azabu, and all of the great staff. And if you want to check a really great Halloween display that's full of spooky good fun for kids and adults alike, drop by at National Azabu. They've gone all out this year. 
*First published at the Tokyo Weekender
*Images Copyright: Tsukasa Shiga