Botero Exhibition: "Magic in Full Form"
Fernando Botero, a great master of contemporary art born in Colombia. While the movie "Botero", which depicts his life and his commitment to art, is also a hit all over the world, the first large-scale painting exhibition in 26 years in Japan is currently being held at Bunkamura The Museum in Shibuya.
This exhibition is supervised by Botero himself. A total of 70 works from early works to oil paintings, watercolors and drawings made in the 2000s are exhibited. Most of them are the first public exhibit in Japan.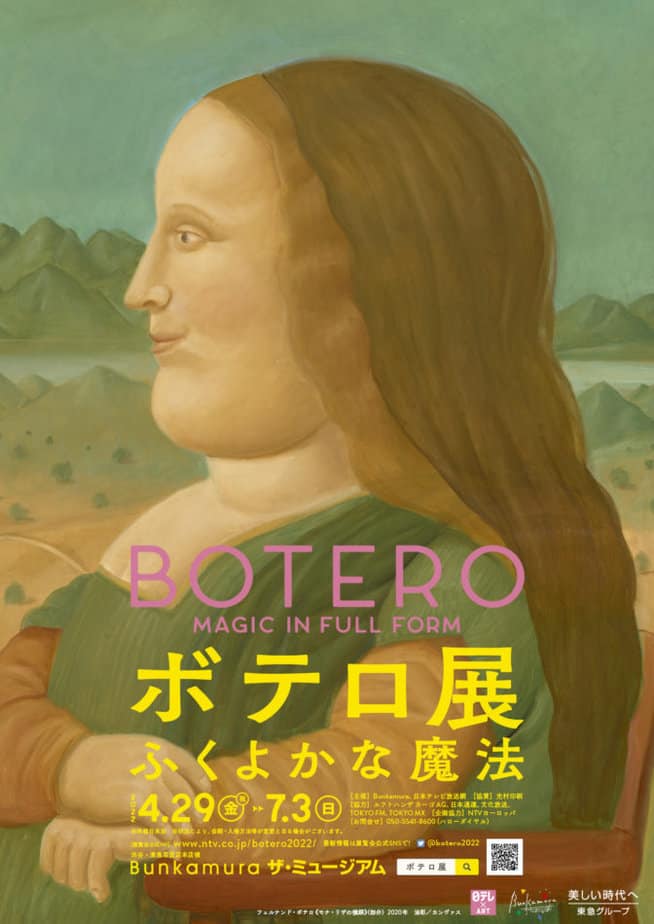 This exhibition consists of six chapters.
In "Chapter 1 Early Works", you can also see a work that doesn't have a full form.
In "Chapter 2 Still Life", you can find out why Botero started a voluminous style called Bioterrorism.
"Chapter 3 Faith" depicts Botero's encounter with a priest in his hometown of Medellín, Columbia with humor and satire.
In "Chapter 4 The World of Latin America", people are portrayed in the background of the life of Latin America where Botero was born and raised.
"Chapter 5 Circus" depicts the people who live and live with the circus they met in Mexico. The circus that people are looking forward to. However, the performers have no facial expressions.
In "Chapter 6 Transforming Masterpieces", masterpieces such as Botero, Piero della Francesca, Jan van Eyck, and Angle, who have influenced Botero, are depicted in the Botero style. The "Profile of Mona Lisa", which was exhibited for the first time in Japan, is also included. This chapter is impressive. In particular, Jan van Eyck's masterpiece "Arnolfini Portrait" is depicted in a Botero style, and the painter and his disciples who are witnesses of marriage in the convex mirror originally depicted are omitted. All that is reflected in the mirror is the half-open door and the back view of the "Arnolfini Portrait" looking at it. What is intended to?
It is well known that Botero's work is full form. However, surprisingly, it is not widely known that none of the characters in the work have facial expressions. Every person has a plain expression. Isn't this a message from Botero to the "viewer"?
Botero commented, "Art can be expressed in different ways, even if it is the same." What do the viewers think about the work?
It is very interesting to take Botero's message in your heart and face the works seriously. Everyone suffers from "Botero's full form magic".
For more detail, visit www.ntv.co.jp/botero2022/
Read more: