Eddie Redmayne and Jessica Williams in Japan for Fantastic Beast
After a long time without any red carpet events in Tokyo, Eddie Redmayne and Jessica Williams kicked off the first big movie press event since the launch of "Star Wars: The Rise of Skywalker (Episode IX)" way back in in December 2019.
The two stars came to Japan for a special fan event to promote the launch of "Fantastic Beasts: The Secrets of Dumbledore," the third movie in the Harry Potter spin-off series. As was the Harry Potter series before, The "Fantastic Beasts" series is one of the most popular films series in Japan.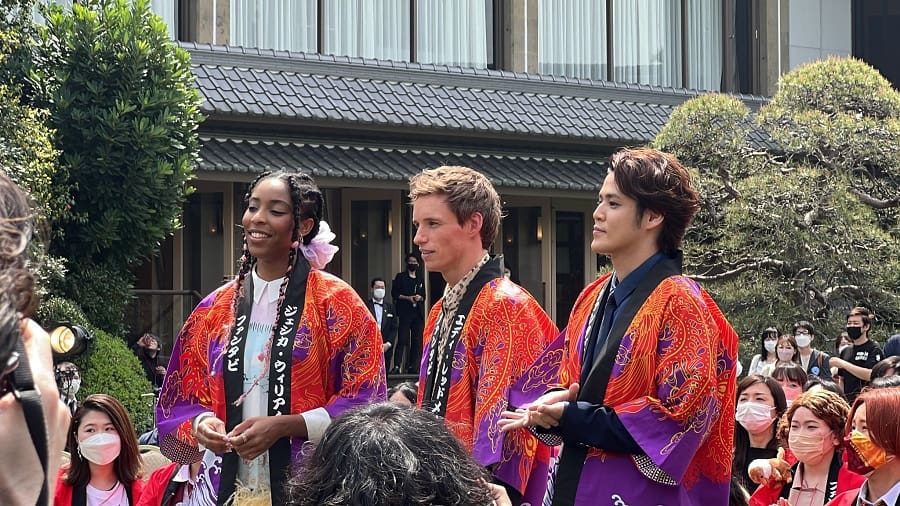 The last time Eddie Redmayne visited Japan was over three years since, to promote the second film in the series "Fantastic Beasts: The Crimes of Grindelwald,". Both star seemed thrilled to be back in Japan.
Eddie Redmayne: Happy to be back in Japan
Watch our YouTube #shorts: https://youtube.com/shorts/iyxmoSu7Q-w?feature=share
In length both stars explained what they were looking forward to eat in Japan. Apparently Eddie loves anything fried and upon arriving in Japan he want straight to eat Japanese Tempura, "As far as food is concerned, I don't know where to start in Japan. I'm obsessed with sashimi, I'm obsessed with ramen… I prefer thin noodles. I like a good firm texture." He added, "But I also love anything that's deep fried. I've basically been doing nothing but eat since I arrived in Japan. Tempura-ed anything makes me happy."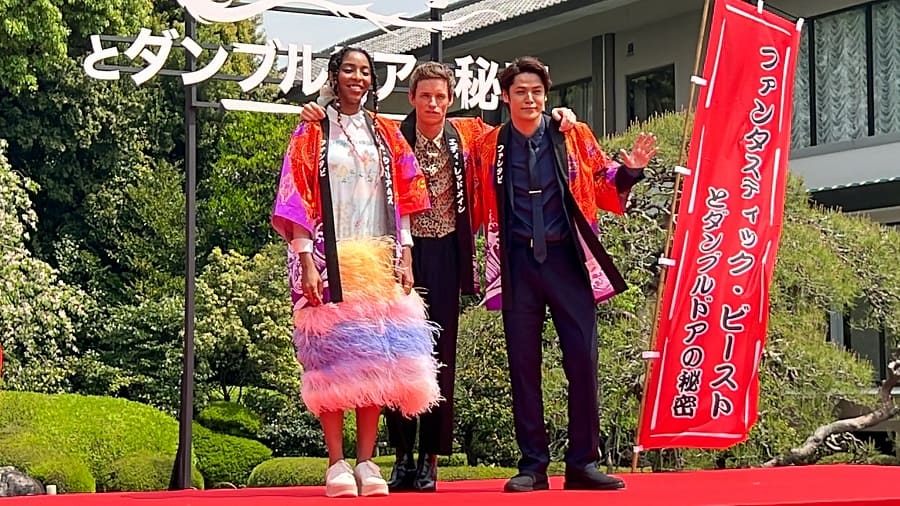 "Finally getting to be here, sharing these secrets [of the film] with you, it blows my mind. Thank you for having us."
Red Carpet Events in Japan
Watch our YouTube #shorts: https://youtube.com/shorts/Gc76B2jnfz0?feature=share
As is already known around the world, Japan always does things differently. In short, press conference press conferences and press events are very different from what is usually the norm. This one wasn't any different.
As can be expected, the event was well organized and highly structured and Japanese journalists are known to follow the rules and endure even the harshest conditions that they are sometimes faced with.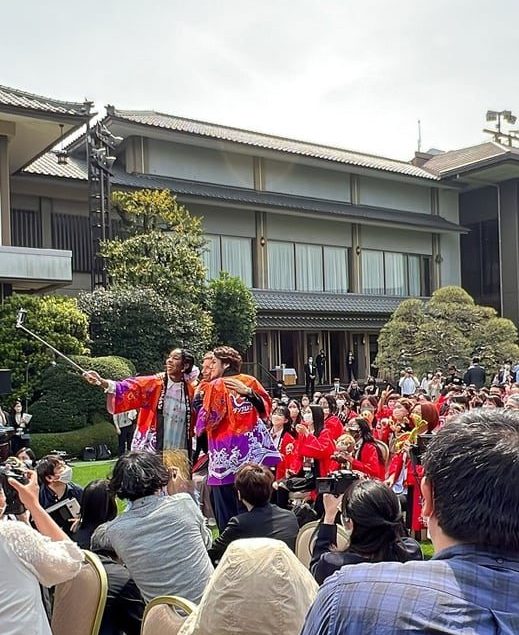 Without being allowed to ask any questions at all (that was reserved for fans only), a hoard of photographers, journalists and camera people lined up hours before the event in 28 degrees open skies. But most of them came prepared as they were unfolding their small camping chairs, put on their hats and lining up snacks and water bottles.
It seemed everyone was happy that finally a bit of Hollywood glamor is back in town. Next up – Tom Cruise will be arriving soon (May 24th) to promote "Top Gun – Maverick".
Read more: