Floyd Mayweather in Japan for exhibition fight against Mikuru Asakura
You can't talk about boxing without talking about Mayweather and Floyd Mayweather is back in Japan making headlines again. Here is why:
Floyd Joy Mayweather (also known as "money") is a well-known former US professional boxing champion and is the greatest of all time in boxing. The 47-year-old is an undefeated world champion. He competed in 50 fights and won all of them!
As a professional, he boxed for 21 years and won 15 major world champions, which earned him medals, golden gloves, and a place in the boxing hall of fame. Now, Mayweather is planning his return to Japan for his next exhibition fight against Mikuru Asakura planned for September 2022 .
Floyd Mayweather's Exhibition Fight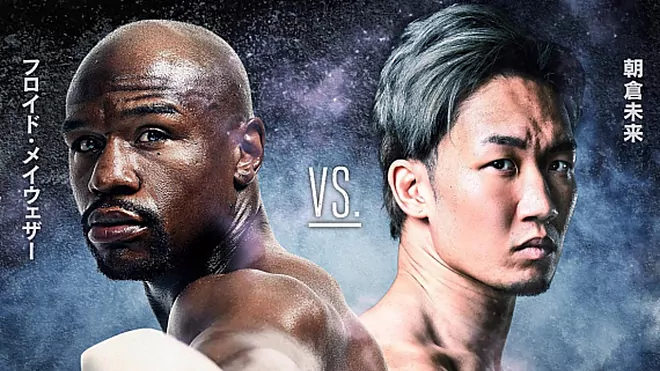 On June 13, Floyd Mayweather announced in Las Vegas, that he would fight former USA boxing champion and martial arts Mikuru Asakura (Triforce Akasaka), in an exhibition match this September in Saitama, Japan. People wonder if Asakura can compete with the undefeated world champion as his track record just can't match Mayweather's. One could say, Mikuru san is "out of his league."
However, during the official press conference, Mikuru showed confidence. When asked what he felt about the fight, especially with the gap between himself and the world champion Asakura said that it would earn him world recognition and personal growth as mixed martial arts fighter. He ended by saying that he sees it as an opportunity instead of a risk,…he is ready for war.
Floyd Mayweather First Exhibition Fight in Japan
"Money," as he is called for his outspoken character in the matter of all things money (flashing around wads of cash and showing off his luxury possessions) has been to Japan several times and he became to love it – not only for the money opportunities he has identified in the land of the rising sun.
In his first exhibition fight in Japan, in the 2019 New Year's Eve exhibition in Tokyo, Mayweather stepped into the ring with then undefeated Japanese kickboxer Tenshin Nasukawa. He knocked him out in 139 seconds! As he proclaimed to the press: "Easy money… and having fun doing it.."
However, setting up this fight was not as smooth and as quick as the actually result might have suggested. After his successful campaign against Conor McGregor in 2017 he started negotiating with Rizin FF for a possible exhibition fight already back in mid-2018. Cultural misunderstandings and personality clashes contributed to a few set-backs that saw the exhibition fight almost canceled completely. In the end, the fight did happen, with Mayweather underlining his money making prowess in the process.
Mayweather Having Fun in Japan
Working hard (more or less) and playing hard – that seems to be one of Mayweather's life mottos. Floyd Mayweather used his time in Japan to explore Tokyo and the many things it has to offer including its luxury shopping opportunities and its nightlife.
In 2018, he visited a luxury jewelry store in Yukizaki, where he got his special piece of necklace with the letter 'M' on it. Out of excitement, he emphasized that the store rendered "unbelievable" service and encouraged people visiting Japan to visit the Yukizaki store.
He also visited the luxury flower store Million Roses in Minatu-ku the same year. The store proudly shared the news on their Twitter feed, "Mayweather visits. Million Rose is also very popular! Gold roses are even more luxurious…"
He most certainly, stayed at one of the top hotels in Tokyo (Conrad Tokyo) with hotel guests seeing him exercise at the gym and using the hotel's excellent swimming pool. He was also seen enjoying himself at the nightclub 1OAK Japan, a brand he is familiar with from Los Angeles and New York.
However, while having a great time is important to Mayweather, business and money comes first. To the press he proclaimed he would love to establish his brand and grow his business interest in the land of of the rising sun. As the 'money' man he is, he always intended to expand his brand globally and reap the commercially opportunities that came with it. His trade mark: throwing lavish parties and selling luxury cars, jewelry, and watches to celebrities worldwide as a form of hospitality.
The results of these grand plans, a public announcement to collaborate with talent agency LIBERA, to establish TMT (The Money Team) Tokyo, and the next exhibition fight against a Japanese mixed martial arts fighter Mikuru.
Mayweather exhibition fight against Mikuru Asakura
Although the date for the match hasn't been set, yet, Rizin CEO Sakakibara has announced that it will be happen in September this year. Like in the show-bout against Tenshin, the dates, rules, and other details will be announced as the fight date approaches. And you can be assured the terms will be in Mayweather's favor. Even a last-minute cancellation is still possible.
However, we highly doubt this particular outcome as the 'easy' money is just too enticing for him to simply forgo. Apparently, Mayweather revealed to the press, "he was paid $1.5 million just to show up to a press conference" announcing his upcoming bout with Mikuru Asakura in Las Vegas.