The Most Luxurious Hotels in Tokyo
There's a reason why Tokyo has always been one of the most traveled destinations around the globe. With the global pandemic slowly dissipating and borders opening up for tourism again, the leading hotels are ready to welcome returning guests from overseas.
Many of them have used the time to implement new safety and hygiene procedures, upgraded their interiors or worked on their renowned seasonal menus. Demanding guests around the world returning to Tokyo will be pleasantly surprised.
Staying in Tokyo
With its iconic vibrant energy and various notable attractions, there's no doubt that Tokyo is a favorite of many and is always on the "go-to list" of countless travel enthusiasts.
And while Tokyo is known for popular tourist spots such as Akihabara, Shibuya Crossing, Sensoji Temple, Tsukiji Market and its famous Cherry Blossoms, it's hard to ignore Tokyo's sophistication and its appreciation for the finer things in life.
To get a clearer view of Tokyo's more luxurious side, we've compiled a list of the most luxurious hotels in Tokyo that you might want to check out if you're looking to make the most out of your visit and make your stay even more remarkable.
Read also: The Best Restaurants to visit this Xmas
It's always difficult for any editor to make lists of the top candidates for any lifestyle category, but when it comes to making a list for the most luxurious hotels in Tokyo, anyone familiar with the quality level and depth of hotels situated in Tokyo knows it's surely a task impossible to complete. But then here we are, and this is our list for the most luxurious hotels for 2022.
1. Conrad Tokyo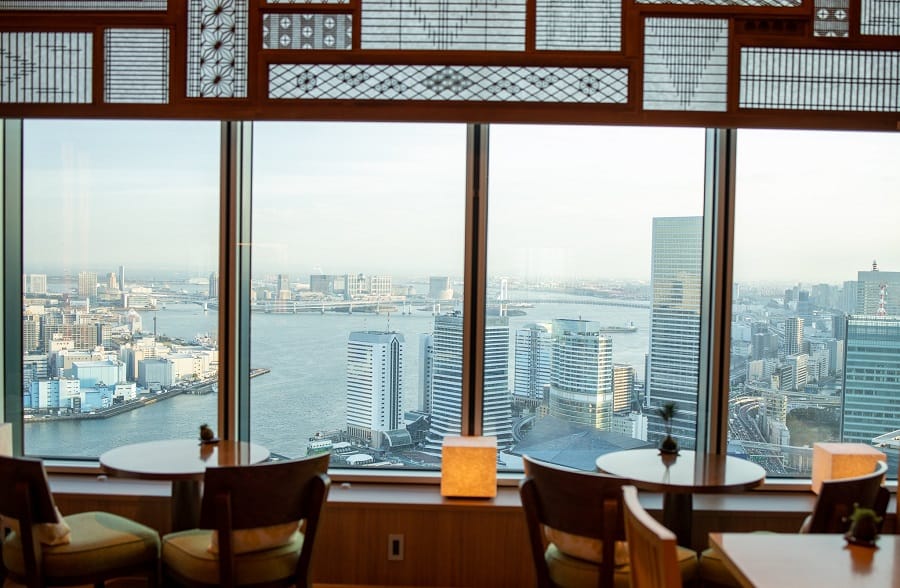 Situated at the very heart of Shiodome business district, with breathtaking views over Tokyo Bay and historic Hamarikyu Gardens, this establishment boasts its 290 spacious luxury suites furnished with traditionally Japanese Sumi-e-style cherry blossom decor. Don't miss the chance to enjoy Conrad Tokyo's Michelin-starred and award-winning restaurants and spoil yourself to a raft of excellent business facilities.
Conrad Tokyo is located at:
1-9-1 Higashi-Shinbashi, Minato-ku, Tokyo 105-7337, Japan
For bookings and inquiries, you may check out their website:
https://www.hilton.com/en/hotels/tyocici-conrad-tokyo/
Or contact: +81 3-6388-8000
2. Aman Tokyo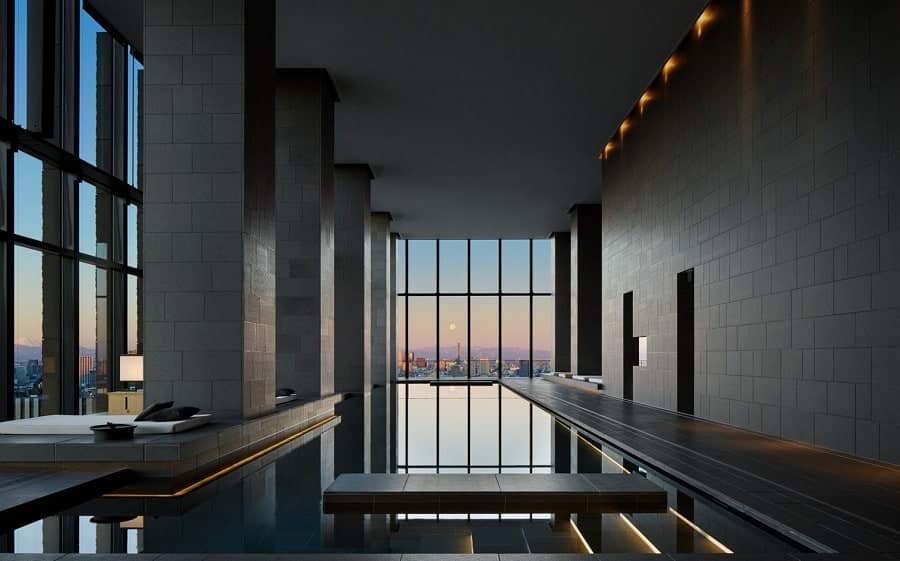 Need an escape from the madness of the megapolis? Explore this hidden urban sanctuary located at the top of the Otemachi Tower with a commanding view of the city and nature – the Imperial Gardens, Mount Fuji and skyscrapers in Shinjuku subcenter. Known for its interior design built in traditional Japanese style, Aman Tokyo is a perfect balance of urban dynamism and cultural sensibility offering exclusive relaxation and tranquility for guests.
Aman Tokyo is located at:
The Otemachi Tower, 1 Chome-5-6 Ōtemachi, Chiyoda City, Tokyo 100-0004, Japan
For bookings and inquiries, you may check out their website:
https://www.aman.com/resorts/aman-tokyo
Or Contact: +81 3-5224-3333
3. The Peninsula Tokyo
Overlooking the Imperial Palace and Hibiya Park, The Peninsula is a 24-storey standalone hotel with 314 spacious bedrooms, two ballrooms, a wedding chapel, and an impressive five on-site restaurants. The chic, contemporary Japanese rooms and suites are among the largest in the city and designed to be dazzlingly high-tech. If you want to be close to the Emperor's main facilities the Peninsula Tokyo is the hotel to stay.
Watch our tour on YouTube:
The Peninsula Tokyo is located at:
1 Chome-8-1 Yurakucho, Chiyoda City, Tokyo 100-0006, Japan
For bookings and inquiries, you may check out their website:
https://www.peninsula.com/en/tokyo/luxury-hotel-room-suite-types
Or Contact: +81 3-6270-2888
4. Park Hyatt Tokyo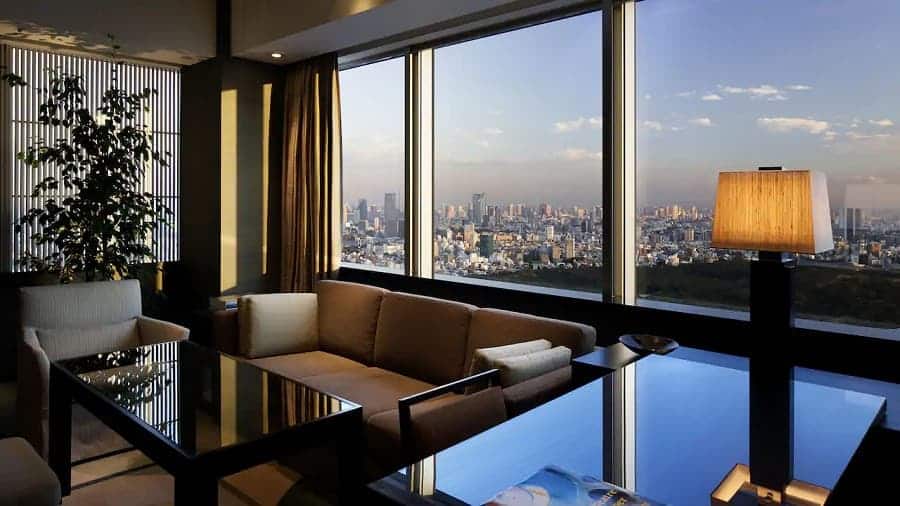 Famous for its appearance in Sofia Coppola's hit 'Lost in Translation,' Park Hyatt is the city's first skyscraper hotel, occupying the top 14 floors of the 52-story Shinjuku Park Tower. Every room in this luxurious hotel comes with an outstanding view of the bustling metropolis, Mount Fuji or Kanto Plain, and features stylish interiors with earthy hues of deep green and brown designed to feel like home. With a brilliant lounge and business center, this Tokyo icon is everything you'd imagine it to be. Don't forget to use the superb swimming pool followed by a glass of Suntory whiskey at the New York Grill.
Watch our YouTube tour:
Park Hyatt Tokyo is located at:
3-7-1-2, Nishi Shinjuku, Tokyo 163-1055, Japan
For bookings and inquiries, you may check out their website:
https://www.hyatt.com/en-US/hotel/japan/park-hyatt-tokyo/tyoph
Or Contact: +81 3-5322-1234
5. Shangri-La Hotel, Tokyo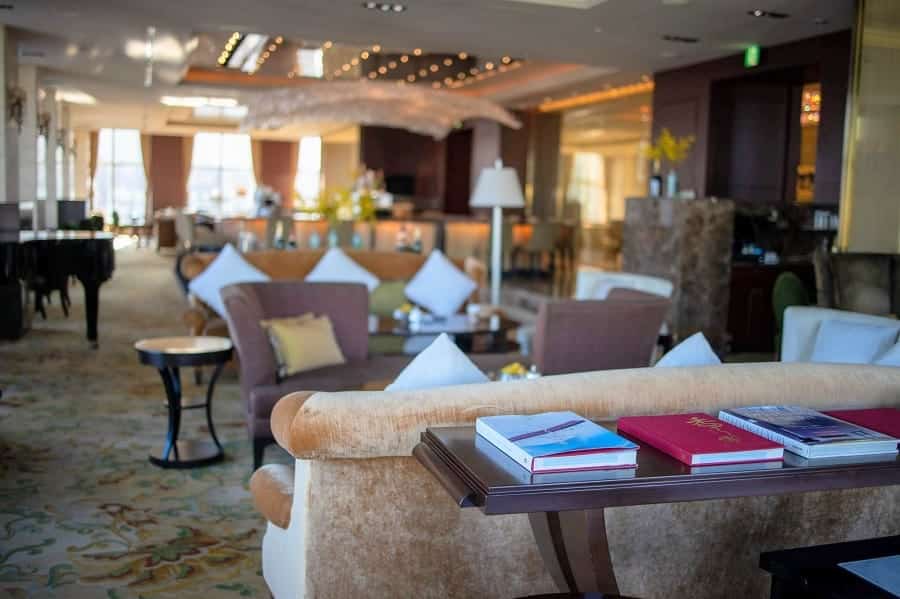 Shangri-La Tokyo is home to some of the largest guest rooms in the capital that comes with complete stylish living areas, light-filled window-side bathrooms and gorgeous corner views across the city. Located in central Tokyo and conveniently located next to Tokyo Station, the Shangri-La's lavish chandeliers, unbeatable views, and a 2,000-strong collection of artwork makes it as one of Tokyo's quintessential hotels. Considered as an insider tip by the visiting business elite, the Shangri-La Tokyo offers comfort, and discreet luxury in Tokyo's Wall Street district.
Watch our tour on YouTube:
Shangri-La Hotel Tokyo is located at:
Japan, 〒100-8283 Tokyo, Chiyoda City, Marunouchi, 1 Chome−8−3 丸の内トラストタワ 本館
For bookings and inquiries, you may check out their website:
https://www.shangri-la.com/en/tokyo/shangrila/
Or Contact: +81 3-6739-7888
6. Grand Hyatt Tokyo
Considered a culinary destination, Grand Hyatt Hotel is home to 10 prestigious restaurants and bars, ranging from a steakhouse to sushi to French all-day dining. With a great location in Roppongi Hills, this hotel has all the facilities you'd expect and has an excellent reputation for its spacious workstations and lightning-fast internet. On top of that one of the favorite places for visiting movie stars as the most luxurious hotels in Tokyo is located next to TIFF's annual red carpet event.
Grand Hyatt Tokyo is located at:
6 Chome-10-3 Roppongi, Minato City, Tokyo 106-0032, Japan
For bookings and inquiries, you may check out their website:
https://www.hyatt.com/en-US/hotel/japan/grand-hyatt-tokyo/tyogh
Or Contact: +81 3-4333-1234
7. The Ritz-Carlton, Tokyo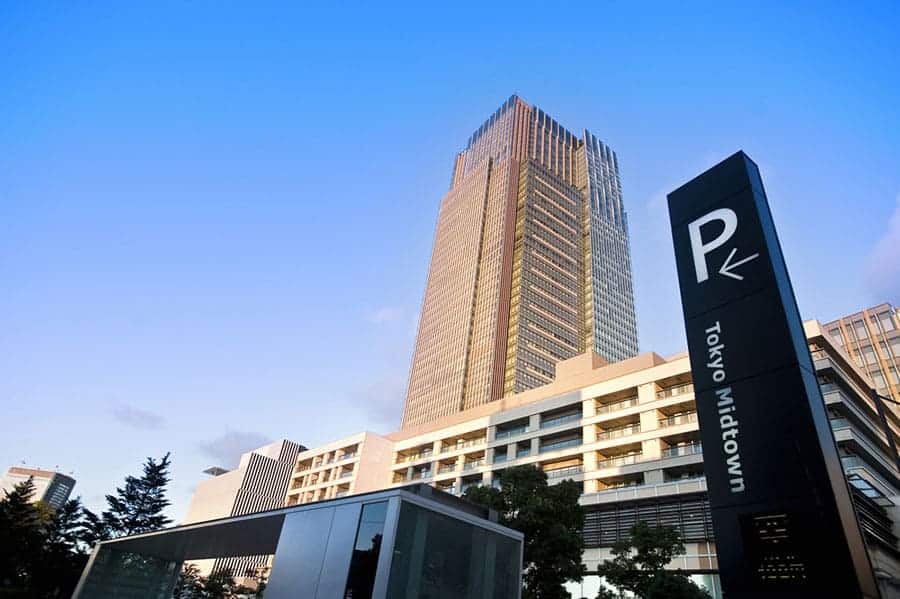 Perched at the top of the highest building in the whole of Tokyo, this hotel features 247 elegantly guest rooms and suites with stunning skyline views of Tokyo, a world-class rejuvenating spa, acclaimed restaurants and state-of-the-art event venues. Located in the Roppongi District, this hotel is perfect for guests who want to enjoy a vibrant night life and centuries-old attractions.
The Ritz-Carlton Tokyo is located at:
東京ミッドタウン, 9 Chome-7-1 Akasaka, Minato City, Tokyo 107-6245, Japan
For bookings and inquiries, you may check out their website:
https://www.ritzcarlton.com/en/hotels/japan/tokyo
Or Contact: +81 3-3423-8000
8. Andaz Tokyo – A 360-degree View to Remember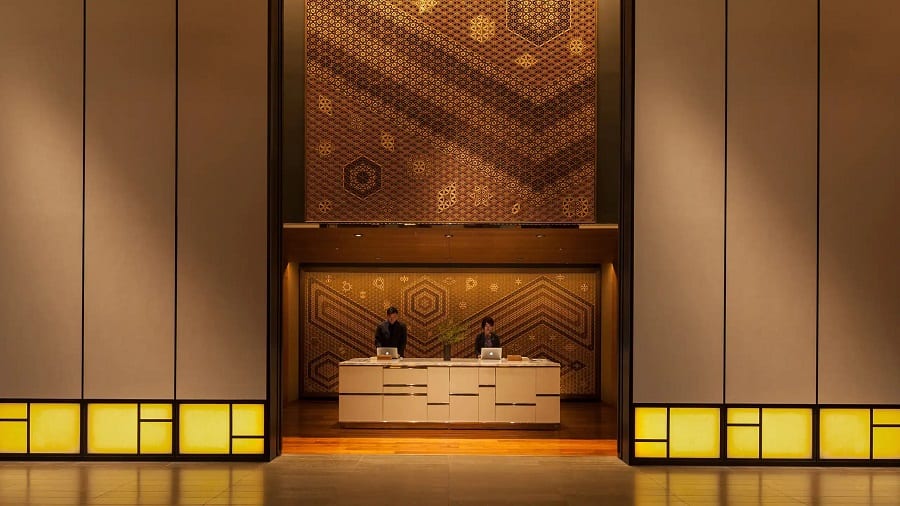 The 5-star Luxury Boutique hotel Andaz Tokyo at Toranomon Hills opened in June 2014. Located between the Tokyo Tower and the Imperial Palace, gives guests easy access to key locations and landmarks. Part of the Hyatt group, it provides the service and quality you would expect from the upscale brand of Hyatt group.
Offering a 360-degree panorama view and hosting one of the most popular roof-top bars in the world you will experience a stay never-to-forget.
Watch our Andaz Hotel Tour
The Andaz Tokyo is located at:
〒105-0001 Tokyo, Minato City, Toranomon, 1 Chome−23−4
For bookings and inquiries, you may check out their website:
https://www.hyatt.com/en-US/hotel/japan/andaz-tokyo-toranomon-hills/tyoaz
Or contact: +81 3-6830-1234
9. Mandarin Oriental, Tokyo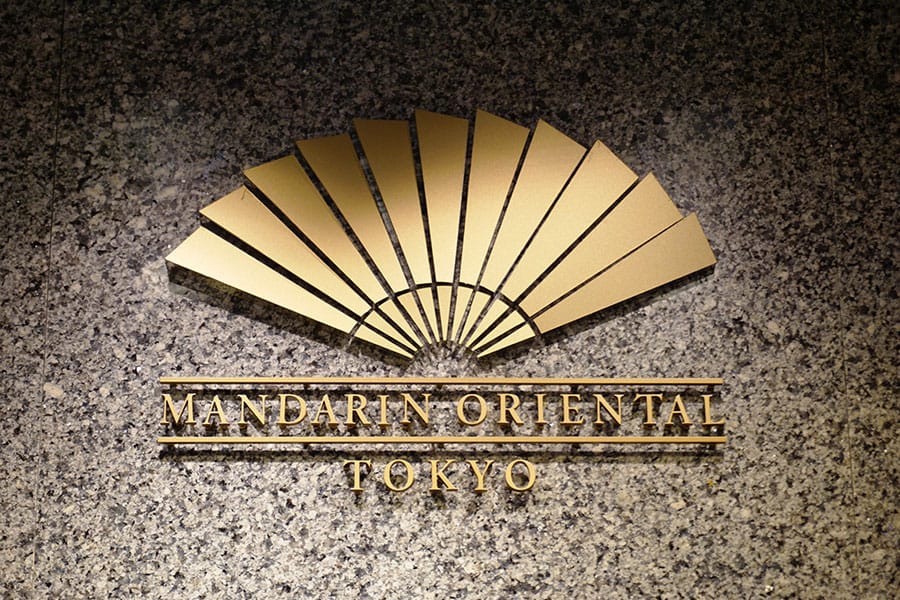 Are you a food lover and at the same time looking for an elegant place to stay in Tokyo? Mandarin Oriental will surely not disappoint. Guests are treated to the choice of 178 spacious rooms noted for its sleek and chic décor. This luxurious mainstay excels in dining options boasting a wide selection of 12 different restaurants to choose from and is the only hotel in the city with three Michelin-starred restaurants; including an acclaimed Edomae style sushi bar.
Mandarin Oriental Tokyo is located at:
2-1-1, Nihonbashi Muromachi, Chuo City, Tokyo 103-8328, Japan
For bookings and inquiries, you may check out their website:
https://www.mandarinoriental.com/tokyo/nihonbashi/luxury-hotel
Or Contact: +81 3-3270-8800
10. Four Seasons Hotel Tokyo at Marunouchi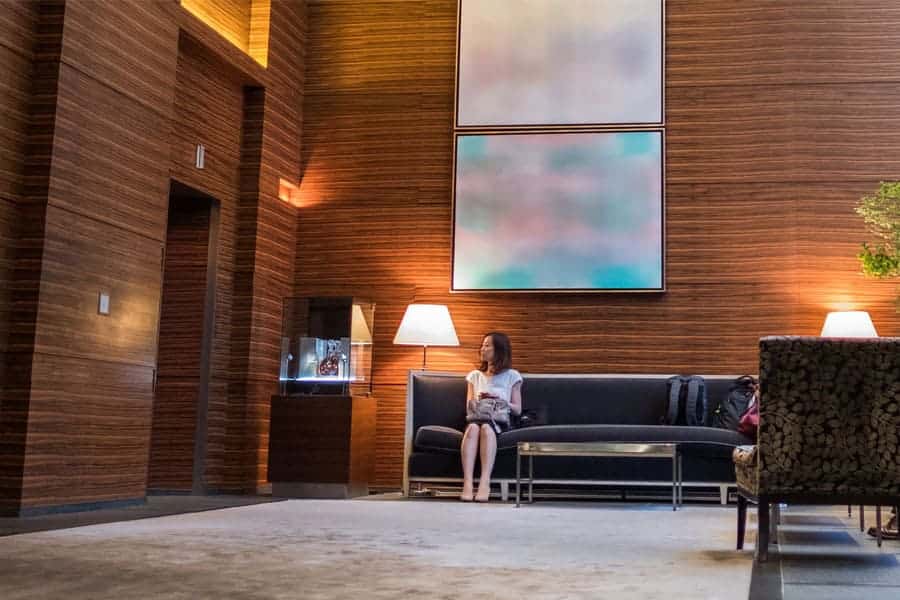 This true boutique property with less than 60 rooms designed with warm, homey décor makes it a cozier option than many of Tokyo's glitzier luxury hotels. Each of its rooms is spacious with triple-glazed floor-to-ceiling windows revealing the hustle and bustle of Tokyo with barely a sound to be heard. It is also home to one of Tokyo's most talked-about dining venues – the Motif Restaurant & Bar, which offers a farm to table French cuisine.
Four Seasons Hotel Tokyo is located at:
1-11-1 Pacific Century Place, Marunouchi, Chiyoda-Ku, Tokyo 100-6277 Japan
For bookings and inquiries, you may check out their website:
https://www.fourseasons.com/tokyo/
Or Contact: +81 3-5222-7222
Noticeable Candidates & New Entry
Note that we left out the grand three hotels Tokyo has been famous for since its post-war era, the Imperial Hotel, New Otani, and the Okura hotel which saw massive renovation plan recently. All three of them made history in post-war Japan, hosting visiting presidents, dignitaries and the leading celebrities of their time. They deserve a dedicated post which we will publish in the future.
New Entry: The Tokyo Edition
This new flagship hotel of Marriott International's upscale EDITION hotels is the first of two Japan EDITION openings in collaboration with owners Mori Trust. A brainchild of Ian Schrager – founder of New York's legendary disco heaven Studio 54, and Kengo Kuma-designed hotel, combines the themes of sustainability and minimalism into a modern oasis in the center of Tokyo's new skyscraper landscape.
The 206-room hotel spans the upper levels of 38-storey Tokyo World Gate skyscraper in the business district of Toranomon which is dominated by Mori Trust and Mori Building real estate conglomerates. It offers all the facilities and amenities demanding business travelers and hotel enthusiasts demand these days. See for yourself and book at night at the Tokyo Edition.

>>Read also: New Destination : Gold Bar at EDITION<<
Four Seasons Otemachi
We were positively surprised that a leading brand such as the Four Seasons pushes ahead with their global expansion plans even at times of a new Covid-19 reality. The brand new hotel opened at the beginning of September this year, which is already its second hotel in Tokyo.
The property itself was designed by Skidmore, Owings & Merrill and is managed by Mitsui Real Estate. Acclaimed designer Jean Michel-Gathy of Denniston was in charge of the interiors. His aim was "to reflect Japanese inspiration and the hotel's views," which on a clear day includes a view on Mount Fuji and Tokyo Sky Tree.