Hersey's Partyline September 1975
I attended an Italian party, a gathering of the many friends of Mr. and Mrs. Giuseppe Opinato to say goodbye to his well-liked couple being transferred from the I.C.E office (Italian Institute of Foreign Trade) to the office in Budapest. Nice people and we will miss them, but know, once they've made the big change, they'll make friends wherever they go.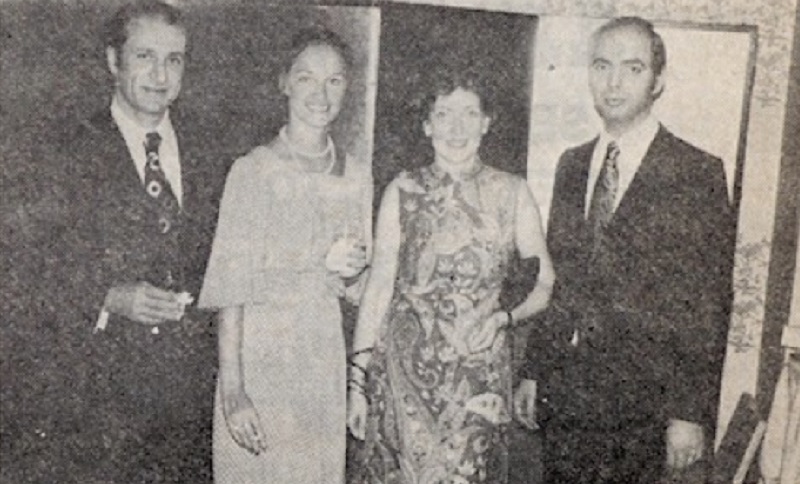 The Takanawa Prince Hotel Garden was the place and the occasion was the celebration of the first anniversary of the Ethiopian Revolution. Charges d'Affaires Zewge Melak Mengasha, looking cool and elegant in his white shama, greeted guests as they entered. I headed for the yakitori (first Japanese food since I got back) and in between nibbling on that, rapped with Karl and Mona Wiegand of the American Embassy and Mr. M. Ogumi, a really charming guy who's with the Metropolitan Police.
Moved on to Charge d'Affaires of the German Embassy Hartmut Schulze-Boysen on the pretext of talking about the fashion fair I recently attended in Koln. The real reason was to find out who the great looking tall blonde girl with him was. It turned out to be his daughter, Susanne, on holiday from school in Rome …and headed back that way by now.
Another very pretty girl at the party was TV personality Maria Cristina. Maria, studying voice with Regina Doi, is slated for eight TV shows in the future. Regina was there, too, and she's very busy with her teaching, and planning three or four concerts for later this year. More on these as plans develop"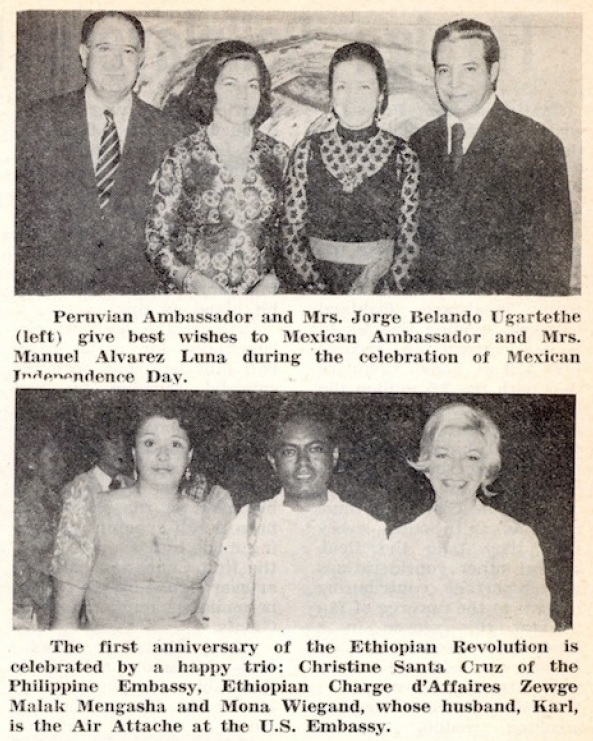 We all feel that way. I really don't know anyone who's visited this lovely, colorful, hospitable and interesting country who hasn't literally fallen in love with it. Proof positive is the large number of ex-Tokyoites who eventually ended up retiring in Mexico. Thanks to 'Mexican Ambassador and Mrs. Manuel Alvarez Luna, we all got a touch of Mexico at their Embassy Sept. 16 at a reception to celebrate Mexico's 165th Independence Day.
Lots of nice people, a beautiful buffet catered by the New Otani, authentic Mexican music and the varied and colorful art collection of the Ambassador and Mrs. Luna created just the right mood for the celebration. The Lucky Ambassador was off to Mexico via JAL for a two-week business and pleasure trip the next day.