Hersey's Partyline December 1980
The fashion scene was super busy the last few weeks in Tokyo with both domestic and international designers showing their latest. For the more conservative, there was Hubert de Givenchy and Jean Louis Scherrer. For those who like more colorful avante garde fashions, there were the exciting TD6 shows, and also a very dynamic showing of a very dynamic collection by Studio V. The Best Five shows started Thursday, Nov. 27, with Perry Ellis from New York. Today, Friday the 28th, Karl Lagerfeld will show his collection; on the 29th Giorgio Armani; the 30th Zandra Rhodes and Dec. 1st,
The social scene's been busy, too, and I'm what my editor hates to see me be . . . nearly a month behind in some of my coverage. Sorry, Cork . . . a couple weeks out of it all (here, anyway) should give me a chance to get caught up . . . again.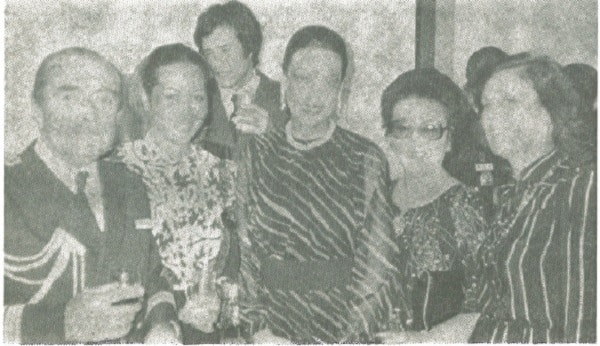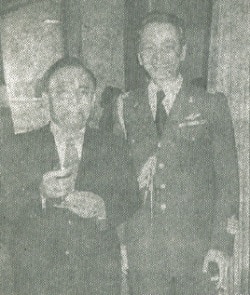 Tuesday, Nov. 4, we joined a large and colorful crowd at the home of Col. and Mrs. Luciano Bonalumi. The colonel is the Italian Air, Military and Naval Attaché, and he and his wife Catherine were having a reception to celebrate Italian Armed Forces Day. I really felt like a minority that evening as most of the men were military-affiliated and were in full-dress uniform. They included most of the embassies' military attachés and a large contingent of high-ranking officers from the Japan Self Defense Forces. Other civilians there—Italian Ambassador Boris Biancheri, UTA Airlines' Bob Legeay, and many personal friends of the Bonalumis. It was a nice celebration. My congratulations and my thanks to the colonel and Catherine for including me.
On the 5th , we drove down to the Imperial Hotel where Noriko Ohno held a reception to celebrate the 25th anniversary of the Kokusai lkebana Association. The Fuji Room had been especially decorated for the occasion: a Japanese garden set up in the center of the room, booths serving Japanese food set up along two walls, a western buffet and another area where sari-ed ladies from the Sri Lankan Tea Board were serving tea.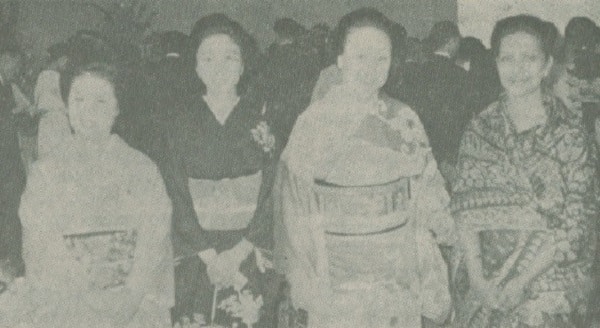 The crowd was very impressive and included several ambassadors, many ambassadors' wives, Japanese government officials, and the wives of many prominent businessmen here.
The program started off with congratulatory speeches, including words from Tunisian Ambassador Habib Ben Yahia, Aiko Anzai from the House of Councillors, Kamakura Shobo's Prez Hasegawa-san, film actress Shiho Fujimura and Keizo Hayashi, president of the Japan Red Cross. The speeches were followed by a short film of the official opening of Kokusai Ikebana's 25th anniversary exhibition at Mitsukoshi. It was a glittering reception that not only gave us the opportunity to congratulate Noriko Ohno, but to meet some very interesting people as well.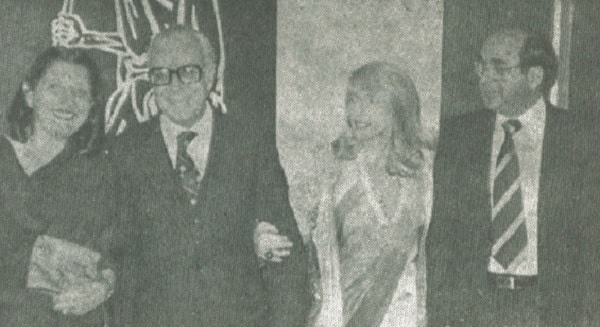 The 6th, and another one of those sayonaras. Actually, we were all quite surprised when we heard Indian Ambassador Vishnu Ahuja and his wife Ameena would be leaving. They had been here less then a year, but duty called, and by now the ambassador should be at his new post in Moscow. Ameena planned on a few weeks in New Dehli before joining him there. They both speak fluent Russian, and are certainly qualified for that important post, but everyone who got to know them was really sorry to see them go.
"It's been nine pregnant months and we'll miss all our friends," Ameena told me. One only had to look at the people-packed chancery to see how many friends they have made during their all-too short stay here. It was also easy to see their friends come from all walks of life. People there that evening included members of the Imperial family, diplomats, government officials, much of the Indian community, scholars, fashion designers, artists and musicians. They will be missed and we'd like to wish them our best in their new assignment.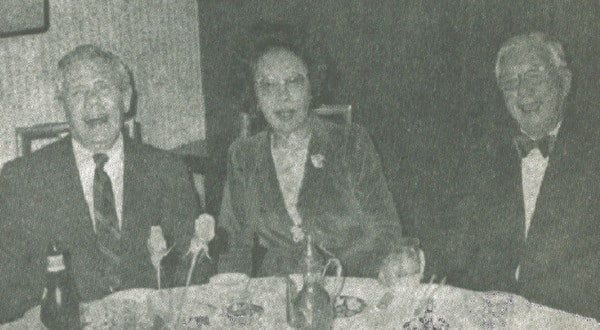 From Ichibancho we drove to Mita where we joined about 20 people for one of those Chinese dinners you can only get when you're a guest of Paul and Nancy Ma. Nancy, as you know, is an internationally recognized authority on Chinese cuisine. She's written several cook books, has taught cooking on TV here and in the U.S., and has a restaurant in Tokyo, Chateau Hantan, and another in the Hanshin Department Store in Osaka.
The dinner that evening was in honor of the Mas' friends, business tycoon Chinn Ho, visiting here from Honolulu. Two other special out-of-town guests were Ray Milici, the Chairman of Milici/Valenti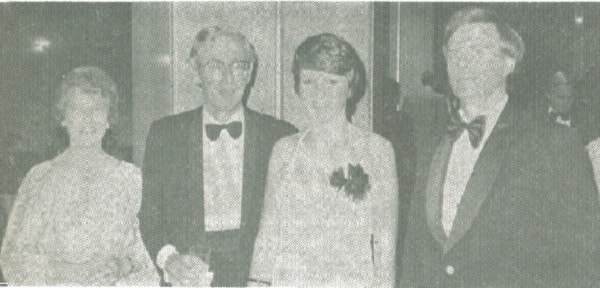 On Saturday the 8th the Australian community and many of their friends got together at the Tokyo Hilton for the Australia Society's annual gala dinner-ball. I was working with a TV crew from Mexico that evening, here to film Tokyo night life, so couldn't stay for the evening, but did drop by for cocktails. The ballroom had been beautifully decorated and the crowd was super-elegant. Holli was coming in as I was going out, so you probably read (or will be reading) her rundown on the ball itself.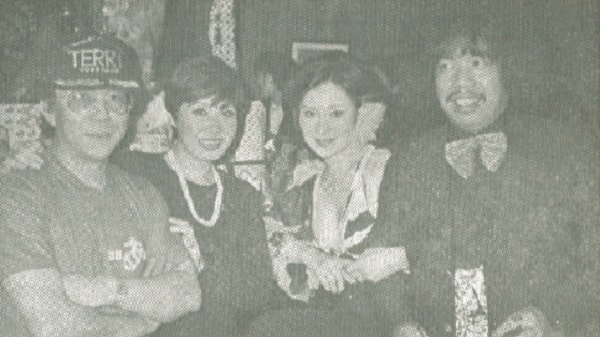 Thursday the 11th and started out at the residence of Pakistani Ambassador and Begum Abeeda Islam where a reception was honoring noted Diet member Okuda-san and a delegation he escorted to Pakistan earlier this year. The guests were mostly members of the Diet or Gaimusho officials. Ambassador Islam expressed his appreciation to Okuda-san and members of the tour group. Mr. Okuda responded with a short speech describing their mission to Pakistan and the results. A superb buffet featuring Pakistani food followed.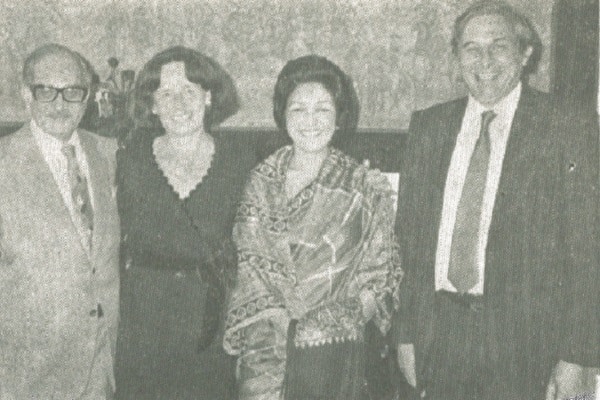 The weather was beautiful and most of the guests moved out into the garden after they congratulated the Dehennins on the 150th Anniversary of the Independence of Belgium and the Day of the Dynasty. It was an interesting crowd made up of diplomats, Japanese government officials, business leaders and familiar faces from the arts and entertainment world. Prince and Princess Takeda were there as were Prince and Princess Konoe. He was just back from Cambodia where he was on an assignment for the Red Cross. It was also nice seeing United Arab Emirates Ambassador Ahmed Al-Mokarrab, just returned from a two-week official trip back home.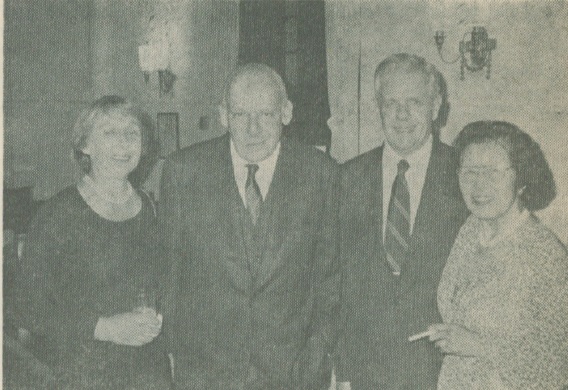 U.S. Ambassador Mike Mansfield was there, and I always enjoy the privilege of talking with him. Another guest who always has something interesting to say is former Vice Minister of Foreign Affairs Keisuke Arita. He now heads the Japan Economic Cooperation Agency. General talk that evening centered around the Iraq-Iran situation, predictions about the changes to come under President-elect Ronald Reagan, and lighter things such as where people planned to spend their year-end holidays. It was a splendid reception . . . one very fitting for the occasion.
IN TOWN:
• Prince Egon von Furstenberg, here a few days on his return to New York from the Philippines. Egon's menswear is represented here by Melbo.
Paul Bocuse was in town for "Paul Bocusc Week" at the Rengaya Restaurant in Aobadai, and he came with his Japanese partner, Keiko Inagawa. Everyone mixed and enjoyed, and many, including me, stayed on long past the scheduled end of the reception.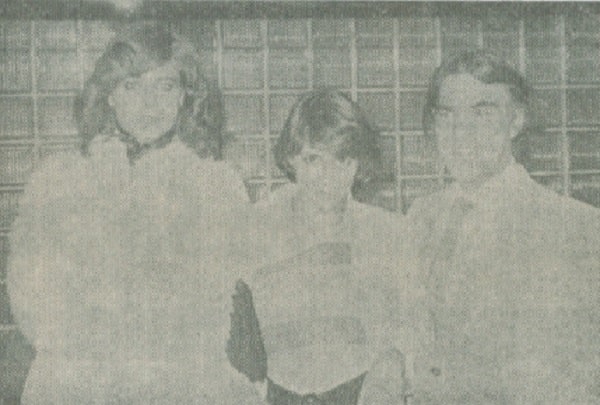 Rolex Reception for int'l golfers