Bill's Partyline November 7th, 2008
PEOPLE
I first met one of the world's top ballet dancers, the legendary Rudolf Nureyev, when he was here in the seventies dancing with Japan's prime ballerina at that time, Yoko Morishita. Even though he was a superstar on the world dance scene, I found him vety easy going and fun to be with. The man who born on a Trans-Siberian train and was raised as an only son in a Tatar family. He fell in love with dance as a child, danced in folk performances, trained in Leningrad, was accepted by the Bolshoi ballet, and, at 17, was accepted by the Leningrad Choreographic School, which was associated with the Kirov Ballet. He was allowed to dance outside Russia for a short time but, for disciplinary reasons, was restricted to performing in Russia until 1960 when he replaced one of the Kirov's leading dancers who was injured on Kirov's European tour.
In Paris, his dancing was highly acclaimed but he broke the rules and mixed with foreigners. Fearing the KGB, he defected to Paris in 1961. He was signed by the grand Ballet du Marquis de Cuevas and when touring Denmark, met dancer Erik Bruhn who became his lover, protector, and best friend for many years. He later joined the UK's Royal Ballet and formed a partnership with the legendary Margot Fonteyn. He performed regularly with the Royal Ballet until joining the Paris Opera Ballet in the 1980s. His busy career included dancing and acting in films that included Les Sylphides, Valentino and Don Quixote.
He was also a guest on the Muppet Show dancing in a parody with Miss Piggy called Swine Lake. Other highlights of his life included touring with the Broadway show The King and I. As busy as he was, Rudy was always generous and as dancer and chief of choreography at the Pans Opera Ballet he promoted many of the young dancers there. Rudy was gay at a time it was illegal but still pretty much did what he wanted. Here in Tokyo, I took him to the Lexington and he was very infatuated with a half German half Japanese waiter working there. I'll never forget the look in the guy's face when Rudy grabbed him and kissed him on the cheek. Another time when the dancer was in Tokyo, I took him to a Swedish lady, Yuya's boutique. She specialized in second-hand kimonos and yukatas. Rudy loved fabrics and bought a couple of dozen "to use as costumes in the Paris Opera Ballet productions." The last time I saw Rudy, in 1991, he was suffering from AIDS and his diminished capabilities were apparent in his mismatch with a young French Ballerina. I visited him in his dressing room, which was sadly and significantly scattered with used ballet shoes, and he said, "Did you see me in the opening number—I literally flew." Unfortunately, that just didn't happen but, of course, I didn't tell him that. Rudy passed away at the age of 54 in Paris in 1992. Friends and fans all over the world including Andy Warhol, Mick Jagger, and Freddy Mercury mourned the passing of one of the greatest dancers ever—and the legend lives on.
PARTIES
Park Hyatt Party
It was certainly a very special evening in the Venetian Room of the prestigious Park Hyatt Tokyo when the hotel hosted a sayonara for their General Manager Robert Barker, who has been there for four years and introduced their new GM, Philippe Roux-Dessarps. Hosts that evening included long-time friends David Udell, Hyatt International Asia-Pacific Ltd. senior vice president of operations, who flew in from Hong Kong, Hyatt Japan's president Chika Koga, Grand Hyatt general manager Roger Lienhard, Hyatt Regency Tokyo General Manager Kei Nishimura, and other Hyatt executives from both here and abroad. The impressive guest list included leaders in travel and tourism as well as many of our city's top businessmen and women. The opening speeches were short and significant. Robert jokingly said, "I think this is one of the first times an Englishman gave a Frenchman such a grand gift—the general manager job of such a great hotel."
Colombia and Japan Celebrate their Relationship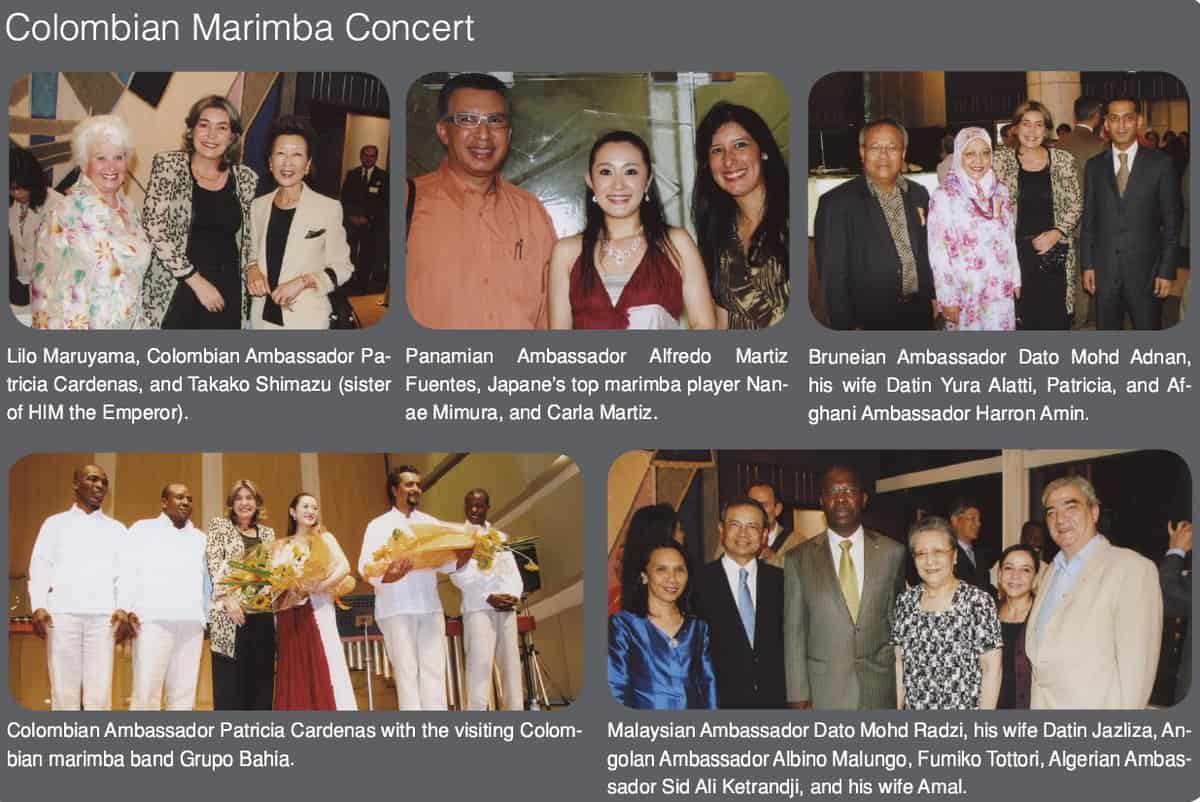 Colombian Ambassador Patricia Cardenas just never slows down. This, as you probably know, is the First Centenary of Diplomatic Relations between her coun-try and Japan. She, as you can imagine, has been keeping super busy with all kinds of special events to celebrate the occasion. As I'm writing this, she's back in Colombia preparing for the visit of her vice president, H.E. Francisco Santos Calderon to Japan in late October. She also had many cultural programs that have already happened. One was a great marim-ba concert by Grupo Bahia at a really nice hall in Harakuju—near my house in Shibuya. One of Japan's top marimba players, Nanae Mimura, was a special guest that night and she and the boys from Bahia kept the audience moving to the Latin beat. I talked with Nanae after the show, what a cool lady.
Moroccan Reception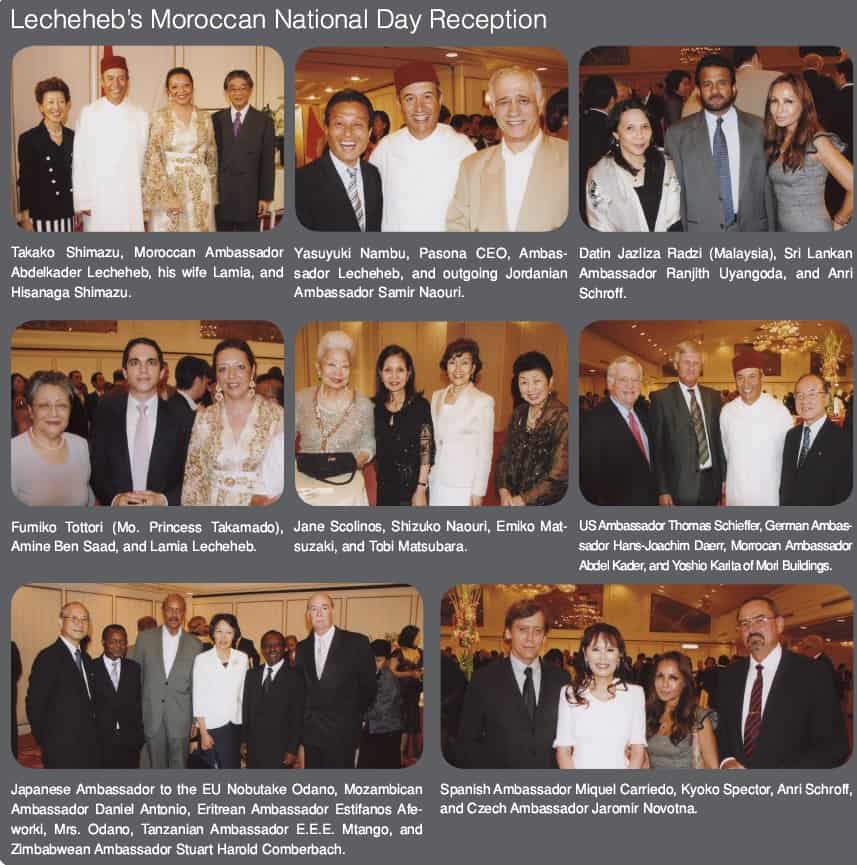 The Moroccan Reception at the Palace Hotel hosted by Ambassador Abdelkader and Lamia Lecheheb to celebrate the ninth anniversary of the enthronement of His Majesty King Mohammed VI was a grand evening in every way. The hosting couple, as you can see by the photos, looked great in national costume. Lamia, the epitome of good fashion, wore a white and gold embroidered dress that was a piece of art. Kudos to the people at the Palace Hotel for allowing the Embassy staff to help prepare the buffet. The variety of Moroccan dishes was endless and excellent. The hotel staff prepared the Japanese food for the reception, and that was excellent as well. As I was leaving, one of the Embassy staff, thanks to Lamia's friend-ship and thoughtfulness, came over and gave me a big box of delicious Moroccan cookies that was leftover. Needless to say, I and the other Lex staff members really enjoyed them later. It was a real downer when I saw Abdelkader and Lamia a couple of weeks later and they told me they'll be leaving Japan in the near future. They're relocating to Moscow where he'll be the country's Ambassador to Russia.
PLACES
Tokyo Changes Daily driving around Tokyo really gives me the opportunity to see the constant changes in our city—check-ing out Roppongi this morning I saw that the Freak Head Shop is gone and there is a sort of trendy Boutique Ebonye there now. Wall Street, the popular downstairs bar by TGI Friday's is also gone and they are reopening soon, just up the street, upstairs where the old Gas Panic used to be. TGI Friday's seems to be getting a facelift and it looks like they're adding a floor or two to the building. What used to be paid parking for three cars next to TGI Friday's is now an eight-story building that will probably end up being bars and restaurants.
Setagaya Bank next door to Zat's moved out several years ago and the dirty squares on the front are now covered with grafitti. Nearby is the has-seen-better-days bar Mania. Look up to the second floor and I'm sure you'll agree that the bar, which has changed owners and names many times over the years, really needs a facelift. The big, full-of-everything and anything Don Quijote is now open 24-hours-a-day, seven-days-a-week with lots of fun, inexpensive shopping—check it out. The owner's dream of having a rollercoaster on the roof never happened. Once he got the half you see there built, the law moved in and said "No Way." The ten-storey Grandir Building, where the legendary Hamburger Inn used to stand, has been open for quite some time and only three floors have tenants. Must be the rents. It also looks like another much-needed change is on the way—the Azabu Police Station is draped with canvas for a much-needed cleanup of the front of the building.
*First published at the Tokyo Weekender
*Images Copyright: Tsukasa Shiga