Jackie Saccoccio, "Knife Edge" exhibition at THE CLUB
By special appointment, we were able to admire THE CLUB's latest exhibition by Jackie Saccoccio, "Knife Edge" at the ultra-modern Ginza Six department store in the heart of Ginza.
Saccoccio, based in New York, created most of these paintings on display at THE CLUB during the Covid 19 pandemic, which not only reflects the deep impression it left on the artist but also most recent events that concern the US as well as the rest of the world.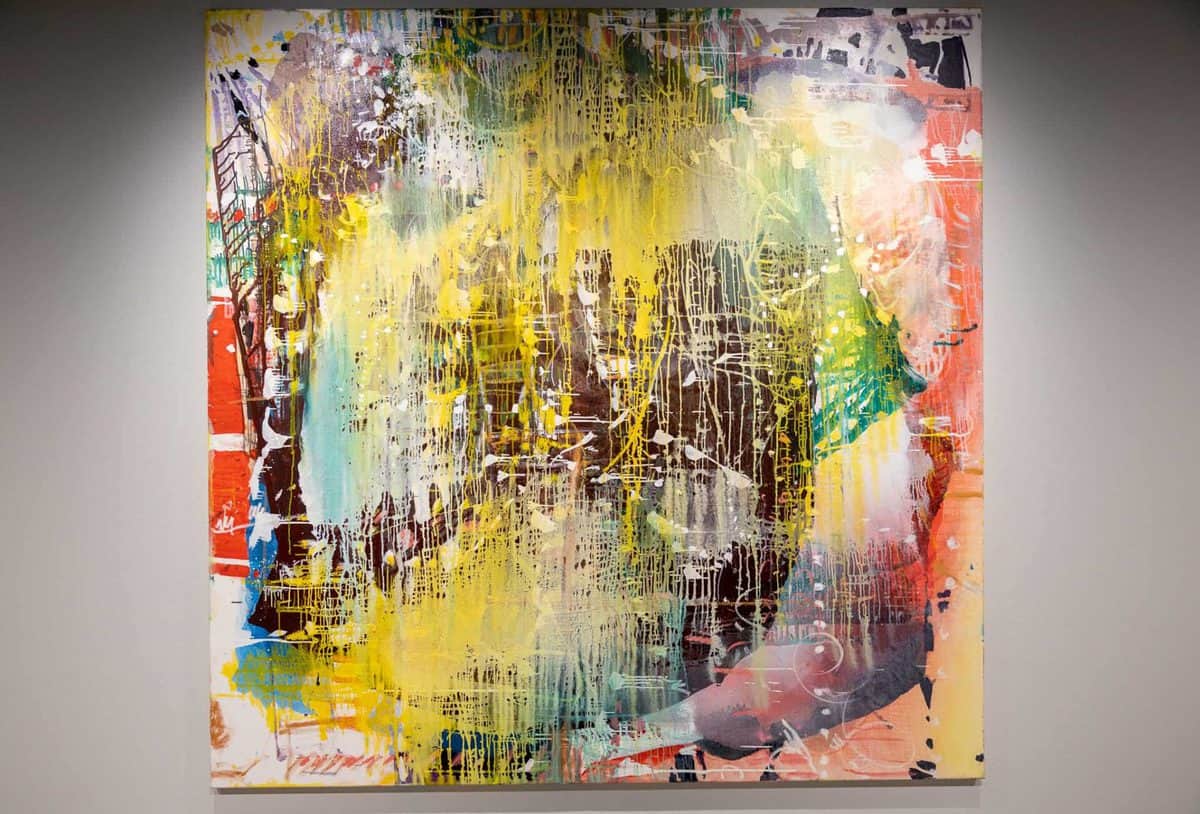 Saccoccio : "Full of unknowns, 2020 has been a year of uncompromising instability. Long-existing issues of racism and climate change continue to come to the fore, atop the Covid 19 pandemic. "
According to the gallery: "Saccoccio's second exhibition with the gallery, showcases a variety of interrelated pieces across mediums of ink, oil pastel and colored pencil, in addition to her signature oil painting. She looks to her painting heroines, Joan Mitchell, Elizabeth Murray and Helen Frankenthaler for solace and inspiration, as they tried to make sense of their own tumultuous times through an abstract language."
■Jackie Saccoccio
Saccoccio (b.1963 —) is a NY-based artist, now living and working in rural Connecticut. She was educated at School of the Art Institute of Chicago (MFA) and Rhode Island School of Design (BFA). Saccoccio is the recipient of numerous awards and grants, including The Rome Prize at the American Academy in Rome; Guggenheim Grant; Fulbright Grant; and a Civitella Ranieri Fellowship. She has exhibited nationally and abroad for the last 20 years. Solo exhibitions include Museo d' Arte Contemporanea di Villa Croce, Genoa, Italy; Nerman Museum of Contemporary Art, Overland Park, KS. Group exhibitions include Museum of Contemporary Art, Chicago; MOCA Jacksonville, Addison Museum of American Art, MA; RISD Museum of Art, Providence; and The Rose Art Museum, Brandeis University, Waltham, MA. Her works are in the museum collections mentioned above, as well as Metropolitan Museum of Art, New York, NY; Dallas Museum of Art; Dallas, TX; and the Boston Museum of Fine Arts, Boston, MA.
• Title "Knife Edge" by Jackie Saccoccio
• Exhibition Period Saturday, October 24 Tuesday, December 8, 2020 12:00 19:00 • Address GINZA SIX 6F, 6-10-1 Ginza, Chuo-ku, Tokyo #104-0061
• For Reservation click here • Closed Sunday, Monday and Public holiday
■ For all press inquiries, please contact THE CLUB [Tomomi Shinohara] TEL : 03-3575-5605 I MAIL : info@theclub.tokyo I URL : http://theclub.tokyo/ I INSTAGRAM : theclub.tokyo