Shangri-La Tokyo – Top Hotel in Tokyo
In our second episode of Luxury Hotels in Japan, we visited the sophisticated Shangri-La Tokyo.
Shangri-La is a 5-star hotel located right next to Tokyo station. Since its opening in 2009, it has boasted many celebrity guests such as Kim Kardashian. The Shangri-La's location is great for guests as it allows for easy access to Ginza, Nihonbashi and other main districts of Tokyo via Tokyo station.
The Shangri-La has over 2000 artworks and 50 chandeliers in its hotel. One of the most famous pieces is above the entrance. A painting of a Chinese Landscape by artist Benso Li. This painting immediately gives you the feeling of sophistication as you enter the hotel and this feeling continues throughout your stay.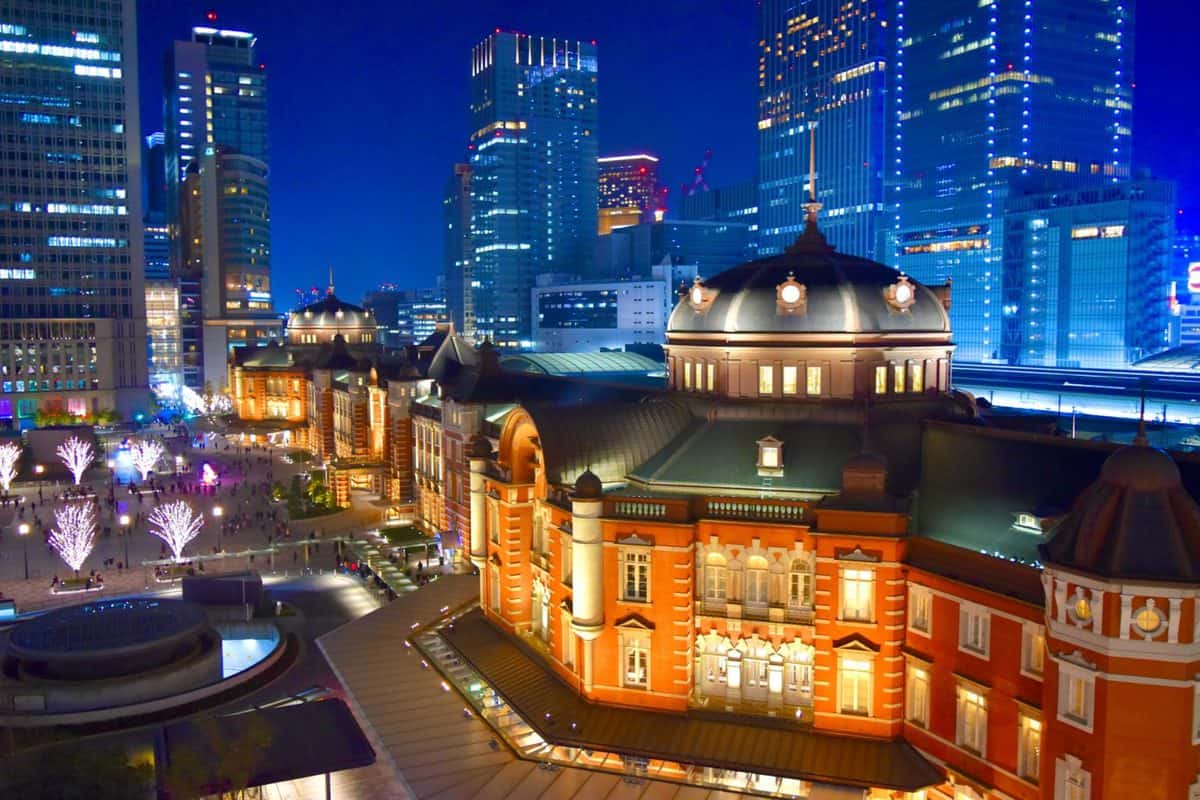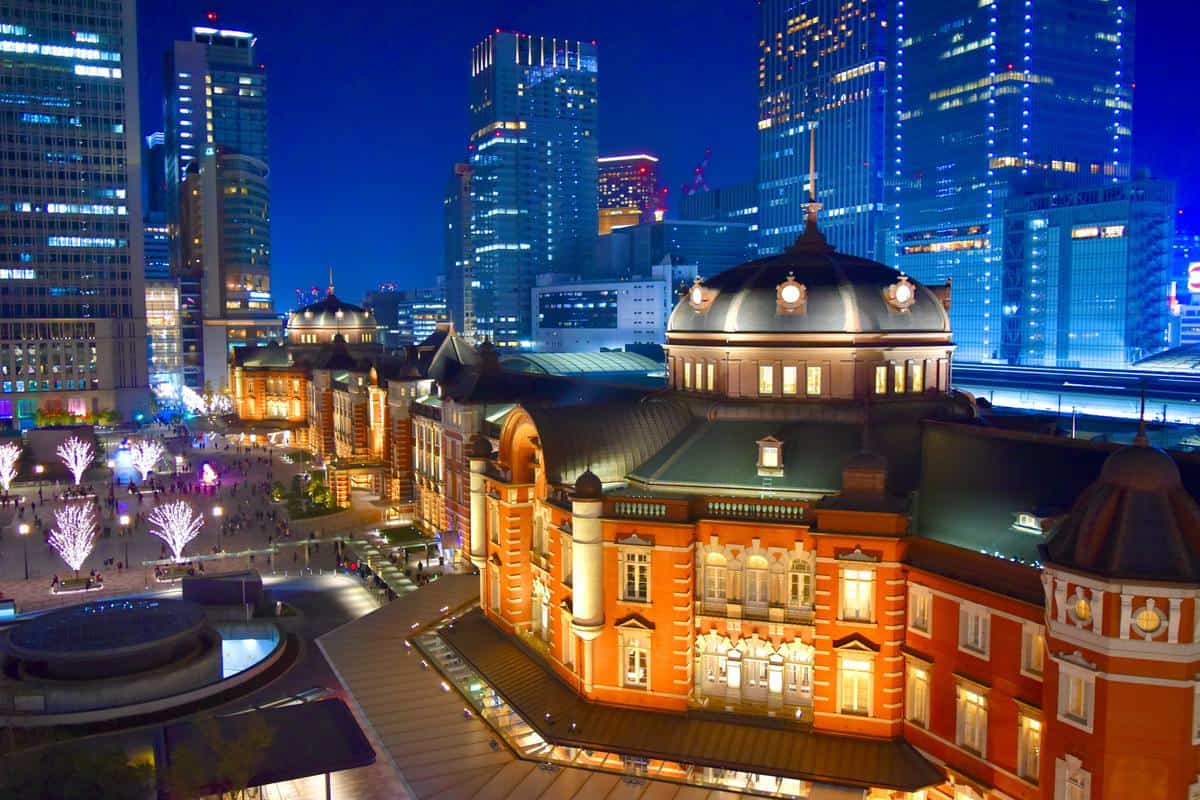 The 1st Floor & Lobby
On the 1st floor you have the bell desk and a small shop that offers seasonal treats for purchase. You can buy seasonal treats and Shangri-La items such as the one-of-a-kind Shangri-La perfume. Purchase is also available online on the Shangri-La website, please click here https://boutique.shangri-la.jp/
BMW electric bicycles are available for guests to rent and use to tour the city of Tokyo. We recommend a bicycle tour around the Imperial Palace. Check out their opening hours to enter parts of the palace.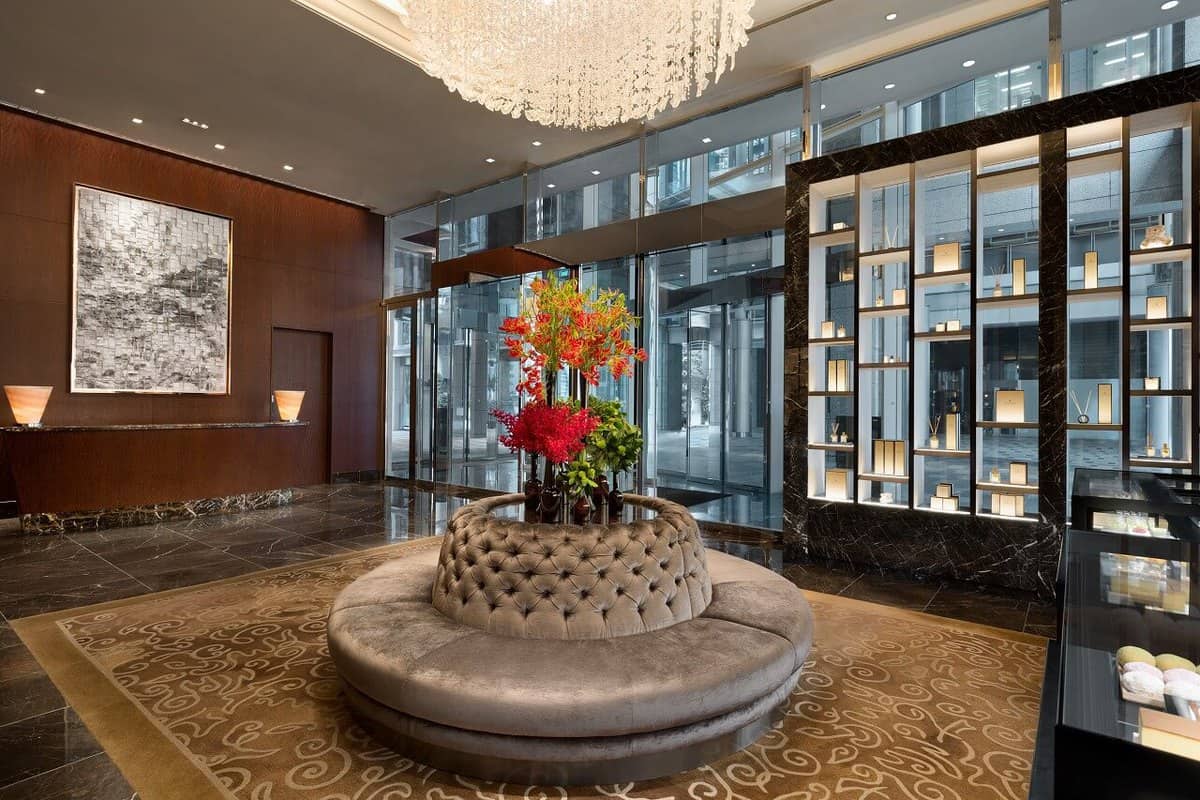 Just these first few steps into the hotel tickle your five senses. The elevators which take you to the lobby for check-in are adorned with chandeliers and the signature Shangri-La scent gives you a sense of excitement for what's to come. When the elevator doors open, you step out to the gorgeous lobby that pleases your eyes with various pieces of artwork and the iconic, huge chandelier by the staircase.
The Shangri-La staff are known for their warm and friendly service and ensure that the check-in process is a smooth process.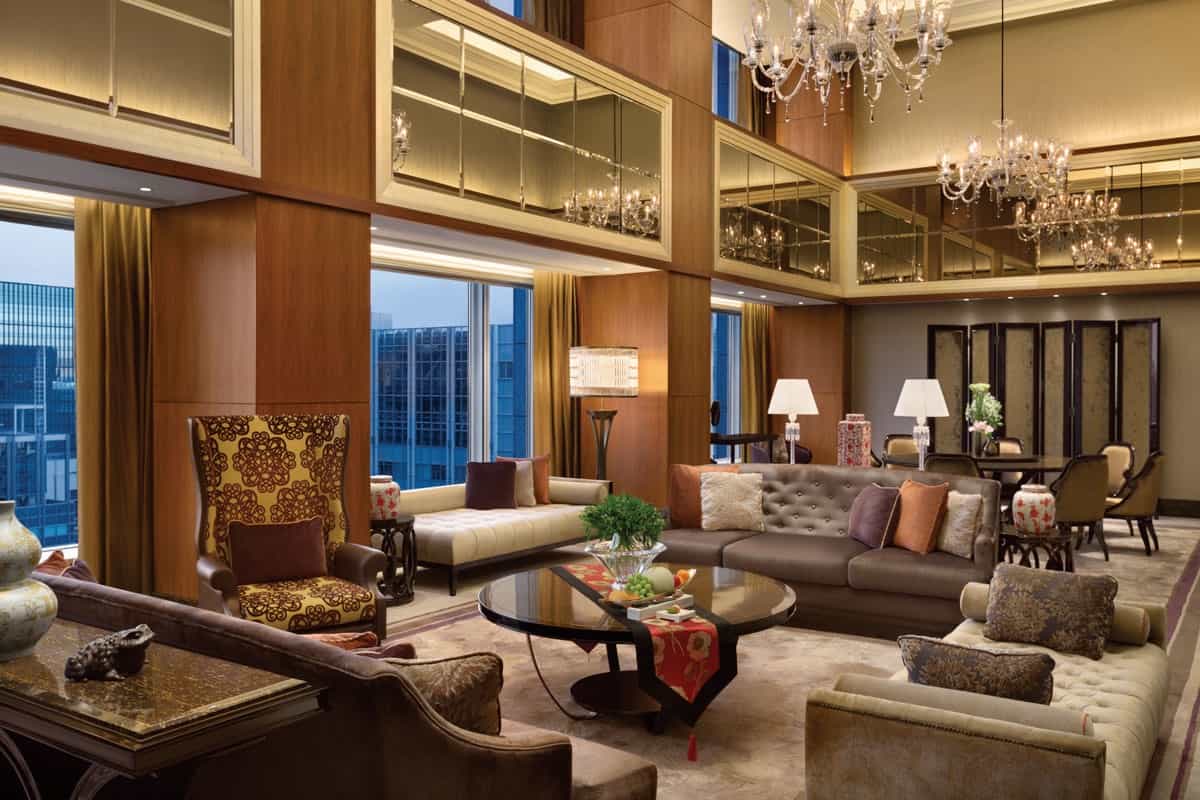 The Shangri-La Suite
On our tour of the hotel, we visited the 2nd biggest room, the Shangri-La Suite on the 36th floor where many celebrities have stayed. The room boasts an impressive view of Tokyo and the famous Skytree from its huge windows. The room is 150sqm and has a private spa room, a kitchen, a one-bedroom suite, a living room, a walk-in closet, a guest toilet and a bathroom. There is also a fully-stocked personal bar.

In the living room and bedroom, there are two 65-inch Sony 4K TVs with access to streaming services and cinematic surround sound, ensuring guests are entertained after sightseeing in Tokyo. The room has a King-size bed with 1,000-thread-count cotton linen sheets, offering guests a soft and comfortable good night's sleep.
The luxurious marble bathroom is next to the bedroom. The jacuzzi bathtub offers guests a way to unwind after a long day. There are many amenities: body soap, shampoo, conditioner, bath salts, body lotion, sponges and more. As well as a shower, there is also a sauna for guests to enjoy. In the bathroom, there is also a spacious walk-in closet that has an ironing board, bathrobes, hangers and a beautiful vanity table.
In the Suite, you even have your own personal kitchen that offers you the chance to cook your own meals. There is also a Nespresso machine with complimentary Nespresso capsules.
Our favorite highlight of the room was the private spa room where guests opt for in-room private therapies such as massages.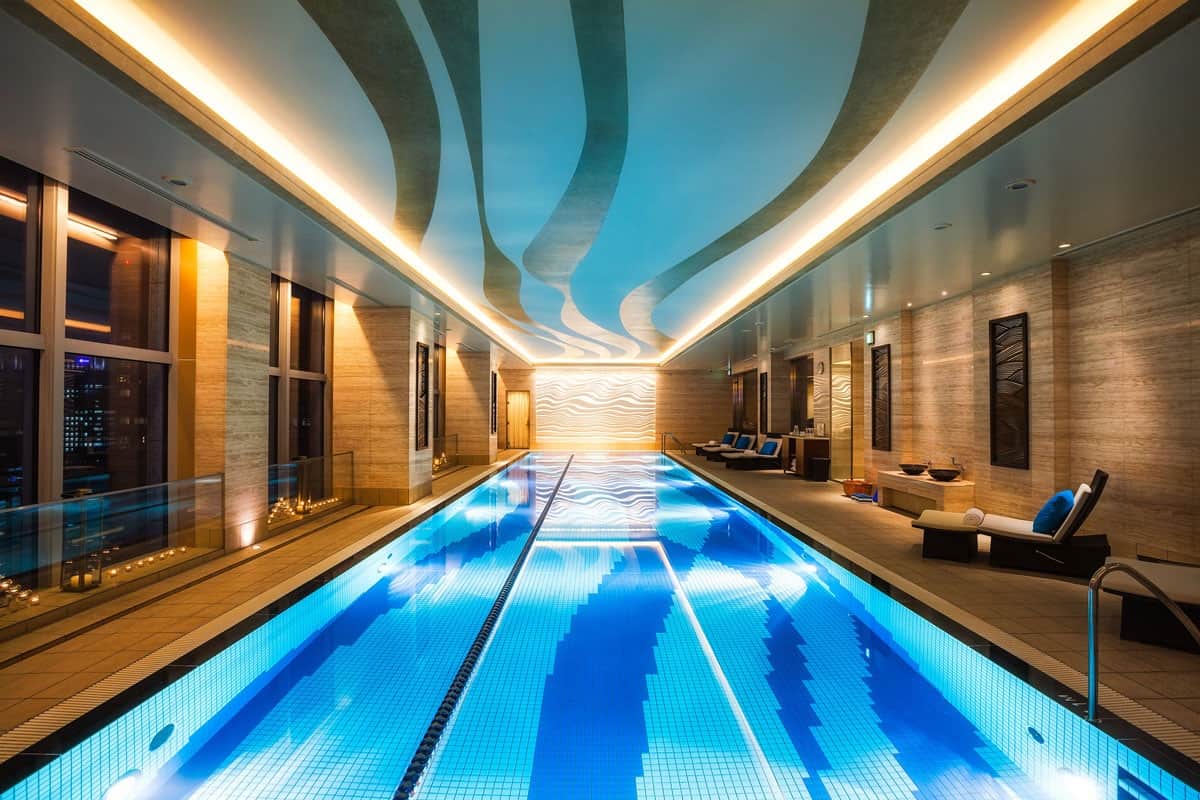 Gym, Pool and Spa
The Shangri-La has a 24-hour gym and state-of-the-art fitness equipment and facilities. Including weights, treadmills, bikes, ellipticals, sauna and a pool. Water, vegan snacks and towels are available to guests. The heated 20m indoor pool is next to the gym. The tall windows give an amazing view of Tokyo and bathe the pool in natural daylight.
Chi, The Spa at Shangri-La features five serene and private spa suites. This tranquil spa immediately greets you with relaxing music, sounds and calming smells. The spa menu offers award-winning Chi massages and treatments brought from other Asian locations. Kisetsu therapies inspired by Japan's unique appreciation of the seasons are also available.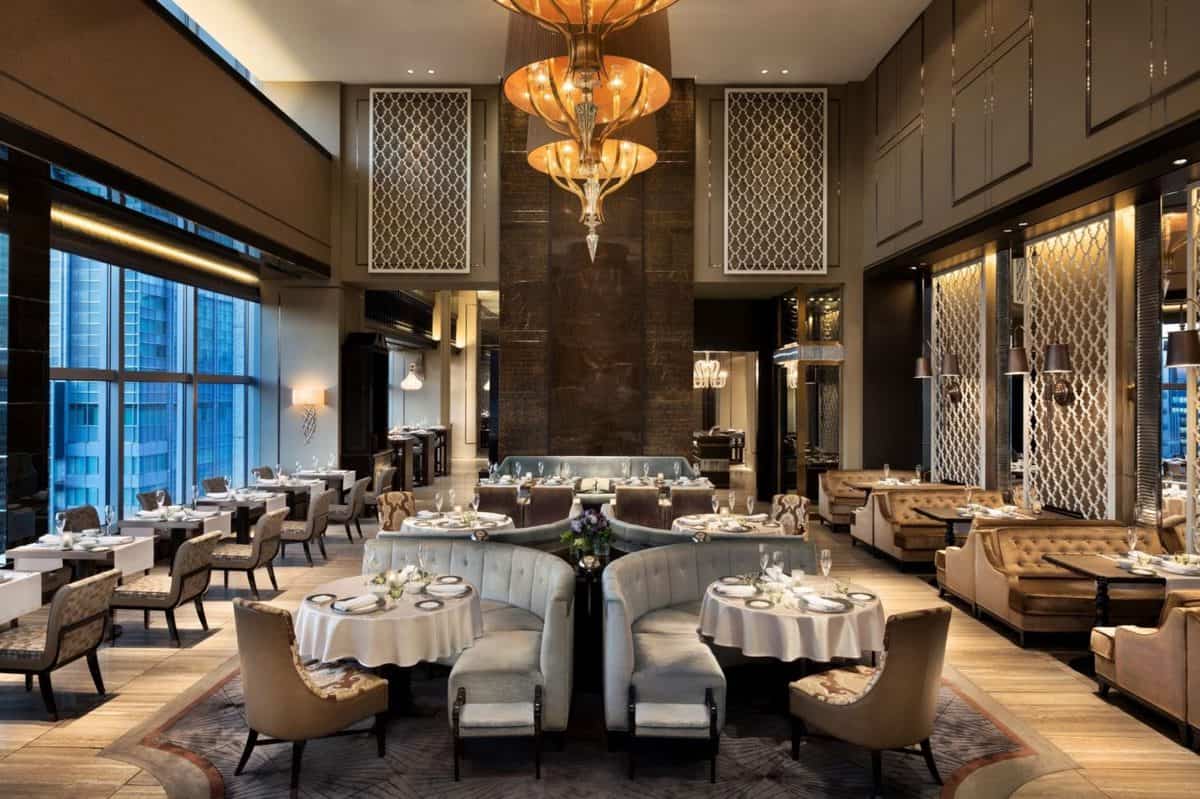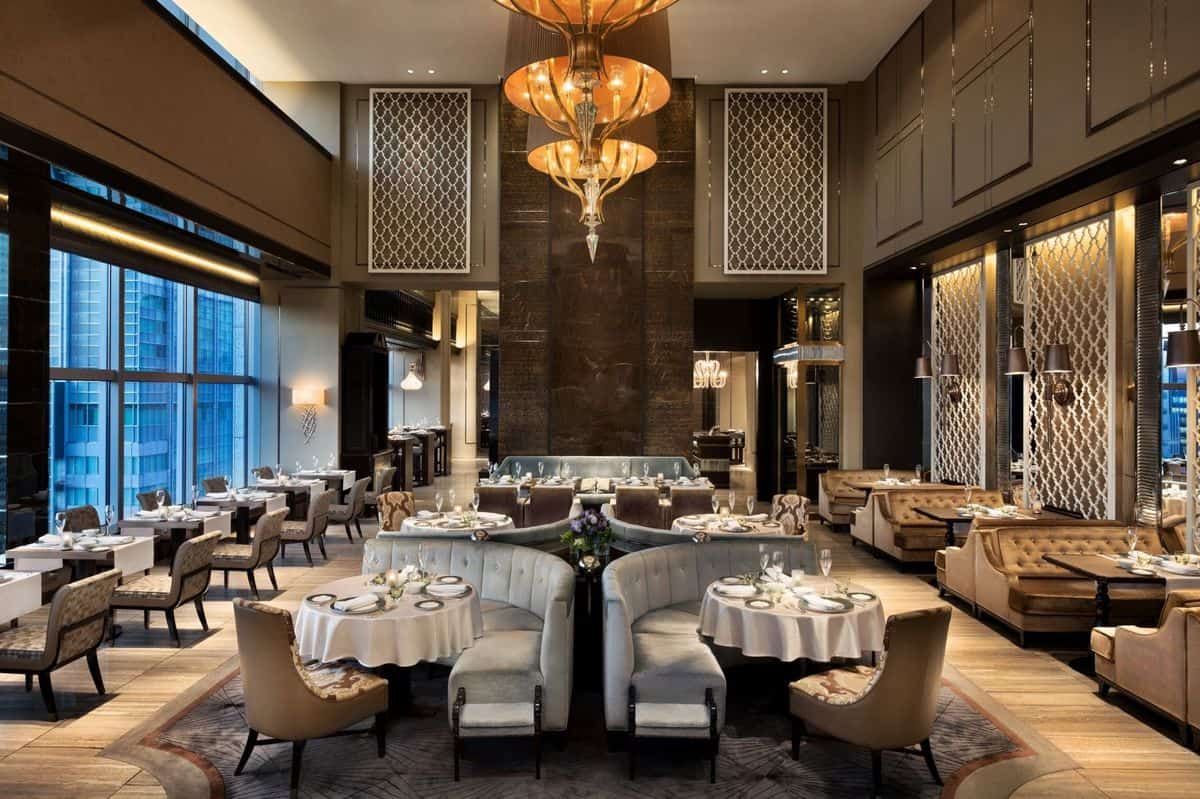 Shangri-La's Restaurants
One of Shangri-La's renowned restaurants is the exquisite Italian restaurant, Piacere.
People who are not guests of the hotel can book a table at the Shangri-La restaurants here (http://www.shangri-la.com/tokyo/shangrila/dining/restaurants/piacere/)
You can dine in the restaurant itself or in one of the private banquet rooms.
The restaurant offers many mouth-watering Italian dishes such as gnocchi, baked lamb and grilled beef.
Shangri-La's other renowned restaurant is the Japanese restaurant Nadaman. The famous Nadaman group of restaurants has been treating diners to fine traditional cuisine since 1830. The restaurant features sushi and teppanyaki counters and kaiseki, with private dining rooms available.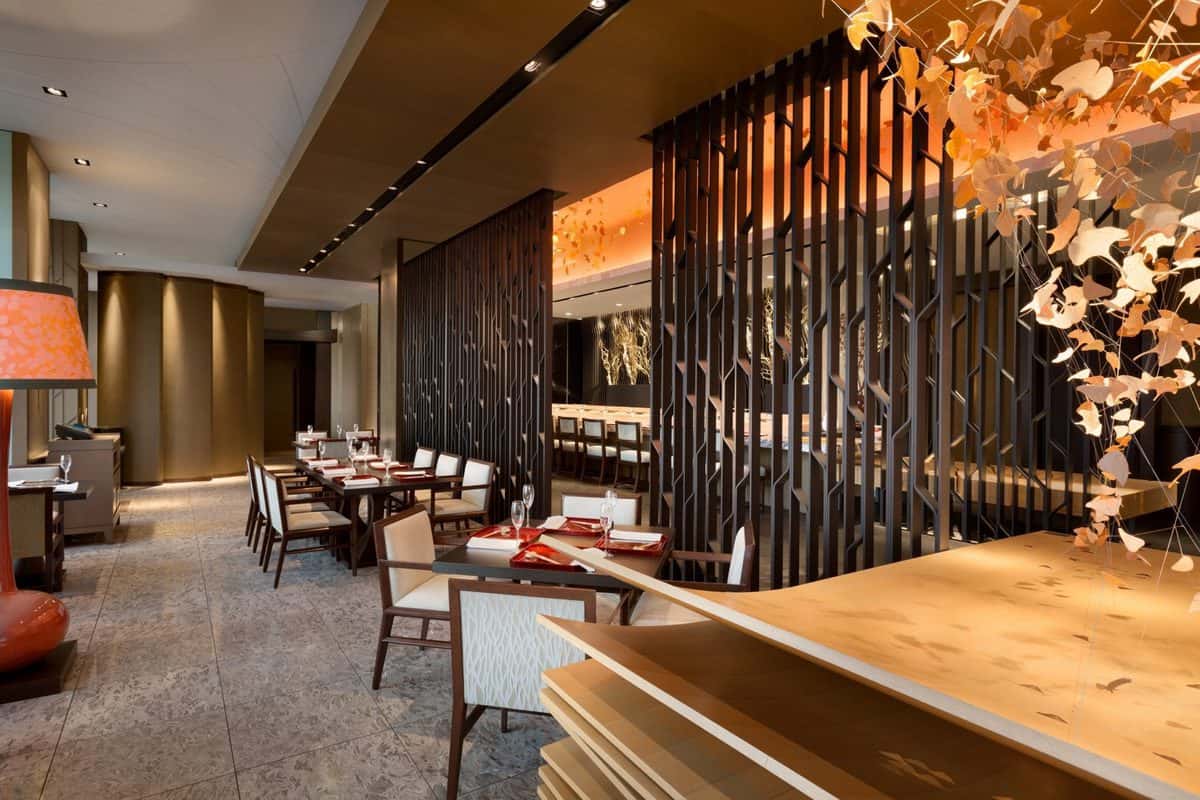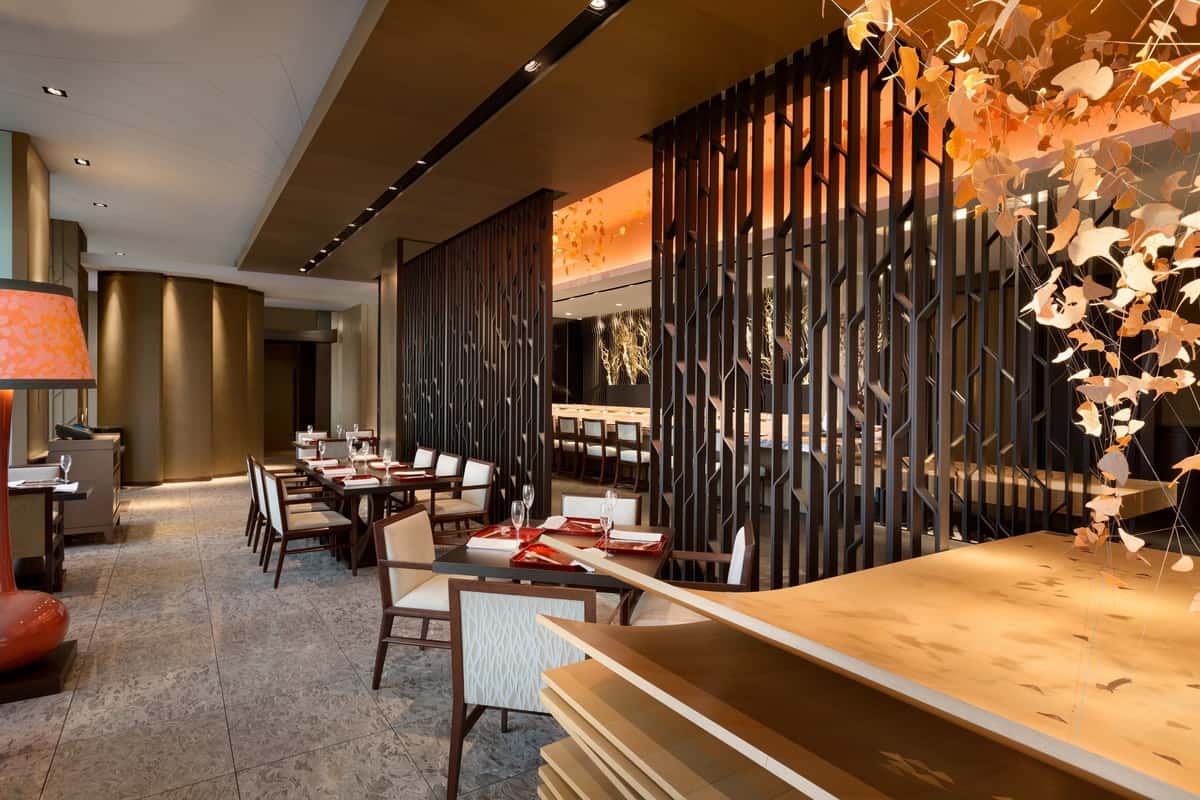 The Shangri-La is a gorgeous restaurant with many highlights and delicious food to be enjoyed. We highly recommend staying at this hotel during your visit to Japan.
By booking directly with the Shangri-La via their website or app, you can unlock exclusive member benefits: visit https://www.shangri-la.com/en/tokyo/shangrila/
To enjoy a visual tour of the Shangri-La Tokyo, please check out the full tour on our Hersey Shiga Youtube channel:
Read More:
The Finest Matcha Sweets/Afternoon Tea – Shangri-la Tokyo-
Ethical Jewelry HASUNA x Shangri-La Tokyo
Shangri-La's Special Osechi for New Years