Rudolf Nureyev visiting Tokyo to perform with Ballerina Yoko Marishita
Tokyo, March 1983, I'd like to start out with some notes on Rudolf Nureyev, the man who many consider the world's greatest male dancer. Nureyev made his visit to Japan to perform with Japan's Prima Ballerina Yoko Morishita to celebrate the 35th anniversary of the prestigious Matsuyama Ballet Company. During his two-week tour, he and Yoko performed "Swan Lake" and "Giselle" to SRO audiences in several of Japan's major cities. They had danced in "Giselle" together before in Europe and the USA, but this was the first time they performed "Swan Lake" together.
Also read:
On March the 1st, Rudolph and Yoko held a press conference. He had been rehearsing most of the day, so was about 45 minutes late. The earlier part of the conference was handled by S.A. Gorlinsky, his manager for 21 years. (He also managed Maria Callas.) Gorlinsky described Rudolph as a workaholic who dances wherever and whenever he can. An artist needs a good manager, and Gorlinsky seems to fill the bill remarkably well.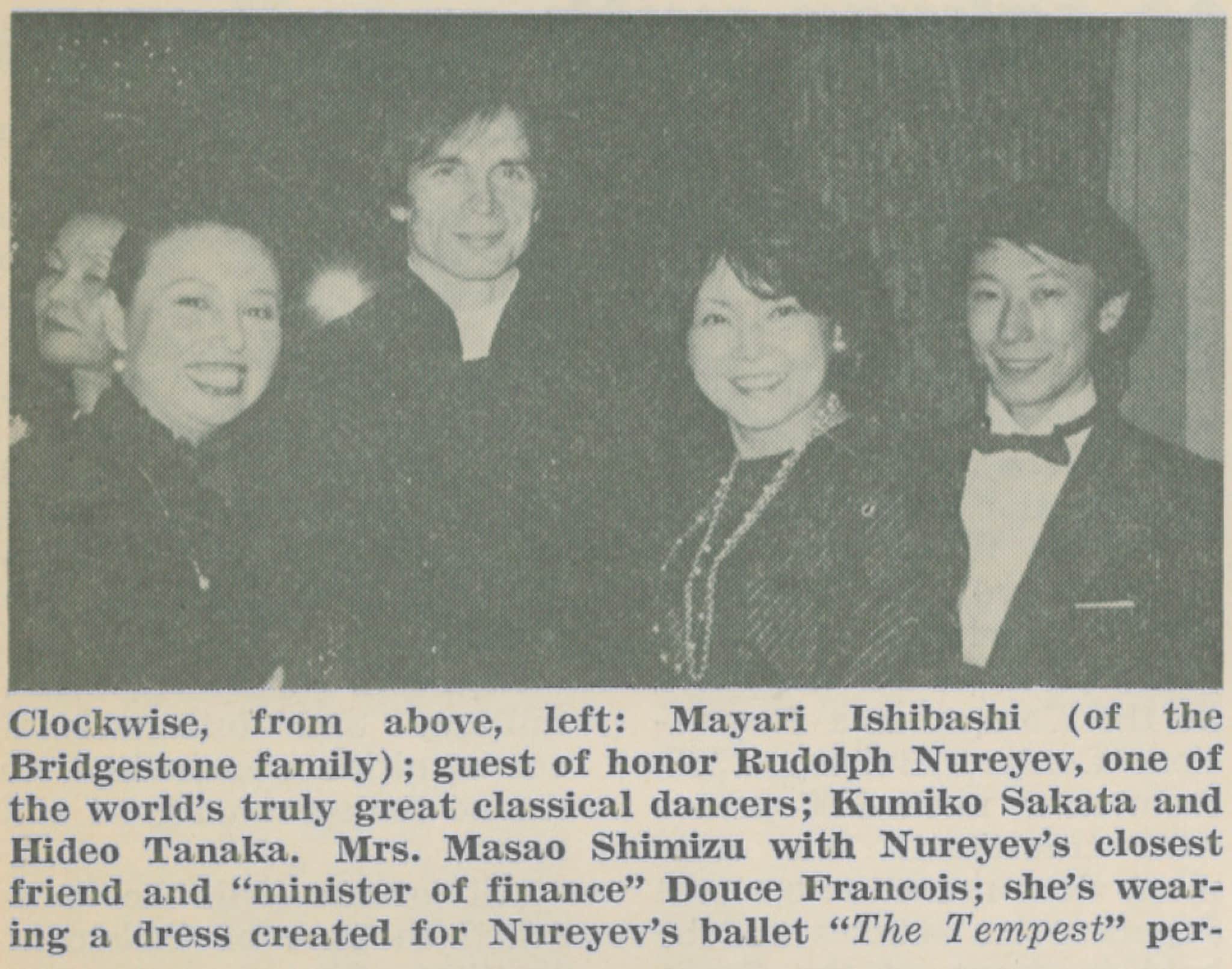 When asked where Nureyev lived, he said, "He has two apartments in The Dakota in New York (Leonard Bernstein, Lauren Bacall and Tom Tryon are a few other celebs who live there), a farm in Kentucky, a house in England, an apartment in Paris and another in Monte Carlo." Apparently the Japanese press had been requested not to ask when Nureyev planned to retire and one insistent and obnoxious reporter asked who requested this and why. Gorlinsky said he didn't feel it was important; that Margot Fonteyn and Alicia Alonzo are still dancing.
Nureyev arrived, posed for pics with Yoko and was ready for questions. Well, old obnoxious took the floor, and his first question was, "When do you think you'll retire?" It was evident Rudy didn't appreciate the question and answered, "I don't know why this is so important to you, but give me your address and when I decide to retire I'll send you a telegram."
In an interview I read in Dance magazine, he told the interviewer that he dances because he must and will continue to dance until his body gives out. "If people don't like my dancing, there are many other dancers they can turn to."
He didn't have to worry about people liking his dancing here. I was able to see both "Swan Lake" and "Giselle" and he and Yoko had so many curtain calls I lost track of the count.
As a person, Nureyev is pampered, but still remains very personable. He has a marvelous sense of humor and loves to play practical jokes on his friends. In addition to Mr. and Mrs. Gorlinsky, he was traveling with Douce Francois, a marvelous French woman who helps him handle finances, etc., and a very outgoing Italian named Luigi, a professional masseuer.
Nureyev's hobbies include collecting paintings and antiques. He was also interested in buying lots of old kimono fabric during his stay here, and I really enjoyed taking him to Yuya's Boutique where Yuki Margot helped him choose some beautiful fabrics.
Workwise, Rudy feels four performances a week would be ideal. As of September this year, he'll take over as director of the Paris Opera Ballet. His second film, "Exposed" in which he co-stars with Nasstasia Kinski, has just been released in the States. He doesn't dance in the film, but plays the part of a violinist who later becomes a terrorist. His first film, as you know, was Ken Russel's version of "Valentino."
Rudy turned 45 in Tokyo; his birthday was Mar. 17. To help him celebrate, we had a small party for him at The Lexington on the 16th, and the Matsuyama Ballet Company had a party for him on the 17th. He was also the guest of honor at a huge reception the ballet company gave on Mar. 6 to celebrate its 35th anniversary. The crowd was mostly Japanese and mostly from the dance world.
Familiar faces there included Cartier President Bernard Cendron, Hans Pringsheim and the Bernie Krishners. I really enjoyed meeting and talking with young Prince Mikasa, who recently returned from three years of study in Canada. The Prince, a real dance enthusiast, attended several performances of both "Giselle" and "Swan Lake."
Nureyev started dancing when he was 17. He told me he really wishes he could have started earlier, but at that time the train ride from his home to Leningrad cost more than his father's monthly salary. He's
very satisfied with the way his life has gone, but still feels there's much to do. "At this point in life, I'm ripe for philosophy and am really into Betrand Russell," he added.
From Tokyo he flew to Puerto Rico for performances there. From San Juan he'll go back to Paris to dance with a French ballet company and travel with them to Brazil and Chile for still more performances. Yoko will be leaving for Peking soon where she'll join some of the world's top ballet dancers for a TV special there. Dancers do keep busy.
*First published in the Tokyo Weekender