Sayonara and Welcome at the Peruvian Embassy
Current Counselor Mrs. Marita Puertas and Deputy Consul Mr. Andres REYNA will be leaving Japan. New Minister Counselor Mr. Manuel GONZALES has joined the Peruvian embassy in Tokyo.
For this occasion a farewell and welcome party was hosted by Peruvian Ambassador Roberto Seminario at the embassy in Tokyo with many friends and supporters of Peru attending this special event.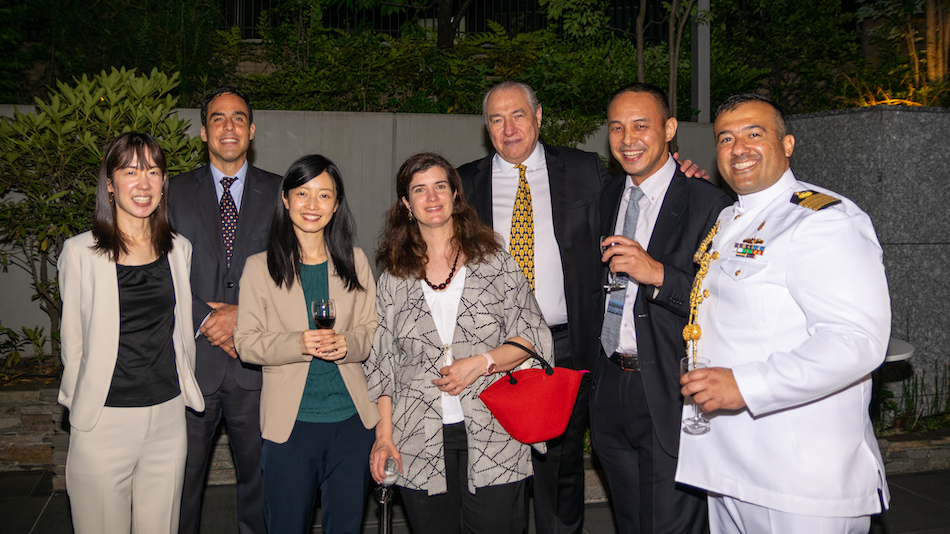 Developing Japan-Peru Relations
On behalf of the three diplomats, Counselor Puertas expressed her deepest appreciation to a farewell address in both English and Japanese language:

"It is said that moving and working in Japan in the Far East was accompanied by anxiety. However, after arriving in Japan, there many nice comments which helped me feel at ease as I was touched by the kindness and warmth of the Japanese people."
"The relationship between Peru and Japan has become stronger and has changed significantly. Peru is the first South American country that Japanese immigrated, and also had by a Japanese president. However, Peru is now known as a nation that produces many of the "special things" that Japanese people are looking for."
"There is a special coffee in Peru. It's a boutique coffee grown by a small farmer. The taste is different depending on the farmer. Its diverse taste and incense can be said to be a work of art. This precious coffee can also be enjoyed in Japan."
"Peru is also known worldwide as a superfood producer. Peru is full of superfoods that have not yet been introduced to Japan, including quinoa, which is called "miracle ingredients." For example, in Peru, there are avocados as small as a thumb and large blueberries with a diameter of about 2 cm. Both are superfoods, nutritious, beautiful to look at, and eye-catching. Many of the world's health-conscious people are now paying attention to Peru. Japan is one of them.
"Thanks to the continuous efforts of all the diplomats stationed here during one of the most challenging periods it was possible to achieve great results and further grow the relations between our two countries. Once again, I would like to thank the three diplomats who have finished their stay in Japan for their contributions and pray for further activities in the future."
About Peruvian Boutique Coffee:
https://www.ejcra.org/column/ca_141.html
About Peruvian Superfoods:
Superfoods Perú | Superfoods Peru International
Embajada del Perú en Japón Social Media:
Instagram Twitter  Facebook
【Read More】