The Japan Association for Promotion of Latin America and the Caribbean
A bridge between Latin America and the Caribbean countries and Japan
The Japan Association for Promotion of Latin America and the Caribbean(JAPOLAC) hosted a special Christmas Charity Party at the R2 Super Club in Roppongi on December 4, 2021, to support the welfare activities of the "Hyogo Latin Community", which publishes the Spanish free magazine "Latin-a".
JAPOLAC was founded on March 16, 2020. It has been established to promote and expand exchanges between Japan and Latin America and the Caribbean countries in the fields of culture, education, commerce, tourism and others. Ritter Diaz, former Panama Ambassador to Japan was appointed as the representative director. Honorary members include people who serve or have served in positions of leadership, including Mrs. Martha Lidia Zelyandia Cisneros, former El Salvador ambassador to Japan, and Mrs. Noemi Inoue, City Council representative for Sumida-Ku, Tokyo.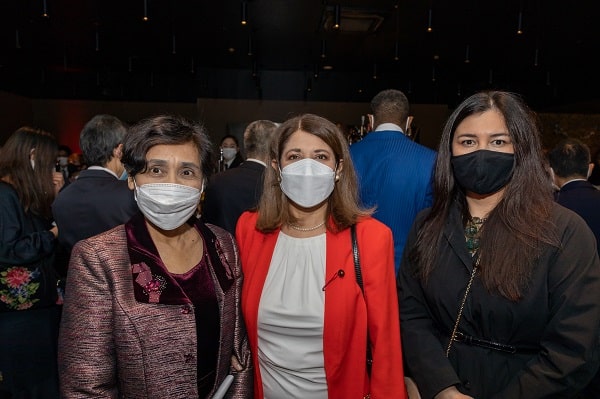 Numerous ambassadors and their spouses attended this Christmas event, including the Ambassadors of Honduras, Ecuador, Cuba, Costa Rica, Dominican Republic, Panama, Haiti, as well as the Chargé d' Affairs of Peru, Bolivia, Nicaragua and the Minister Counsellor of Mexico. Other guests of honor included members of the Japanese parliament and the Tokyo Metropolitan Assembly.
At his opening remarks, the representative director, Ritter Diaz expressed his heartfelt gratitude to those who participated and supported this charity, despite the ongoing global pandemic: "Thanks to the support of the participants we will make a donation to the Hyogo Latin Community, which has been helping many Latin American and Caribbean people to integrate into Japanese society through Japanese language instruction and other welfare activities for over 20 years."
We congratulate Mr. Diaz and JAPOLAC for this successful event, and we look forward to many more fruitful initiatives that supports their vision "to create the most valuable exchanges of ideas, virtues and best practices from both regions to improve the quality of life of Japanese and LAC people."
For more information visit the Japan Association for Promotion of Latin America and the Caribbean (JAPOLAC) at https://japolac.com/
Read more: