House Concert at the Italian Embassy
A "house concert" was held at the Italian Ambassador's Residence on May 9 2022. Ambassador Gianluigi Benedetti and his wife Sabina D'Antonio hosted the event, organized with pianist Tamami Iwata.
Sabina and Tamami selected notable Japanese performers: Marumo Sasaki, cellist born in Japan and raised in Italy, Kaori Muraji, well renowned guitarist, and Ryoko Aoki, a unique contemporary musician who combines traditional Noh performance with contemporary music.
Tamami Iwata performed "Moonlight" by Claude Debussy as the opening piece of the concert. It was followed by Vitali's Chaconne, performed by Marumo Sasaki, and Aranjuez Concerto played by Kaori Muraji. Ryoko Aoki performed "Mononoke" composed by Annachiara Gedda on the theme of "The Story of Genji".
Yuima Nakazato's dress highlighted Ryoko's performance, making her Noh-inspired movements somehow more beautiful. Fazioli's piano shined in Tamami's performance.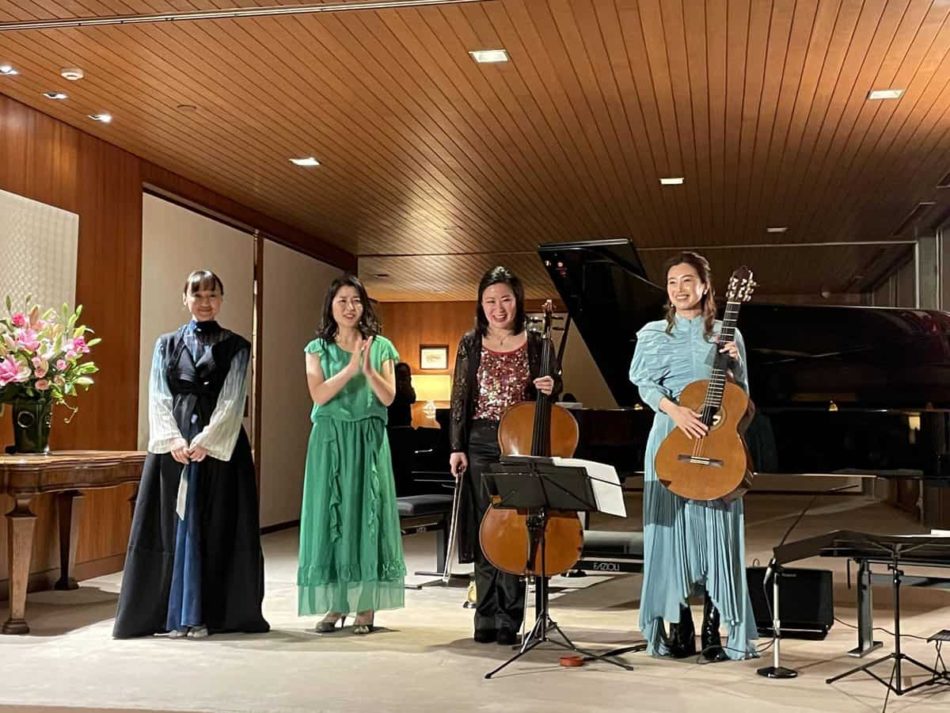 The concert's theme was "Italy", "Japan" and "Love", as well as the essence of woman". It was a warm beautiful moment that showed Ambassador Benedetti and Mrs. Sabina deep understanding of Japanese culture and a great respect for the country. The audience was also impressed by the precious Italian collection of abstract artworks permanently exhibited in the Residence.
Leading Italian brands such as Fazioli, Gucci, Aperol, Prosecco, San Pellegrino and Vestri cooperated in the organization of the concert underlining the importance of the Italian presence in Japan.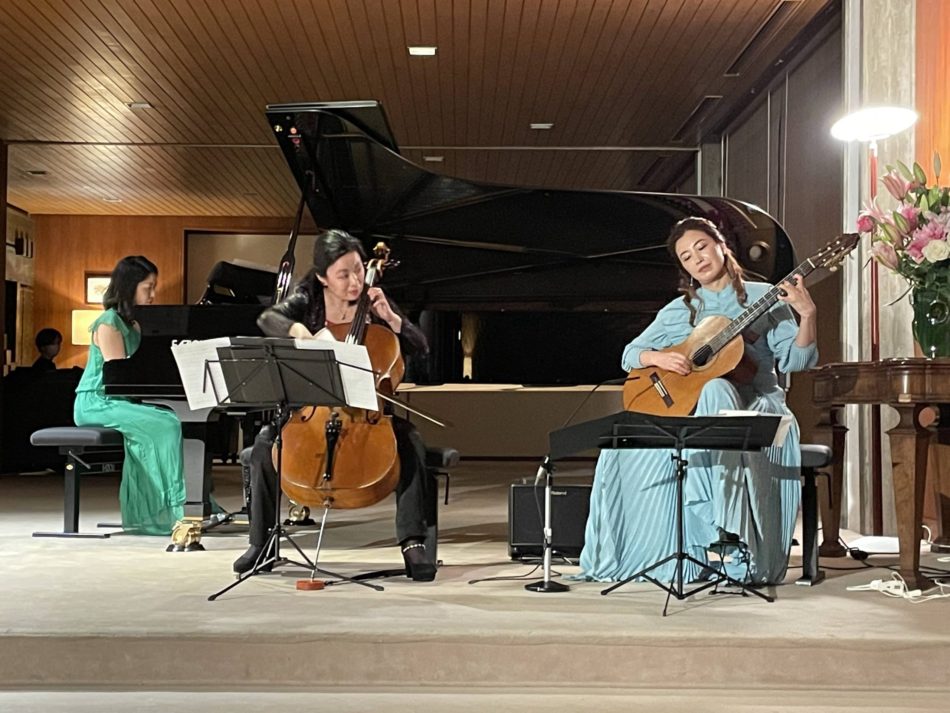 The Italian Ambassador's Residence
The Italian Ambassador's Residence, built in 1965 is known for the beautiful architecture and garden. It was designed by Italian architect Borghese and Japanese architect Murata.
Masterpieces of abstract Italian artists of the early sixties are displayed inside the Residence, such as Fontana, Castellani, Burri, D'Orazio, Novelli, Turcato, Santomaso, Perilli, and Giò and Arnaldo Pomodoro.
The splendid Edo period gardenwas inspired by Ikkyu – the most famous Japanese Buddist monk. This magnificent residence once belonged to the former Iyo Matsudaira clan.
It is also known for the famous story of the 47 samurai of the Ako domain that avenged the honor of their lord. After succeeding in the revenge ten of them were held captive in the premises of the Matsudaira family. While awaiting judgement, they committed Seppuku in the residence' garden.
In honor of the ten fallen samurai an epitaph stands in the garden with their names engraved: Oishi Chikara, Horibe Yasube, Fuwa Kazuemon, Kimura Okanoemon, Nakamura Kansuke, Sugaya Hannojo, Chiba Saburobeh, Otaka Gengo, Kaiga Yazaemon, and Okano Kinemon.
The Embassy is working with Japanese partners to realize a study of the garden and the Residence with the aim to produce a multimedia tour highlighting its historical and artistic heritage. The residence is filled with love and peace; it is a home of traditional and contemporary culture.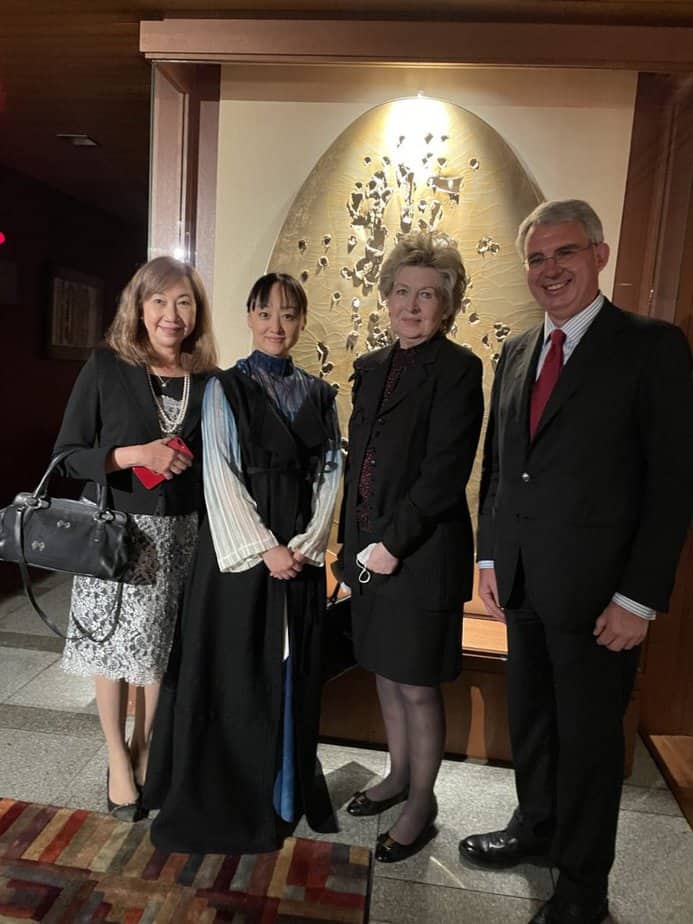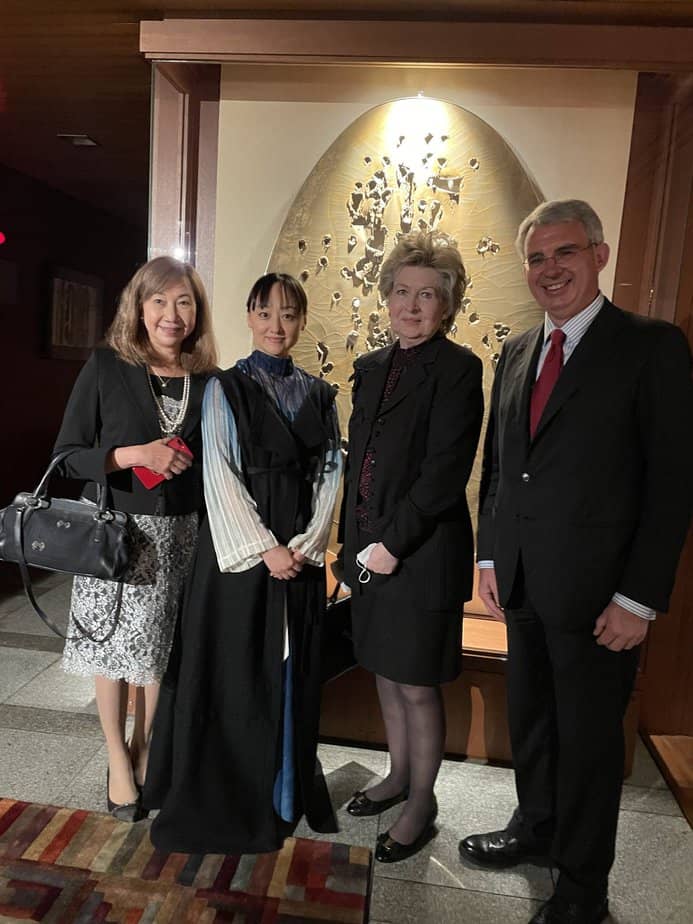 For more information visit:Italian Embassy
Read More: