Hersey's Partyline April 2017
The multi-talented — and super nice — Steven Hayes will release his latest CD, titled High Heels, on May 24. The music's fun and Steve,  who's a real winner, helps so many people in need — it'd be great if you could show him some support. We celebrated with him and a bunch of friends of Indonesian business tycoon Kayapan Satya Dharshan. 
Happy 16th birthday to Iman, the daughter of the Oman Ambassador Mr. Khalid bin Hashil bin Mohammed Al-Muslahi and his wife Abeer. Abeer is a wonderful mother and always holds fantastic parties with lots of decorations, good food, and entertainment. Panama Ambassador Ritter Diaz has been super busy with several promotional events focusing on the colorful textile art, molas, a handicraft of his country.
I'm sorry I couldn't get to any of the happenings but do have a couple of molas, which former Ambassador Alberto Calvo gave me, along with some imported Italian furniture,  when he left japan some time ago. A big muchas gracias to Ritter and his lovely wife Ayana. I just received a package of Panama's much-awarded "coffee of the year," Talk about special!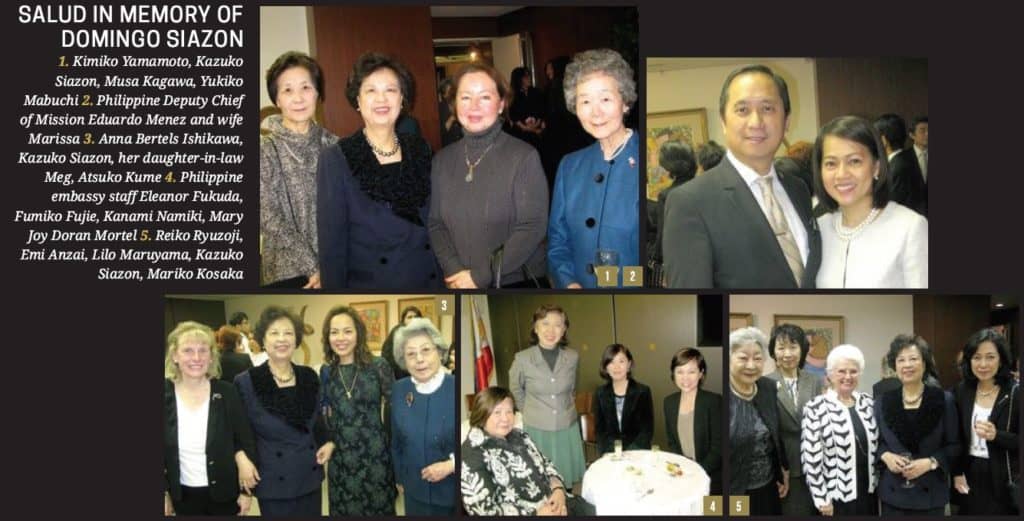 THANKS FOR  SO MUCH to the late Filipino Secretary of Foreign Affairs and Ambassador, Domingo L. Siazon Jr., who passed away May 3, 2016. To honor Domingo, his wife Kazuko donated seven intricately executed pointillist paintings by distinguished Filipino painter Jack Salud to be on permanent display in Siazon Hall at the Philippine embassy here in Tokyo. Kazuko, the Filipino deputy chief of mission Eduardo Menez, and his wife Marissa hosted the special evening to honor Domingo and open the exhibition.
PARTIES
KUWAIT NATIONAL DAY RECEPTION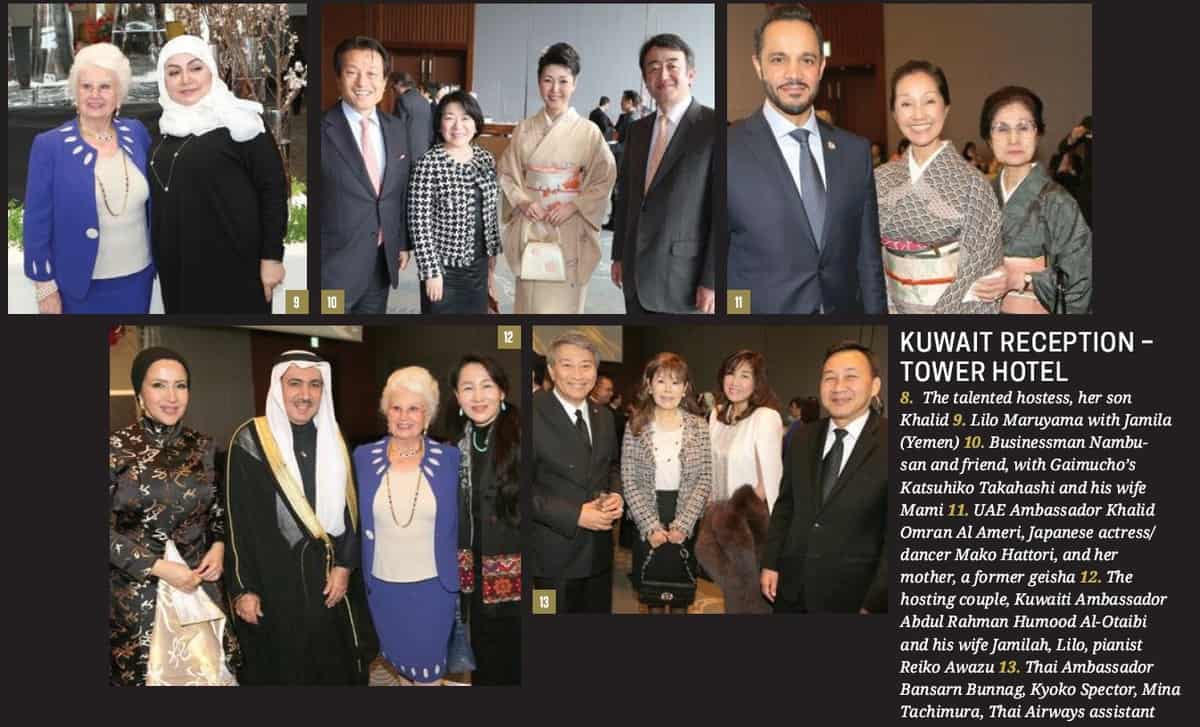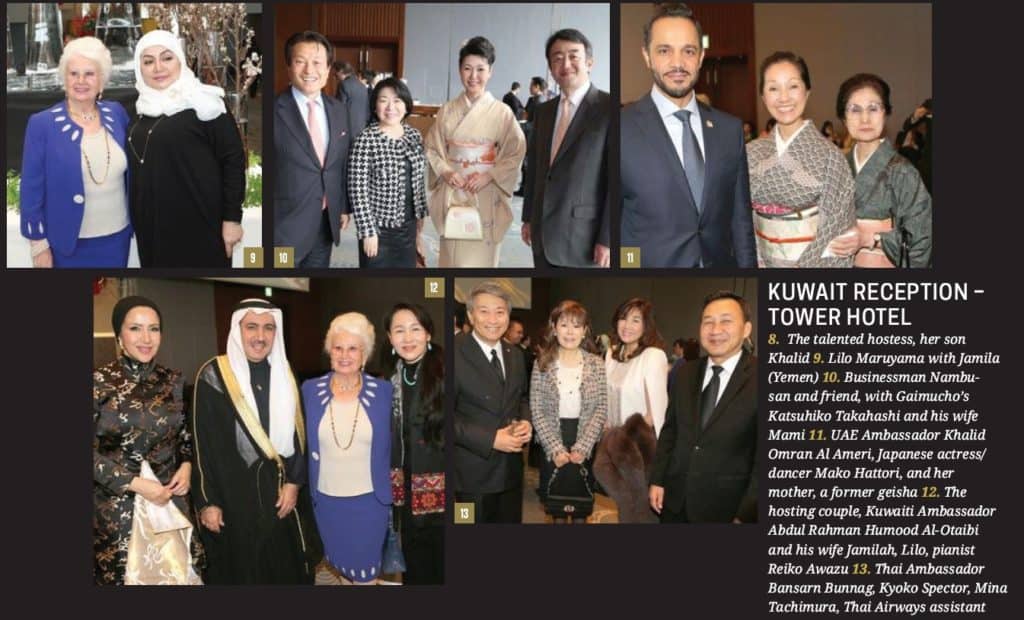 Kuwaiti Ambassador Abdul-Rahman Humood Al-Otaibi and his wife Jamilah hosted a glittering reception at the Palace Hotel. The occasion was to celebrate the 56th National Day and anniversary of the liberation of the state of Kuwait, and it was held in the hotel's spacious and beautiful Aoi Room. 
The Al-Otaibis are a very popular family, and there was a full house at the midday event. Jamilah is a very fashionable lady who also possesses artistic talent. She and her crew worked with hotel staff on the spectacular decorations and food for the party. Highlights included a tall ice carving of the Kuwait Towers and a variety of sweets including plenty of chocolate and dates. I really liked the big model of a dhow (a traditional Arabian ship) that decorated one part of the room.


PLACES
MINON'S SUPER TANGO SHOW
I've seen great Tango shows on Broadway, London's West End, and of course, here in Tokyo. I enjoyed them all, but I felt the show that Min-On Concert Association recently brought to Tokyo was the best ever. The title of the musical production was Dramatic Tango  2017 / Horacio Romo Sexteto.
It featured the most popular tango music, played at its very best by the six-piece orchestra. The dancers were all stunning and super talented, and have all been hailed as the best back in Buenos Aires as well as at competitions worldwide. The costumes were glitzy, glamorous, and sexy, and the choreography for the stage sets was perfect.       
MUSICIAN MICHIYO AT OAKWOOD MIDTOWN
My favorite Oakwood location in Midtown has a regular wine night every Thursday. They often have live entertainment, wine tasting sessions, and other interesting events. It was packed recently when musical prodigy Michiyo showed off her talent, playing a variety of musical instruments. 
Other interesting guests there that night included Claire  Hansen Suni, an accomplished lawyer who studied at Harvard Law School. Oakwood has just opened yet another branch here in  Tokyo — watch this space for details. 
*First published at the Tokyo Weekender
*Images Copyright: Tsukasa Shiga