Bill's Partyline June 2012
PEOPLE
Congratulations and domo arigato to HIP Entertainment president Massy Hayashi for packing out Tokyo Dome City Hall for three Lenny Kravitz shows. I've known and been a fan of Lenny for years and was happy to see him back in Japan after 14 years. The man looks good, stays cool and puts on one hell'uva show; check out his latest album, Black and White which has great sounds and gives me a really good feeling. Lenny does an hour of vocalizing before and after each show and, believe me, it has really paid off. I also knew the trumpet player with Lenny as he used to be with the band No Doubt; he told me that the band, with one of my favorite ladies Gwen Stefani, is getting back together for concerts here this fall. I'm really looking forward to that.
French businessman Stephane Lafay, who I first got to know when he headed Bulgari's business here, and who a few years ago moved over to another of the world's most prestigious jewelry companies, Tiffany's, recently relocated to Hong Kong. He now heads their operations in that part of Asia and I do wish him all the best over there. I'm happy to hear he'll be visiting Tokyo often. Stephane, by the way, is really into fishing and I always enjoyed hearing about his fishing adventures from all around the world. To his successor here, Daniel Perel, all the best in Japan.
A good friend, the active and creative Fergus Stewart, who was GM of the popular ANA Intercontinental Hotel in Tokyo, has also left Japan. I don't know his new title yet, but I do know he and his family are settling down in Vietnam and that he has a new executive position with ANA Intercontinental, where he has a major role running several of the hotel chain's properties over there. I really appreciated Fergus's friendship, as well as his support of the Weekender and send my thanks and best wishes at the same time. I'd also like to welcome his successor, Canadian, Peter Carmichael, to Tokyo.
PARTIES
South African Chamber of Commerce party at Midtown Oakwood
Our South African friends are an interesting mix of dynamic people from all walks of life.  Guests really enjoyed a laid-back evening at Midtown Oakwood, where the food, the ambiance and the people made it a thoroughly enjoyable night. I met a lot of South Africans who all seem so busy with all the changes happening in their beautiful country. I talked a lot with Chrissi, who teaches children dance and is involved in many worthwhile projects, and Rooibos Marketing's Clinton Gass, who is always marketing new products from South Africa. Oakwood is a nice venue for just about any event and the staff are always so helpful.
Brunei Darussalam National Day at the New Otani Hotel
There was a big turnout at Brunei ambassador Mohamad Alias Serbini's National Day reception at the New Otani. Guests included top Japanese government officials, diplomats and their wives, business leaders and familiar faces from the arts and entertainment world. All in all, it was a relaxed evening, with interesting people and good food, including some excellent Brunei specialties – many kinds of delicious satay, noodle and meat dishes. I spent a few days in Brunei several years ago visiting a Gurkha military friend of mine who was living there and do hope I have the opportunity to go again to enjoy its beautiful scenery and tourist attractions.
US Embassy Major League Baseball season opening event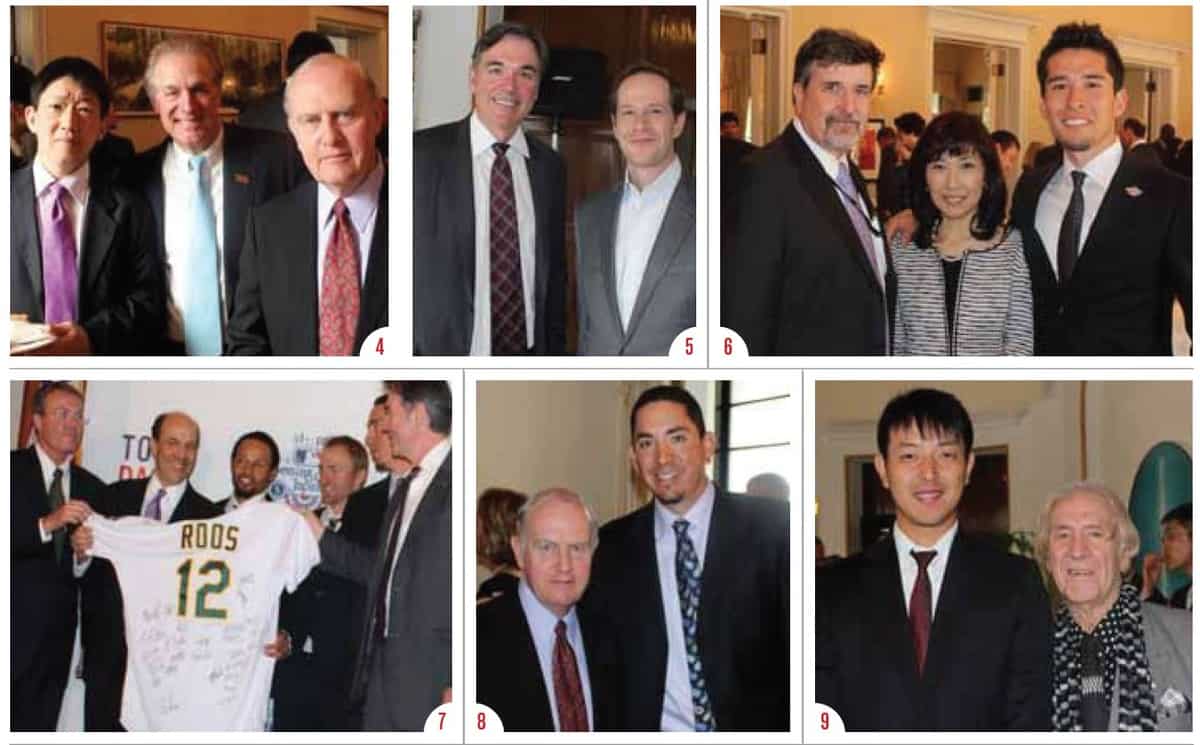 US ambassador John V. Roos and his dynamic wife Susan have to be one of our city's busiest couples. One of the highlights of their full schedule recently was a packed midday party they hosted at their home in honor of the opening games of the 2012 Major League Baseball season. The program opened with a brief speech by the ambassador, who is very knowledgeable and enthusiastic about the sport. This was followed by short speeches from a few of the sport's VIPs and the presentation of a personalized baseball jersey to ambassador Roos from the Oakland Athletics. I enjoyed learning more about one of the Roos's, and others at the embassy's, strong interest in and work with the Tomodachi initiative, which supports ongoing recovery efforts in the Tohoku region and is investing in the young people of Japan and the US.
PLACES
Deutsche Bank Art Fair Tokyo 2012
There were 163 exhibitors at the International Forum this year, in a space twice as big as last year. Norman's exhibit of abstracts by 99 year old Toko Shinoda (the Empress' favorite artist) really attracted a lot of friends, including Hanae Mori and her gorgeous granddaughters, Izumi and Hikari, fashion guru, Francoise Morechand and super-chic Dewi Sukarno.
*First published at the Tokyo Weekender
*Images Copyright: Tsukasa Shiga