Bill's Partyline November 2015
PEOPLE
Pope Francis's first visit to Cuba and the U.S. His trip was so full of good things l spent much of my time watching it all on CNN. Pope Francis is 78 years old and had a full schedule of all kinds of events from the time he left Rome until the time he returned a week later.  He's well known for his humanity, kindness, and humbleness as well as his love for families, kids, and the less fortunate. His full—and I do mean full—schedule for his trip included a festival of families, speeches to politicians, visits to schools, several masses, and as much time with all kinds of people that his hectic schedule would allow—and according to my notes, even challenged the hierarchy. Celebrity friends that joined His Holiness in some of his activities included actor Mark Wahlberg, one of my favorite singers Aretha Franklin and dynamic opera star Andrea Bocelli singing the Lord's Prayer. His closing speech for his last event was on love and really electrify—  ing—as he said, "Before God created the world, he loved it. God is good. God is beauty, God is love. The new face of the Catholic Church is not what not to do, it's what to do.
NICK MASEE'S SUPER CHARITY BARBECUE


Had a great time with Asian Tigers' Man in japan, Nick Masee, and about  100 of his thoughtful, giving, and interesting friends. The occasion was Nick's annual charity party to watch fireworks from his beautiful apartment and balcony on Yamate Dori, and fill up on some of the best burritos and brownies ever. The laid-back get-together also gave people there the opportunity to relax and enjoy being with long-time friends and make new friends as well.
PARTIES
MOROCCO'S NATIONAL DAY—OKURA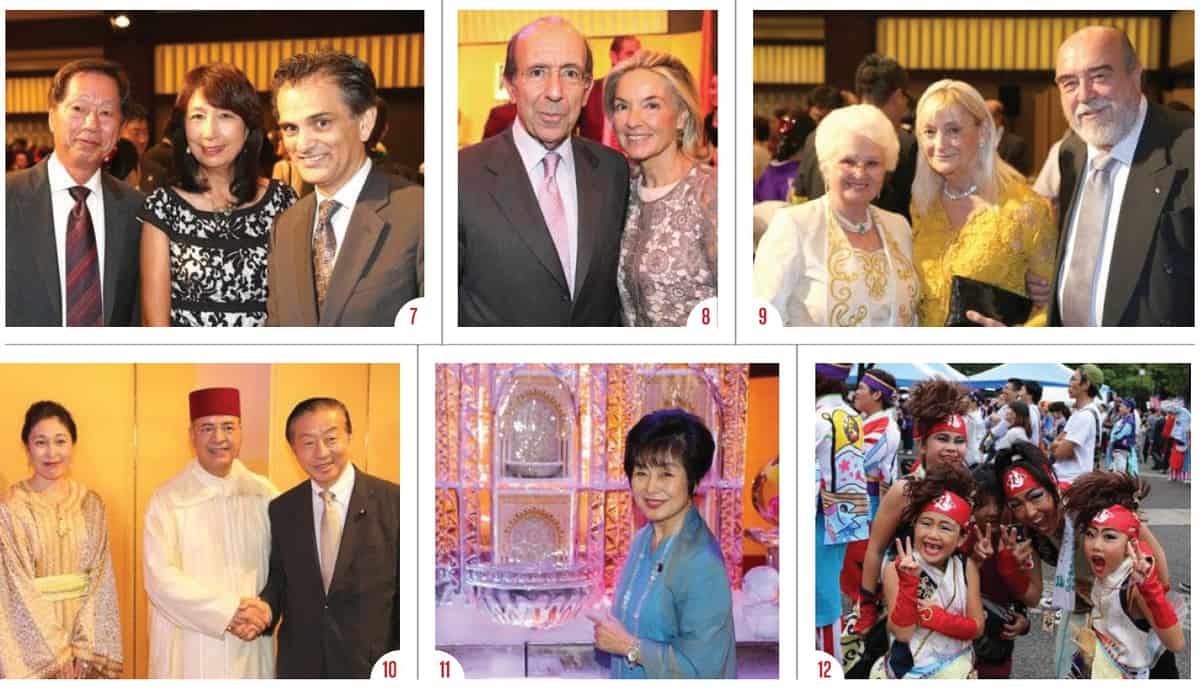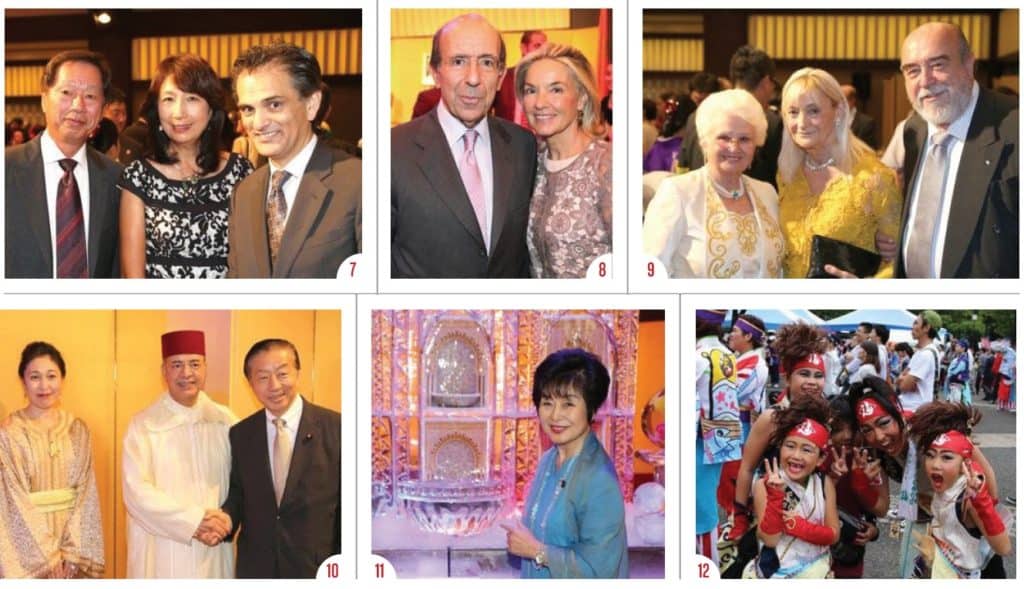 To celebrate the 16th Anniversary of the Enthronement of HM. Mohammed Vl, Moroccan Ambassador Samir Arrour and his lovely wife Utaku held a colorful and exotic reception in the Okura's Akebono Room. Many years ago, I had the privilege of meeting the King when he was still Crown Prince. It was great to see his friends, the legendary Minister of Foreign Affairs Zentaro Kosaka, and the equally legendary  Masako Ohya, wife of the president of Teijin Textiles. Zentaro was a great politician, and Masako, who had to be in her late 70s, was famous for the miniskirts she wore when she played golf here and in  Morocco. She also used much of her and her husband's wealth to help the less fortunate. She even brought an entire Egyptian ballet troupe to Japan to do a series of performances here. She, I might add, was truly a wonderful woman and a great character. We need more people like her nowadays. I also got to know the king's younger brother, Prince Moulay, and showed him around Tokyo. He was a really cool outgoing young man, and so well educated. Our congratulations, and all the best in the future. 
PLACES
I had a couple of great evenings with Swiss medical student Michel Bielecki, and his knockout, former European top fashion model mother Ela, who was here visiting. The first evening was at a luxurious "Black List" party at the super chic Club 1967, which is above Colors by Roppongi Hills. If you want to impress people, 1967 is a great place to do it. The staff is mostly beautiful young women DJs, it's all international, the interior is really upscale, and there is an outdoor terrace with comfortable furniture and a great view. 
Black List's Cedric and Gabriel had really gathered a cool group of people that included company CEOs, film executives, gorgeous international women, and showbiz luminaries. These included pop music artist and actor Gin Akanishi, actor Takayuki Yamada, and a tall attractive Japanese transvestite who's a busy pole dance teacher.
*First published at the Tokyo Weekender
*Images Copyright: Tsukasa Shiga